In addition to taking screenshots while recording, taking screenshots in scrolling window or taking full-page screenshots is an excellent feature of Eassiy Screen Recorder Ultimate. Many screenshot software in the market claim that they have this function, but the compatibility is not good. It only works on some devices without any problems. The feature of Eassiy Screen Recorder Ultimate will not disappoint you.
How to Capture Screenshots in Scrolling Window
There are three ways you could take screenshots on Eassiy while recording.
Step 1
Launch Eassiy Screen Recorder Ultimate
Download and install Eassiy Screen Recorder Ultimate on your computer, then launch it.

Step 2
Turn on Scrolling Window.
Method 1: Turn on Screenshot in Scrolling Window with Hotkeys
1. On the top right corner of your home page, click the three horizontal lines to access the preferences page.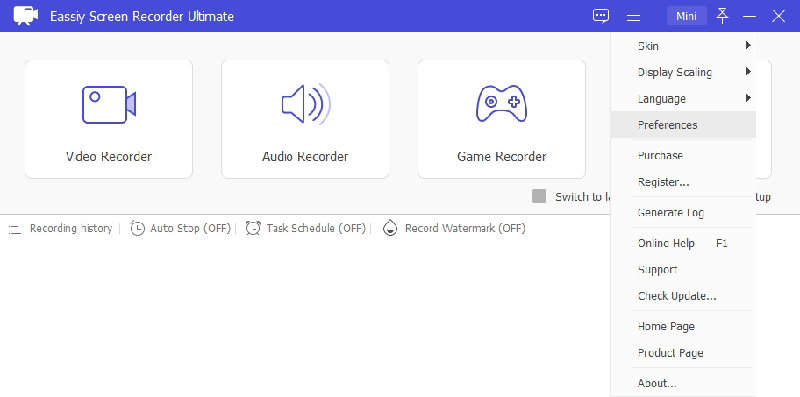 2. Change Hotkeys as per your choice by clicking the Hotkeys option. You can enable shortcuts to start/stop, pause, screen capture, open/close webcam, pop-up menu capture, scrolling window, and show/hide floating.
3. Once all set, click OK to save the changes. However, the default hotkey for taking a screenshot of the scrolling window is to hold Ctrl+Alt+C.
Now you can start taking screenshots with the shortcut key while recording with the Camera icon in the window.
Method 2: Turn on Screenshot in Scrolling Window in Build-in Recorders
1. Select a build-in recorder such as Video Recorder, Audio Recorder, Game Recorder etc.

2. Next to the camera icon on the top right, there is a drop-down menu, tap it and select Scrolling Window to turn on this feature.

Step 3
Take A Full-page Screenshot
It will detect the page area automatically. Use the mouse wheel or the "Space" bar to scroll the page. "Left-click" to capture the screen to the bottom automatically. Press "Esc" to complete.