Stellar Data Recovery for iPhone is a File Recovery software in the security & privacy area and is marketed as "the finest DIY" software to recover missing or inadvertently deleted Contacts, Messages, Photos, Videos, and Call History, etc. directly from iPhone or iPad. However, you might be wondering what software would be the best replacement for Stella Data Recovery for iPhone? With the highest rate of data recovery among its rivals, Eassiy Data Recovery is the best option you have at your disposal.
Despite having a very user-friendly interface with a minimalist design and features that are clearly explained, Stellar Data Recovery for iPhone is not without flaws. Stellar Data Recovery is a capable recovery tool, several factors can lead you to consider alternatives. In addition to providing you with a general overview of Stella Data Recovery for iPhone in this article, we will also provide you with an alternative which is our most phenomenal Eassiy Data Recovery!
Part 1: Is Stellar Data Recovery for iPhone Really Free?
Stellar Data Recovery for iPhone is an all-inclusive iOS data recovery tool that makes it simple to recover lost and deleted data from iPhone, iPad, iTunes, and iCloud. All models of Mac devices can have lost or deleted data recovered with Stellar Data Recovery for iPhone.
Stellar Data Recovery for iPhone is available free for all. The only free data recovery software that can recover data larger than 1 GB is Stellar Data Recovery, which is accessible to anyone. Additionally, it supports recovery from iTunes and iCloud backups. It works with iPhone models 13 through 12 and 11 as well as XS, XR, X, 8, 7, and earlier.
Even though the software includes a free version, in the event of a severe data loss crisis, Stellar Data Recovery's advanced features are still required. You must upgrade your free program to a later version, such as Standard, Professional, Premium, or Technician, to use the additional features.
Part 2: Features of Stellar iPhone Data Recovery
Comprehensive iOS Data Recovery Program - Stellar Data Recovery for iPhone is a full-featured iOS data recovery tool that works with iPhones to help users recover lost and deleted data.
Deep Scan for up to 100% Data Recovery - Based on the file signature, the Deep Scan feature looks for missing files. To recover all of the lost or deleted data, a thorough scan of the iOS device and iTunes backup is performed. You can look for a deep scan after getting the quick scan done.
Recover data from an iCloud, iTunes backup - Use the app to retrieve any deleted files from your iPhone from iCloud. Although you can restore your iPhone from a backup, the sophisticated software allows you to pick and restore only the specific files that were lost from your iCloud account and makes it possible to access data kept in encrypted iTunes backup files.
Retrieves deleted iPhone pictures, videos, and other data - loss of images, movies iPad, iTunes, and iCloud backup, including deleted text messages, contacts, voice memos, notes, and attachments as a result of unintentional deletion, factory resets, unsuccessful iOS updates, and other frequent causes on iPhone, iPad, iCloud, and iTunes can be recovered with Stellar Data Recovery for iPhone.
Restores Data in Multiple Loss Scenarios - The software provides data recovery from iPhone in common loss scenarios, such as accidental deletion, data loss after iPhone update, broken/lost/stolen/ water damaged iPhone, Jailbreak, iPhone stuck in recovery mode/ Apple logo screen/factory reset loop, virus attack, Black Screen of Death, etc.
Part 3: Pricing
The two most popular pricing options offered by Stellar are yearly or biannual licenses for $39.99 for regular versions and $49.99 for kits. These options allow you limitless data recovery but only allow you to connect five separate devices. A year is the license validity period for the standard plan. Everything in Standard (plus) is available from Toolkit, along with support for iOS repairs and the ability to remove configured Apple IDs.
Stellar offers a technician package for $149.99 if you need to restore data from numerous iPhones. With the Elevated Version of Toolkit, you can fix multiple iOS devices and recover, repair, and eraser Solutions on your iPhone for up to $50 less. The fact is Stellar Data Recovery is not an inexpensive application. The regular subscription plan starts at €39.99, while the premium version costs €149.99. And this is how much a one-year license costs.
Part 4: Compatibility
You might be curious as to whether Stella data recovery for iPhone actually works or what this software's compatibility rating is. Stella data recovery is one of the fine choices you have available to you for your query. Stellar is compatible with both Windows and Mac desktops and works with any iOS device, including iPhones, iPads, and iPods. It is compatible with all series of iPhone. It supports the latest iOS & below versions.
Part 5. Stellar Data Recovery for iPhone Not Working
Individuals have expressed concern about flaws in Stella Recovery Data and have also stated that the software is overhyped. The Stellar Data Recovery for iPhone program occasionally has trouble identifying your iPhone. The software can occasionally malfunction, stall out, or display error messages.
People have also stated that Stellar Data Recovery is a waste of money and time. According to their reviews, the software would not even start up and displays messages saying that "you have to trust the computer." Further, the software cannot recover your lost data and is just stuck at 98 percent.
Part 6: Best Alternative: Stellar Data Recovery for iPhone Review
Maybe you're trying to figure out what program would be the finest substitute for Stella data recovery software. Eassiy iPhone Data recovery is the solution since it not only makes data recovery simpler for you but also has the ability to thoroughly examine 36+ different types of files. With the most astounding program, Eassiy iPhone Data Recovery, you can recover your deleted photos, movies, messages, memories, and notes in only three simple steps.
Perhaps you failed to back up a crucial file. Maybe the century's storm made your workspace resemble Waterworld. Or perhaps a cyber-attack destroyed all you valued. Don't worry; some tools that can access the intricate structures of your disappeared cosmos and extract these priceless books. Or you could just find that picture of you and your squad from last week. Both Steller and Eassiy are such data recovery tools that are designed to help you recover lost data.
But Eassiy iPhone Data Recovery is the most fantastic solution to assist you to get out of this hassle, regardless of how your iPhone data was lost—due to an accidentally deleted file, a system crash, external damage, or any other scenario. It has the ability to recover 1000+ file kinds in original quality. Depending on the situation, you can decide between a quick scan and a deep scan to recover lost data as quickly as possible or with the maximum likelihood of success.
Key features:
Obtain data from your iPhone, iTunes, and iCloud.
36+ file types of recovery with no data loss.
Various approaches of dealing with data loss
Instantaneously scan 1000+ deleted photographs.
The greatest data recovery rate as compared to rivals.
You may get the greatest substitute for Steller iPhone Recovery, which makes it simple to recover your data on an iPhone, by following the methods listed below:
Steps to recover deleted data on iPhone using Eassiy:
Step 1: Download and launch
You can retrieve your lost data with the phenomenal Eassiy Data Recovery. Installing the most recent version of this software on your computer is required in order to accomplish this. You must use a cable to link your iPhone to your computer. Run the program after that and choose "Recover iPhone data recovery" to instantly scan the lost data.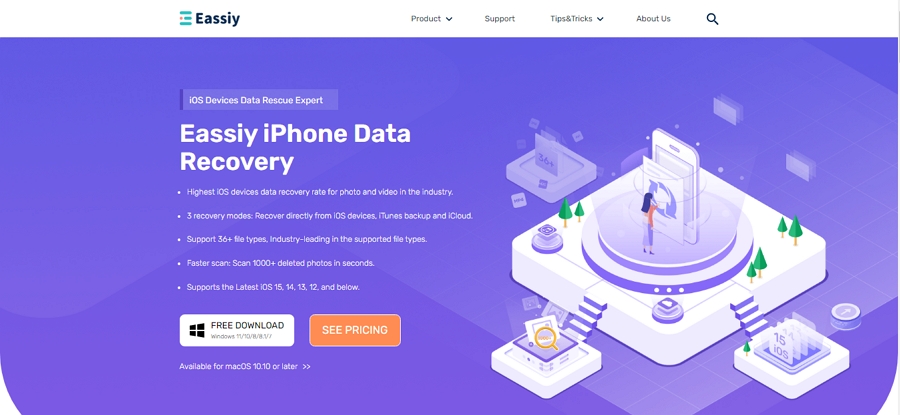 Step 2: Choose a certain mode to scan files
Now press "Start Scan" to look for the missing files after choosing a mode.
Step 3: Review and Restore Deleted iPhone Notes
All of the information on your iPhone will be listed properly after scanning. Pictures, videos, contacts, music, images, bookmarks, and more are all available for individual preview. To locate the desired deleted data, select that specific file such as select "cameral roll". Now to retrieve your deleted iPhone pictures/videos back on your computer, finally, click the "Recover" option in the bottom right corner. After that, you will recover your desired pictures/videos easily.
The best tool you have in your arsenal, Eassiy can recover data from lost photos as well as contacts, text messages, photographs, movies, bookmarks, calendars, call history, and other items.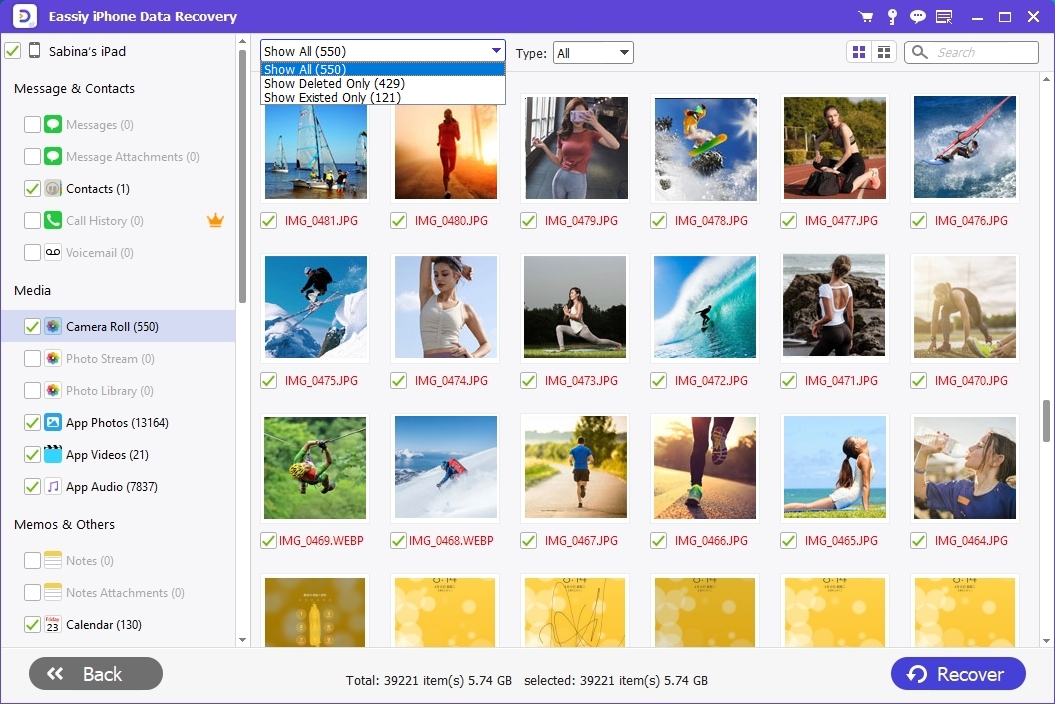 Part 7: Comparison Table
This article aims to provide a thorough and accurate comparison of excellent iPhone Data Recovery vs Eassiy iPhone Data Recovery. To assist you in selecting the most incredible data recovery program, we are giving you a comparison table:
| | | |
| --- | --- | --- |
| | Eassiy iPhone Data Recovery | Stellar iPhone Data Recovery |
| Recovery rate | The highest recovery rate for photo and video | Good recovery rate |
| Supported file types | 36+ file types supported | All common data types are supported. |
| Scan speed | Quick, scan 1000+ files in a single second | A lengthy process |
| Selectively restore | Supported | Supported |
| Price | $49.99/ year | $39.99/year |
| Stability | High | Less generally |
| Output format | CSV or Html | External & internal Hard drives data |
| Compatibility | Android, Windows, Mac, iPhone, and multimedia software | Mac & Windows |
| Free Data Preview Function | Available with the function to filter data | Free edition available |
| User-friendly | the software of choice for non-technical users and amateurs | more complex |
FAQs:
1. Can Stellar data recovery access broken iPhone?
When an iPhone is damaged or dead, Stellar Data Recovery offers effective iPhone data recovery services. The software can access iCloud and iTunes backups to recover lost or inaccessible iPhone data.
For users whose iPhones have already been synced to iTunes, iTunes will no longer request a password to unlock the screen because the computer already trusts the device.
2. Do you need a passcode for stellar iPhone data recovery?
The connected computer needs to be trusted by your device to recover your data with stellar iPhone Data Recovery. You won't be able to recover the data any longer if the computer is not trusted by the device.
3. What is Stellar Phoenix Data Recovery for iPhone?
With a new and improved Graphical User Interface, Stellar Phoenix Data Recovery for iPhone enables powerful modules to recover your lost or deleted data from your iOS devices, iTunes, and iCloud backup as well. Numerous iOS devices are supported by the program (iPad and iPhone).
Conclusion
Due to its highly user-friendly interface, simple design, and capabilities that recover accidentally deleted data with a deep scan and give you the best satisfaction and recover data from many settings, Stellar Data recovery is a dependable commodity. With the help of Stellar Data Recovery for iPhone, lost and deleted data from iPhone, iPad, iTunes, and iCloud may be easily recovered. But Eassiy creates cutting-edge iOS data access and recovery technology that enables us to recover any deleted data.
Although Steller Data Recovery for iPhone has more sophisticated functions, it has bugs, requires a lot of time, and is somewhat pricey, thus the Eassiy iPhone Data Recovery is the better option for everyday use. Eassiy stands out for its easy-to-use interface, flexible recovery methodologies, and ability to recover the majority of deleted data. We sincerely hope, that you have found the best alternative to Steller Data Recovery. Eassiy iPhone Data Recovery is the most reliable source due to its capability to not only immediately scan 1000+ lost images but also to provide you the finest satisfaction and recover data from diverse conditions. Stellar Data Recovery for iPhone is not flawless, despite having a highly user-friendly interface with a simple style and functionality that are properly explained.