Recording a PC screen at 4k quality means you're recording nearly 4 times the pixels of HD. Trust me, every component in the video will be very explicit. As a content creator or someone who is looking to record his/her PC screen for tutorial videos, entertaining video guides, how-to videos, or more at 4k resolution, you need a 4k screen recorder to perform the operation seamlessly. It doesn't matter if you're recording a PC screen or a phone screen.
So, in this post, we would be discussing the top 3 4k screen recorder ultimate for PC/Mac/iPhone/Android/Online to give you the heads on the most reliable software out there that can always come in handy for any type of 4k resolution screen recording.
Part 1: Best one Eassiy Screen Recorder Ultimate for PC/Mac/Android/iPhone - Recommended
The very best 4k screen recorder, that's not only tested and trusted by millions of users globally but whose credibility is backed by lots of users' critics is Eassiy Screen Recorder Ultimate.
Eassiy Screen Recorder Ultimate is the only all-in-one screen recording software that's compatible with recording screens on different devices including PC, Mac, Android, and iPhones. The tool supports the recording of game screens, live streams, sports, events, tutorials, and lots more with 4k resolution quality up to 60fps. It also specialized in performing simultaneous 4k screen recording and editing operations with advanced real-time annotation features like drawing, text, paint, and lots more.
Moreover, unlike most screen recording software, Eassiy Screen Recorder Ultimate can be used to execute scheduled screen recording operations and it has an advanced auto-split that can be used to split recorded videos automatically into different segments. It doesn't even end there; Eassiy Screen Recorder Ultimate also has a special screenshot tool and other exciting features that allow users to enjoy PC screen recording at its finest.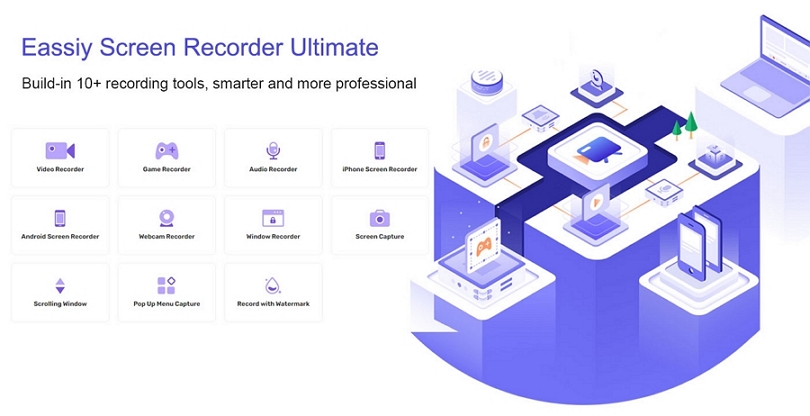 Key Features
Record video in H.264 and HEVC/H.265(Support the newest HDR 10-bit coding
Screen record gameplay on a computer or mobile device efficiently without lagging.
Simultaneously record a PC screen with or without webcam and take screenshots.
Auto-split facilitates the process of splitting records into different sections that could be merged into one file.
Perform scheduled screen recording and automatically end the process with the auto-stop feature.
Support both advanced and basic editing tools for annotating, cutting, trimming, audio-cleaning, and doing lots more on recorded videos.
How to record 4K videos on PC/Mac
Step 1: Download Eassiy's Screen Recorder from the official website and install it on your Mac/PC. Then launch the installed software and click 'Video Recorder' from the home interface.

Step 2: Scroll to the left side of the screen and select either 'Full' to record full screen at 4k quality or 'Custom' to record 4k screen at a certain dimension.

You can explore other features like turning on 'System Sound' and 'Microphone' to record PC screen with audio.

The 'Webcam' feature will allow you to record the screen with webcam.
In addition to that, you can click the 'Settings' button at the top side of the screen and select 'Preference' to perform further customization. Then click 'Ok' after you've made the required adjustments.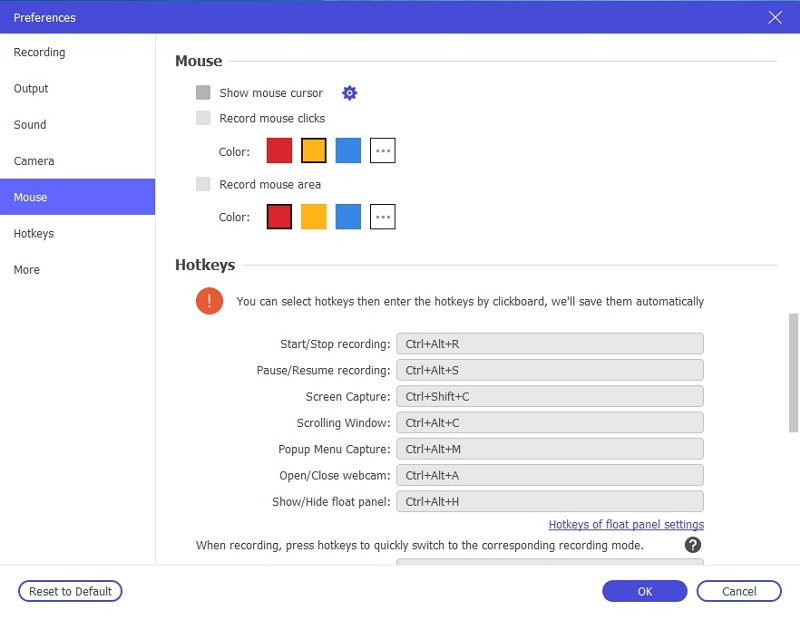 Step 4: Begin the 4k video screen recording by clicking the 'Rec' button. There are more features for you to play with during the screen recording. You can use real-time annotation to add texts and highlight important elements in the video, you can edit text color, and even take screenshots.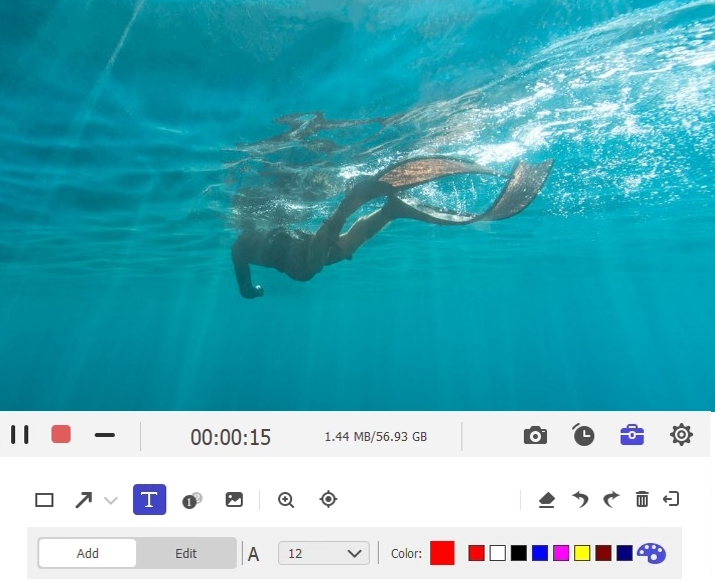 Step 5: Once you're satisfied with the screen recording operation, click the 'Stop' button to end. You can edit the recording in the preview section. Then save the recorded video to your PC using the 'Save' button.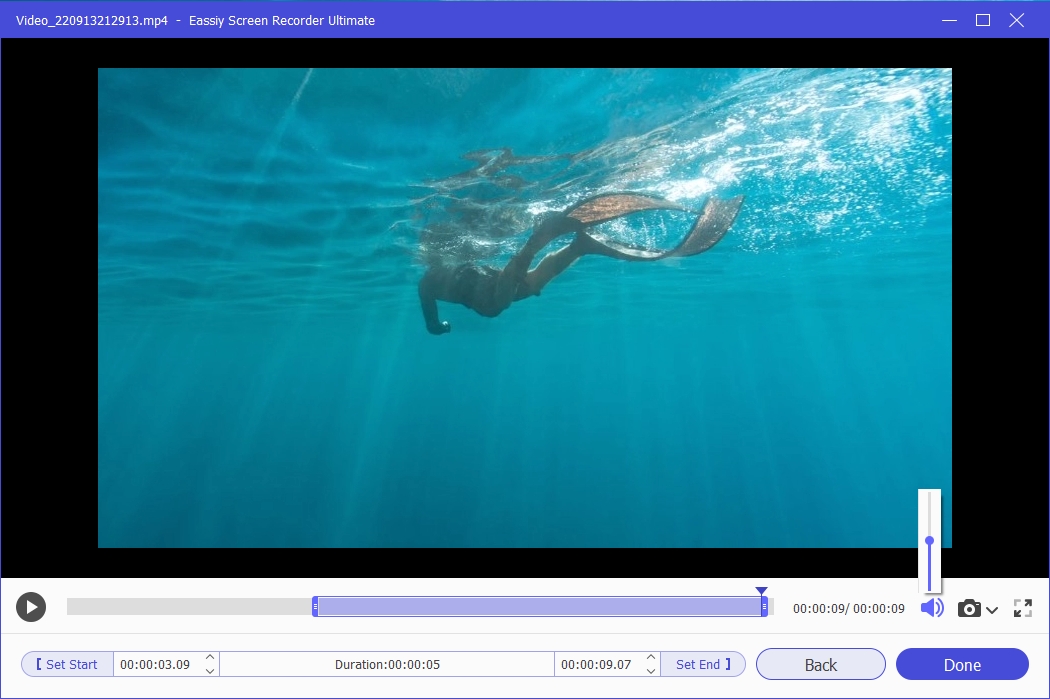 You can also share the recorded videos to social media apps like YouTube, Facebook, Twitter, etc using the share button.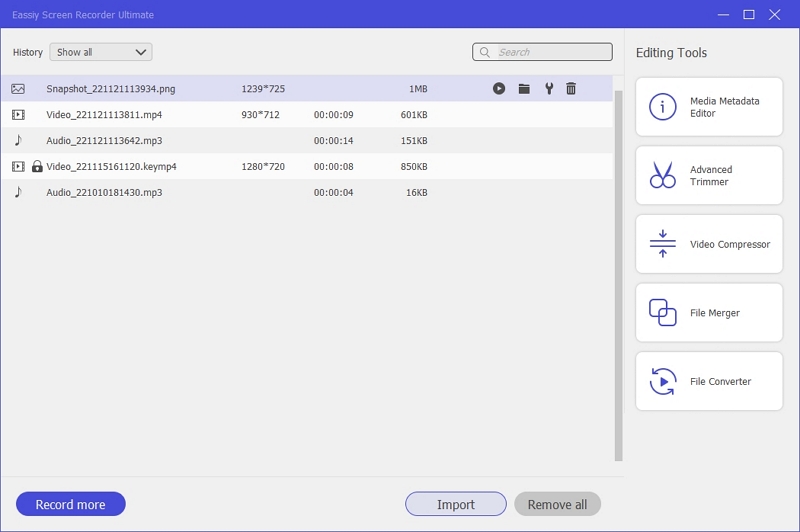 How to record 4K videos on Android/iPhone screen with Computer
To record Android or iPhone screens from your computer, Eassiy's ScreenMo is a reliable tool that does the job efficiently without requiring a phone jailbreak. Just follow the steps outlined below to utilize the tool;
Step 1. Start the Eassiy Screenmo software on your computer and select 'Phone' from the main menu.

Click on Android Recorder or iOS Recorder based on the mobile device whose screen you want to record 4k videos from.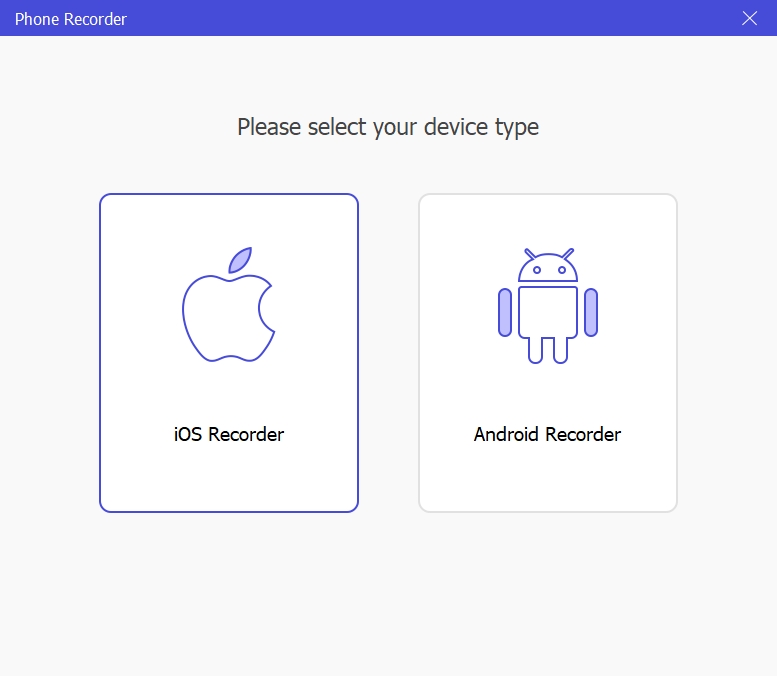 Step 2. Connect the iOS or Android device to the PC. We use iOS Recorder as an example. While on iPhone open the Control Center and tap on 'Screen Mirror', then choose Eassiy Screen Recorder Ultimate. This will enable the software to start displaying your iPhone screen on the PC.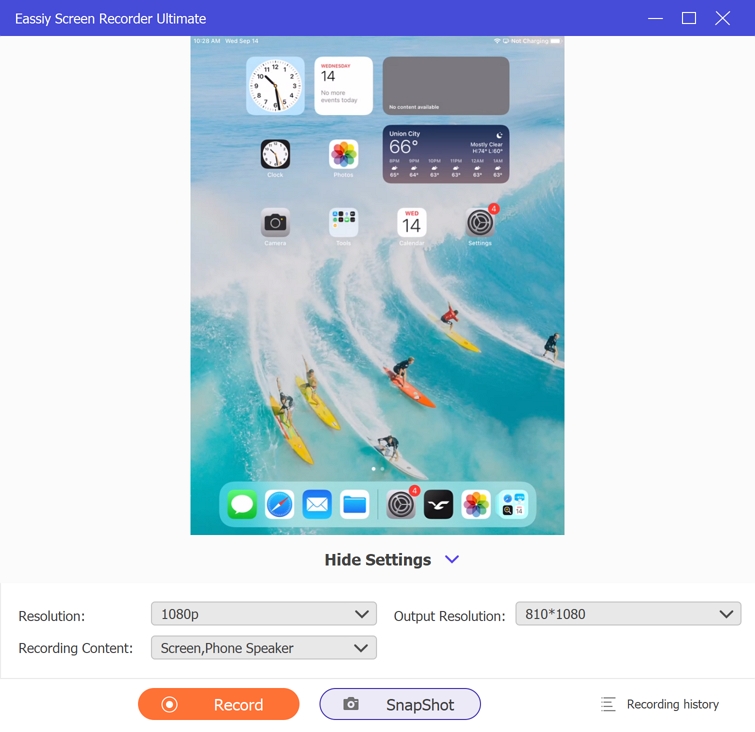 Step 3. Click the drop-down icon next to 'Resolution' and Select Resolution as 4k. To record your phone screen with audio, tick the checkbox next to Speaker and choose Phone Speaker, PC Speaker, or Phone Speaker PC Speaker.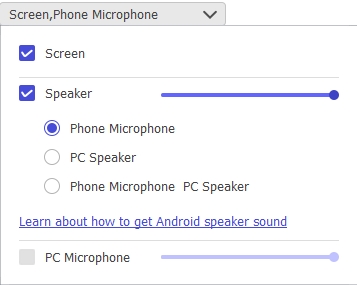 Step 4: Now hit the Record button to start recording 4k video on your phone from the PC. The Camera icon can also come in handy to take screenshots of your phone screen during the process. After you've completed the screen recording, click 'Stop' to end the operation.
Step 5: Preview and edit the recorded video on your PC, then click Export to save the video to a preferred storage space on your PC. You can also share the recorded video on social media platforms like Facebook, YouTube, Twitter, etc. If you want.
Pros
It's great for recording both PC and Phone screens.
Performs both basic and advanced 4K video screen recording on Mac or Windows PC Without lagging.
It supports a plethora of modern features for taking both screen records and screenshots of PC screen.
Support unlimited free version that allows users to record PC screen for up to 3 minutes without watermark.
Cons
You need to install the software.
Part 2: Top 4K Screen Recorder APP for Android/iPhone
If you don't want to record your Android/iPhone screen with Eassiy Screen Recorder Ultimate, you can rely on installable mobile-friendly apps to record 4k videos.
AZ Screen Recorder is one of the few efficient screen recorder apps that are compatible with both Android and iOS devices, and it supports helpful features that facilitate the easy recording of phone screens with high quality. Although it's not as efficient as Eassiy Scree Mo, it can be used to record clearer game screens, live streams, tutorials, and lots more when you're on your Android or iOS device. Plus, it boasts a lot of editing tools that can come in handy to edit recorded videos.
key features
It can be used to take phone screenshots.
Record screen at 4k quality.
Support helpful editing tools to edit videos.
Pros
It's free to use.
It's compatible with both Android and iOS devices.
Cons
The app is Ads supported - this can be very frustrating.
Recording 4k videos with the app take up phone storage quickly, and this could cause one's device to start overheating unnecessarily.
How to record 4k videos on Android/iPhone
Step 1: Download and install the AZ Screen Recorder app on your Android or iPhone from Google Play Store or Apple Store.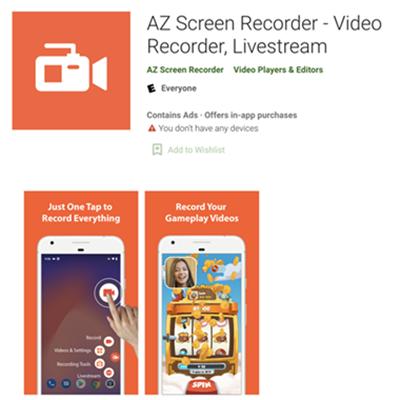 Step 2: After you've successfully installed the app, open it. Once you open the app you'll notice different options including Record, Video & Settings, Livestream, and Recording Tools.
Just select 'Video & Settings from the option. Then set up screen recording frame rate, resolution, and other important settings to make your video high-quality. Afterward, tap on the back to navigate back to the home menu.
Step 3: Now hit the 'Record' button to begin the screen recording operation.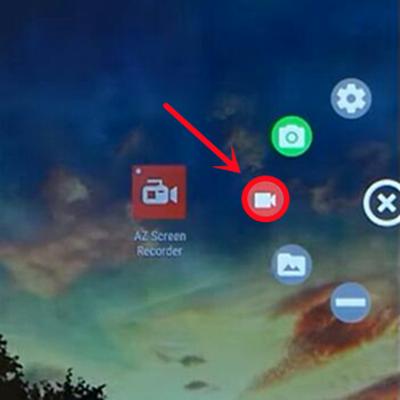 Step 4: To end the screen recording operation, swipe down from the top side of your mobile device and tap on the 'Stop' button to complete the action.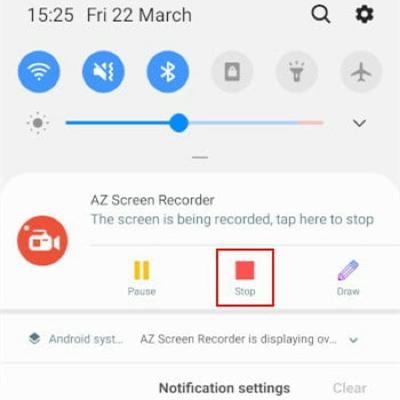 Part 3: Top Online 4K Screen Recorder
If you don't want to install software or Android/iOS compatible apps, there are online 4k screen recorder tools that can help you execute 4k screen recording operations. Vmaker is one of the top-rated online 4k screen recorder apps that is trusted by lots of users in the industry, and this is because of the amazing functionalities it offers to users. The tool is efficient and 100% free to use. Plus it can be used to record screens with webcam overlay and audio. All it takes is just a few clicks.
Key Features
4k HD recording.
Support helpful annotation tools.
Edit videos with highly-intuitive video editing tools.
It has a reliable video management system.
Pros
It doesn't require the installation of software.
It can be used on both Mac and Windows PC.
Availability of annotation tool.
Cons
You need a stable internet connection to be able to use the tool.
It can be quite complicated to understand.
You need to pay for the upgrade to use all its features.
How to record 4K Videos with Vmaker Online Tool
Step 1: Open the Vmaker online tool on your desktop or mobile device.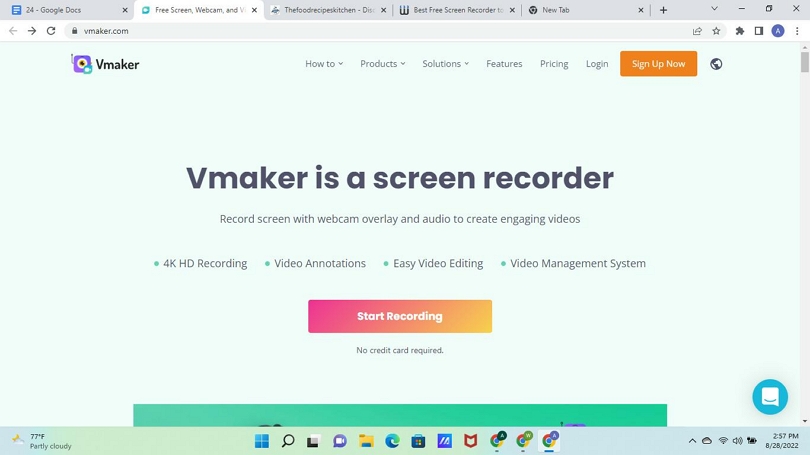 Step 2: Click on 'Start Recording'. By doing so, you'll be prompted to create an account. Just register your account using the required details.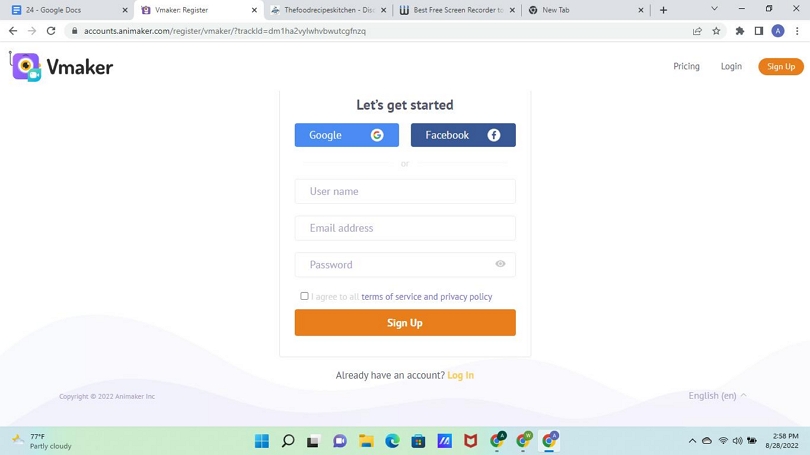 Step 3: Up next, you'll be prompted to add the extension to Google Chrome. Click on the added extension, then from the pop-up that appears click "Allow".
Image name: record-4k-video-with-vmaker-online-tool-3.jpg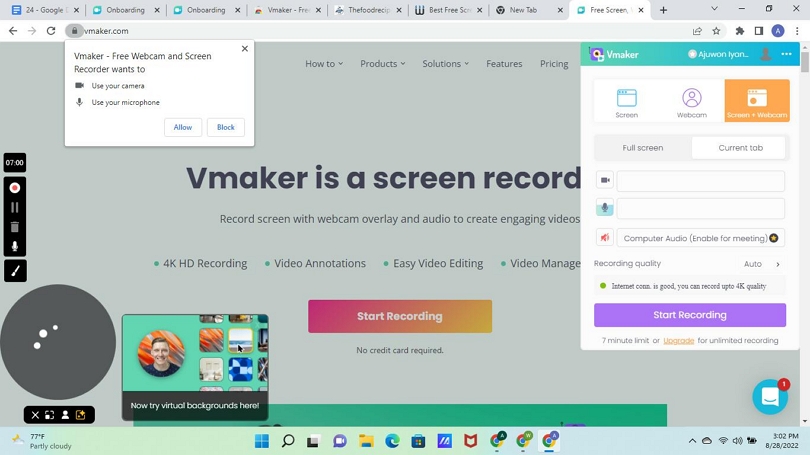 Step 4: Now, click "Screen", then hit the "Screen Recording" button and choose the section of your screen that you want to record from the pop-up window that shows up on your screen. Then hit the "Share" button to start recording your PC screen.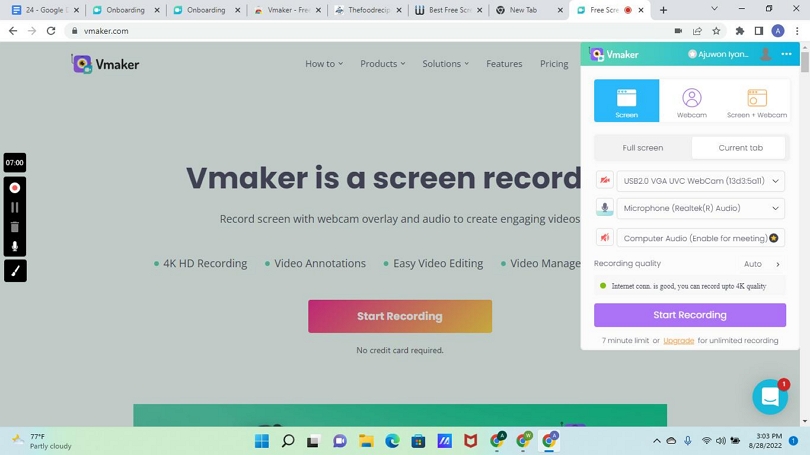 Step 5: Once the screen recording operation is completed, click "Stop Sharing" at the top of your screen to end your process.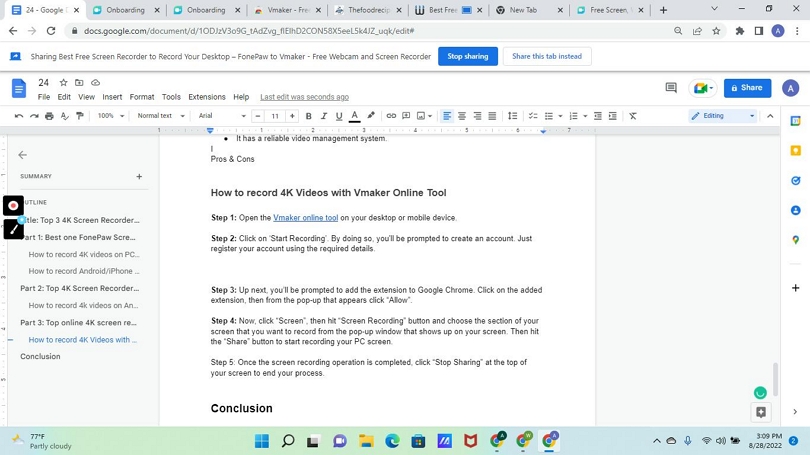 Conclusion
Recording 4k video of a PC or phone screen is not a big deal once you have a reliable 4k screen recorder for a PC or mobile device right at your fingertips. In the article above, we've briefly introduced 4k screen recorders software, app, and online tool that records 4k videos with high quality. However, Eassiy Screen Recorder Ultimate stands out compared to the tools mentioned as it boasts both PC and phone screen recording abilities. Plus, it has a plethora of helpful features that could come in handy to make recording PC or phone screens at 4k quality more interesting.