When it comes to Snapchat, you want to keep your shared photos from deletion, as this platform tends to remove them automatically from your stories. More specifically, Snapchat users can only set a time limit of 1-10 seconds, and recipients can only view photos or videos during that period. So, when that timer runs out, this application instinctively deletes the item you've shared.
Snapchat creates memories and fun moments that no one wants to forget. So, on the contrary, you may want to recover those without any hassle. In this article, we'll discuss six amazing ways to fully recover Snapchat photos on android without using a computer. These easy steps follow:
Google photos
Your phones cache files
Backup and restore option
OneDrive
Snapchat memory
Eassiy Android Data Recovery (The smart way)
Let's talk about our solutions in detail.
Way 1: How to Recover Snapchat Photos Android without Computer via Google Photos
Google photos is a top-notch application for keeping your data intact most of the time. In technical terms, there is a storage backup that your phone will automatically sync data into. So, regardless of whatever happens to your phone, you can always retrieve your media from Google Photos. Follow these simple steps to restore Snapchat media from Google photos.
Step 1: First, open the google photos application on your android device.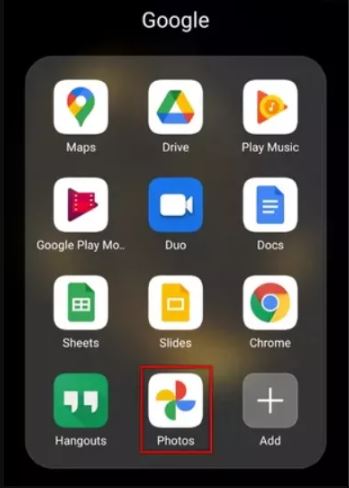 Step 2: Second, select your Snapchat photos that you may like to recover.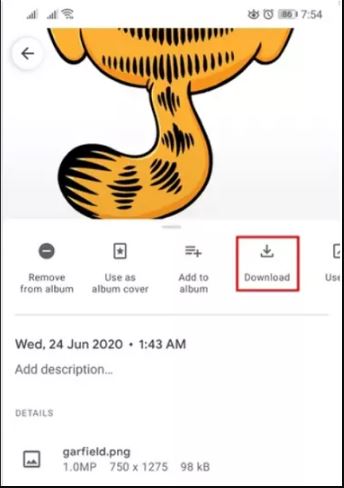 Step 3: Finally, Tap More than Download option on your selected photo. Though, if the media is already on your device, this download button won't appear. To easily navigate google photos, you can go to the library option and check the albums to find your removed Snapchat photos.
Note: This method is only applicable if you have enabled the "auto-sync" feature on your device. Google Photos has long been regarded as the most secure and widely used cloud storage space for media files, particularly on Android phones.
Way 2: How to Recover Deleted Photos Android Internal Storage without Computer from Cache Files
Android smartphones have a handy feature which is cache memory. Every android device has a fixed amount of cache memory for all the apps that you've installed in your system. In other words, all files on your device are saved with an extension by the android system. Although the cache files are already present in the internal storage, they never appear in the main folder to prevent file duplication. So, your Snapchat photos remain intact in your cache file folder even if you accidentally delete them. Here are the steps you need to follow to retrieve your Snapchat photos via cache files.
Step 1: First, go to the file manager on your android device and select the folder-leveled android. Open it.
Step 2: Second, navigate through the "Data" folder, and there you will find a folder named "com.snapchat.android".
Step 3: The third step is to select the "Cache" folder, and there you will find the "received_image_snaps" folder.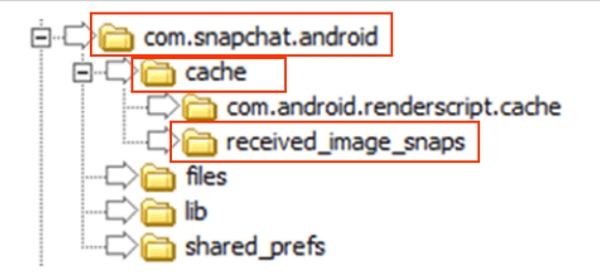 Step 4: Finally, you can access your Snapchat photos from this location by viewing the saved snaps and moving them to other locations. It is suggested that you change their extensions so that you can easily access your removed Snaps later. Simply accessing and opening these files will allow you to recover all of your Snapchat photos onto your Android device in no time.
Way 3: Use Backup and Restore Option to Recover Deleted Photos from Android without Root
You'll need root access to the entire file system to get the best results when recovering deleted Snapchat photos from an Android phone. However, there are methods for recovering deleted photos on Android that do not require root access. For example, suppose you use your Android device's built-in backup and restore feature. However, there is a catch. Depending on the age of your backup, you may not be able to recover every single lost photo. This option may also be unavailable or referred to differently depending on the make and model of your Android smartphone. However, this is a quick and easy way to retrieve your Snapchat photos without wasting much time. The steps are as follows.
Step 1: First, you have to open Settings and then go to your Account.
Step 2: Second, sign in by using your account and password if prompted.
Step 3: After signing in, you will find an option called "Backup and Restore".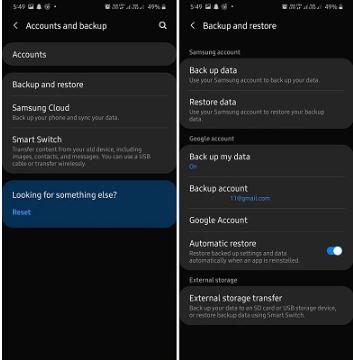 Step 4: Finally, click "Restore," wait for the process to finish, and you will have all your lost/removed Snapchat photos in a matter of seconds.
Way 4: How to Recover Snapchat Photos Android without Computer via OneDrive
To retrieve lost Snapchat photos, you can look into Microsoft's cloud storage service or "OneDrive."  It has an automatic photo backup and delete feature that enables you to spare internal memory by uploading and deleting photos from your android device. Any image uploaded to OneDrive can be recovered from any device, including the one used to capture it. You can use the OneDrive app installed on your android device to follow the process.
Step 1: First, open the OneDrive app and select photos from the bottom menu bar.
Step 2: Second, you have to select the photos that you want to restore.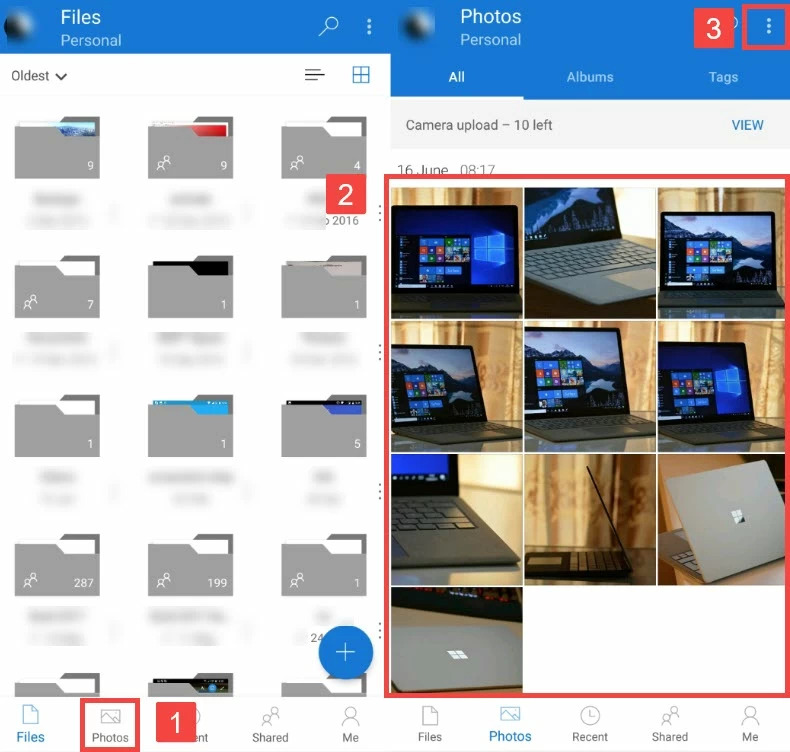 Step 3: Finally, tap the section with three dots in the upper portion of the application and hit save. That's all it takes to restore your lost Snapchat photos in a few seconds.
Note: For about 30 days, OneDrive's "recycle bin" stores your recoverable data. They are then automatically deleted. It applies if you have a Microsoft account and are logged into OneDrive. However, the complete deletion of the recycle bin data in OneDrive takes 93 days for work and school accounts.
Way 5: How to Recover Snapchat Photos Android without Computer Using Snapchat Memories
The Snapchat application itself is another way to recover your Snaps from any Android device. This app saves your memories to their servers. You can request a copy of your data from the Snapchat app. Then, check your email for the file you asked for. It may take some time, as it depends on when you are receiving the requested data through email from them. However, the steps are simple and easy to follow.
Step 1: First, open the Snapchat app and select your profile image. After selecting, tap the settings gear icon.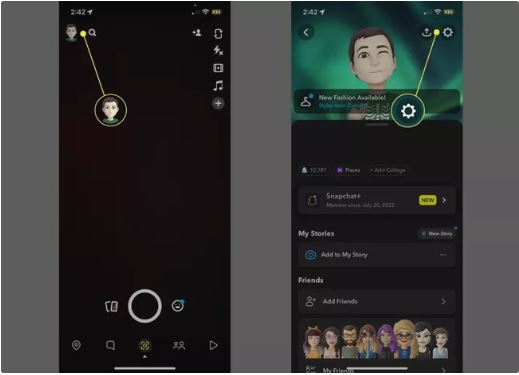 Step 2: Second, from the settings table, go for the "My Data" option. A page will pop up named "My Data." This page will provide you with all the data you can request from Snapchat.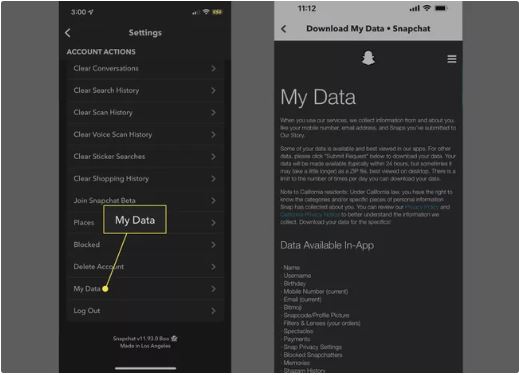 Step 3: Finally, at the bottom section, you can enter your preferred email address and wait for a reply from their support team.
Step 4: You will be notified via email when the archived data is ready for download. The downloading time varies according to the number of photos, videos, and messages.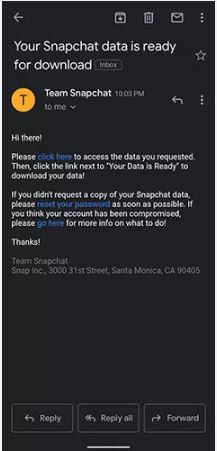 By clicking the link in the email, it will take you to the My Data page. Here you will find the "Mydata.zip" file, which you need to download to save the data to your android device. So, now you have complete access to your deleted snaps in a zip file.
Way 6: Best Way to Recover Deleted Photos from Android Internal Memory without Root [Bonus]
Here is the part you want to take things seriously. Though we mentioned some of the effective methods of recovering your precious Snapchat photos. Not all may work for you. However, using an Android data recovery app is the most efficient way to recover your Snapchat photos without a PC. Eassiy Android Data Recovery is one of these professional applications that easily recover your Snapchat photos or any other data without any backup. It has the highest Android data recovery rate for photos and other media in the industry. Also, this application supports around 6000+ Android devices. So, you don't have to worry about running it into your smartphone regardless of the brand and model.
Features:
The Eassiy Android Data Recovery tool has three restore modes, including - Android devices, Android SD cards, and SIM cards.
This tool supports 16+ file types that include photos, audio, contacts, messages, attachments, DOC, XLS, PPT, PDFs, ZIP, etc.
You can restore WhatsApp data without any backup procedure with this recovery tool.
This tool can scan 1000+ lost photos and other media in seconds.
"Eassiy" allows you to get back your deleted data back from both rooted and unrooted android devices.
This application provides the simplest way to recover data from your android device. Here are the steps you will follow.
Step 1
Download and Install Eassiy Android Data Recovery
First, you have to download and install Eassiy Android Data Recovery tool from their official website. Launch it on your computer.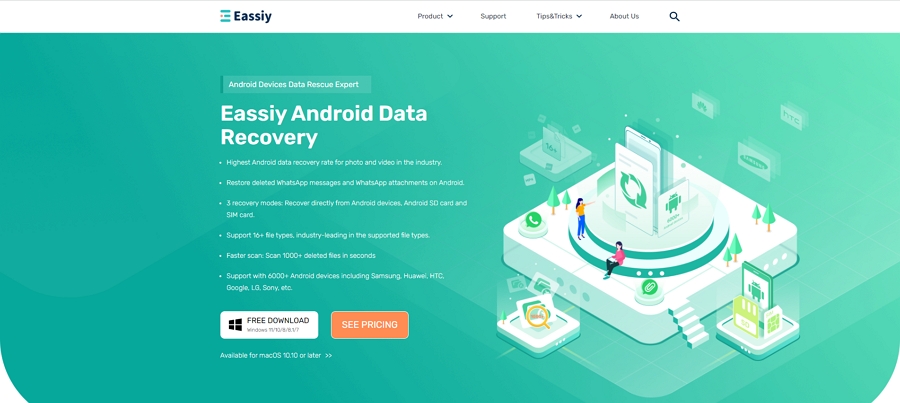 Step 2
Link your Android Device to your Computer
Connect your Android device to your PC. After that, open "USB debugging" on your Android phone.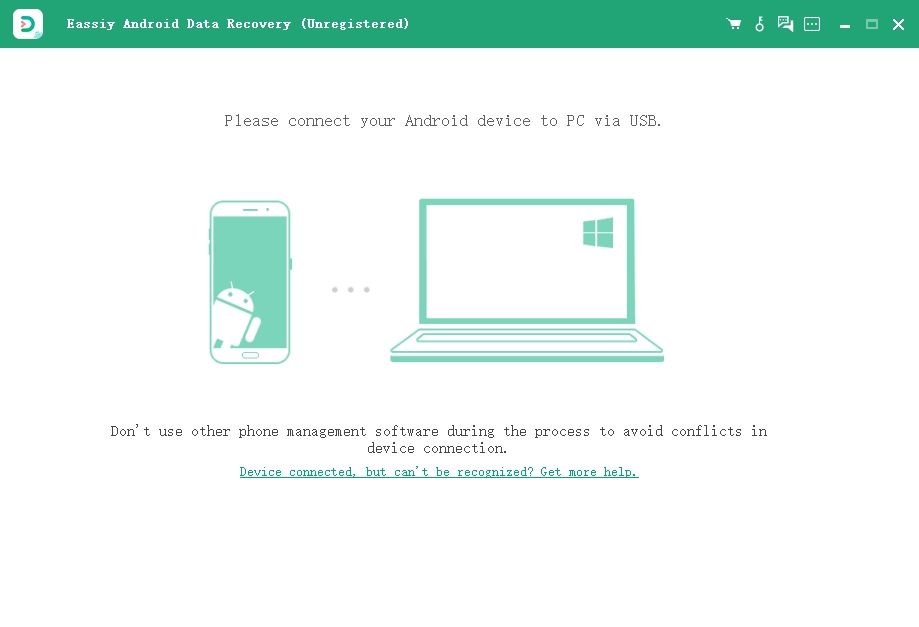 Step 3
Select your File Types
To retrieve your deleted photos for this, choose "gallery." Then press "Next".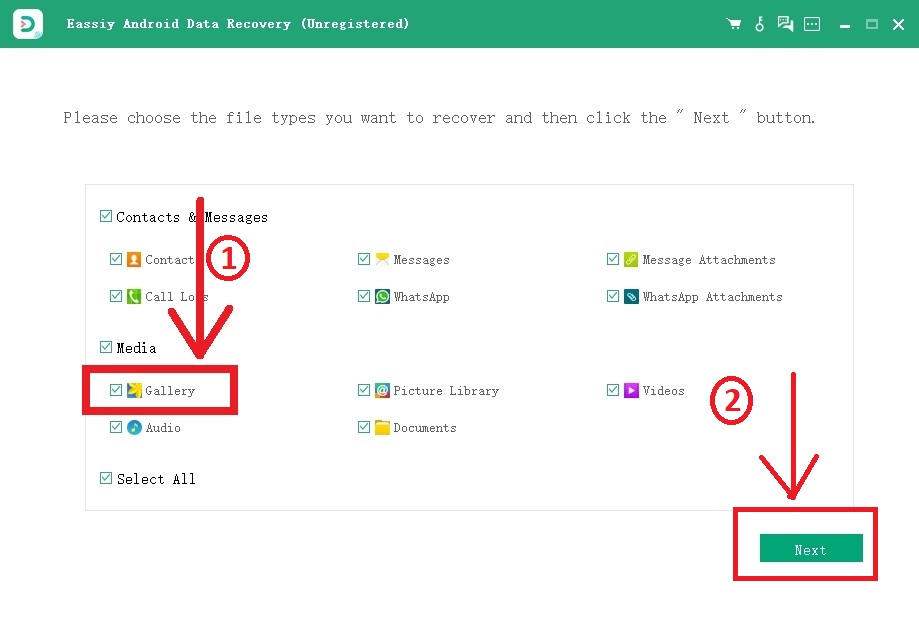 Step 4
Download the Eassiy App on your Android Device
You must install the program on your android smartphone in order for Eassiy Android Data Recovery to have access to it. When the pop-up appears on your Android device, click "Install" after enabling "Install via USB" in the software's developer options. Please Provide Eassiy access to read the memory of the Android smartphone. When the Eassiy pop-up window appears on your Android device and asks for permission to read data, click on "Allow." This will enable the application to successfully scan the phone. In order to begin searching for the deleted pictures, click "Scan Authorized Files" on the computer software.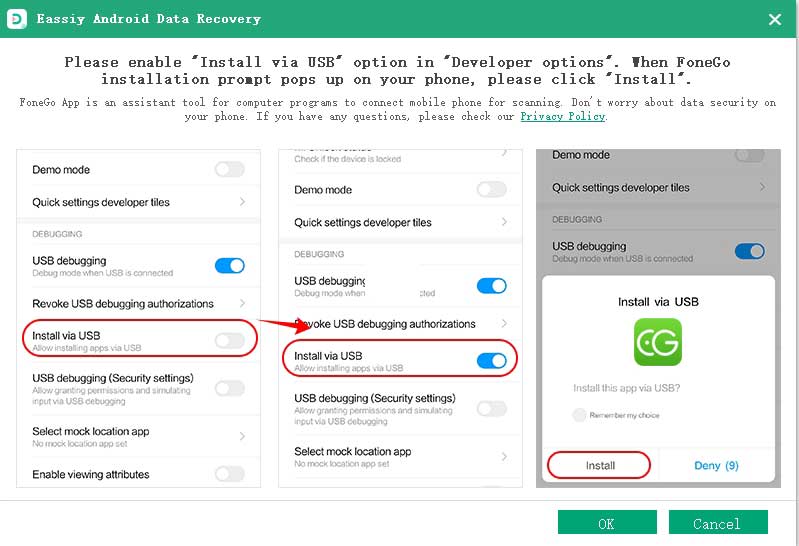 Step 5
Recover Your Deleted Photos
Keep your phone plugged into the system while the system is being scanned. Verify that the deleted photos you require is present after the initial scan. Otherwise, select "Deep Scan" to look for buried deleted photos. Afterwards. Click "Recover" to get back your deleted photos.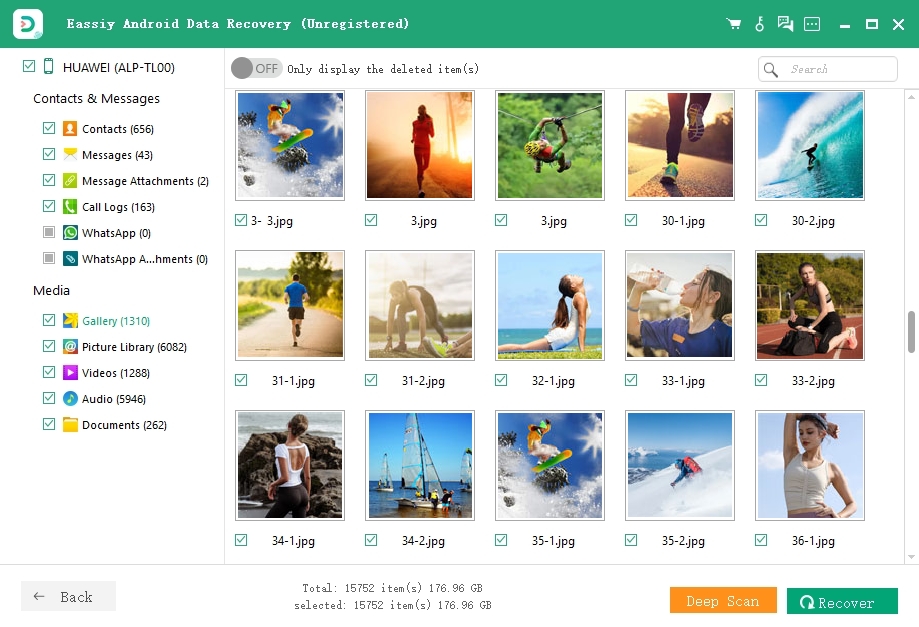 In order to directly recover your deleted pictures from your Android device, follow the procedures above and use the most amazing Eassiy Android Data Recovery app.
FAQs:
1. Where do Snapchat files stored on Android?
All your Snapchat media can be found by following this path on your android device. /data/media/Android/data/com. snapchat. android/cache/received_video_snaps/ in mp4 format. The file has a ". nomedia" file extension.
2. Where is the Snapchat cache folder on your android device?
You have to open the file manager app on your android phone. There you will find a list of folders, and you have to select the folder named Android. Inside that, there is a data folder. Within this folder, find the file named com.snapchat.android. Here you will get the Snapchat cache folder that you are looking for.
3. Is Snapchat store images in a database?
The fact is Snapchat automatically deletes the contents of your snaps. So, you don't have your snaps forever stored in a database. In simple terms, you can store the pictures in Snapchat memories that use cloud-based storage. Though the application eventually deletes them from their database after a short period.
Conclusion
Going through this article, you probably found your answer about the recovery of Snapchat photos on android without using a computer. Fortunately, we think these methods will surely retrieve Snapchat photos on Android with and without backup. Now, if none of those manual processes works for you, go for the "Eassiy Android Data Recovery" tool. It's the most efficient and easy way for the successful restoration of your snaps in a matter of seconds.  As you saw, this application allows you to recover 1000+ images in no time. So, with Eassiy, you don't have to think twice about data loss anymore.