WhatsApp videos can be lost in a variety of ways. Perhaps you accidently deleted the messages from your device before factory resetting it, or you failed to make a backup of the messages. There is no need to give up if you no longer have the videos, for whatever reason. When you mistakenly remove data from your phone and are unable to recover it, it might be frustrating. The same is true for removing videos from WhatsApp because trying to recover them after deletion can be challenging.
You need to know whether WhatsApp deleted video recovery is indeed possible before we discuss any specific techniques. The good news is that it is doable! You may get the videos you might have unintentionally erased back in a few different methods. You can attempt recovering them from your phone's internal storage, the Gallery on your phone, a backup that is located on the cloud, or a dedicated Android data recovery program. We're going to go through how to recover unintentionally deleted WhatsApp videos on an Android phone in this article. Read on to find out everything you need to know about this procedure and what safety measures should be done to ensure that it doesn't happen again. We will give you access to all 6 of the top options in addition to the greatest choice, Eassiy Android Data Recovery Software, in this article.
Way 1: How to Recover Deleted WhatsApp Videos Android without Backup
You can rapidly recover WhatsApp videos from your Android without a backup by utilizing Eassiy Android Data Recovery application. Due to its user-friendly design, Eassiy Android Data Recovery would be the best option even if you are a beginner when it comes to working with android data recovery. Eassiy Android Data Recovery provides the quickest rate of photo and video data recovery from Android devices. This application offers a record-breaking 16+ file type support. Eassiy Android Data Recovery is compatible with a wide range of Android phones, including those made by Samsung, Huawei, HTC, Google, LG, and Sony.
Eassiy Android Data Recovery is the best recovery app to help you out of this dilemma, regardless of how your Android WhatsApp videos were lost due to a system failure, an unintentional deletion, external damage, or any other reason. Eassiy Android Data Recovery is the most spectacular recovery app. Thanks to Eassiy's superior Android data access and recovery technology, we can retrieve accidentally lost WhatsApp videos, photos, and attachments. Eassiy Android Data Recovery is the best recovery source since it has a higher rate of data recovery than its competitors and can swiftly analyze 1000+ deleted files.
Key features:
Support for over 6000 Android mobile devices.
The industry's highest recovery rate for Android video and photo data.
Quick scan: in one second, scan more than 1000 deleted files.
The ability to support the most file types (more than 16) in the market.
Provides 3 recovery methods including directly from Android device, memory card and sim card.
Steps to Recover Deleted WhatsApp Video on Android without Backup:
Step 1
Download and Install Eassiy Android Data Recovery.
By clicking the button on the official website, you may download and install the appropriate version of the software for your system.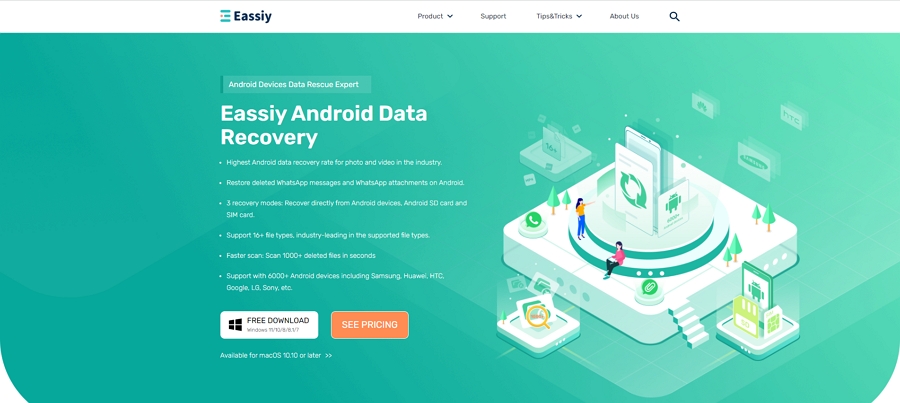 Step 2
Link your Android Device to your Computer.
Connect your Android device to your PC. After that, open "USB debugging" on your Android phone.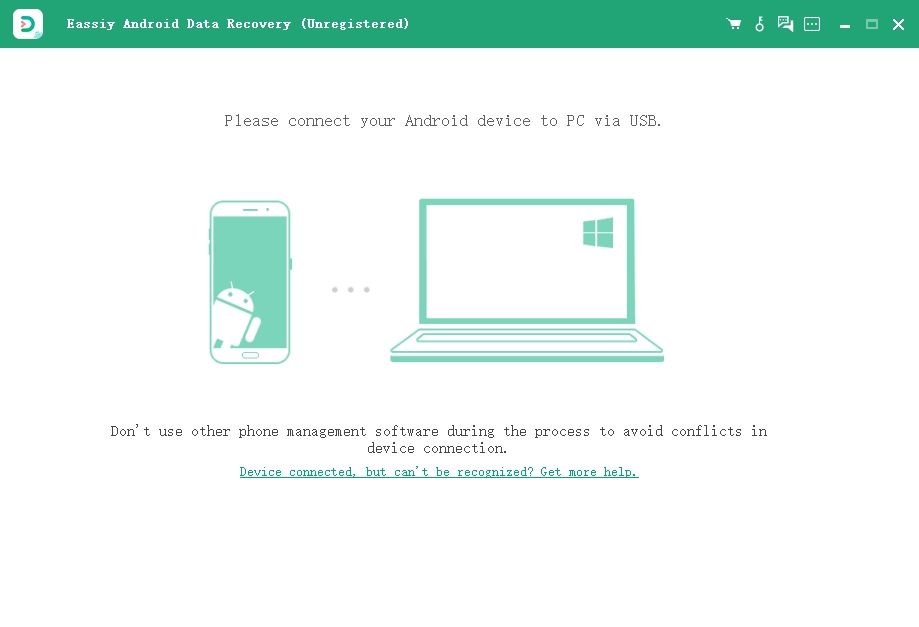 Step 3
Select your File Types.
To retrieve your deleted WhatsApp videos for this, choose "WhatsApp" Then press "Next."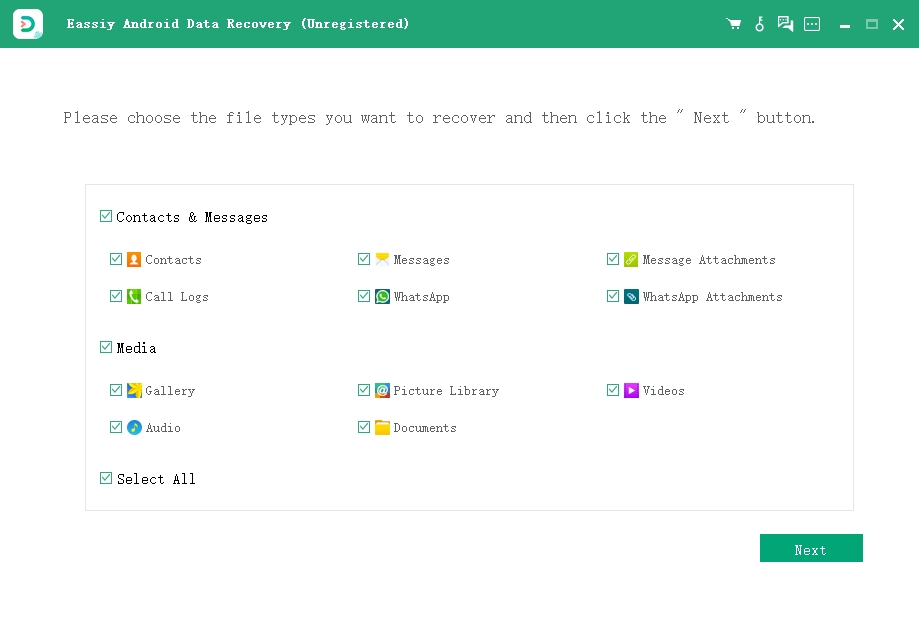 Step 4
Download the Eassiy App on your Android Device.
You must install the program on your android smartphone in order for Eassiy Android Data Recovery to have access to it. When the pop-up appears on your Android device, click "Install" after enabling "Install via USB" in the software's developer options.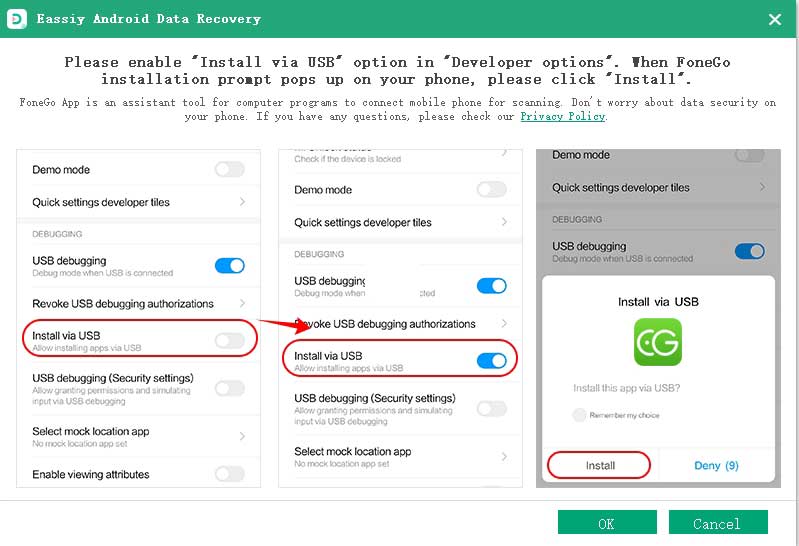 Please Provide Eassiy access to read the memory of the Android smartphone. When the Eassiy pop-up window appears on your Android device and asks for permission to read data, click on "Allow." This will enable the application to successfully scan the phone. In order to begin searching for the deleted WhatsApp videos, click "Scan Authorized Files" on the computer software.
Step 5
Recover Your Deleted WhatsApp videos.
Keep your phone plugged into the system while the system is being scanned. Verify that the deleted videos on WhatsApp you require is present after the initial scan. Otherwise, select "Deep Scan" to look for buried deleted videos. Afterwards. Click "Recover" to get back your deleted videos.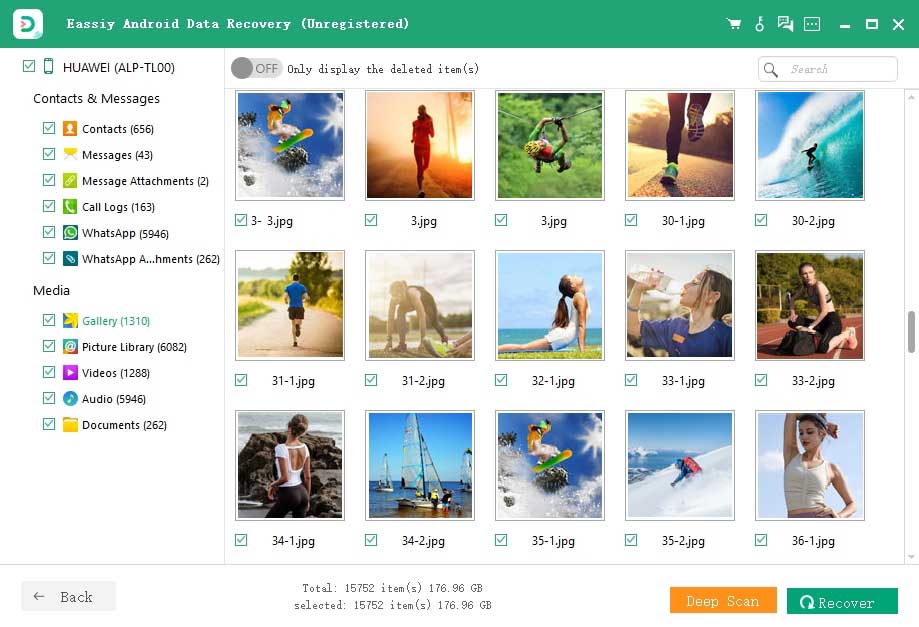 By following the steps above, you can easily retrieve your lost WhatsApp videos.
Way 2: How to Recover Deleted WhatsApp Videos Android from Android Gallery
The gallery app on your phone is the best option for recovering deleted WhatsApp videos on an Android smartphone. The "Clear Media from Phone" option must not have been checked when the video was erased for this to function. Your videos might not be saved in this specific place if you are using an older version of the Android operating system. Using a file manager like Google Files, you might have to find the WhatsApp video folder. Take the following actions to recover video using this method.
Step 1: Navigate to the gallery
Using your Android device, navigate to the gallery. Media on your phone will naturally be stored in distinct folders on Android devices.
Step 2: Access specific album
To access the many albums saved to your phone, click the album icon. Then, you'll discover a special folder for WhatsApp files. You should be able to access the video that was stored in this folder.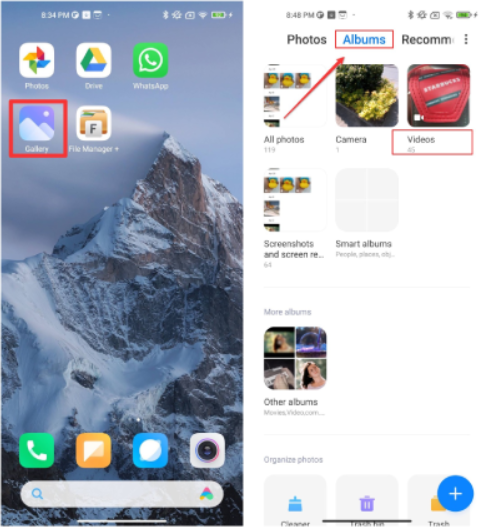 Way 3: How to Recover Deleted WhatsApp Videos Android from WhatsApp Backup [Google Drive]
In order to restore lost or deleted video material from WhatsApp, use Google Drive Backup. WhatsApp frequently makes a backup of data when it is added or removed. You can make advantage of Google Drive Backup if this has already been done for the questioned video.
Take the following steps to recover video using this method:
Step 1: Reinstall WhatsApp
To do this, you must first uninstall WhatsApp from your Android device. Reinstall it from the Play Store after removing it from your phone.
Step 2: Launch WhatsApp
You must open WhatsApp on your Android device and confirm your phone number before continuing. When you launch the app for the first time after deleting it, you will be asked to do this.
Step 3: Choose restore
The option to restore your data will then appear on the screen once you select Restore. If you want to recover your data from before it was deleted, use the restore option. Following that, WhatsApp will begin to recover all of your lost data, including any previously deleted videos.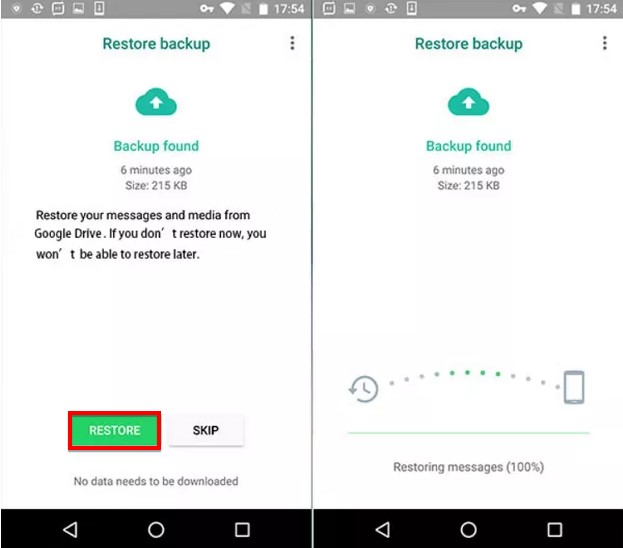 Remember that for this step to function, your Google Drive account must be logged in and linked. Your lost videos should be recovered to your Android device once you've followed the above-described methods.
Way 4: How to Recover Deleted WhatsApp Videos Android from Local Backup/Storage
The final approach entails using the local backup on your Android device to recover any lost or deleted video clips from WhatsApp. When WhatsApp creates a backup of erased data, it stores it on your smartphone in the local backup disk, just like when using Google Drive Backup.
Follow these steps to apply this technique:
Step 1: Look for the WhatsApp file in phone storage
In the phone's storage, look for the WhatsApp file folder. First, enter "WhatsApp" into the search field on the Phone Storage screen of your Android device. By doing so, you'll be able to access the WhatsApp file folder that is now on your phone. Open it as soon as it appears.
Step 2: Open the "Media Folder"
There will be several directories inside the main WhatsApp file folder when you open the media folder. Choose the Media Folder, then click Open. You will find many folders for various types of WhatsApp media in the Media Folder. Choose the Video Folder since we're seeking for deleted video content. Any deleted videos you desire to recover can be opened and viewed from this point.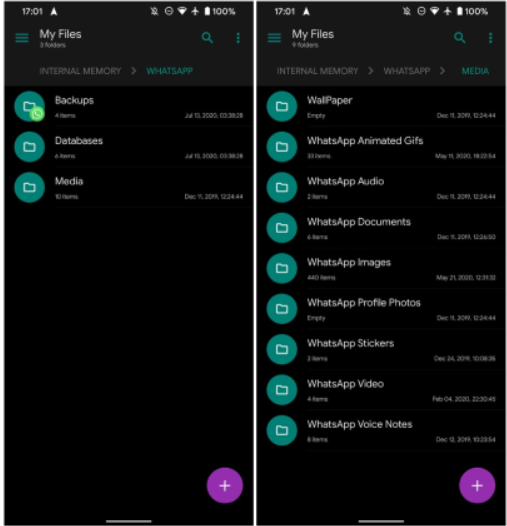 Way 5: How to Recover Deleted WhatsApp Videos Android via Google Photos
It is simple for you to recover deleted WhatsApp videos from Google Photo if you have the Google Photo app loaded on your Android phone and have enabled the "Back up & sync" feature to backup WhatsApp images and videos before deleting the WhatsApp movies.
Learn how to recover deleted videos from WhatsApp on Android by reading the guidelines below.
Step 1: Open Google Photo app on your android.
Step 2: Tap on the library option. You should see all the folders that are being backed up to your Google Photos account when you tap on the Library option in the lower right, including WhatsApp Videos and WhatsApp Images.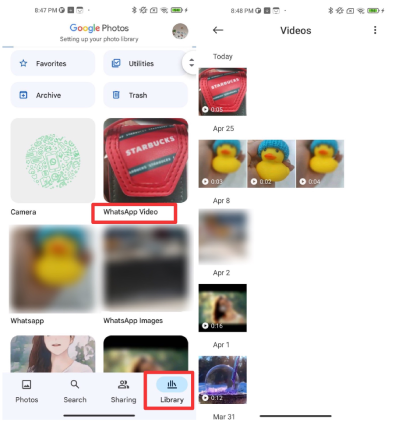 Step 3: Select the deleted video you want to recover and sent it to your WhatsApp.
Step 4: Choose the video you wish to recover from deletion and send it to WhatsApp.
Way 6: How to Use WhatsApp Video Recovery App for Android to Recover Deleted Videos
What happens if you are unable to find the WhatsApp file or decide to erase the data after 7 days? An option for recovering deleted WhatsApp videos without a backup is PhoneRescue for Android. It is simple to locate all kinds of erased data on your Android phone since it is the most dependable and expert Android data recovery tool.
Step 1: Install PhoneRescue on your computer for Android. Download and run it > Utilize a USB cord to link your Android phone to the computer.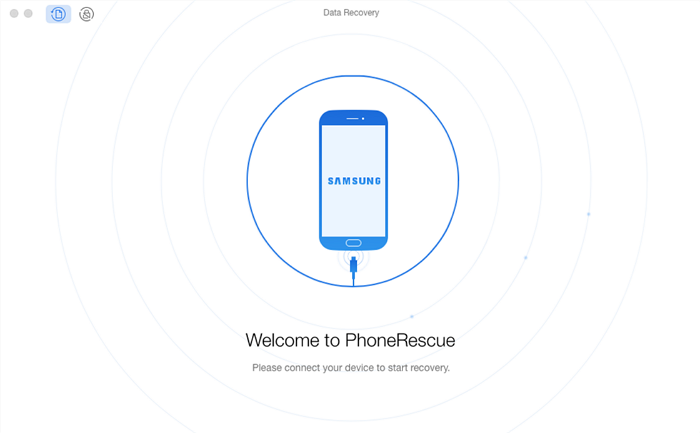 Step 2: In order to recover deleted videos from your Samsung, select WhatsApp > Click Next.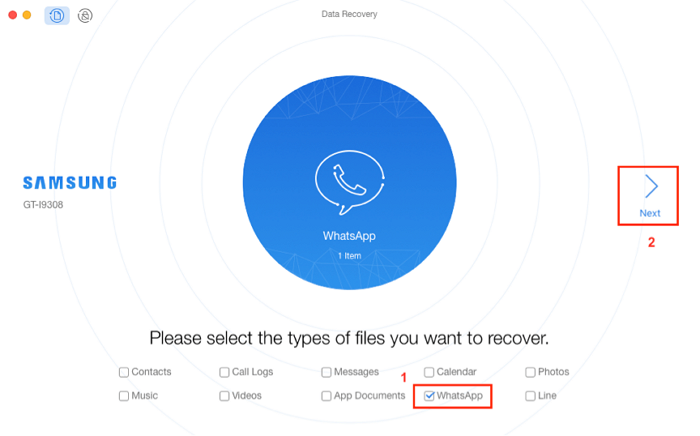 Step 3: To recover the deleted WhatsApp videos from your Android phone, preview and choose the films you wish to recover, and then click the To Computer icon.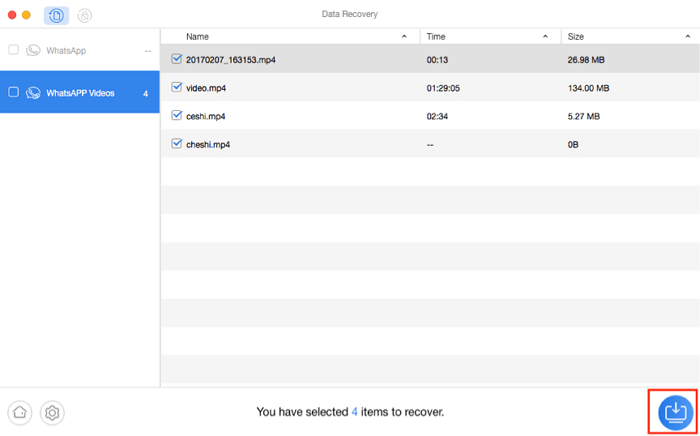 FAQs for Recovering WhatsApp Video on Android:
1. How do I get my WhatsApp pics and videos back?
It is possible to recover video files from an SD card, but it's crucial that you stop using the card right once and don't add any more photos, videos, or files. Remove the SD card from your camera, but don't format it or use a tool that isn't intended for file recovery to scan it.
2. Where does deleted WhatsApp media go?
If you can return to the chat where it was sent and tap on it to re-download the file if you unintentionally delete a media file from WhatsApp's storage. The media files are reportedly only kept on WhatsApp's server for up to 30 days before being deleted.
Conclusion
We are all too familiar with how annoying it can be to unintentionally erase a video from your phone that you really wanted to save. Another example is deleting a video with the intention of later deciding you want to see it again. With messaging apps like WhatsApp, this occurs frequently, so understanding how to restore data in such situations can be helpful.
You should be able to retrieve any videos you deleted or lost from WhatsApp on your Android device by using the procedures we've described above. If you haven't taken a backup, your only option will be to use data recovery apps to retrieve your deleted video files. You may easily and successfully restore data from a formatted memory card with our assistance. Sincere to say, our verdict is in favor of the most phenomenal Eassiy Android Data Recovery program.