Snapchat's success may be due to its entertaining filters and the ease with which it can be used to communicate with other users. Video and picture sharing was made easy with this app. This social networking platform's user base is constantly expanding, making it a popular place for having fun and taking images. All of your chats will be deleted after they've expired, which is a downside and also an interesting side to this app. Many people want to recover pictures from Snapchat on iPhone but they don't know how to do it. How to recover pictures from Snapchat on iPhone will be explained in this blog post. So stay tuned till you reach the end of our guideline.
Part 1: Best Way to Recover Pictures/Videos from Snapchat on iPhone
The best way to recover pictures/videos from Snapchat on iPhone is by using powerful software. This kind of software is often found online and it can restore all the data that you need. But not all of them are powerful enough to give you a premium experience in data recovery. Eassiy iPhone Data Recovery is one of the best software that can safely restore deleted/lost iOS device data without any problem. It has all kinds of advanced features and different modes to restore data from any iOS device. It's safe and secure. Moreover, it can recover data from multiple different situations no matter what. It's compatible with many iOS devices and versions, so there is no need to worry about that.
Features:
The highest data recovery rate of photo and video in the industry.
3 recovery modes are available to recover data that includes directly from iOS devices, iCloud and iTunes.
Most file types are supported in the industry counting up to 36+ types.
It can scan 1000+ photos within seconds, so the scanning process is very fast.
Allows previewing, selecting and recovering any data of your choice after scanning.
Pros:
Highest photo/video recovery rate among competitors.
3 different modes to recover data without loss.
Recover data from different scenarios.
It's compatible with the newest iOS versions.
Cons:
Larger data files are difficult to recover.
Sometimes the system might slow down when the software is running.
Steps to Recover Pictures from Snapchat on iPhone
Step 1: First you need to download, install and launch the software on your computer. Then, you can connect the iOS device to the computer. Next, select "Recover from iOS Device" option.
Step 2: In the next step, you need to click on the "Start Scan" button to start scanning the device for the lost data. The scanning will take some time, depending on the amount of data and size.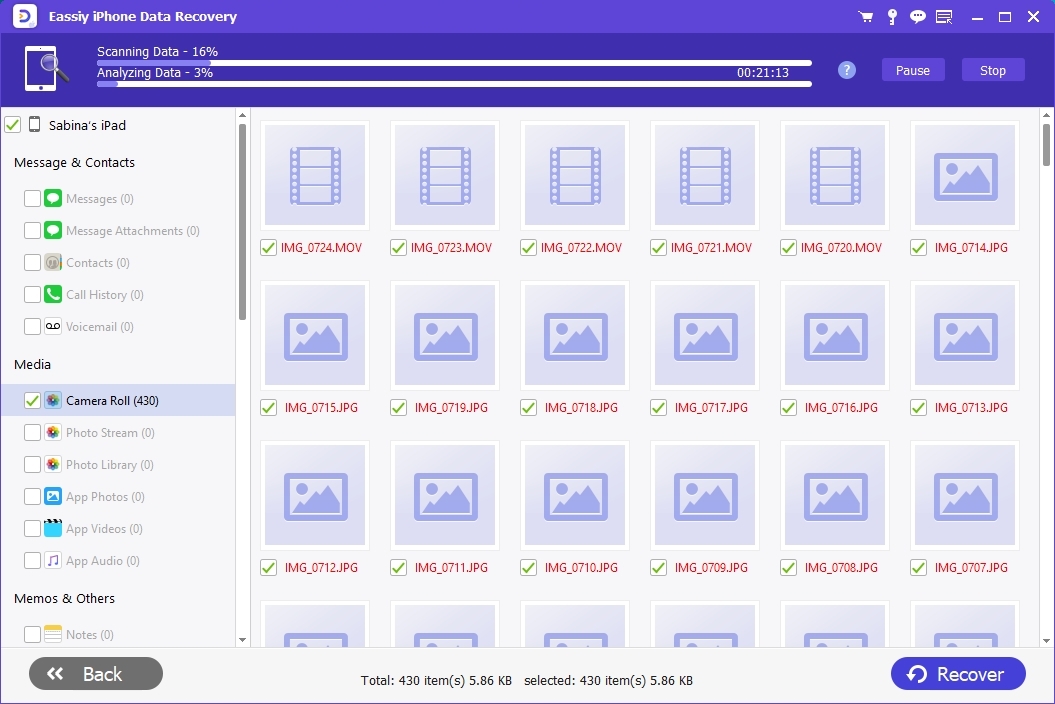 Step 3: When the scanning process is complete, you will see all the lost data listed in detail on the program window. From here, you can preview the deleted snapchat photos and videos and select the data you want to recover. Finally, click on the "Recover" button to save the data to a specified location on your computer.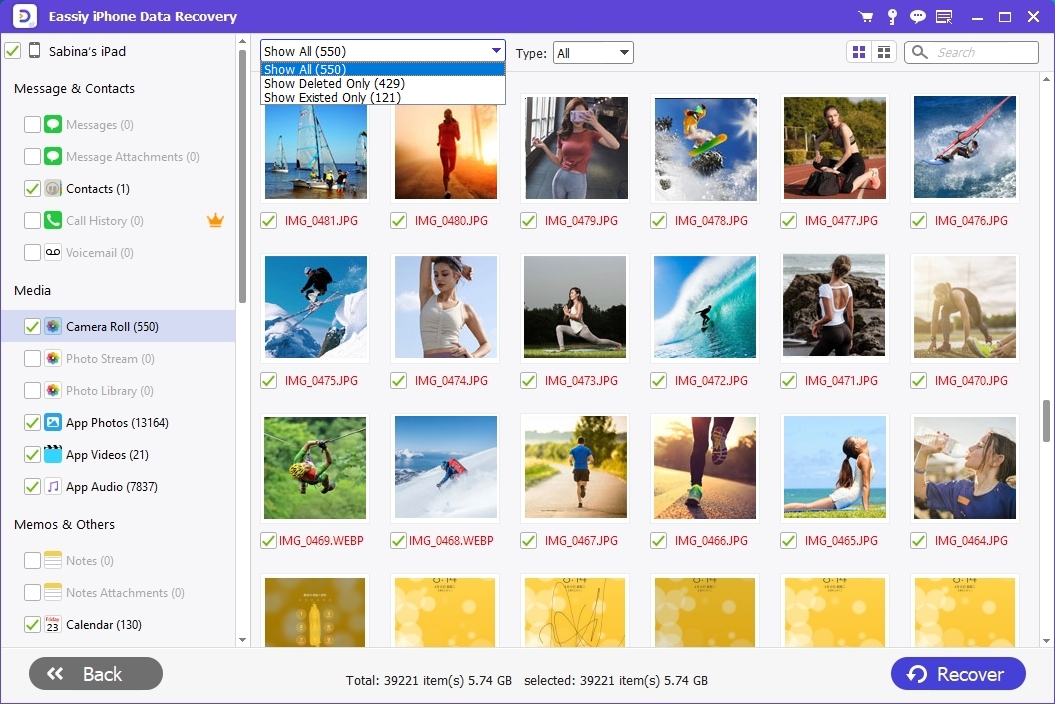 Part 2: How to Recover Pictures/Videos from Snapchat on iPhone Using iCloud Backup
As we all know, iCloud is a cloud-based storage service provided by Apple. This cloud-based service can be used by not only iOS devices but all kinds of device users around the world. By paying subscription fees, you can avail the services of this cloud service without any hassle. If your iOS device is already backed up via iCloud, then you can easily recover pictures/videos from Snapchat on iPhone. But the drawback is, that it will erase all the data and settings to restore the device from the iCloud backup file.
Pros:
Recover deleted data for free.
The easy and simple process recommended by Apple.
Cons:
If you don't have a previously created iCloud backup, then this method won't work for you.
It erases all the data and settings on your device.
Steps to recover from iCloud
Step 1: Navigate to the "Settings" menu and choose the "General" option. Then tap on the "Reset" button and then select "Erase All Content and Settings".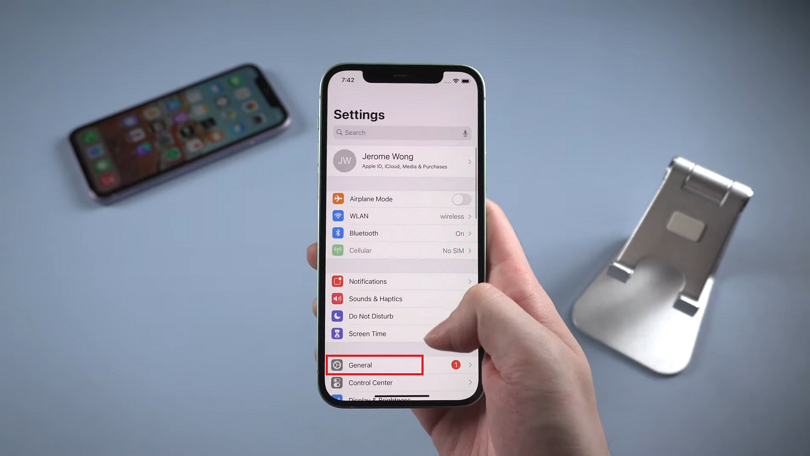 Step 2: You'll get a prompt where you need to enter your Apple id's passcode and confirm your action.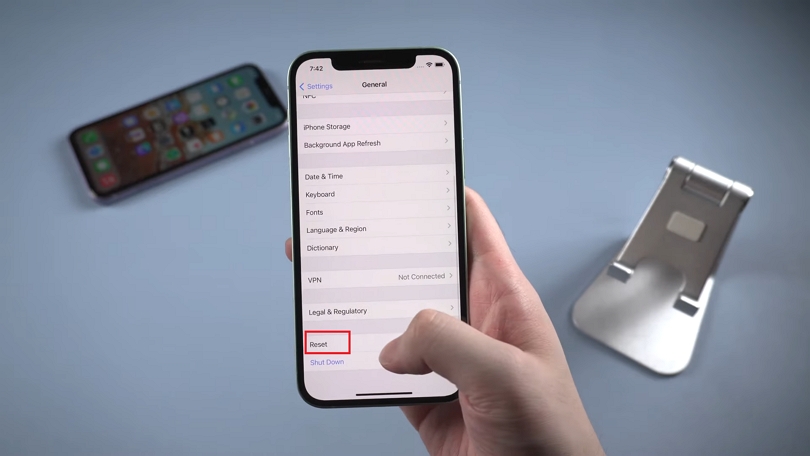 Step 3: When the login is complete, you will get the option to "Restore from iCloud Backup". Simply select this option and choose the most recent backup file to restore from.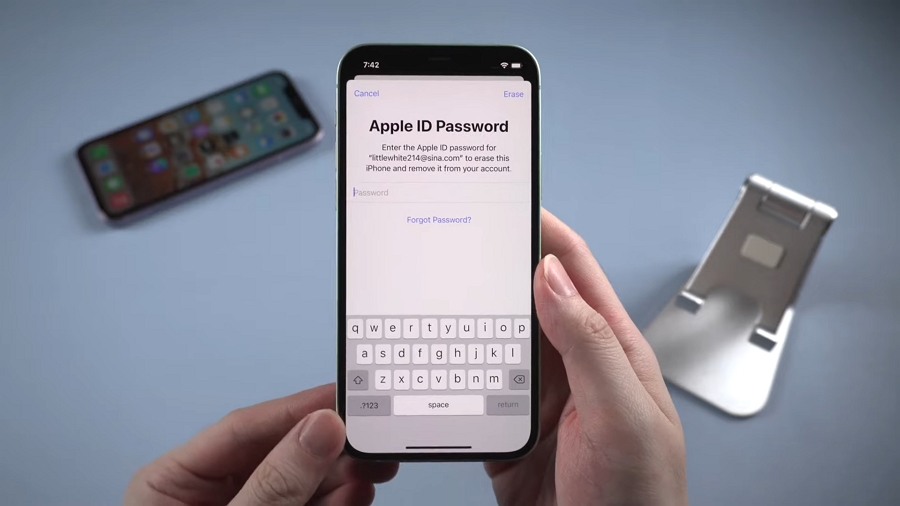 The restoration process will take some time, depending on the backup file amount and size. When it's done, all your deleted data should be restored to the iOS device.
Part 3: How to Recover Pictures/Videos from Snapchat on iPhone from iTunes Backup
We also know about iTunes which is the official media tool for iOS devices. We use it for listening to music, watching videos, movies and much more! You can use iTunes to recover pictures/videos from Snapchat on iPhone if you have backed up all your data on iTunes storage. This is not rocket science if you know how to do it like below.
Pros:
There are no space limitations and it can back up all kinds of data from the iOS device.
This method is faster than iCloud when restoring an iOS device.
Cons:
There is no way to select any specific file type or data. You have to restore the entire device with the iTunes backup file.
Note: The iTunes backup file will overwrite the current data on your iPhone with the data from the backup. You can use a tool like Eassiy iPhone Data Recovery to extract specific files from the iTunes backup file without replacing all your current data.
Steps to recover deleted data using iTunes
Step 1: First you need to connect the iPhone to your computer that has the backup file and launch iTunes. Next, click on the device icon or select your device appearing in iTunes.
Step 2: Now select the "Restore from this backup" option, then click on the "Continue" button.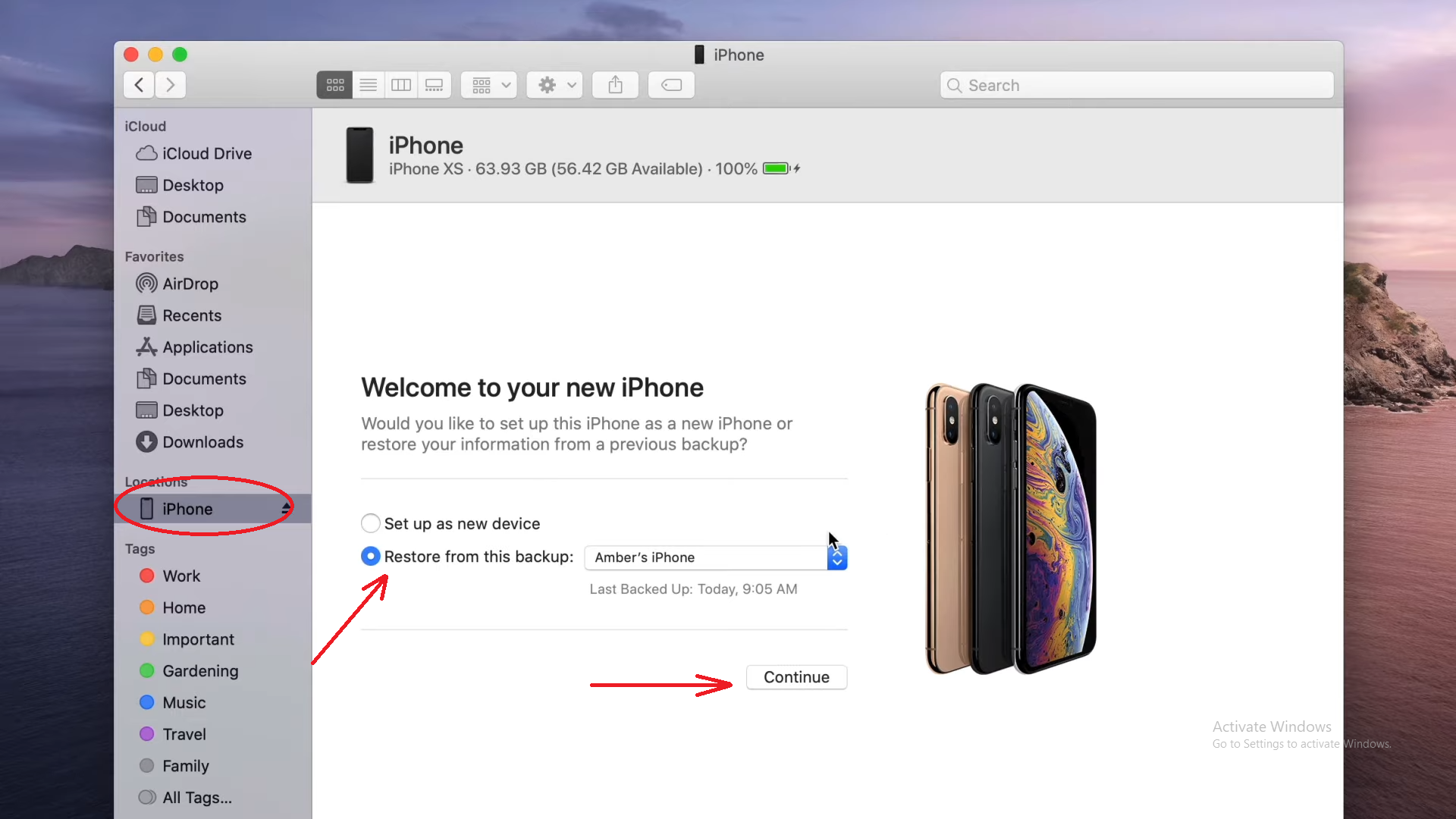 Part 4: How to Recover Pictures/Videos from Snapchat on iPhone without Computer
As you all know the iPhone has a "Recently Deleted Photos" feature that you can access through the Photos app. If you deleted the photos by yourself and the photos didn't get deleted due to a factory reset or any other accidental reasons, then this method might work for you. Although the "Recently Deleted Photos" will only contain the photos that you deleted within the last 30 days, after that period, they get permanently deleted. Follow the steps below to recover pictures/videos from Snapchat on iPhone
Step 1: First you can open the "Photos" app on your iPhone and select the "Albums" option. Then choose the "Recently Deleted" option.
Step 2: Now simply find and select the photos that you need to retrieve. Finally, tap on the "Recover" button to restore the deleted photos on your device.
Part 5: Recover Snapchat Pictures/Videos by Submitting Request
There is a way to access all your Snapchat data if you submit a request to download the data of the account from the Snapchat server. So, you can easily submit this request and get back all the deleted Snapchat photos and videos. Follow the steps below to download your data and view the deleted photos from Snapchat
Step 1: Launch Snapchat on your iPhone and tap on your profile icon. Then select the "Settings" option.
Step 2: Now you need to scroll down and select the "My Data" option. Here, you need to type in your Snapchat username and password.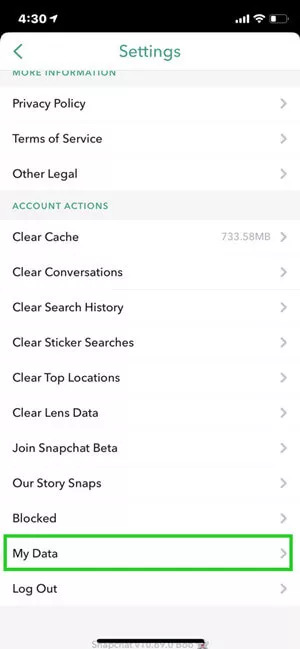 Step 3: Now you will navigate to the "Download my data" page. Simply, scroll to the bottom of this page and tap on the "Submit Request" option.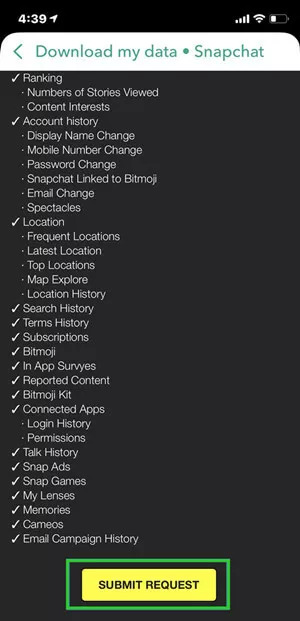 You'll receive an email with the link from Snapchat to download the data within a day or two. It should be a zipped file containing all your Snapchat data. Simply download the file and extract it to get back all your photos and videos.
Part 6: FAQs
1. How do I find a hidden Snapchat folder on iPhone?
Snapchat has a hidden folder called "My Eyes Only" that can keep your Snaps extra private. You can move your pictures to this folder and set a passcode. You can find this folder in the "Memories" section. Just swipe up from the camera screen to open the "Memories" option, and then you need to swipe left to reach the "My Eyes Only" tab.
2. Can you recover Snapchat snaps?
Yes, it's possible in different situations. If you screenshot the snap as soon as you open it, then you can access it later. Also, you can save the snaps and recover deleted Snapchat memories on iPhone.
3. Can I use Snapchat on PC?
No, it's not possible to use the Snapchat app on a PC as it's solely designed for smartphones. Even emulators can't be used as Snapchat has banned emulators from accessing this app.
Conclusion:
To conclude this whole guideline, the one fact that is absolute, you need to understand Snapchat basics to know the loopholes of this app properly. But if you don't want to get into any kind of technicalities, simply use the Eassiy iPhone Data Recovery tool to recover pictures from Snapchat on iPhone. Also, after reading this article, you now know multiple methods to recover photos/videos from Snapchat on iPhone. Moreover, with the help of the Eassiy recovery tool, the recovery process becomes simple and safe.