WhatsApp, Facebook Messenger, and other messaging apps offer the ability to recover deleted messages. However, Snapchat may be the weakest link in this chain. It is because Snapchat messages are not saved in the same way as other apps. When it comes to data loss, there are many potential causes. One such cause is Snapchat's iPhone data recovery. If you accidentally delete messages, photos or videos from your Snapchat account, there are ways to recover them with/without a computer. In this article, we will discuss some of the Ways to Recover Snapchat on iPhone with/without Computer.
Part 1: Best Way to Recover Snapchat Messages from iPhone
The best way to recover snapchat messages iPhone is by using a software that can guarantee successful recovery every time. Eassiy iPhone Data Recovery is an easy-to-use yet powerful data recovery software for iPhone, iPad and iPod touch. This iPhone data recovery tool can help you recover deleted files from your iPhone directly or extract files from iTunes or iCloud backup. It also supports the latest iOS 12 and macOS Mojave. When it comes to data recovery, there are a lot of software programs to choose from. But if you're looking for the best, most comprehensive program, you need Eassiy iPhone Data Recovery. It has all kinds of advanced features and attractive user friendly recovery process that will be your redemption. Any data recovery process can seem scary at first, but when you have this tool at your hand, there is a guaranteed highest success and no data loss.
Key Features:
It has the ability to recover all types of data (36+). Whether you've lost photos, videos, contacts, messages, or any other data type, Eassiy can get it back for you.
3 different modes to ensure maximum data recovery in any situation.
You can enjoy the highest iOS devices data recovery rate for photo and video in the industry.
It can literally scan 1000+ deleted photos and videos within seconds.
Preview and selectively recover lost data from iOS device.
Pros:
Can recover any type of file, it doesn't matter even if it's not a common file type. Highest number of file types are supported.
3 different data recovery mode allows to recover data easily from different sources.
It can recover data from any situation no matter how bad it is.
Supports recovering all kinds of corrupted or inaccessible files by repairing them during scan.
Cons:
Can take time when scanning large files.
Steps to Recover Snapchat Messages on iPhone
Step 1: First you need to download, install, and use the program on your computer. Connect your iPhone to the computer, choose to Recover from iOS Device and proceed to Scan the device.
Step 2: Read past the Snapchat messages and retrieve lost data. Once scanned, you'll get an interface like the one below. To get your selected items back on your computer or iPhone, you'll need to check them off and click the corresponding To Computer or Device option.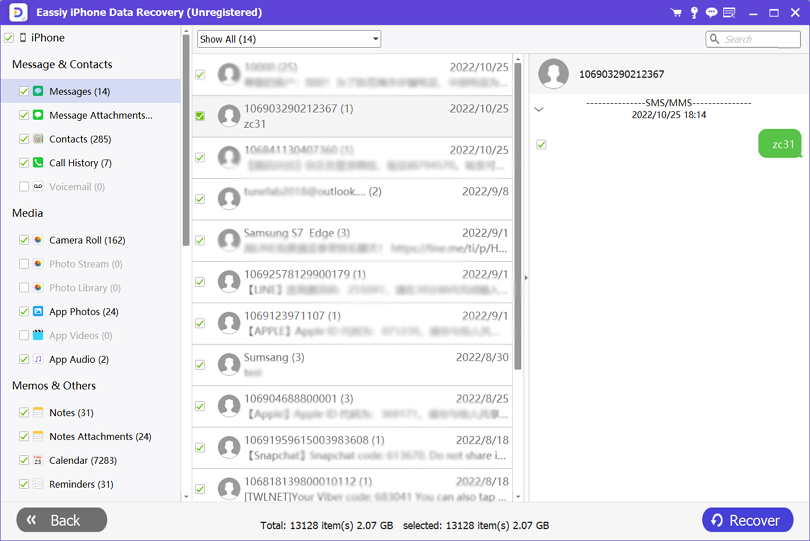 Part 2: How to Recover Snapchat Messages iPhone Using iCloud Backup
If you have ever used the Snapchat app to send messages that disappear after a few seconds, you know that they can be a lot of fun. But if you accidentally delete a message, or if your phone is lost or damaged and the messages are not backed up, they are gone forever. This article will show you how to use iCloud to back up your Snapchat messages and restore them if needed. While the app is fun and easy to use, you should know a few things about recovering Snapchat messages iPhone using iCloud backup.
Pros:
If you have an iCloud account, all your data is automatically backed up.
This includes photos, videos, and messages sent on Snapchat.
If your phone is lost or stolen, you can recover all of your data by logging into iCloud on another device.
Cons:
If you delete a message or photo from your phone, it will also be deleted from iCloud.
All photos and videos on Snapchat are deleted after 10 seconds.
Performing an iCloud backup overwrites any messages you've already sent.
Steps to Recover Snapchat Messages Using iCloud:
Step 1: Visit the "Settings" menu on your iPhone and select "General", then tap on the "Reset" button.
Step 2: Next tap on the "Erase All Content and Settings" option.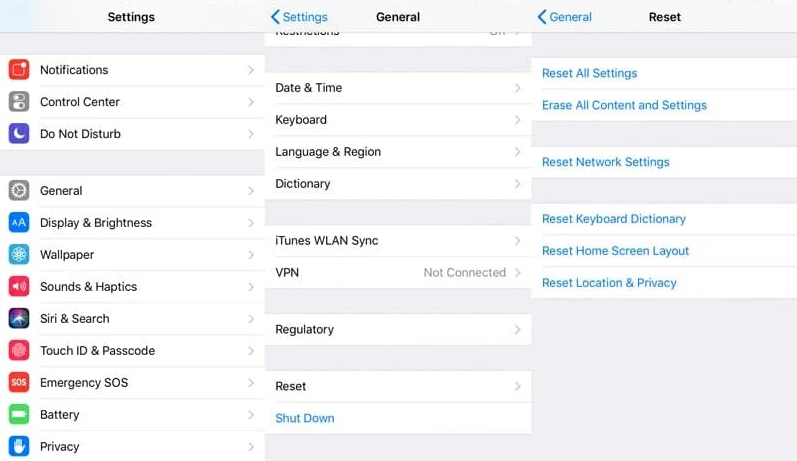 Step 3: Now follow the onscreen instructions to reach the "Apps & Data" screen. Then select the "Restore from iCloud Backup" option.
Step 4: After that, you'll need to sign in to iCloud with your Apple ID. Select the backup that stores the messages you need.
Step 5: Finally, tap on Restore to start restoring the backup to your iPhone.
Part 3: How to Recover Snapchat Messages iPhone From iTunes Backup
If you have ever used Snapchat, you know that messages sent through the app are deleted after a certain amount of time. It can be frustrating if you want to keep a record of a conversation or if you accidentally delete a message. However, there is a way to recover Snapchat messages on iPhone from iTunes backup files.
Steps to Recover Snapchat Messages from iTunes Backup:
Step 1: Start iTunes on your computer and connect your iPhone. Then click on the device icon like the below image.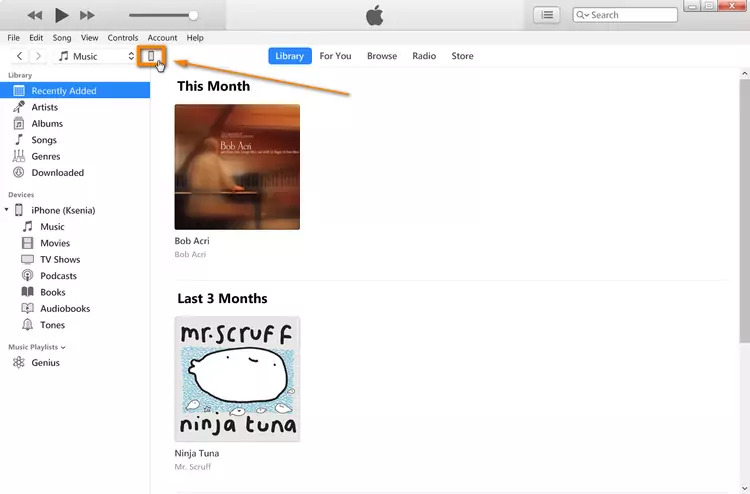 Step 2: Now click on the "Restore from Backup" option under the "Backups" tab.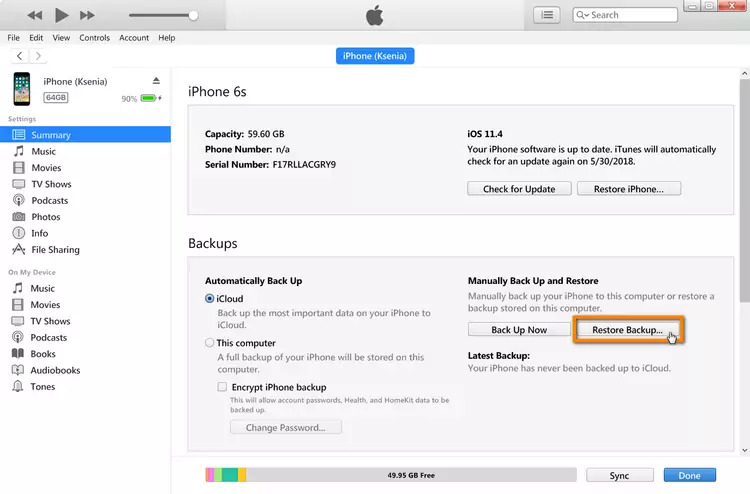 Step 3: Finally select the latest iPhone backup from iTunes and click on "Restore" This will start restoring all the Snapchat messages.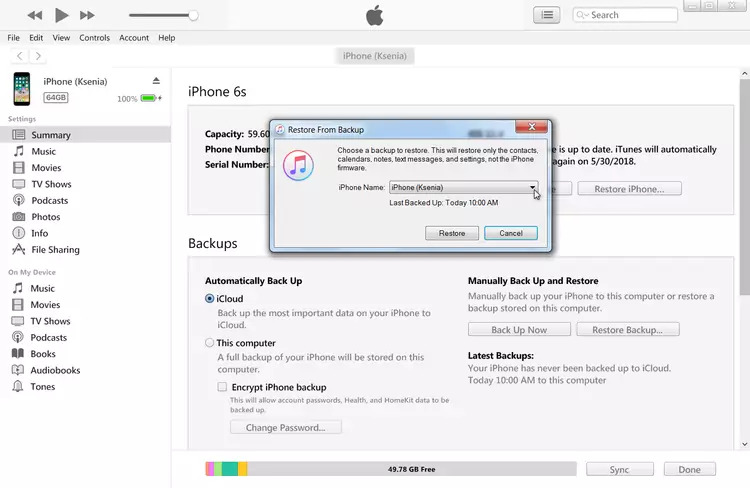 Part 4: How to See Deleted Messages on Snapchat iPhone without Computer
Snapchat is a messaging app that deletes messages after they are viewed. It can be a privacy concern for some people, especially if they have sent sensitive information. Luckily, there is a way to see deleted messages on Snapchat iPhone without a computer
You may restore deleted Snapchat messages from a backup file without using Snapchat message recovery software for iPhone. Send a request using the "My Data" feature on Snapchat. On the My Data page, sign in with your email address and passcode. From the drop-down option, choose Messages, then click the Submit Request button.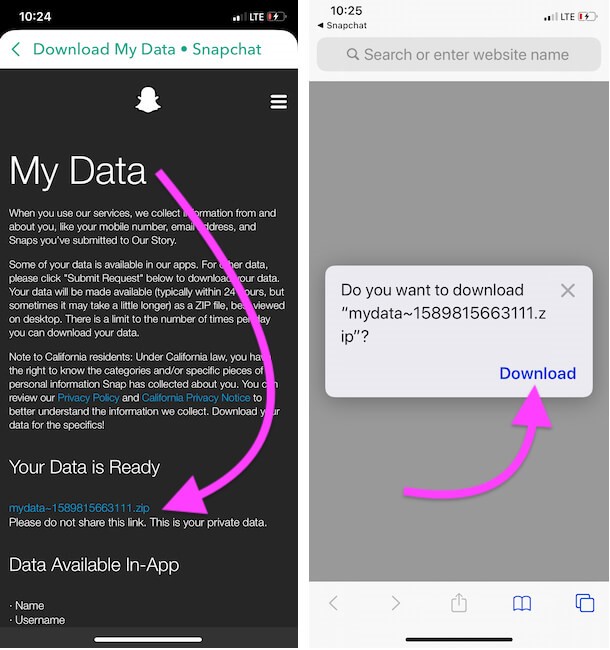 Part 5: How to Recover Deleted Snapchat Messages Using Snapchat Cache
Like most people, you use Snapchat to share photos and videos with your friends. And if you are like most people, you have at some point deleted a Snapchat message by accident. But what if you want to recover that Snapchat photo or video messages? Well, it turns out that you can recover deleted Snapchat messages using the Snapchat Cache. Here is how
Step 1: Open the Snapchat app and go to the "My Friends" screen.
Step 2: Tap on the "Chat" icon in the top-left corner of the screen.
Step 3: Tap on the contact that sent the deleted message.
Step 4: Tap on the "Details" button in the top-right corner of the screen.
Step 5: Scroll down until you see the "Cache" section. It is where your deleted messages will be stored.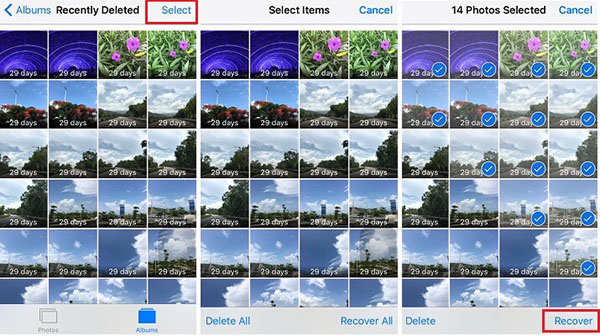 Part 6: FAQ
1. Can police recover Snapchat messages?
Yes, through a legal process, police can recover some data.
2. If you clear the conversation on your phone, does it clear fully?
No, the other person who you've sent texts to can still access those messages from their phone.
3. How to save Snapchat messages?
Here is how to save Snapchat messages on your phone:
Step 1: First you need to open Snapchat on your phone, then swipe left to go to the Chat List.
Step 2: Just tap on the contact which chats you want to save.
Step 3: Tap on any message that you or the other person has sent. It will turn grey and bold. This message will not get deleted anymore.
Conclusion:
This article shows the top 5 ways to recover Snapchat messages iPhone without any problem. You can use any of these ways to know how to see deleted messages on Snapchat iPhone. Hopefully, you'll easily be able to get back all your lost Snapchat messages. Most importantly, we've introduced you to the Eassiy iPhone data recovery tool that can help you with not only iPhone data recovery Snapchat messages but recover all kinds of data from your iPhone. So use your method carefully and use the most effective one to get back your lost data.