If you're anything like us, you've produced a social media video that you wish was more engaging. After all, you're not Steven Spielberg. The majority of us lack the mystical ability to produce the ideal video in a single sitting. Enhancing it and adding cool effects, music, and filters always makes it more enjoyable, right? You've come to the perfect place if you can identify with this. In this article, we'll examine in detail the top free video editing programs currently on the market. And no, this isn't just a huge list of video editing programs; rather, it's a hand-picked list of the top free video editors that are also useful.
The top 12 free video editing programs from across the internet are included below, along with a handful that have reasonably priced paid versions. Since every videographer has different requirements, we've included some of the most helpful features for each instrument, along with its advantages and disadvantages.
Part 1: What Simple Video Editor is best for You?
The most user-friendly video editing apps have been compiled by us. Choose the best photo editor with music for your specific needs, though, as they are not all-inclusive. We'll go over things to look for when selecting tools and software for video editing in this article.
Smart features: During the editing process, smart features, or automated tools that carry out repetitive but time-consuming tasks, can save a ton of time. These goods are becoming more accessible, even if not every software has intelligent capabilities and few have all practical options.
Ease of use: The software is more challenging to use as a result of the same exponential expansion in technology that creates so many video editing alternatives. You should go through a program's general description before using it to ensure simplicity.
Efficiencies: Many programs come with optimization features to increase system speed while simultaneously importing and rendering video content. This improves accessibility for all users and does away with the need for expensive or specialized equipment purchases.
Compatibility: Consider the brand and model of the cameras you'll use the most and whether the aforementioned editing program can handle these file types.
Part 2: 4 Best Free Simple Video Editor Windows 10/11/8/7 [Hot List]
1. Eassiy Video Converter Ultimate
Use the built-in tool Eassiy Video Converter Ultimate for all of your video editing needs. When compressing, editing, combining, making GIFs, converting, etc., it can handle virtually all audio and video formats. Since Eassiy Video Converter Ultimate works with all operating systems and file formats, you may use it as your go-to tool for both professional and domestic needs. With the aid of these features, a variety of multimedia file formats, including video, audio, GIFs, pictures, MVs, ID3 subtitles, and more, may be produced, modified, watched, and shared.
With its 20+ multi-media features, Eassiy Video Converter Ultimate can convert, edit, compress, produce MVs, create collages, and much more. With batch conversion and more than 1000 video/audio formats, it leads the industry in supported formats. Because they include capabilities like merging, cutting, cropping, adding effects, subtitles, and watermarks, lessening video shaking, reducing video noise, and more, Eassiy's built-in editors are excellent for enhancing your video creation.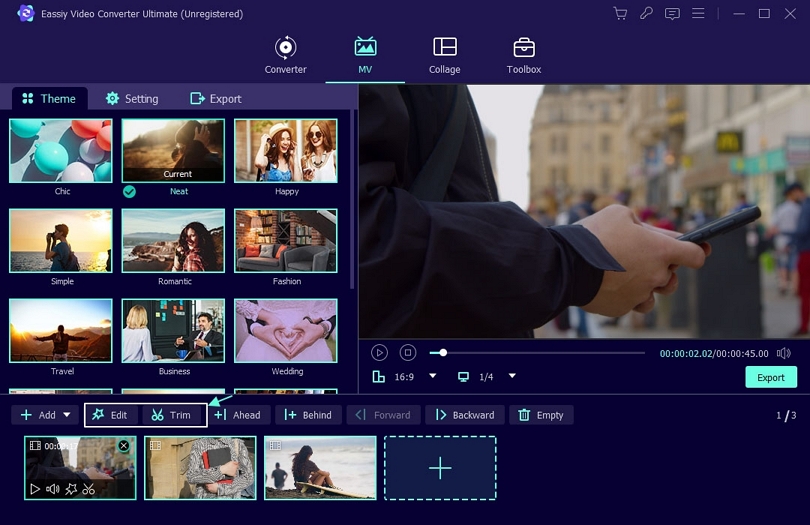 Key features:
1000+ video/audio file formats supported, with industry-leading batch conversion.
60x quicker lossless conversion technology
Up to 8K video transcoding with no quality loss
Offers more than 20 tools for editing, compression, MV, collage, and other aspects of multimedia.
AI technology boosts multi-core processors to increase conversion rates.
Pros:
Transforms HD/4K/5K/8K video from drones, GoPro cameras, HD cameras, camcorders, and more into any playback format, including H264(AVC) and H265 (HEVC).
HD video compression for Facebook, TikTok, and other sharing platforms.
High-speed conversion and GPU acceleration options can both be boosted using integrated editors.
Cons:
The advanced version offers more features.
2. Lightwork
Another excellent free video editing program is Lightworks. One of the most capable video editors on our list is Lightworks. It has a ton of helpful features that will enable you to produce high-quality video. While the majority of functionality of Lightworks are available in the free version, 4K video support for Vimeo and YouTube is only available in the subscription edition of the program, which costs about $25 per month.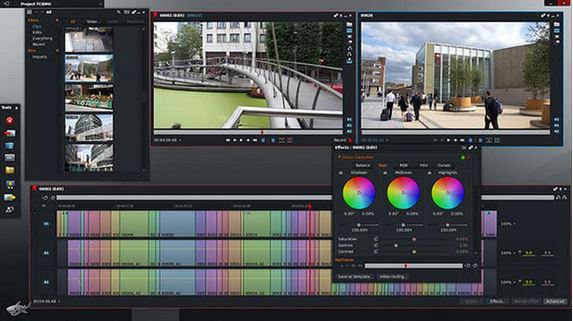 Pros:
High-quality video cutting
Support for multiple cameras
Export to YouTube's 720p
Support for a variety of video formats in 4K
Cons:
Only the premium version supports 4K video.
Lightworks may be too sophisticated for some people.
3. Shotcut
One of the best free video editing programs for Windows is called Shotcut. Since Shotcut is an entirely open-source tool, you can use all the features without having to purchase an update. Even though this video editing program has many useful functions and instructional tutorials, some users might not like the interface very well. That's because Shotcut was initially created for Linux, as evidenced by its user interface. However, it's still a good video editor on the inside.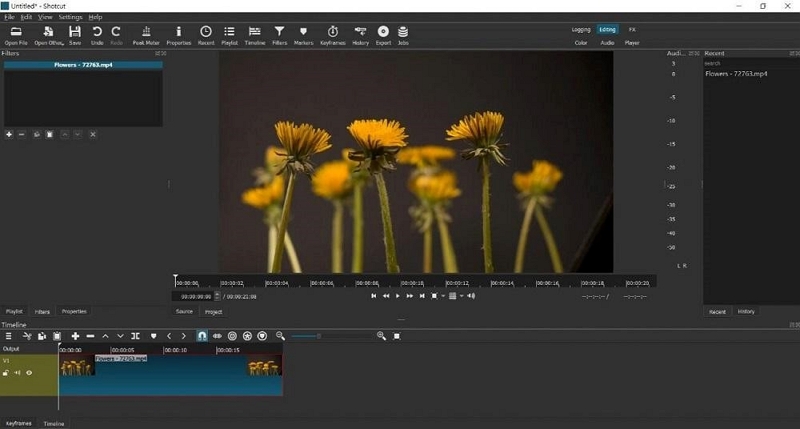 Pros:
High quality input/export support
A strong collection of editing tools
Support for editable formats
good technical support
Cons:
Not a very user-friendly interface
There is no stock music available, and Shotcut does not permit the addition of external SRT or SUB files for subtitles.
4. DaVinci Resolve
Possibly the most sophisticated video editor on the list is DaVinci Resolve. Although it contains a lot of tools for professional filming, the interfaces are still simple. You can master audio and color correction in addition to cutting and trimming videos. You can choose to add 2D and 3D titles to your video using the app.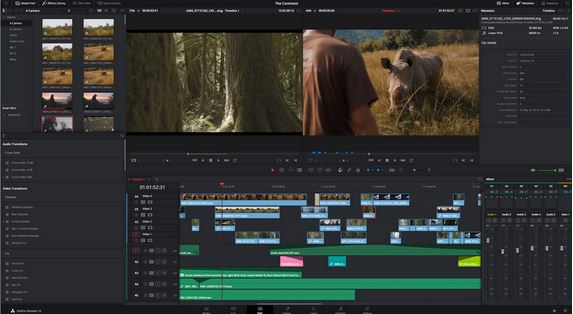 Pros:
A comprehensive solution, Hardware & Supported Keyboards.
Produce Special Effects of Hollywood-Grade.
Post-Production Audio Integration.
Contemporary Color Correction.
Cons:
Entering the software can be a little overwhelming due to the abundance of options and capabilities.
Although there is increasing support for third-party templates and resources, Premiere Pro still has the most.
Part 3: 4 Best Simple Free Video Editor Mac
1. Openshot
Given its complete open source nature, OpenShot is among the most user-friendly video editing programs. The iMovie may come to mind for Mac users when using OpenShot due of its user-friendly drag-and-drop interface similar to iMovie. OpenShot, however, offers many more functions, such as infinite layers and audio mixing.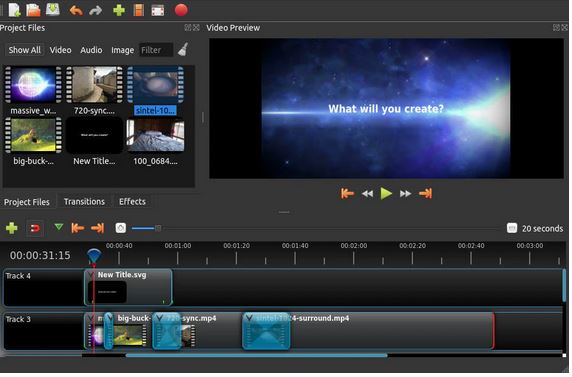 Pros:
Real-time previews for clip resizing, scaling, trimming, snapping, rotation, and cutting
Compositing, overlaying images, and watermarks
3D animated titles, subtitles, and title templates
Ahead of schedule (including drag and drop, scrolling, panning, zooming, and snapping).
Cons:
Unstable Performance.
Less Powerful Hardware Acceleration.
2. Avidemux
One of the greatest editing programs for beginners wanting to create engaging video material is Avidemux because of its straightforward UI. With this application, simple editing tasks such simple cutting, encoding, and filtering are a breeze. This can be a nice place to start if you are brand-new to video editing.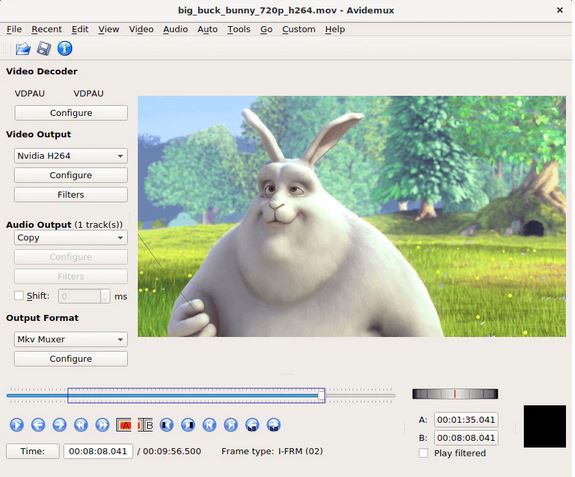 Pros:
Features cutting, encoding, and filtering as its three fundamental processes.
De-interlacing, scaling and sharpening the image of a video, adding subtitles, changing the color profiles, and adjusting the audio level are all examples of post-processing are available.
There are features for task automation.
The use of custom scripts allows users to quickly store and apply their favourite video editing settings and setups.
Cons:
Not as many features as other video editors.
3. HitFilm Express
One of the best free 360 video editing programs for Mac users is HitFilm Express. It includes all the functions you might anticipate from a fundamental editor, including audio editing, trimming, and splicing.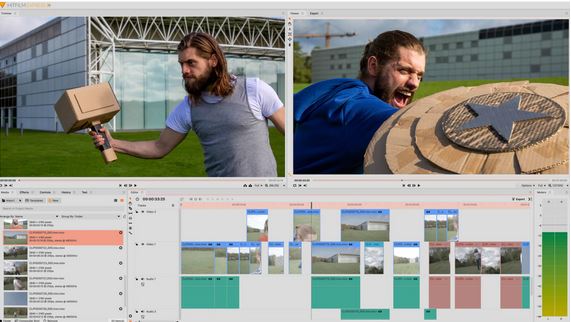 Pros:
To help users quickly become familiar with the ins and outs of the software, it provides free tutorials and master classes.
Offers premium features completely free.
Able to operate on Mac.
Has a user-friendly interface
Cons:
It may take some time to learn the interface.
Has high hardware requirements.
4. iMovie
iMovie is already included with macOS. This video editor is fairly simple to use, just like the majority of native Mac programs. Moving and editing video elements happens quickly with iMovie's drag-and-drop interface. This editing program can be used by Mac users to practice the fundamentals of video editing.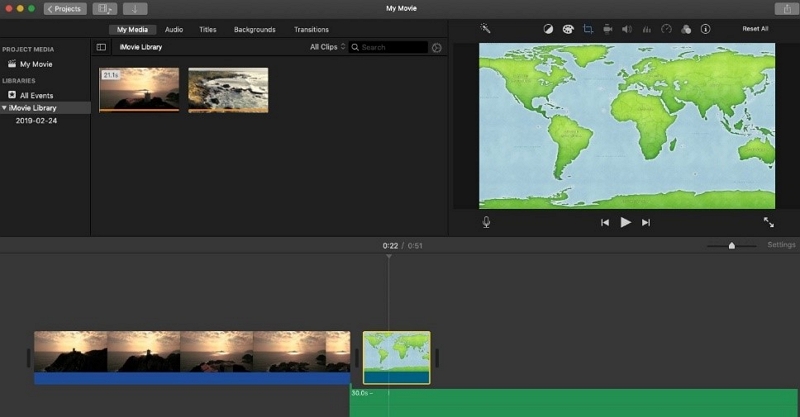 Pros:
The user-friendly interface of iMovie is its initial advantage.
very user-friendly tools
There is no need for technical expertise or background.
It is simple for users of iMovie to share their moments and demonstrate their talents.
Cons:
This software isn't for professionals and editing features are really limited.
Severely lacking in functionality because it is so simple.
Part 4: 4 Best Simple Video Editor Online
1. Kizoa
You may create videos and slideshows online at Kizoa, which provides a rich experience. It also has a remarkable collage maker and photo editor. It provides users complete creative freedom to create stunning pieces utilizing images, videos, transitions, and visual effects. The website of the business allows users to design based on themes like weddings, birthdays, babies, etc.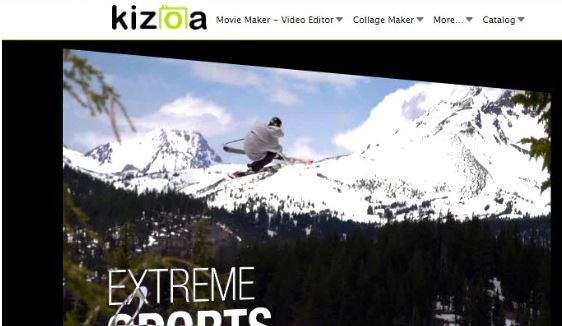 Pros:
The majority of the details, such as timing, length, size, and position parameters, are much simpler to alter. Additionally, you can customize text tools and animations.
Users don't even need to register to start using the website.
Videos' aspect ratios can also be changed.
Both experts and beginners can find plenty of interesting features in the free Kizoa account.
Cons:
With affordable plans, it provides few features.
Full HD recording is only available in the Pro plan.
2. Wevideo
Wevideo, created in 2007, features an easy-to-use process for making internet videos and offers a plethora of options to let your creativity run wild. It offers its services for altering timelines and storyboards, distributing movies on campuses, and business startups. The creator of the website is currently in fourth place overall. You may easily use the mobile video editor software that Wevideo provides.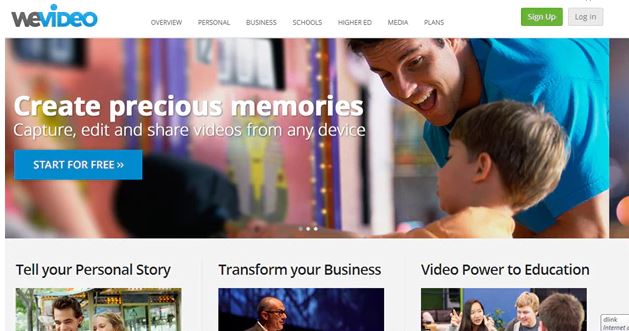 Pros:
Both novice and experienced editors may easily create outstanding videos with the help of a user-friendly interface that makes complicated video editing simple.
Storyboard and multitrack editing
Sophisticated text editing
Customizable setting
Cons:
WeVideo's free option is watermarked.
WeVideo's Ken Burns transition effect is pretty limited.
3. Magisto
Magisto functions magically, as the name would imply. Magisto is another website where users can post films of their life events. Your unfinished video footage is automatically transformed into a fully polished, exquisitely sculpted piece. The tone, ambiance, and style of the clip can be chosen by the user using the built-in editing styles in Magisto.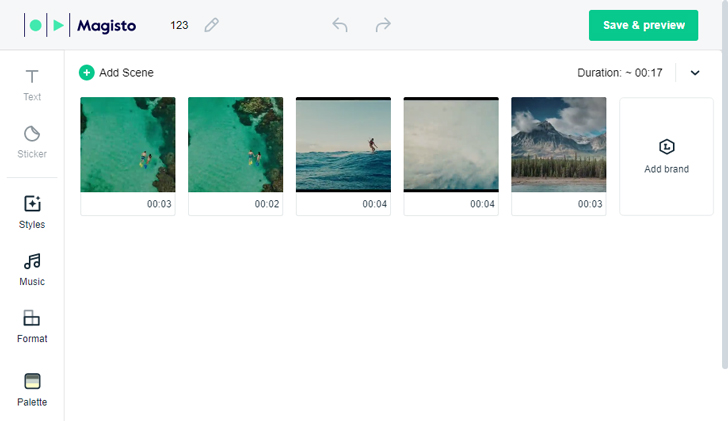 Pros:
Powered by AI and designed to be reliable
Magisto merely requires three simple actions to generate videos.
Also facilitates the hosting and channel distribution of video content
Users can browse the Magisto library to choose the soundtrack and editing style that most closely matches their tastes.
Cons:
audio is often distorted causing loss of quality of the final product.
requires a photo editing function to modify its light and contrast before creating the videos.
4. wideo
Wideo is yet another website where the best digital material can be produced for use in school, business, or at home. It gives you a versatile way to pick, make, edit, and share video right away. Wideo focuses on producing result-oriented videos that meet your needs with the least amount of work. It provides you with the option to save the video online and edit it at a later time, which is really commendable given the current environment.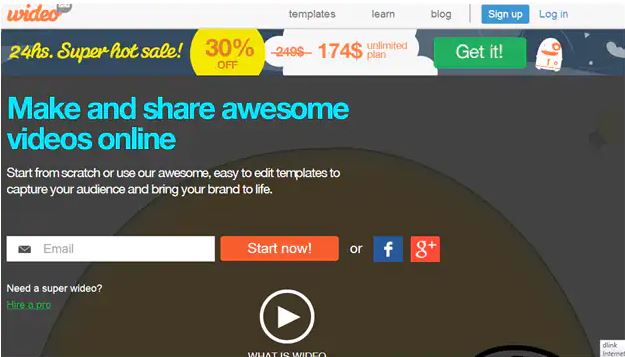 Pros:
Download videos in Full HD and MP4 format, as well as export them to GIF.
Can use a brand's colors when creating videos to give them a customized look.
May utilize key frames to create elaborate and sophisticated animations.
Scene length can be changed, and each scene can be as long as you like.
Cons:
Terrible drag and drop options and little to no animations.
Very poor in tools.
Part 5: Comparison Table of Simple Video Editor Free
| | | | | |
| --- | --- | --- | --- | --- |
| Service | Ease of Use | Pros | Cons | Pricing |
| Eassiy Video Editor | 4.9 | Ease of use, Supportive customer service, Manage up to 10 brands on one account, 20+ advanced video editing tools with high quality (up to 8k) video convert/compress supported | Does not offer text to video capabilities, No video capture | 39.99/year |
| Lightworks | 4.6 | fast, flexible, and once you get used to its workflow you'll find it remarkably easy to use | The learning curve is a bit steep | $23.99 per month |
| Shotcut | 4.7 | High quality input/export support | the amount of scene transitions is limited | Open sourced |
| DaVinci Resolve | 4.6 | Intuitive interfaces and incredible colour correction | wide array of features makes it a little overwhelming | DaVinci Resolve Studio available for $357.01. |
| Openshot | 4.5 | Great for users just getting started with video editing. | Few video tutorials | Free |
| Avidemux | 4.6 | Very simple software; no need to read technical docs. | Fewer features than those of other video editors. | Free |
| HitFilm Express | 4.7 | Operational Workflows | May take some time to learn the interface. | HitFilm Express Pro for $349 |
| iMovie | 4.6 | user-friendly interface of iMovie is its initial advantage | Lacks video editing abilities. | Free |
| Kioza | 4.7 | Both experts and beginners can find plenty of interesting features in the free Kizoa account. | user interface appears little frustrating with confusing options. | Premium VIDEO - $29.99 for 10 GB storage capacity |
| Wevideo | 4.4 | simply amazing for education | If you do not pay for it, you have a huge ugly water print in your video. | Premium & Business: $3 per month & $16 per month respectively |
| Magisto | 4.6 | automatically transformed into a fully polished, exquisitely sculpted piece | This tool has few functions, thus professionals might not utilize it | Premium monthly $5 |
| Wideo | 4.6 | focuses on producing result-oriented videos that meet your needs with the least amount of work | Very poor in tools. | Unlimited plan in just $174 |
Some programs are free to use, but they offer few capabilities and have watermarks that reduce the quality of your movies. However, we would like to suggest an application which is Eassiy Video Converter Ultimate that is reasonably priced and simple to use for editing films.
Part 6: FAQ About Simple Video Editor Windows/Mac/Online
1. How hard is video editing?
Level of Difficulty, Requirements, and Price. The tools used in video editing are simple to acquire, just like many other creative abilities. The fundamentals of Premiere Pro or Final Cut can be learned by students in just a few days of instruction, and the more complex methods can be learned in just a few weeks.
2. What are the 3 stages of video editing?
All of the planning and coordination takes place in phase one (pre-production), all of the footage that will be in your finished video is captured in phase two (production), and the finished video is edited and integrated in phase three (post-production).
Conclusion:
All of the video editors on this list are free to use and have fantastic functionality. You must actually choose based on your needs and intended use because each has advantages and disadvantages. We talked about the top 12 free video editing tools you can use to retouch your footage and add music. Eassiy Video Editor was also a topic of discussion. You should give Eassiy Video Editor a try if editing has been challenging for you since once you do, you won't use any other editor.