Our smartphones tend to fill up lots of interesting video clips when events like birthdays, weddings, Christmas, New Year, etc. come. So one can as well make a smart video out of it instead of storing these clips on the camera roll. To make a happy birthday video, you can use built-in or third-party video editing apps. If you are looking for a birthday video maker, we are introducing the 10 best birthday video maker free to learn how to make video for birthday both online and offline in this guide.
Part 1: 6 Best Happy Birthday Video Maker Free to Make Videos for Birthday
If you don't trust online tools, you can use offline birthday video makers also. Here are presenting the 6 best happy birthday video maker free to make videos for birthdays.
1. Exclusive Free Birthday Video Maker - Eassiy Video Converter Ultimate
Eassiy Video Converter Ultimate is one of the best and more powerful free happy birthday video maker, available for both Windows and macOS. You can make a stunning birthday video with photos, clips, and music with ease by using this video editor. To help you in making extraordinary and stunning birthday videos by yourself, this software offers several themes, effects, transitions, trimming, adding background music, etc. You can also add subtitles, watermarks, merge videos, etc. with this tool. Besides video making, you can also compress and convert your videos to 1000 video formats easily. With just simple clicks, you will be able to make your birthday video. You can use this tool for free or purchase the paid version for only $55.99/Lifetime access.
Features:
Up to 20+ multimedia tools are supported to compress, convert, edit videos, etc.
60X faster conversion speed is provided to convert videos to HD, 4k, up to 8K.
Including batch conversion, 1000+ video/audio formats are supported.
Offers various video production features like cut, merge, crop video, add effect, subtitles, etc.
The user interface of this Video Converter Ultimate is efficient and easy to use,
Pros:
Without over-encoding/decoding, you can convert 8K/5K/4K/HD videos in just a few minutes.
You can efficiently trim a part of a video you desire or cut unwanted parts of a large video file.
This program helps you to split a long video into different parts in just one click.
Birthday videos can be enriched with various built-in editors of this tool.
Cons:
We couldn't find any cons to this program yet.
Steps to make video for birthday:
Step 1: Download and Install the Program
On your macOS or Windows PC, download and install Eassiy Video Converter Ultimate.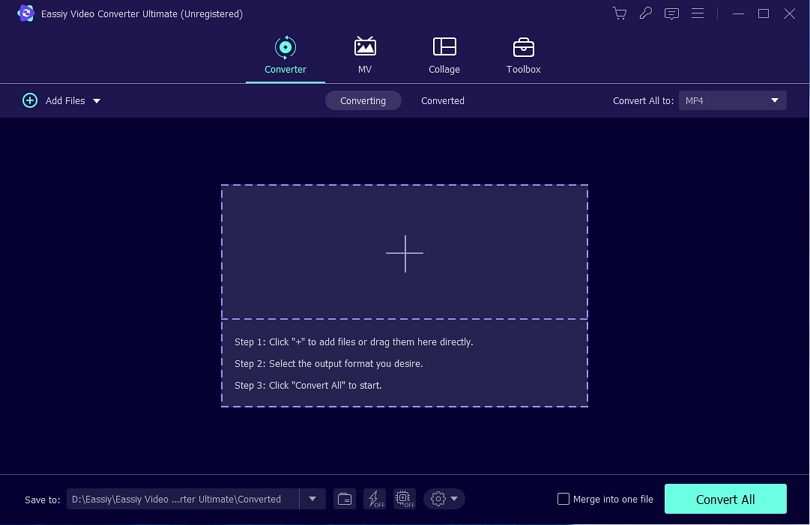 Step 2: Select MV and Add Clips
Go to the home screen and select "MV", the third option after successfully installing Eassiy Video Converter Ultimate.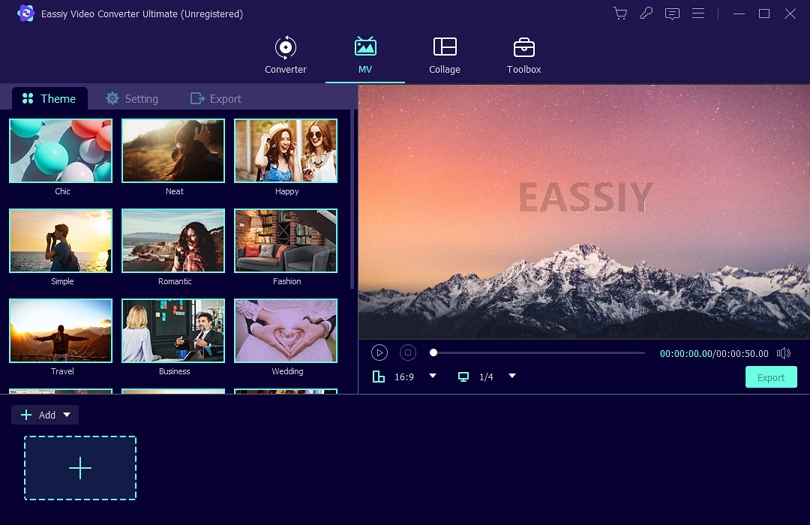 To add videos to the editing field, click on add "+" sign. By clicking "forward" or "backward", you can change the video order. For editing, click on the video clip one by one.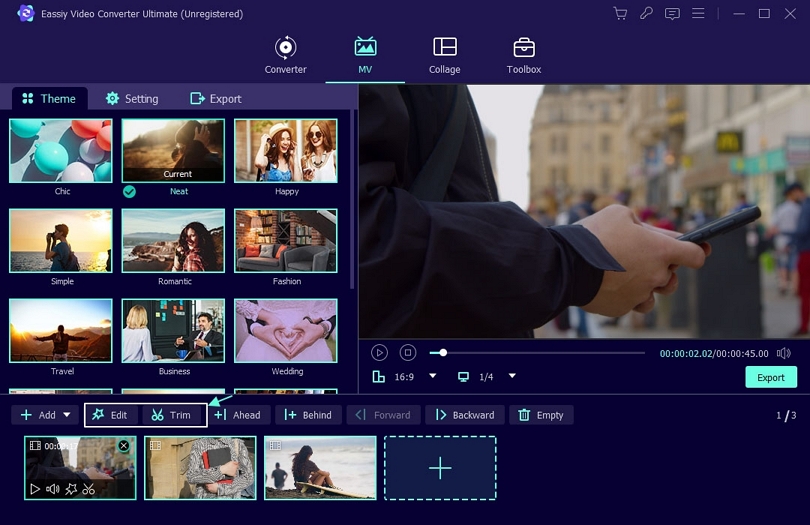 From the in-built library of Eassiy Video Converter Ultimate, choose any theme now.
Step 3: Make Changes as You Like
Under Theme
You will be able to choose various effects from below such as edit, trim, ahead, and behind. For instance, the edit will open the below option for you like Rotate & Crop, Effect & Filter, Watermark, Audio, and Subtitle.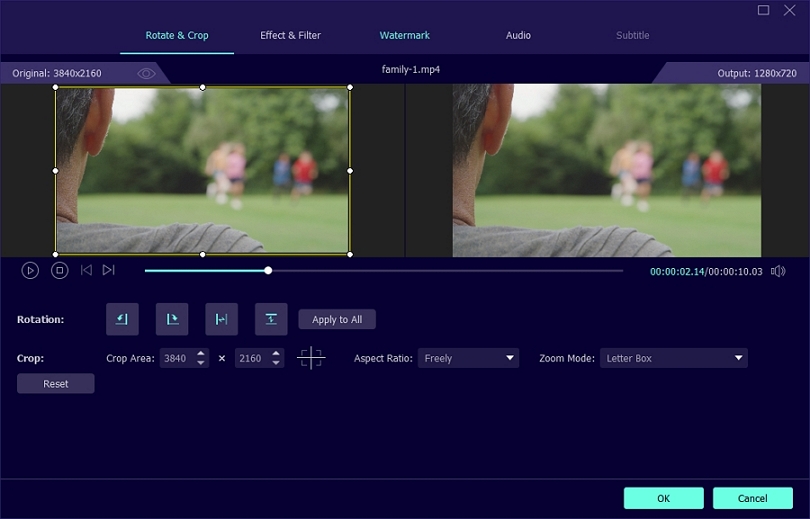 Trim will let you cut the length of the video and split it with Fade in and Fade out options.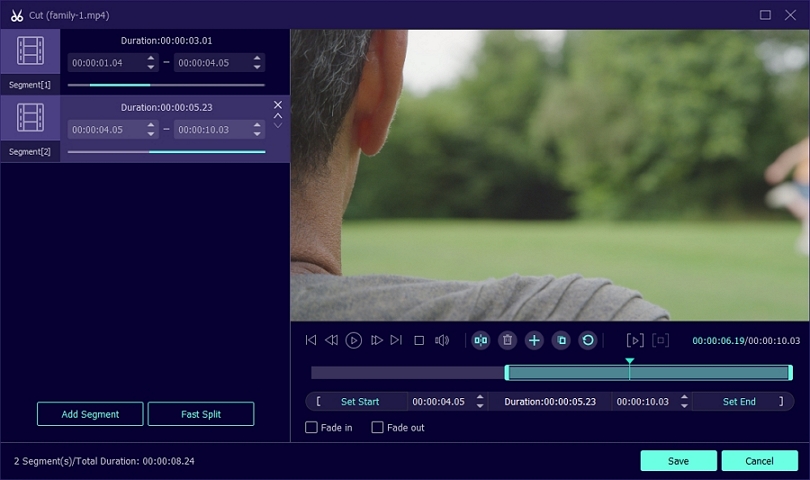 You can add more videos before or after the upload with the last two options, "Ahead and Behind".
Under Setting
You can enable Start and End titles, adjust volume and delay, and decide to keep the original audio track or even upload the music you want in the Settings option.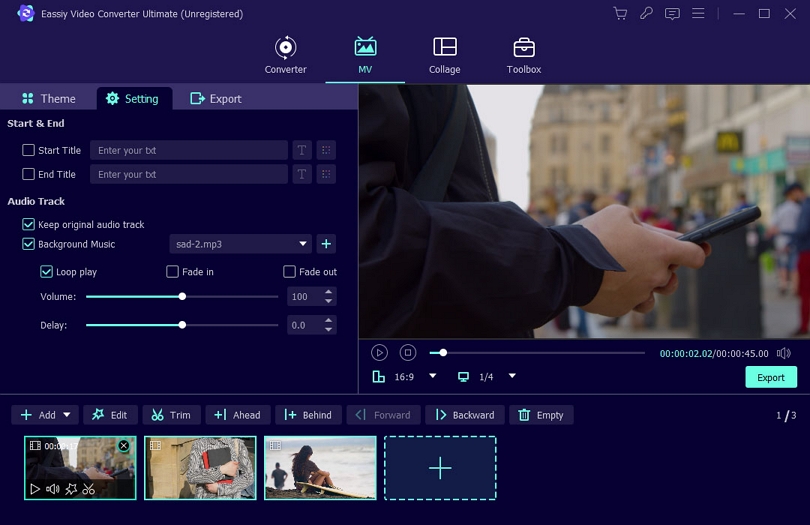 Under Export
You will be able to check and make changes for format, resolution, frame rate, and quality, save to location and Complete here.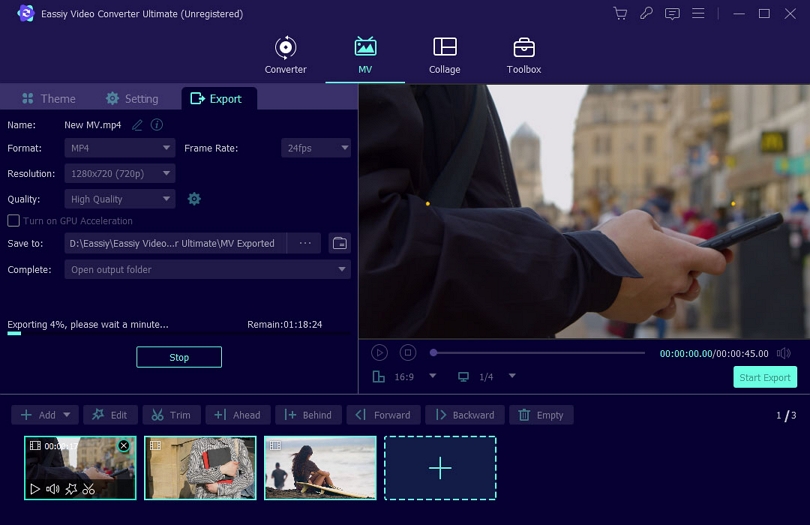 Step 4: Begin Export
Click the play icon to preview the video when you are sure everything is perfect. Wait until it finishes after clicking on "Start Export". It will take about 2-3 minutes for finishing.
2. Windows Movie Maker
One of the best happy birthday video clip makers that don't cost a cent is Windows Movie Maker. With basic video editing features such as cutting, joining, animations, background music changing, and so on, this tool is an original Windows video editor. It can run very smoothly on a low-end PC as the Windows original movie editor. You don't have to purchase any extra editing features because it is free to use. You can opt for other programs in this post if you want to make your video more attractive and professional.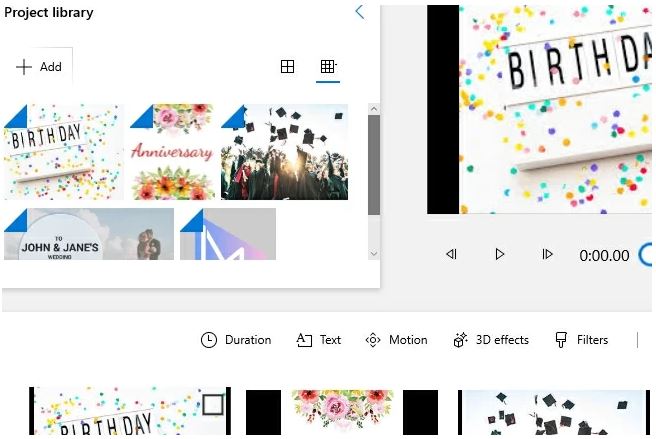 Pros:
You can use this tool smoothly on a low-end PC.
This video maker is multifunctional.
With one click, you can organize and edit your photos, and generate them into a movie.
Various basic features like split, trim, adding text, 3D effects, and more are supported by this program.
Cons:
This program has an outdated interface.
It only supports Windows PC.
3. EaseUS Video Editor
EaseUS Video Editor is another Windows birthday video maker that will help you to create your amazing birthday video. Including filters, transitions, animations, etc. this software offers lots of various special effects that will enrich your happy birthday videos. In addition, you can create a wish birthday video with songs easily because there is much music available. A great number of editing tools such as cropping, splitting, merging, etc. are provided by this tool. This program will let you complete the task effortlessly if you shot some video clips and want to merge them into a single video.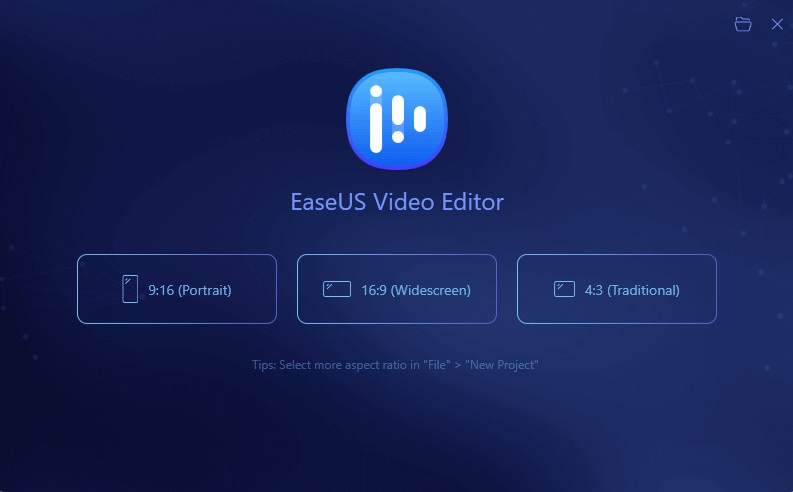 Pros:
Birthday video templates are offered.
You can edit the video by trimming/splitting/merging/rotating/mixing the item.
Supports a wide range of effects and transitions.
Filters/titles/subtitles can be added to the videos.
Cons:
Only Windows users can use this tool to make happy birthday videos.
Quite expensive compared to other video makers.
4. AceMovi Video Editor
AceMovi Video Editor is another one of the best happy birthday video maker. This tool is a multifunctional video maker that comes with both basic and advanced video editing features such as rotate, filter, sticker, audio editing, transition, split-screen, and animation. It also provides you with a built-in screen recorder. While being able to record your screen, it lets you customize your videos. Whether you are a novice or a pro, you can use this tool easily to make a happy birthday video.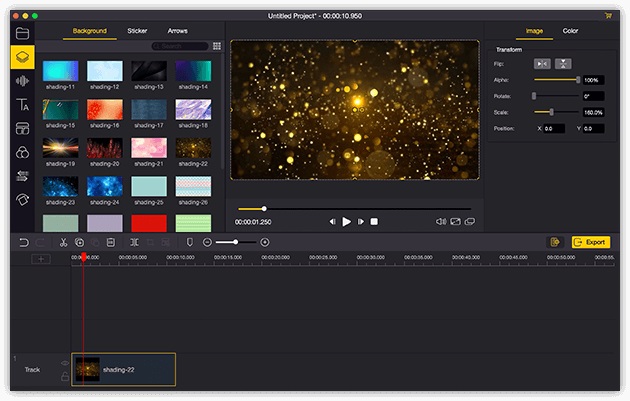 Pros:
Supports all major video and audio formats.
Has impressive options in the stock library.
You can include text over videos with this tool.
Provides a wonderful auto-save feature.
Cons:
Manus might be difficult to read on smaller screens.
For video editing, there might be limited audio.
5. iMovie
A free happy birthday video maker for Mac, iMovie is an official video maker of Apple Inc. and it comes with powerful editing functions. Between iOS devices, it has a nice connection which means that you can start the video editing on iPhone or iPad and finish the editing on Mac. This tool allows you to crop, trim and arrange video clips in multiple ways. You can make a happy birthday video with this tool in seconds if you are a Mac user.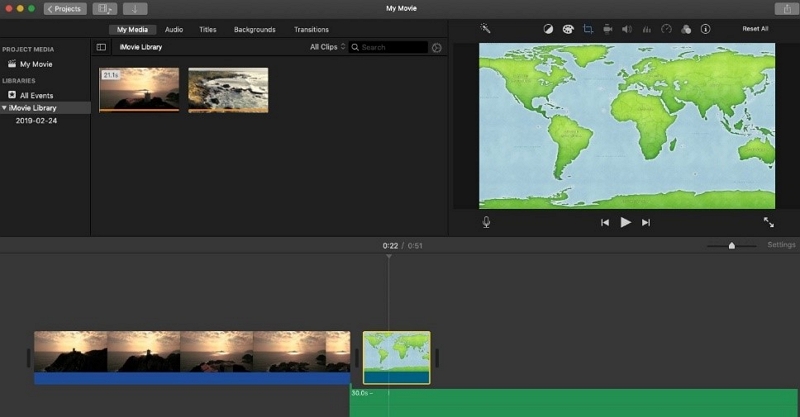 Pros:
4K resolutions video can be edited.
Allows you to edit your videos like a pro.
29 trailer templates are supported by this tool.
You can create and edit 4K and HD videos on the iPhone.
Cons:
Mac users can only use this program.
Has limitations in functions and controls.
6. Movavi Video Editor
For Mac, Movavi Video Editor is another fast and powerful happy birthday video maker. With minimum effort, this tool is designed to create engaging content. Including basic video-editing features, this program offers advanced tools like Chroma key, keyframe animation, and motion tracking. With intuitive controls, this tool makes video editing on your MacBook, iMac, or iPad pure joy.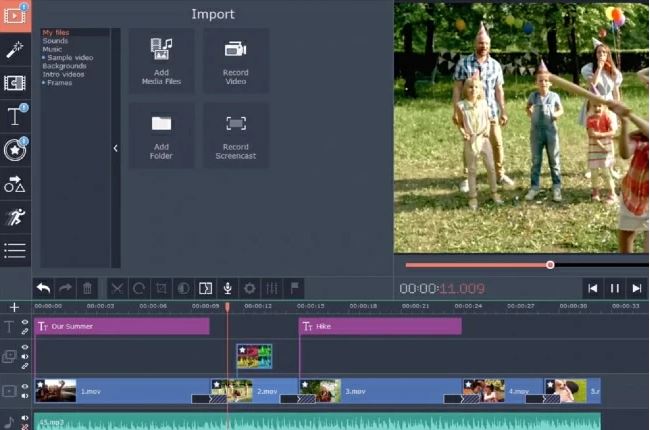 Pros:
For export, this program supports all popular video and audio formats.
Provides a simple user interface.
Technical support is available 24/7.
A lot of helpful tutorials are offered by this tool.
Cons:
Limited functionality in the trial version.
Audio-video effects have limitations.
Part 2: 4 Free Online Birthday Video Maker for You
Here we are introducing the 4 best online birthday video maker for you if you don't want to install any program on your device.
1. Animaker
Animaker is an excellent happy birthday video maker that runs on an HTML5 engine. This online tool can give users the best video editing on browsers. You can also this tool to make a virtual animation image for a birthday. This online tool comes with features that can always help you make short videos, GIFs, and live videos. You can use Animaker to make a virtual image that looks funny if you want to enjoy a special birthday.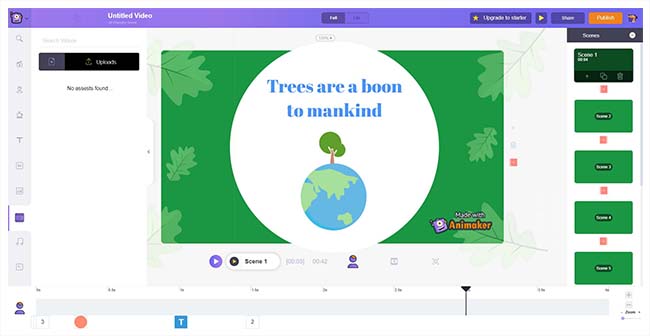 Pros:
You can create an animation image by using this program.
Voiceovers can be recorded with this tool.
Including images, videos, and icons, it has large built-in content.
Royalty-free music for your videos is provided.
Cons:
Doesn't have enough advanced editing features.
Has some limitations over the free plan.
2. Animoto
Another online happy birthday video maker is Animoto which helps you to make your birthday unforgettable. By uploading your video to Animoto, you can start the editing process. With the built-in features, you can join, copy, cut your video clips, or make a split-screen video. You will not need to download any software and can make the birthday video as soon as you open the website if you are going to use Animoto.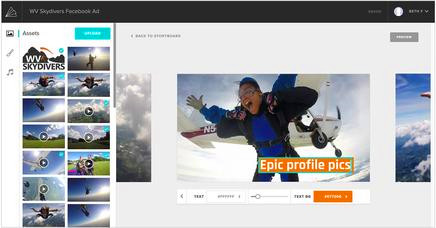 Pros:
You don't have to download anything on your desktop.
This online tool is beginner-friendly.
40+ fonts and effects are provided by this tool.
For video optimization, it supports three aspect ratios.
Cons:
The rendering and uploading speed is slow.
To remove the watermark, you must have to upgrade the tool.
3. Renderforest
Renderforest is a great birthday video maker online platform that enables you to create birthday-themed videos to make them stand out on social media feeds. You have to just choose a template, upload your pictures to this platform, add some text and music, and turn them into attractive clips and slideshows that will look awesome on your Twitter or Facebook profile. To create greeting cards, slideshows, presentations, and more, this online tool offers you templates. This tool is free for those who are happy with low-quality export videos and watermarked clips.
Pros:
A few birthday video templates like birthday greeting cards, slideshow, and 3D video cards are offered by this tool.
3D and 2D animations can be created.
Doesn't require you any installation or signup.
Has a free collection of music.
Cons:
In a free plan, the video length is limited to 3 minutes.
You have to use a template because there is no option to create a video from scratch.
4. Magisto
Magisto is an online happy birthday video maker platform that helps you to make birthday greetings for children as well as creative videos with wishes from your colleagues and friends. Including video effects and graphics, this online tool provides users with tons of built-in songs. Before creating a greeting, you might choose the video orientation: portrait, square, or landscape. Also, you will be able to adjust the size at any time. After you have finished editing, you can save the video to the cloud or share it on your social media.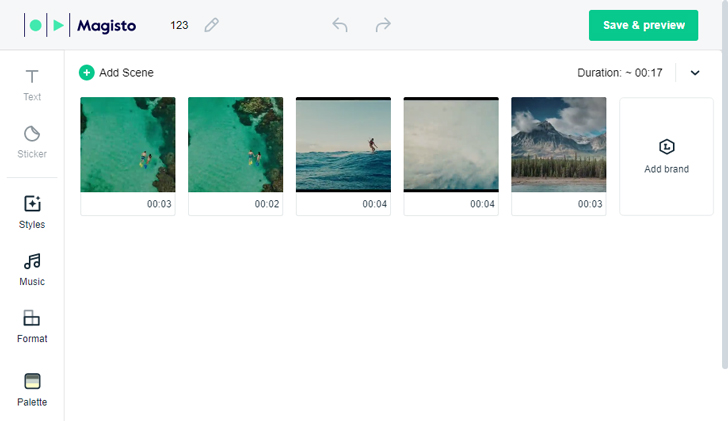 Pros:
To create a birthday video or invitation, this online tool is easy-to-use.
Private video links can be shared.
For creating birthday videos, this tool offers various templates.
With all features available in a paid subscription, this online platform has a free trial.
Cons:
The free trial of this online platform is valid for 7 days only.
For long videos, there are no editing options available.
Part 3: FAQ about Happy Birthday Video Maker
1. Is it possible to make birthday videos with pictures only?
Yes, it is possible to make birthday videos with pictures only. To create a birthday video, it is enough to add several pictures. You will have a nice movie by just applying transitions between the slides.
2. Which is the best birthday video maker?
Eassiy Video Converter Ultimate is the best free birthday video maker. This program doesn't have any cons yet and it helps you to edit your videos without losing the original quality.
Conclusion:
We don't always have the time to be with our friends and family though it is important to show them that you care. To ensure that the unforgettable memories from the birthday party are preserved for all time or to wish anyone a happy birthday when you are unable to present on their most special day of the year, making a happy birthday video is an excellent way. In this guide, we have introduced the 10 best birthday video maker free to learn how to make video for birthday both online and offline. Among the above-mentioned video makers, we would highly suggest you try out Eassiy Video Converter Ultimate. Compared to the other video makers, this program doesn't cause you quality loss while editing your videos. This tool is completely free for everyone and doesn't have any limitations over the free version.