Have you mistakenly or accidentally erased any Instagram direct messages? Are you worried about regaining access to deleted Instagram messages on Android devices? Don't worry; many Instagram users have had similar scenario and are asking the same question as you. Well, one of the most popular and frequently utilized social sharing networks is Instagram. Many people have complained that their direct messages have been deleted and they want them restored. If this applies to you as well, you have come to the correct place.
The entire process of recovering lost text messages from Instagram on an Android phone will be covered in detail in this post. This article will be your actual salvation if you unintentionally erased important messages from Instagram on your Android device and want to retrieve them. The top 5 methods to retrieve deleted Instagram direct messages are mentioned in this post. We will also introduce "Eassiy Android Data Recovery," the greatest Android data recovery program, which is a helpful tool for getting back lost or deleted direct messages from Instagram. Join us as we continue to read!
Part 1: Can I Recover Deleted Instagram Messages on Android?
Fortunately, it is possible to recover deleted Instagram messages. If you use Instagram frequently, you are surely aware that once you remove a message, it is permanently deleted. At least, that is what we believed. The deletion of Instagram messages could happen for a variety of reasons. The following is a list of some of them
1. Inadvertently or accidentally selecting the delete option.
2. Previous compromised data could corrupt other files, including Instagram DM.
3. Because of a viral infection.
4. Resetting an Android phone to factory settings.
Imagine that, to your dismay, you purportedly deleted a message on Instagram and are unable to locate it. Now you are looking for ways to recover your deleted messages. Be cautious of internet scammers and programs that claim to be able to recover deleted messages instantly when looking for ways to recover lost Instagram messages.  In that situation, this post is available to discuss 5 potential methods of recovering Instagram deleted messages.
Part 2: How to Recover Deleted Instagram Messages on Android? [Best 5 Methods]
As we all know, Instagram Direct messages are crucial to us all. However, occasionally you do lose messages due to unanticipated circumstances. Right now, you are attempting to determine how to retrieve it. Due to this, we have listed 5 best methods below that you can use to recover deleted text messages from Instagram on your Android phone.
Method 1: Best Way to Recover Deleted Instagram Messages on Android without Backup [100% Effective]
Eassiy Android Data Recovery is the best recovery app to help you out of this dilemma, regardless of how your Android Instagram Direct Messages were lost—due to a system failure, an unintentional deletion, external damage, or any other reason—Eassiy Android Data Recovery is the most spectacular recovery app. Thanks to Eassiy's superior Android data access and recovery technology, we can retrieve accidentally lost Direct Messages on Instagram. The quickest rate of photo and video data recovery from Android devices is also offered by Eassiy Android Data Recovery.
Using the Eassiy Android Data Recovery tool, you can easily recover Instagram deleted direct messages from your Android device without a backup. When it comes to working with android data recovery, Eassiy Android Data Recovery would be the finest solution even if you are a rookie owing to its user-friendly setup. Eassiy Android Data Recovery is the best recovery source since it has a higher rate of data recovery than its competitors and can swiftly analyse 1000+ deleted files. This application supports 16+ image formats, which is a record. Samsung, Huawei, HTC, Google, LG, and Sony are just a few of the numerous Android phone manufacturers that Eassiy Android Data Recovery is compatible with.
Key features:
Support for over 6000 Android mobile devices.
The industry's highest recovery rate for Android video and photo data.
Quick scan: in one second, scan more than 1000 deleted files.
The ability to support the most file types—more than 16—in the market.
Provides additional features and three recovery possibilities.
Steps to recover deleted data on android using Eassiy:
Step 1: Download and launch Eassiy
You can get back your lost data with the excellent Eassiy Android Data Recovery. Installing the most recent version of this software on your computer is necessary to accomplish this.
Step 2: Link your Android device to a computer.
Your computer and Android should be connected. After that, open "USB debugging" on your Android phone.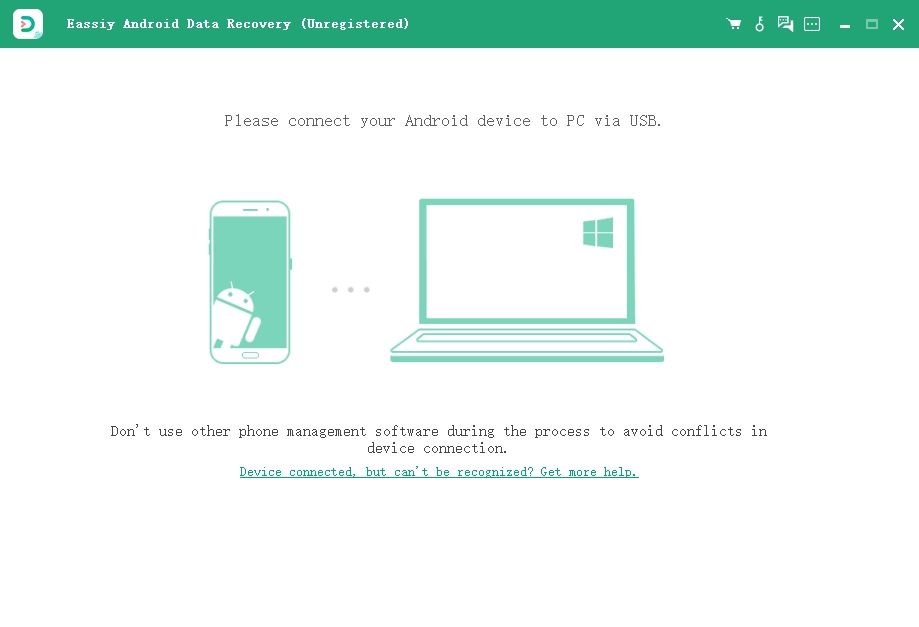 Step 3: Select Your File Types
Select the file type you want to recover. Connect your Android device to your computer, then select "Next" after selecting the file type you want to search for deleted things in.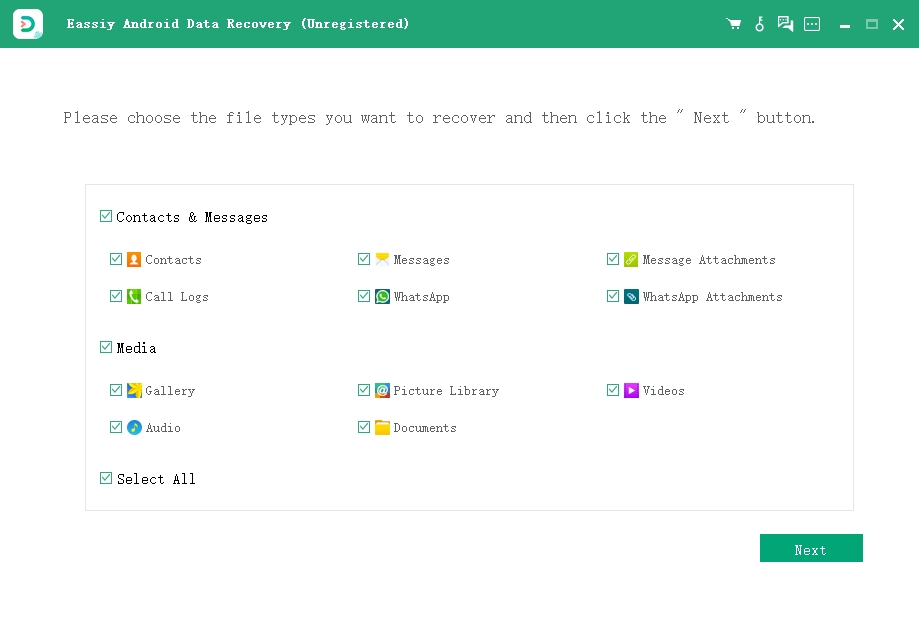 Step 4: Download the Eassiy app on an Android device.
You must install the application on your device in order to access your Android device through Eassiy Android Data Recovery software. When the pop-up appears on your Android device, click "Install" after enabling "Install through USB" in the software's developer options.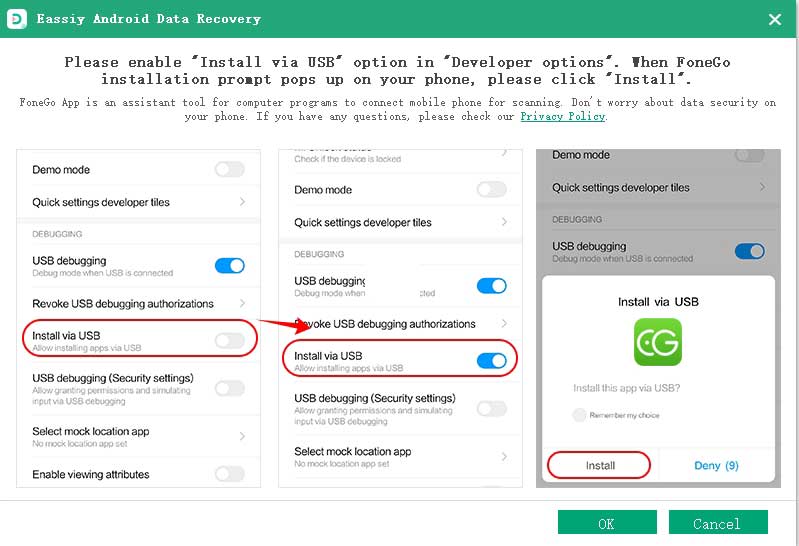 Give Eassiy permission to read the memory of the Android device. When the Eassiy pop-up window appears on your Android device and asks for permission to read data, click on "Allow." This will enable the application to successfully scan the phone. After that, launch the computer application and choose "Scan Authorized Files" to begin looking for the deleted data.
Step 5: Recover Data from Android
Keep your phone plugged into the network while the system is being scanned. Verify that the data you require is present after the initial scan. Otherwise, select "Deep Scan" to look for buried info.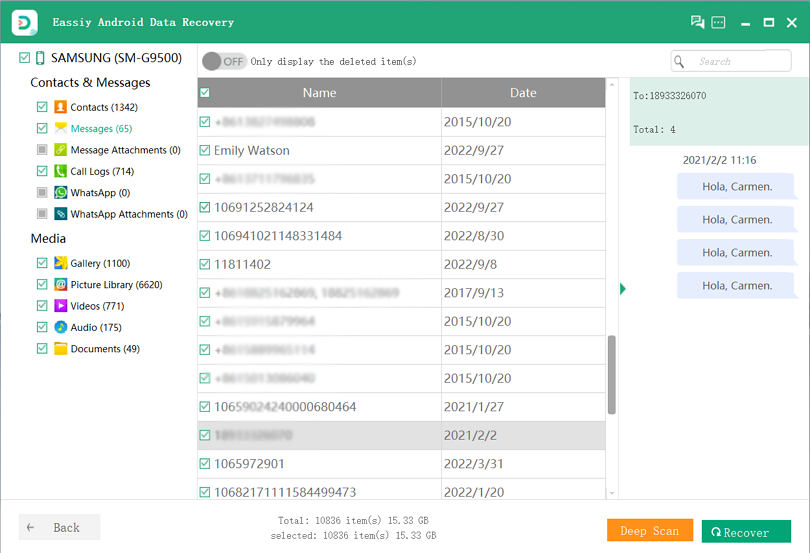 You can now select Messages to view the Instragram messages after the lengthy deep scan process is finished. After that, select "Recover" and mark the data you wish to get back.
Method 2: Retrieve Deleted Instagram Messages on Android by Downloading Data
If you removed the Instagram chat from your Android device, it will no longer be accessible through your app. But that does not imply that it will also be deleted from the server. When you use the Download Data function to get back to the server, your DMs will still be there. To recover deleted Instagram messages if you don't know how to use this feature, follow these instructions:
Step 1: Start the Instagram app.
Step 2: To access the menu, tap the Profile symbol.
Step 3: Navigate to Settings.
Step 4: From the available options, choose Security.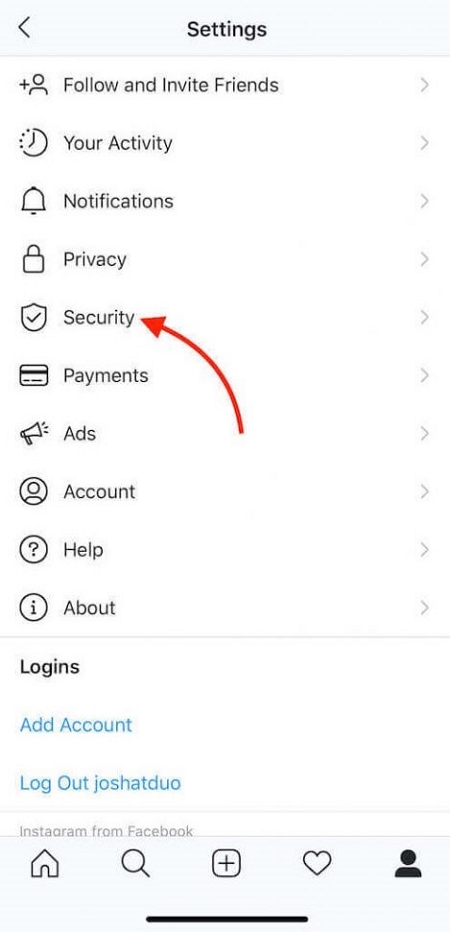 Step 5: Click on the Download Data link here, which is located in the Data and History section.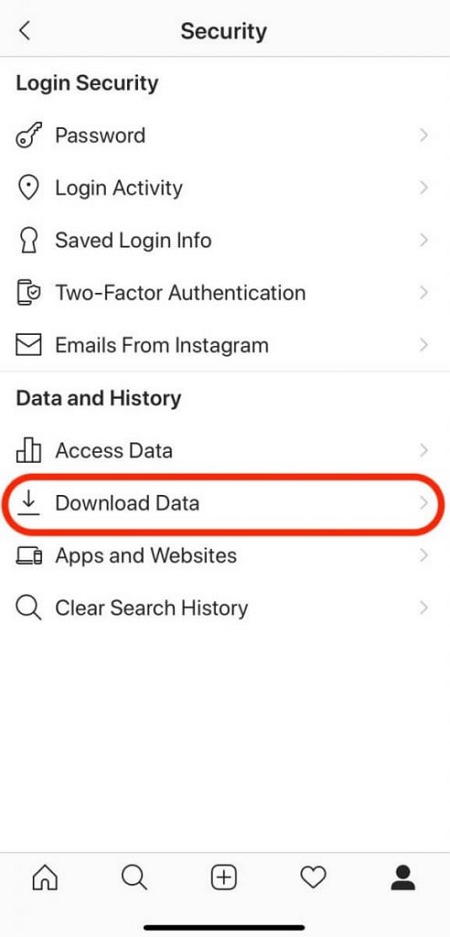 Step 6: Type in the email address you use to log into Instagram.
Step 7: Next, press the button labeled "Request Download." The file will be sent to you via email. In order to obtain your account data, click the link in your mail once you receive it.
Step 8: Continue to wait for Instagram to submit your account's data file. Usually, they send it out within 48 hours.
Step 9: The file will be sent to you via email.
Using the following steps you can easily get your Direct Messages back from Instagram on your android.
Method 3: Android Data Recovery Instagram Messages from Facebook
Instagram is currently owned by Facebook, and since the acquisition, Facebook has allowed Instagram users to link their Instagram and Facebook accounts. When you publish something on Instagram, you can immediately share it on Facebook if your accounts are linked. Most crucially, if your Facebook and Instagram accounts are connected, you can access your Facebook account to retrieve deleted Instagram messages. However, they ought to be connected before the messages are deleted. The procedures to restore deleted Instagram messages using your Facebook account are listed below.
Step 1: Launch your web browser and go to www.facebook.com.
Step 2: Log into your Facebook account.
Step 3: Navigate to your Facebook inbox and select the Instagram Direct icon on the left.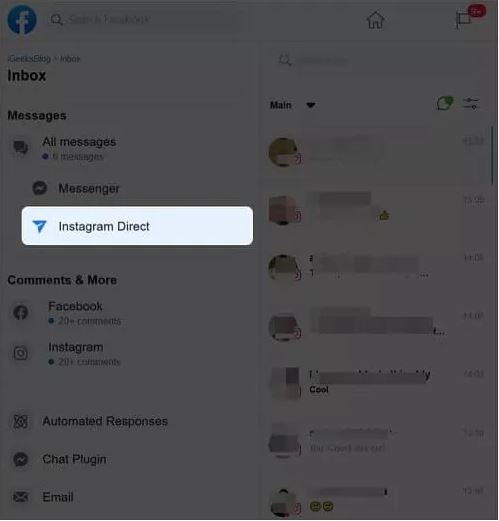 Step 4: This is where you may locate your deleted Instagram messages.
Method 4: Recover Deleted Instagram Messages on Android from Online Site
An Instagram employee came up with this technique to restore deleted DMs online. Follow the procedures listed below to retrieve Instagram chat on an Android device after first signing into your Instagram account:
Step 1: First, visit the online tool for recovering Instagram messages and enter your login or profile URL.
Step 2: After successfully signing in, select "Recover Messages" to begin the procedure.
Step 3: Finally, complete the human verification to demonstrate that you are human, and all of your deleted messages will be retrieved.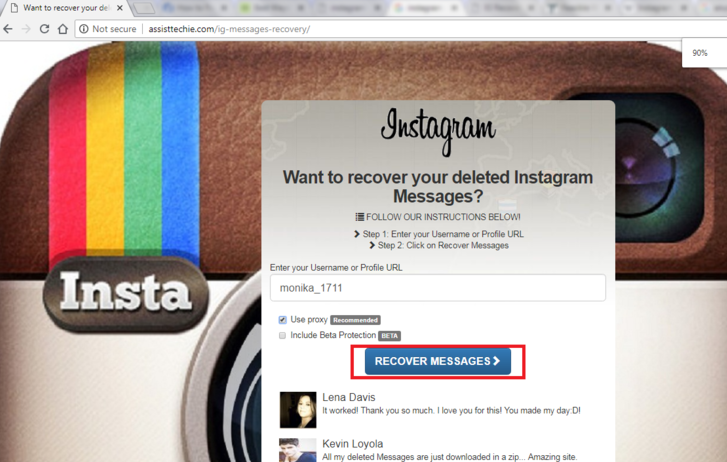 Method 5: Android Data Recovery Instagram Messages by Asking The Recipient/Sender
We advise that you ask the people who received the messages to forward them to you if you haven't been able to retrieve the chat history for your deleted or lost talks. Even though it may not be the best solution, this is frequently the only way to recover lost or deleted chat history. Hopefully, you'll be able to find the messages you need and reconstruct your conversation history.
Send a message to your contacts requesting them to forward any communications they may have from you in order to do this. Make sure to inform them that you need their assistance because you are unable to access the messages on your own.
Part 3: FAQs to Recover Deleted Instagram Messages on Android
1. Do Instagram messages will disappear after blocking someone?
If you've blocked someone on Instagram and are wondering if your conversations with them will still be saved, the answer is no. You can still view past messages even if you've blocked someone, and they'll stay there until you delete them. But you won't be able to message someone after blocking them, but your conversation threads with them will still be available in your Direct inbox. You'll be given the option to stay in the group message or quit it if you're in one with someone you've blocked.
2. How do you look at someone's archive on Instagram?
No, you cannot view someone else's previously published Instagram posts, but here's how to view your own: Tap the three dots to the right of the post you want to view to open the archive. You can choose the "archive" option on the menu to make the post visible to you. A menu will then display.
3. Can the other person see if you delete a chat on Instagram?
A discussion that has been deleted will no longer be accessible in your inbox. Remember that this simply removes the chat from your view; it will remain visible to the other participants. Unlike Facebook, Instagram does not allow you to "delete" individual messages. You can unsend individual text but the recipient will get notifications about you unsending messages. The individual will have read it, though, if they saw it before you sent it.
4. Can you get back deleted Instagram messages?
Instagram just released a new function called "Data Download" that enables users to retrieve deleted communications. The ability to recover unintentionally deleted communications or texts that we subsequently regretted deleting makes this new feature a nice addition for many people.
Conclusion
Connecting with friends online and staying up to date on each other's life is one of the most amazing features of Instagram. Unintentionally deleting messages from their Instagram conversation and then wanting to recover them is perhaps the most frequent problem people run into. Users can use the Eassiy Android Data Recovery program along with other 4 techniques to recover deleted Instagram messages even though the application might not be able to do so. You can retrieve your Instagram messages from any device using the aforementioned techniques. However, we advise using Eassiy Android Data Recovery software because it will help you retrieve those texts while still guaranteeing your data safety. Additionally, it requires no technical expertise and is incredibly simple to use.