Snapchat is one of the top social media apps because it always comes up with something extraordinarily out of the box. One of its most remarkable features includes amazing geofilters, highly addictive Snapstreak, bitmoji, Snap code, exclusive badges, Snap maps that offer ghost trails and last but not least memories that are a personal collection of your favourite moments.
When Snapchat was launched back in 2011 its most exceptional feature was the fact that all the snaps and chats used to get deleted right away. However, in 2016 with highly undeniably public demand it introduced the feature of memories that allows users to save their favourite moments forever. Forever? But what if you delete one of your favourite memory by mistake and regret it later? No regrets, life is too short for that as we have come up with the easiest and most exciting ways how to recover deleted Snapchat memories on iPhone. Let's dig deep into 4 exclusive ways to recover deleted Snapchat memories on iPhone.
Part 1: How to Recover Deleted Snapchat Memories on iPhone From My Data
Snapchat is one of the most popular and common social media apps which is being used by billions of people. People are sharing their everyday life experiences, photos, videos, and stories. Snapchat allows their user to communicate in this digital domain by sharing their valuable moments with their friends and family members. Snapchat memories was an advanced feature that was introduced a few years back. Countless people are attracted to this new feature and used it globally. It is a misunderstood fact that Snapchat doesn't keep your memories and many people are unaware of the status of deleted memories. The good news in this regard is that Snapchat does keep your precious memories for a little while to enable people to recover them if they had deleted them accidentally. We will narrate to you how to recover your deleted Snapchat memories on iPhone device.
If you are considering iPhone data recovery for Snapchat by using this technique, you may need to review the advantages and disadvantages involved in this procedure.
Advantages:
You have to prove your identity and log in using your credentials to verify and recover deleted Snapchat memories iPhone which indicated the level of security and secrecy of the application.
Your Snapchat memories and data are still preserved even if you delete the Snapchat app from your iPhone.
Your Snapchat data and memories are secure with the database of the application.
Your deleted data can be recovered within 24 hours.
You don't have to pay additional charges for recovering your temporary Snapchat memories secured with the application.
Disadvantages:
Your Snapchat memories are available for a very short duration of time and they will disappear automatically.
The Snapchat application has a dynamic interface which results in the loss of valuable memories by the user accidentally.
You have to initiate a request to recover your data.
Here are the steps enlisted for your guidance to recover your lost Snapchat memories from "My Data".
Step 1: Go to the setting page of your application.
Step 2:  Click on "My Data" on the next appeared page.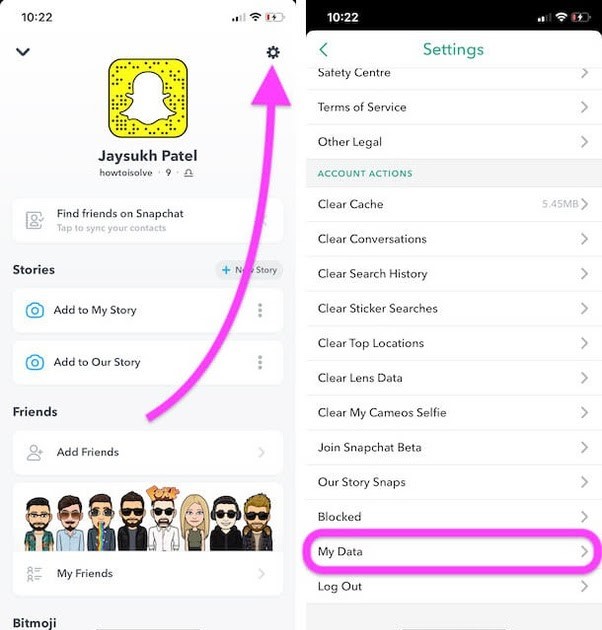 Step 3: You will be required to log in to your Snapchat account by using your credentials.
Step 4: Click on the memories option and then subsequently click on the "submit request" option.
Step 5: The Snapchat Support team will reach out after some time after the submission of your request.
Step 6: After processing your request, you will be notified by email to download your deleted memories and data. You will be required to click on the given link in the email to redirect to the "My Data" Page.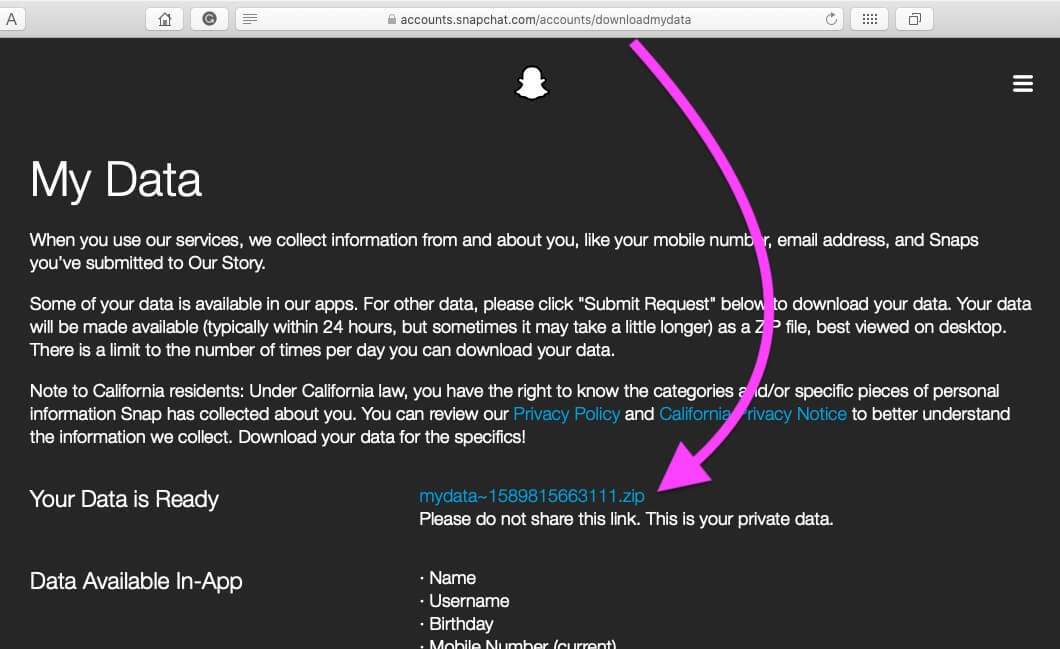 Step 7: Your deleted Snapchat memories are available in the link "my data" and can be downloaded this deleted data in your device.
Part 2: Recover Deleted Snapchat Memories on iPhone Using iCloud Backup
The iCloud has revolutionized the concept of backing up your important iPhone data and restoring it when needed. This backup system has changed the complete iOS ecosystem in which you can synchronize your data automatically instead of manually. What you have to do is to turn on the automatic sync function in your iPhone device and it will automatically back up your most significant data. It's technically a cloud-computing and storage service which are provided by Apple on their iOS devices. It was formally launched in 2011. The iCloud helps you in keeping and saving your important data which includes photos, videos, emails, text, and other important iPhone data. If you are wondering whether you can recover your deleted Snapchat photos from iCloud backup services then you will be relaxed to know that it is possible. You can simply recover deleted memories on iPhone by using iCloud backup.
Since each way has its pros and cons. Here are salient features which will help you choose which way to use for Snapchat iPhone data recovery.
Advantages:
As iCloud is a cloud based service developed by Apple, it can sync well with your iOS device.
You can get extra features if you buy subscription.
Easily access your data online from any device of your choice even if it's not an iOS device.
Disadvantages:
For extra storage space, you have to pay monthly subscription, which is not free.
If you need to store a lot of data, then you need more and more storage space.
Sometimes it can be slow to sync all your iOS device data.
5GB storage limitation available.
We will describe to you how to recover deleted Snapchat memories on iPhone as illustrated under
Step 1: First of all, back up your data on your iPhone device. If you haven't backed up your data you may not be able to restore deleted Snapchat memories on iPhone from iCloud storage services.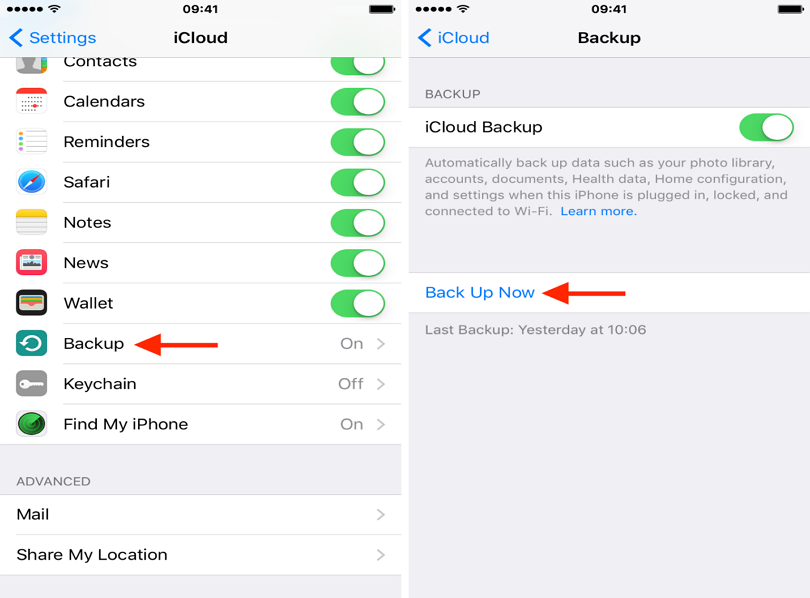 Step 2: Open the setting in your iPhone and click on the reset button.
Step 3: Click on "erase all contents and setting" on the opening of a new window.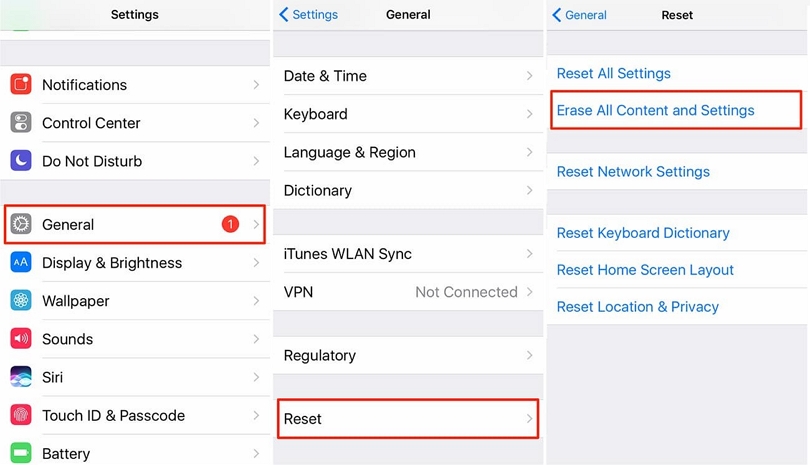 Step 4: Wait for the system to erase the data and a pop-up which asks for the setting up of a new iPhone.
Step 5: Select the option "Restore from iCloud backup" and sign in with your iCloud ID to recover your valuable data.
Part 3: Recover Deleted Snapchat Memories on iPhone from iTunes Backup
iTunes was developed by Apple in 2001. It is a music service software which is compatible with iOS devices. It was added to iTunes stores in 2003. Apple has launched various versions of iTunes from then onwards. iTunes' latest version is available and compatible with both Windows and Mac devices both.
It is very much convenient to create a complete backup of your iPhone (iOS devices) with iTunes which includes, messages, photos, videos, contacts and all other data of your iPhone. You can easily recover and restore your deleted Snapchat memories and photos if you have successfully backed up your iPhone data with iTunes before losing that important data. Several advantages and disadvantages are involved in recovering deleted Snapchat photos on iPhone from iTunes backup which are as follows.
Advantages:
There is no space restriction on iTunes and it can back up almost any kind of data.
Faster restoration process than iCloud.
Disadvantages:
Sometimes the restoration process can be really frustrating for you.
You can't restore any single data from the backup, you have to restore everything in order to get back your lost data.
Here is the procedure involved in Snapchat data recovery iPhone as mentioned below
Step 1: Download and install iTunes on your computer or laptop. Open iTunes software on your PC. Connect your iPhone device to your computer with the help of a USB cable.
Step 2: Click on the iPhone icon or Device to explore your device options. Click on the Summary and select "Restore backup".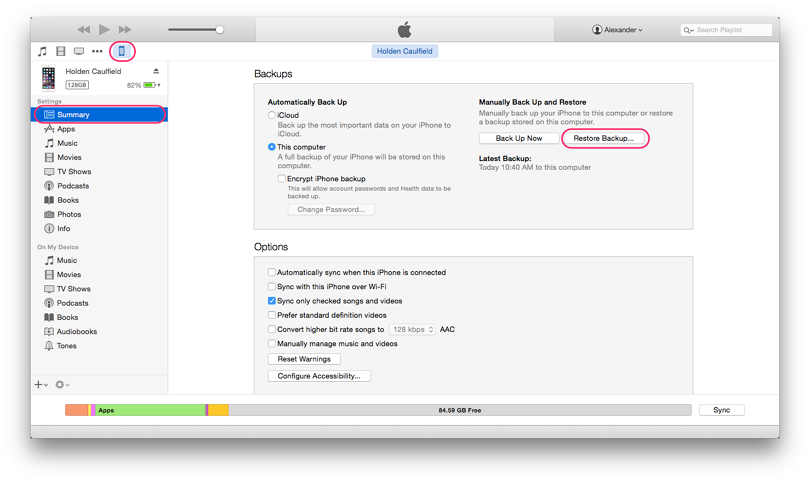 Step 3: Finally restore the data that you want to recover.
Part 4: Best Way for Snapchat Data Recovery iPhone - Eassiy iPhone Data Recovery.
After narrating and explaining all techniques, let us introduce you to the best way to recover your lost Snapchat data from your iPhone. Eassiy iPhone Data Recovery is the most reliable, efficient, and effective tool for recovering your valuable data including Snapchat and other social media apps.
These five distinguishing features will convince you to use this highly reliable and effective tool to recover deleted Snapchat memories on iPhone.
Flexible: Recover your data from your iPhone, iCloud backup, and iTunes as well, thus making this tool the most flexible and diverse.
Enhanced Compatibility: Highly versatile and broadly compatible with multiple iOS systems and devices and their updates as well.
Recovery Percentage: This recovery tool has the highest media recovery percentage which includes videos and photos.
Diversity: You will be able to successfully recover more than 36 files from all types of iOS devices.
Multiplicity: Easily deal with multiple scenarios of data loss e.g water damage, car crash, upgrade, downgrade, accidental deletion of data, stolen, etc.
Selectable: Selectively recover the data files you need before recovery.
With the help of three simple steps, you can easily recover deleted data from your iPhone. Illustrations of these steps are mentioned as under.
Step 1: The first step is to launch the Eassiy iPhone Data Recovery application on your PC or macOS. Connect the iPhone to your computer.
Step 2: Select a specific mode to scan the files from your iOS device. Then click on "Start Scan".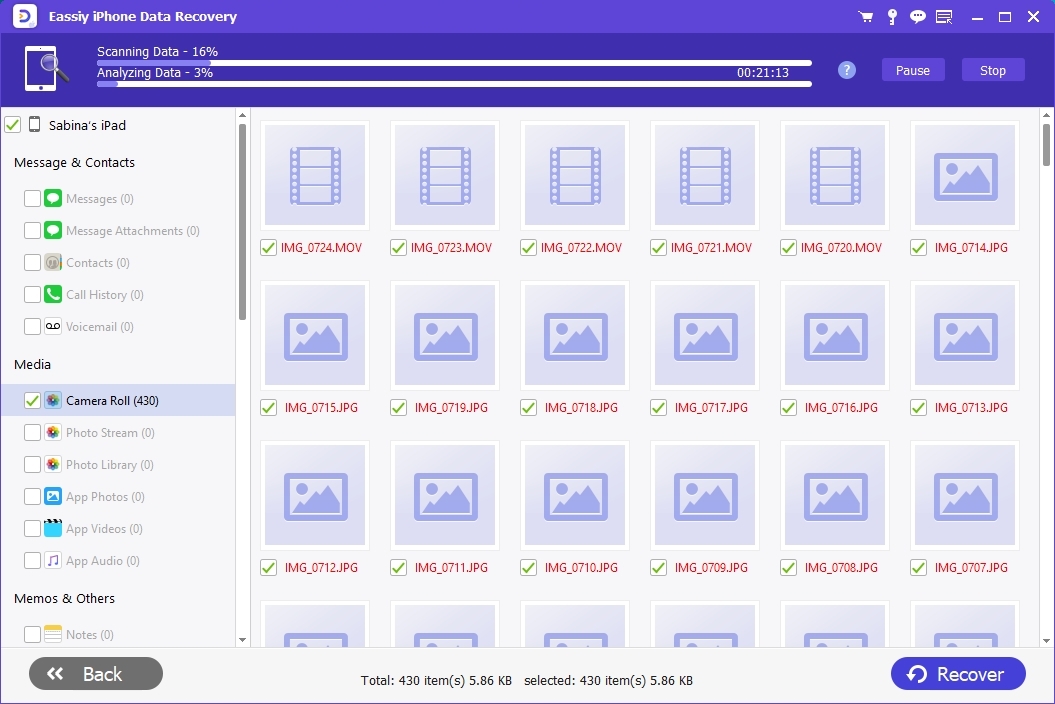 Step 3: Finally preview, select the deleted Snapchat memories and recover the Snapchat data from your iPhone.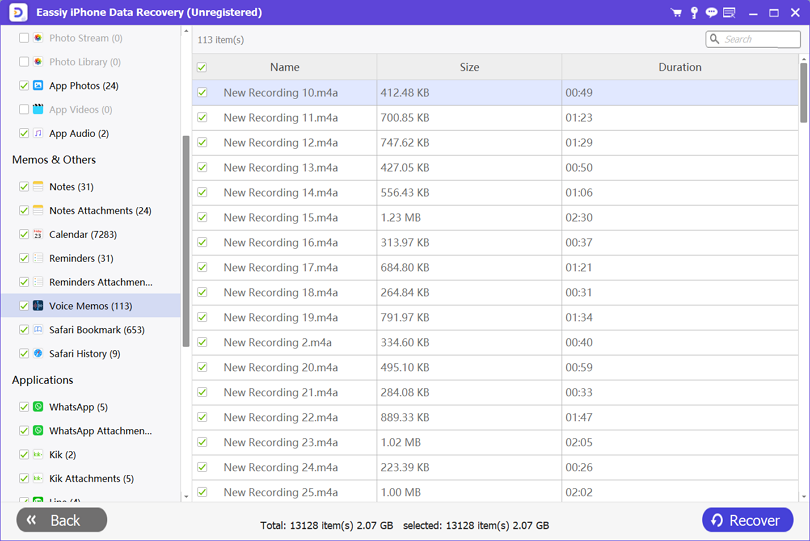 Part 5: FAQs
1. Can file manager apps be used to recover deleted Snapchat memories iPhone?
Yes, a file manager app like iExplorer is a great tool for Snapchat recovery on iPhone. The method is very simple, download the iExplorer, connect the iPhone with your PC and open the app. Locate the Snapchat folder on your PC and all the shared snaps will be found saved in the temporary folder. Simply recover them and save them on the PC.
2. How to make sure that the Snapchat memories are safely backed up on iPhone?
Follow the following three steps to make sure that the memories are backed up on iPhone.
Step 1: Go to My Profile and click on settings.
Step 2: Scroll down and click on the memories.
Step 3: Check the progress of the backup and whether it says 'Complete'.
Conclusion:
If you delete Snapchat memories by mistake, then instead of getting panicked follow any of the above-mentioned exclusive ways to get them recovered. All these ways to recover deleted Snapchat memories on iPhone are safe, tried and trusted. However, Eassiy iPhone Data Recovery for Snapchat and all the other apps on iOS have to be the best Snapchat data recovery software. It's because it offers incredible services including recovering a huge number of files without losing data, scanning thousands of deleted photos in seconds along with offering the lowest rates as compared to other similar software. Make your choice smartly as the wrong way can result in the loss of your data forever.