We all know how important editing is for music videos. A lot goes into making a great music video. A good song, cool visuals, and smooth transitions all play a major role in the overall experience. Nowadays, thanks to editing software becoming more prevalent, people can pick up and learn fairly easily. However, there are several different editing software programs available on the market today. And while they all have their unique features and capabilities, not all of them are equally well-suited for editing music videos. In other words, with so many software options out there, it can be tough to know where to start.
In this post, we'll run through 12 of the best editing software options for music videos, so you can make your next project a success. Included in the list are both paid and free tools that can be used for advanced and beginner editing alike.
Part 1: What Music Video Editor Software is Best for You?
There are a lot of different music video editing software programs out there, and it can be hard to decide which one is right for you. Here are a few things to consider when choosing a music video editor application:
Ease of use: You want software that is easy to learn and use, especially if you're new to video editing.
Features: What kind of features do you need? Look for software that includes everything you need to create professional-looking music videos.
Price: Music video editor software can range in price from free to hundreds of dollars. Choose the software that meets your budget and requirements.
Compatibility: Check to ensure that the program you select is compatible with your PC and operating system.
Once you've considered all of these factors, you should be able to narrow down your choices and find the music video editor software that's right for you.
Part 2: 12 Best Video Editor for Music Videos [Highly Recommended List]
1. Eassiy Video Converter Ultimate
Eassiy Video Converter Ultimate is a complete multimedia program that allows you to quickly edit and create any music video content. It includes over 20 multimedia tools for video editing, compressing, and other video file conversion tasks. In other words, you can use this application to convert, edit and create a collage, an MV, or even a feature film. Eassiy provides you with an all-over solution with its 1000+ supported video/audio formats for professionally editing any music video project. This utility can edit any HD or up to 8K videos with ease. Also, this application uses AI technology to improve the editing and converting speed by optimizing processor cores. This program provides some handy video production features like merging clips, cutting sections from one file into another and adding effects such as subtitles or watermarks. So whether you are a video producer, movie and music lover, home video sharer, student, or vlogger, Eassiy Video Converter Ultimate is one of a kind application for your video editing solution.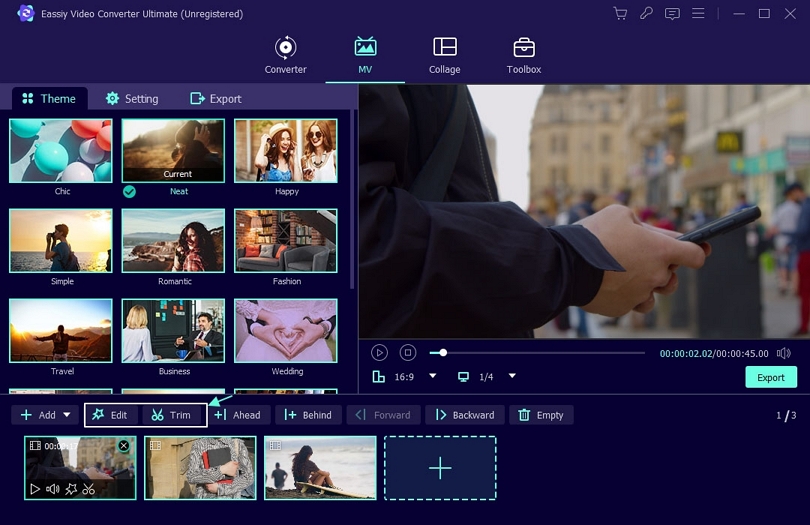 Features:
Comes with 20+ multimedia tools.
This application can edit/convert/compress HD, 4K, and up to 8K videos.
The program supports over 1000+ video/audio formats.
Provides video editing features, like merge, cut, crop video, add effect, etc.
Features GPU acceleration functionality.
Pros:
Very simple and easy to operate.
Lots of video editing options.
Supports all the popular and major video/audio file formats.
Supports multi-core processor optimization.
Cons:
The free version doesn't feature all of the necessary functionality.
The color grading option is not that powerful.
2. DaVinci Resolve
DaVinci Resolve is at the cutting edge of professional digital video post-processing software. Because it integrates video editing, motion graphics, color coding, and audio creation, it's more of a suite than a single tool. This program has appeared in recent films and television series such as Dune, Jurassic World Dominion, and Top Gun: Maverick. So, every effect or edit that can be done in the medium can be done in Resolve, which is handy in terms of music video editing. DaVinci Resolve is a professional standard in music video production, but for the broad audience, it provides something quite appealing: a highly powerful free version. The premium edition includes Neural Engine, several more special effects, temporal and spatial noise reduction, stereoscopic 3D, optical blur, mist effects, and other enhancements.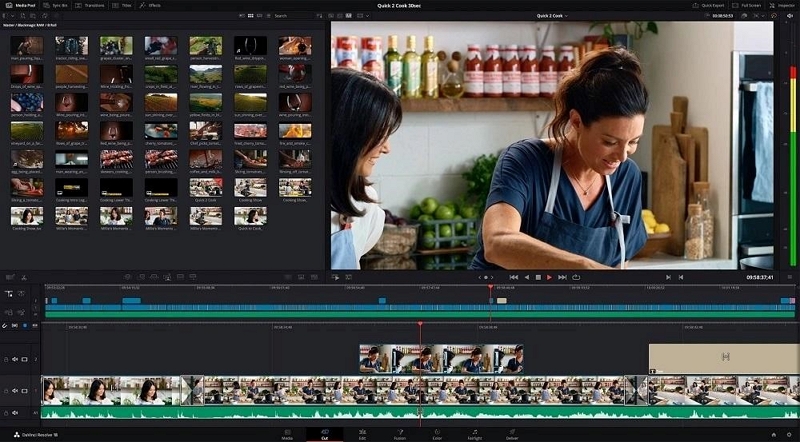 Pros:
There are several editing tools available for the perfect control system.
A simple, well-designed interface for beginners.
Motion graphics and audio editing are included, which are different programs from other professional editors.
Features cross-platform compatibility.
Cons:
It necessitates a large number of system resources.
It takes a bit of time to learn the complex functionality of the software.
3. CyberLink Power Director
PowerDirector is a powerful music video editor that is easy to use. This software is suitable for both beginners and expert users, and it has a plethora of music video editing options. You can easily make a professional-quality music video using PowerDirector, complete with cinema-style special effects. Lining up video and music tracks is simple with one-click audio synchronization. A collection of drag-and-drop contemporary with stylish transitions aids in reducing time and provides videos with a professional appearance. With MultiCam video editing, you can quickly combine footage from several viewpoints to produce a live performance music video. It includes a wide range of title templates that are ideal for lyric music videos and video effects. So, if you're seeking extensive music editing features, PowerDirector could be a viable option.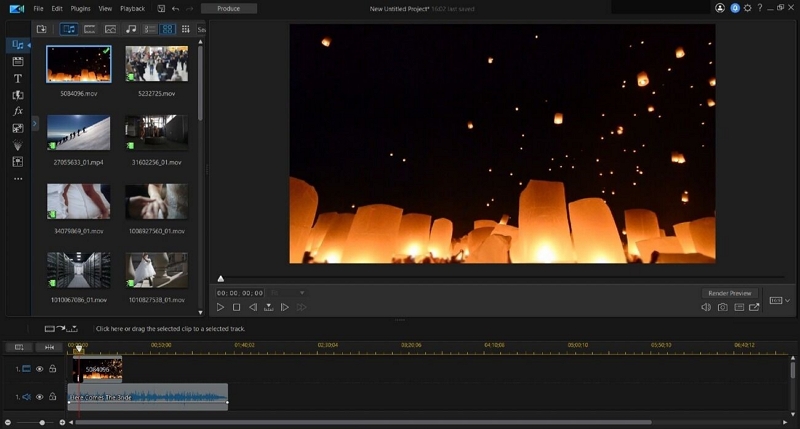 Pros:
It's a beginner-friendly software.
Simple to use, with plenty of tutorials and guided tweaks to help.
Features a variety of effects and AI tools.
Multicam and motion tracking capabilities, as well as screen recording functionality.
Cons:
The sheer number of options available might be bewildering at times.
A paid subscription is required to access stock libraries.
4. Adobe Premiere Pro
Adobe Premiere Pro is the overall comprehensive piece of video editing software available, with an almost unrivaled feature set, 360 VR and 4k capability, and a newly introduced ability to store, organize and share files online with a team. The Lumetri Color tool, which allows color correction and manipulation on par with Photoshop, is one of Premiere Pro's more eye-catching options. The multi-cam capability is also a standout—whereas other systems limit you to a certain number of camera angles, Premiere Pro's current version allows for an unlimited amount in this regard. All of these features are useful for your professional music video editing experience. Premiere Pro best works for professional music video editors, as the name implies. It's especially useful for those who need to interact with other editors, also teams who utilize Adobe's Creative Cloud suite of services.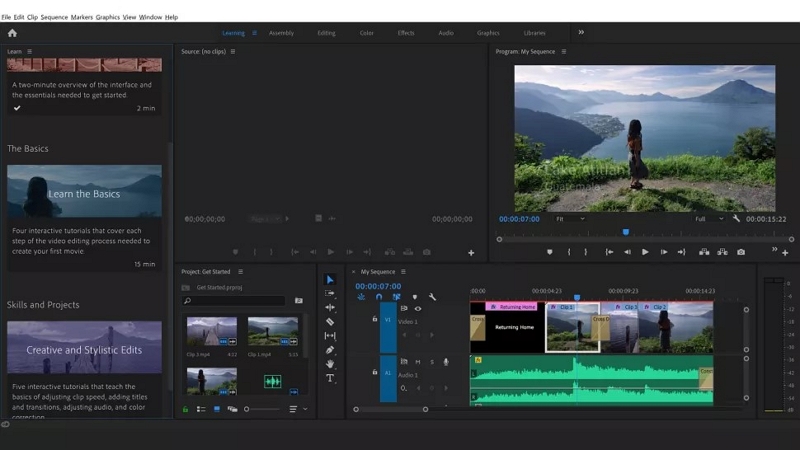 Pros:
The software features unlimited Multicam angles.
Several organizing tools are available.
High response time.
Comes with an extensive ecosystem of video production apps.
Cons:
Nonprofessionals may find the UI intimidating.
Some editing necessitates the use of extra software, such as After Effects or Media Encoder.
5. Apple Final Cut Pro
Apple's Final Cut Pro is a sophisticated music video editor popular among Hollywood pros and editing enthusiasts alike. It provides comprehensive control over the music video editing process with configurable titles, effects, and transitions, as well as straightforward color grading through extensive color wheels and curves. Final Cut Pro has the most powerful Multicam editing capabilities in the market. Automatically sync up to 64 angles of video and simultaneously watch up to 16 viewpoints with varied codecs, frame sizes, and frame rates. Individual clips can be moved, synced, trimmed, effects added, or color graded using the Angle Editor Timeline. However, novice users will need time to master Final Cut Pro, and it lacks several functionalities present in other expert editors, making this music video editor appropriate for intermediate users.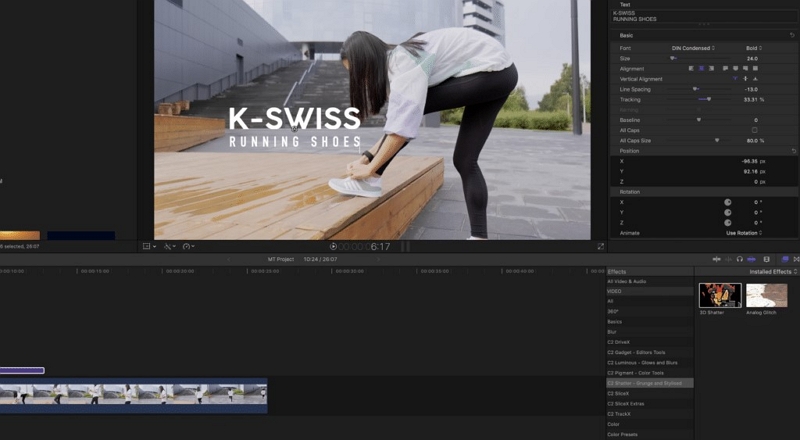 Pros:
Superior organizing tools, including libraries, ratings, tagging, and auto analysis.
360-degree video and various color spaces are supported.
Extencive Multicam support
Quick performance rate.
Cons:
Long-time video producers may be put off by nontraditional timeline editing.
Experiences with import and export lag behind those using Premiere Pro.
6. Apple iMovie
Apple iMovie is a video editing application that comes standard with Mac computers. For novices on a budget, we believe it is the finest music video editing program for Mac. It is absolutely free for Mac video editing and includes a variety of tools for beginners to utilize in order to make a professional video. The iMovie also distinguishes out for providing superior audio-editing tools that aren't available in many other free Mac movie editors. The iMovie shines at basic Mac video editing. It includes all of the tools required to edit video and audio. This Mac video editor makes it easy to quickly create quality music videos, including cool effects. It features trimming, smooth transitions, and fade effects, as well as the ability to add images and other media attachments.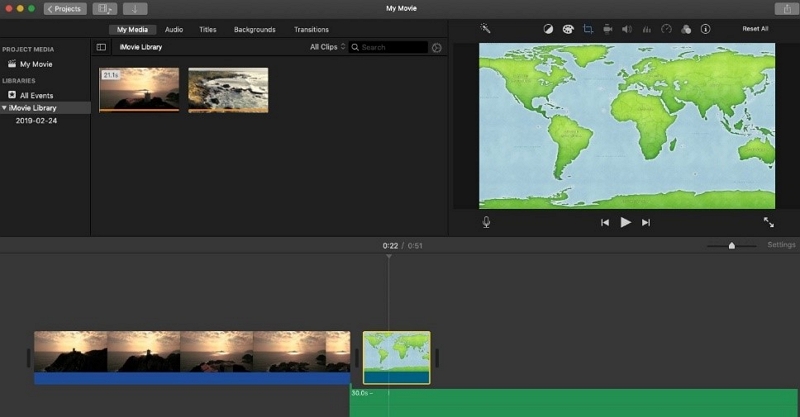 Pros:
Pre-installed software.
Excellent audio editing tools for any newbie editor.
Provides a great chroma-keying tool.
Comes with amazing movie templates.
Cons:
Some essential controls are neglected in the name of simplicity.
It does not support Multicam or motion tracking.
7. VideoPad
VideoPad is ideal for beginners, but it also includes some sophisticated features such as 360-degree editing, video stabilization, graphic effects, and animated titles for your music video. This video editing program for Mac has professionally produced templates for intros, outros, and themed projects. VideoPad is an excellent Mac video editor for novices who enjoy sharing their work with friends, family, and followers. It includes a free version for non-commercial usage, however, it has irritating advertisements. Furthermore, VideoPad allows you to publish your edited music videos straight to YouTube in resolutions ranging from 480p to 4K, as well as complete all of your video's metadata from the program. Direct posting to Facebook, Vimeo, Flickr, OneDrive, Dropbox, and Google Drive is possible. You can also burn it on a DVD, watch it on TV, or share it through any smartphone.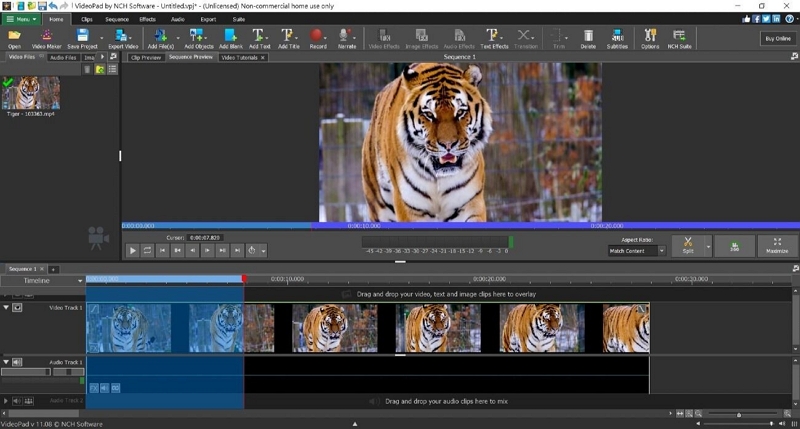 Pros:
Beginner-friendly interface with several advanced functions.
It has impressive export options.
Features speed adjustment functionality.
Provides chroma key green screen effects.
Cons:
Not intended for advanced users.
The software's rendering speed is slow.
8. Shotcut
Shotcut is a free Mac music video editor aimed at intermediate to advanced users on a tight budget. It makes use of FFmpeg to support all of the most recent audio and video formats. This Mac video editing program also covers all of the most common image and animation formats. Shotcut includes a multi-format timeline for versatile Mac video editing, as well as 360-degree editing, speed effects, deinterlacing, and extensive color adjustments. Shotcut is natively supported by recent Macs powered by Apple silicon. Though Shotcut isn't the easiest tool to use for making professional music videos, those who do learn how to master it are making some useful tutorials and guides on YouTube. And, if you want a portable option that's easy to use, Shotcut is your best bet.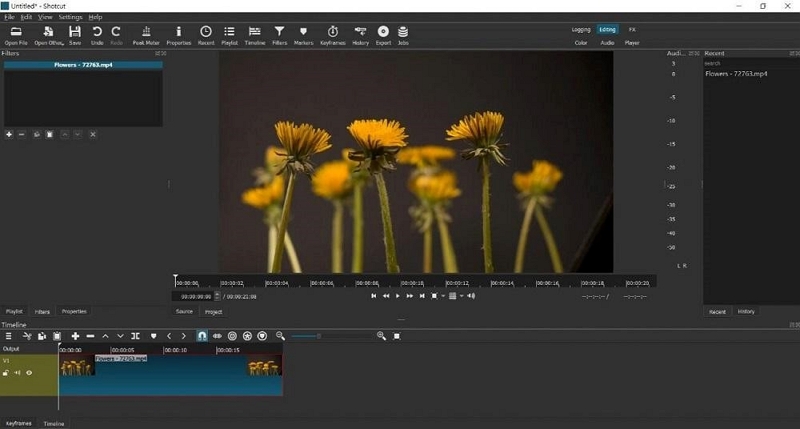 Pros:
It's a lightweight Mac music video editor.
Supports a wide range of file formats.
Comes with blending modes
This software is completely free to use.
Cons:
The software is a bit sluggish while in use.
No way to directly upload videos to social media through this application.
9. Clipchamp
Clipchamp is a template-based PWA (progressive web application) that makes it simple for small businesses to create promotional music videos. It also allows anyone to make videos with powerful transition effects. The program is free, however, there are paid upgrades for additional layouts and content. As a free/trial user, you receive a detailed preview of the stock videos, animated backdrops, music tracks, and sound effects that you may utilize with their online video creator. However, you can't truly see how it appears until you pay for their services. In other words, Clipchamp does not provide stock assets to free users. Clipchamp is aimed firmly towards nonprofessionals, so if you want extensive video tools, seek elsewhere. On the positive side, it's free, and soon a forthcoming version of Windows 11 will feature it. However, Mac and mobile users get their own editions of the program, making it cross-platform.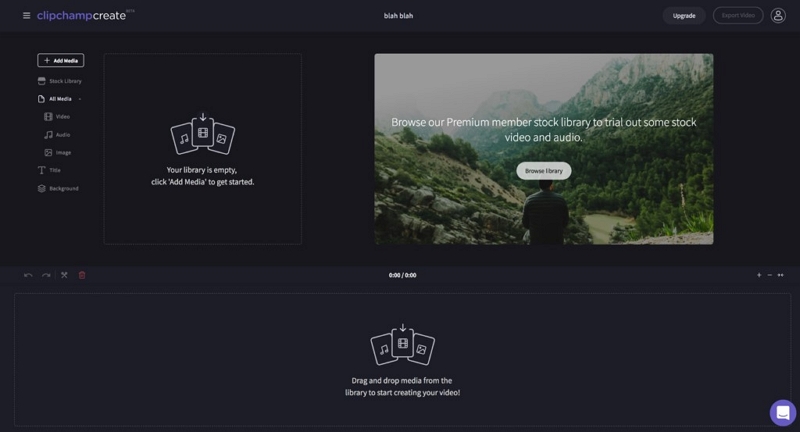 Pros:
It has a user-friendly UI.
There are several template options available.
It includes elegant effects and transitions.
There are quality text and audio options available.
Cons:
Templates are typically brief and do not define shot types.
Control over effects is limited.
10. VEED.IO
VEED is a completely online and free video creator that allows you to produce videos with images and music in only a few clicks. The interface provides several options and a clear perspective. Upload your images, favorite audio tracks, and video clips, and begin right away. It's as simple as dragging and dropping! Using this free video editor, you can add amazing effects such as filters, stickers, emojis, progress bars, and much more! Also, you can add text and subtitles to your music video to add comments, intriguing information, and an engaging tale! Make high-quality, professional-looking music videos for your audience with VEED's free video creator. It's clean and efficient to use! Overall, VEED's sleek and structured UI is the ideal tool for creating stunning music videos.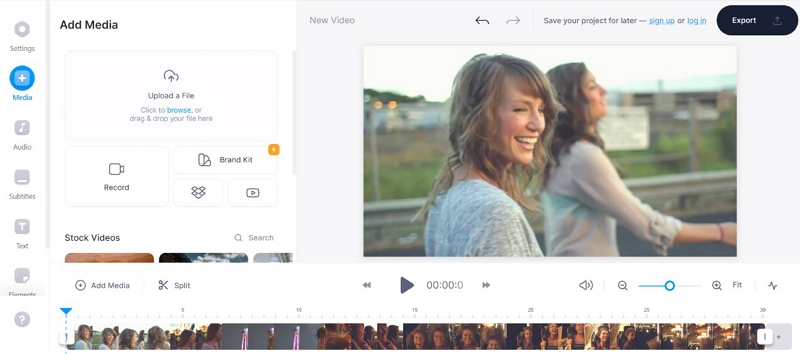 Pros:
Simple and informative UI for beginners.
Video uploading is quick and easy.
It features excellent video editing tools for any professional work.
This online video editor is mobile-friendly, and text styles can be changed by utilizing well-known fonts and colors.
Cons:
The mobile version occasionally crashes.
Unless you purchase a plan, you will have limited features.
11. InVideo
InVideo's online editor includes a variety of tools for creating music videos quickly and easily. Their best bet is arguably the vast library of thousands of ready-to-use templates. Furthermore, there are other unique features such as stickers, vector shapes, and masks that may widen your creative boundaries and enhance the appearance of your professional music video productions. According to InVideo's pricing section, premium customers get access to a 3M+ media library, but the trial edition allows users to explore a stock library of 1M images and videos. This figure appears to contain pricey assets, implying that free stock footage is unlikely to be InVideo's strong suit. The free edition lets you download videos in 720p resolution. It's also emblazoned with the InVideo logo.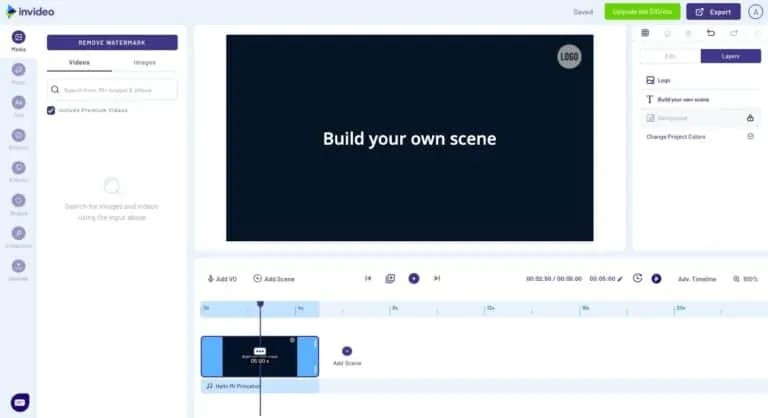 Pros:
You don't have to download the software as it's completely hosted on the cloud.
This application is suited for both beginners and advanced users.
Features 4000+ ready-made templates.
Features easy-to-follow music video editing procedure.
Cons:
The paid version is a bit pricy.
Poor search functionality.
12. Wave.video
Wave.video is a sophisticated video marketing tool that allows you to create, edit, share, and host videos. Wave.video is ideal for small businesses, music video editors, entrepreneurs, bloggers, social media lovers, and anybody else looking to create an online video. Wave.video has a simple UI that is straightforward to use, even for inexperienced music video developers. It has 400 million videos and image resources. You can share your films immediately on the following networks when it comes to exporting to platforms like Facebook, YouTube, Twitter, Dropbox, Wistia, Vimeo, Google Drive, and HubSpot. It includes a variety of customizing possibilities. You can include your own fonts and logos. You may also adjust the color of the text and add a watermark to your music videos. There is a free plan that includes complete functionality but has restricted exporting options.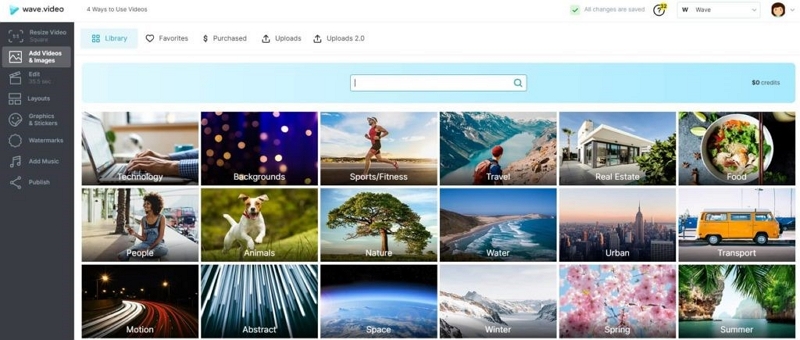 Pros:
It's a great video editor for beginners.
This application is very easy to use.
Professional video editing options.
High-quality video templates are available.
Cons:
The software is a little sluggish.
This program has several flaws.
Part 3: Comparison Table of Editing Software for Music Videos
| | | | | |
| --- | --- | --- | --- | --- |
| Program | Key Features | Best For | 3D Editing | Pricing |
| Eassiy Video Converter Ultimate | 20+ Video Tools including MV maker with themes | Both for beginners and professionals | Available | $39.99 - $55.99 (Annual, perpetual) |
| DaVinci Resolve | Several video editing tools, well designed, motion graphics and cross platform supported | Professionals | Available | $295.00 |
| CyberLink Power Director | Features a variety of effects and AI tools. | Beginner friendly and best for Professionals | Available | $41.99 - $69.99 (Annual plan), $17.99 - $24.99 (Monthly plan) |
| Adobe Premiere Pro | Several organizing tools, unlimited Multicam angles, extensive ecosystem of video production apps | Professionals | - | $20.99 - $39.99 (Monthly subscription) |
| Apple Final Cut Pro | Superior organizing tools, Multicam support, Quick performance rate | Especially for professionals but beginners can also find this handy | Available | $299.99 |
| Apple iMovie | Excellent audio editing tools, great chroma-keying tool, amazing movie templates | Beginner friendly (Best for handling simple projects) | - | Free |
| VideoPad | Beginner-friendly interface with several advanced functions, speed adjustment functionality, chroma key green screen effects | Ideal for beginners | Available | $60.00 (One time license), free trial also available |
| Shotcut | Lightweight, blending modes, 360-degree editing, speed effects | Both for beginner and professionals | - | Free and open-source program |
| Clipchamp | User-friendly, several template options, elegant effects and transitions | Beginner friendly (Best for handling simple projects) | - | $11.70 - $117.13 (Monthly and yearly subscription) |
| VEED.IO | Simple and informative UI, quick and easy, excellent video editing tools | Beginner friendlt | - | $12 - $59 (For basic, pro, and buisness use) |
| InVideo | 4000+ ready-made templates, easy-to-follow music video editing | Suited for both beginners and advanced users | - | $15 - $30/month (For business and ultimate use) |
| Wave.video | Professional video editing options, High-quality video templates | Ideal for beginners | - | $8 - $24/monthly (For streamer, creator, and business use) |
Part 4: FAQ about Editing Software for Music Videos
1. Is there a video editor built into Windows?
Yes, we have Windows Video Editor on our list. It's a simple video editor for PC that lets you cut video clips, add text and music, apply effects, and include 3D objects. To access the software, type "video editor" into the Windows search box.
2. What exactly is Basic Video Editing?
The tools required by an editor to cut together any sort of film are referred to as basic video editing. Basic editing entails:
Clip trimming/splitting/rearranging
Including transitions
Increasing/decreasing audio volume
Including music in the backdrop
All of the above should be possible with the most basic free video editing software.
3. Is music video editing difficult?
Learning video editing can be a daunting task. After all, it is a combination of technical and aesthetic abilities. To begin, selecting a video editing program and following several tutorials to understand the fundamentals is a good way to start editing.
Conclusion:
On the positive side, being able to edit music videos on your own PC with programs that are easy to use and cheap certainly fills a gap in the market and allows you to create fantastic music videos. If you're into creating your own music content and making a name for yourself as a budding artist, using one of these comprehensive editing software for music videos is an overall good idea. They are all great music video editing tools, but if we had to pick one it would be Eassiy Video Converter Ultimate. It offers pretty much everything you could ever want in a video editing program. In the end, the most crucial thing about movie or video editing software is that you are comfortable with it, so use what you are most familiar with.