There's no doubt screen recorders have been helpful lately to folks who do how-to videos, webinars, record gameplay, and do lots more related to recording computer screens. While some screen recorders are 100% free, others require you to buy a license to access the advanced features they have to offer. But sadly, most of the free screen recorders for PC usually add Watermark to recorded videos, making users' work look unprofessional to their audience.
Well, since we understand how important it is for users to protect their privacy, we've come up with this helpful review to show you the 5 best screen recorders for PCs without Watermark that work perfectly. But before we proceed to discuss that, let's take a look at the best screen recorded for PC without watermark.
Part 1: What is the best Screen Recorder for PC Without a Watermark
The best screen recorder for PC without watermark is Eassiy Screen Recorder Ultimate. Yes, Eassiy is a dynamic screen recording software that boasts a wide range of functionalities that allows users to record PC screen without watermarking and still maintain high quality. Unlike many other tools, Eassiy is very efficient for both basic and advanced screen recording tasks. It doesn't matter if you're looking to record phone screen to computer, record gameplay with HD quality, record PC screen with sound, or more, Eassiy it's a perfect go-to option.
Moreover, Eassiy has the best tools that can be easily employed by any user including non-tech savvy, and it boasts the best AI technology that allows it to execute screen recording smoothly without lagging.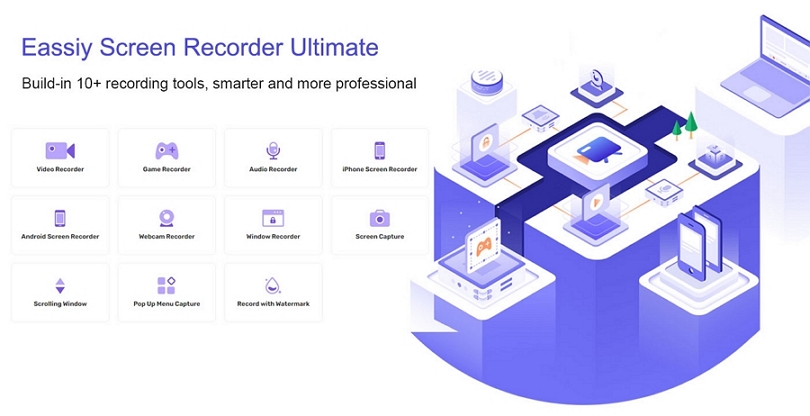 Key Features
Efficiently record extremely long 4k, HD, of 60fps videos without lagging or any kind of complications.
Easily record any part of a computer screen with audio for how-to videos, gameplay, streaming videos, and more seamlessly.
Facilitate flexible screen capturing during screen recording operation without watermark.
Adjust background sound and cancel noise during the screen recording operation.
Schedule recording using Start/Stop time to automatically start and stop recording screen when you're away from the PC.
How Can I Record My PC Screen Without Complications?
To record a PC screen without complications, you need Eassiy Screen Recorder Ultimate for a quality output. So, here we've explained the simple steps to use Eassiy Screen Recorder Ultimate to record a PC screen not only without watermark, but without complication.
Step 1. Install the Eassiy program on your PC.
Step 2. Start the Eassiy tool and from the home interface, click on 'Video Recorder'. As you can see from the screenshot below, you can also record Game, Webcams, Audio, Phone, etc

Step 3. Up next, you need to choose if you're recording your PC full screen or just a specific area of the screen. To record 'Full Screen', navigate to the top-right corner and click on 'Full Screen' . However, if it's a part of your computer screen that you want to record, click on 'Custom' and choose a preferred dimension from the drop-down list.

Step 4: Click on the 'Rec' button at the left-hand side to begin screen recording operation. You take advantage of Eassiy features to can screenshot, add annotation, edit font size, and do lots more during screen recording operation.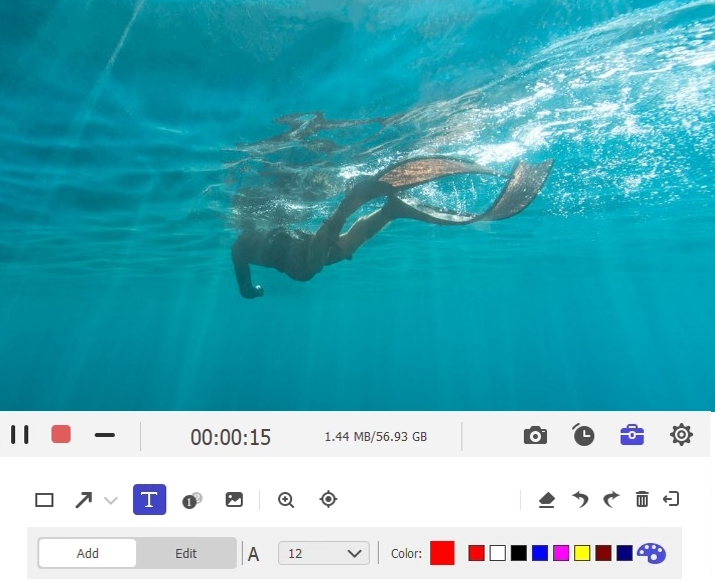 Step 5: Once the screen recording is finalized, click the completed screen recording operation, red Stop button to end it, and save the video to your computer storage. You can even share the recorded video to other platforms like YouTube, Facebook, etc.
Now, you know what the best screen recorder for PC without watermark is, let's proceed to check out the 5 best free screen recorders for PC without watermark.
Part 2: Top 5 Free Screen Recorder for PC without Watermark
After reviewing hundreds of free screen recorder apps online, we've curated this list of top 5 free screen recorder without watermark. Although these tools are of no match to Eassiy, they're still worth trying for screen recording PC screen without watermark.
1. OBS Studio
I believe you've heard of the popular OBS Studio freeware program once if not twice. This tool is known for its efficiency and powerful screen recording capabilities. Unlike many other free screen recording tools, OBS Studio facilitates safe screen recording operation without watermark. From recording Zoom meetings to video calls, games, live screen broadcasts, and lots more, this freeware tool is one that any user will want to have. Besides, you can even trim, merge, and cut videos using OBS Studio.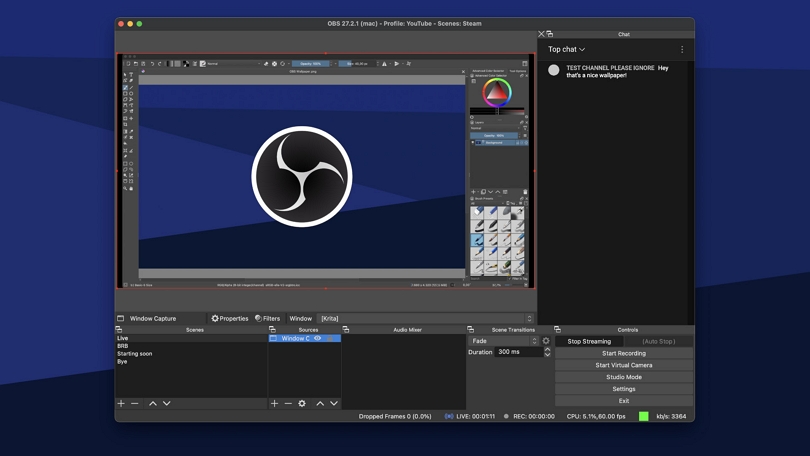 Pros
It performs screen recording quickly and efficiently.
Boast lots of simple overlay and preset elements.
Great video quality.
Convert videos from one format to another.
Cons
The learning curve of this tool is quite complicated.
No free trial.
2. VLC
VLC is another free tool on the list that anyone is surely familiar with. Although it's popularly known for editing videos, the fact is it's also effective for recording PC screens without watermarking. VLC supports a wide range of audio and video formats for screen recording, and the availability of simple video editing tools makes the tool very efficient for basic screen recording tasks without watermark. Besides, unlike OBS Studio, VLC has a very straightforward learning curve.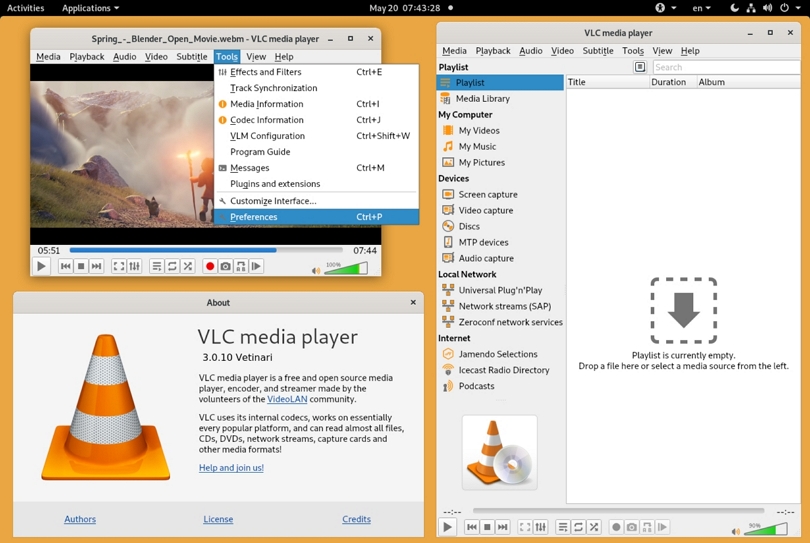 Pros
It's 100% free.
The interface is clean and simple.
It's supported on all platforms.
Availability of different subtitle formats.
Cons
It's not efficient for advanced screen recording tasks.
 The file download size is too huge.
3. Bandicam
Bandicam is a straightforward screen recorder without a watermark that boasts decent functionalities that don't only allow users to record PC screens, but also to edit videos handily. With this tool, you can record computer screens for video tutorials. It even supports webcam overlays, long-time recording, audio recording, and lots more. In all, Bandicam is very effective despite being free and it can be employed by any user including those who have no technical knowledge.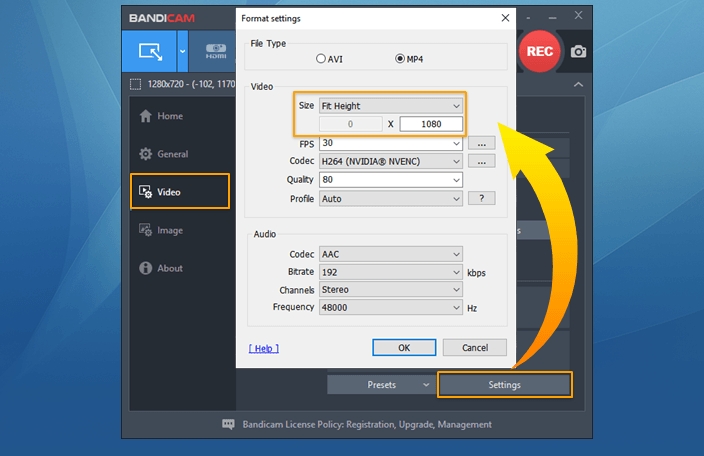 Pros
Record webcam and games efficiently.
It's easy to operate.
Support high-quality recording.
Saves recorded videos in different formats.
Cons
It's compatible with only Windows computers.
4. FreeCam
The FreeCam screen recorder can also come in handy for recording PC without watermark. Yes, despite being free, this tool has the capability to record a computer screen without watermark, and still maintain video quality. Users can use FreeCam to perform screen recording tasks for different reasons, and it even supports lots of helpful features that can help you record PC screens with audio, remove background noise, and share recorded videos to platforms like YouTube.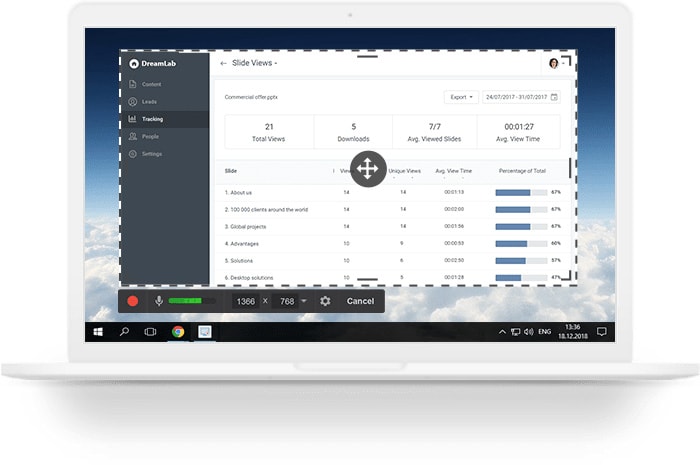 Pros
Allows easy screen recording.
The interface is super easy to navigate.
No time limit or watermark.
Free trial is available.
Cons
The free version doesn't support webcam recording.
There have been reports from users that uploading recorded videos to YouTube is difficult.
5. AnyMP4
Last but not least on the list is the AnyMP4 screen recorder for Windows and Mac computers. This tool can be used for screen recording HD quality videos without watermark. You can rely on AnyMP4 for full or predefined screen recording operation, and it can help you screen capture the PC screen smoothly. In addition to that, AnyMP4 supports gameplay recording and it has a very simple interface that makes it operable for users.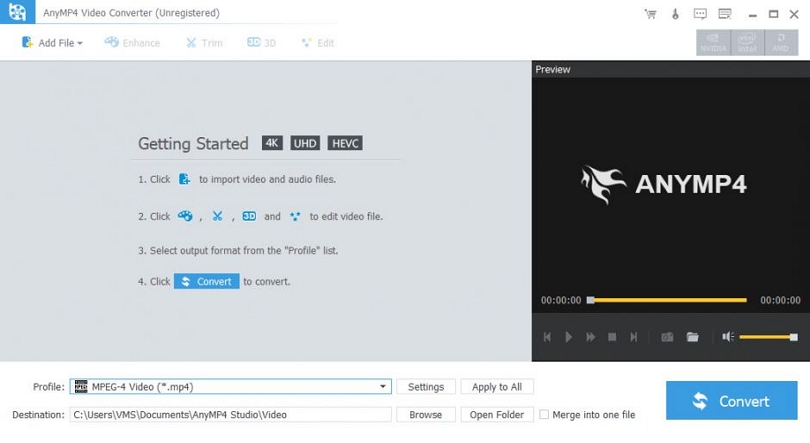 Pros
It's highly compatible with both Mac & Windows PC
It can screen capture video, microphone, and webcam.
Saves recorded videos in different formats.
Support free trial.
Cons
Doesn't support timeline mode for editing recorded files.
Conclusion
Choosing the best screen recorder from hundreds of options available online can be quite tricky, especially now that all screen recording software are claiming to be the best. We've created this unbiased top 5 free screen recorder for PC without watermark to save you from unwanted stresses, and as you've seen from the article, each of the free tools is worth trying. All you just have to do is to make your choice based on your requirements. However, if you want the best screen recorder without watermark, we highly recommend using Eassiy. Besides, Eassiy also supports an unlimited free version for basic screen recording tasks.