Your iPhone's Messages app is likely one of your most-used apps, and it probably contains important text messages and iMessages that you'd wish to keep forever. Is there anything you can do if you accidentally deleted the texts while cleaning up space on your iPhone? What if you lost your whole text message history after performing an iOS update, restoring your iPhone, or jailbreaking your device, among other things? How to recover deleted text messages iPhone?
Suppose you are diligent about backing up your iPhone data regularly, whether to iCloud, iTunes/Finder, or a local backup folder. In that case, there is a potential that you can restore deleted texts that you may have mistakenly erased. I cannot say for sure if the deleted messages can be recovered because Apple does not allow to review of the specifics of what is stored in the backup file for iTunes and iCloud backups. The risk of trying it out is minimal, though. How can you get back text messages deleted from an iPhone that wasn't backed up? In a most literal sense, the answer is "Yes." Data stored on an iPhone is recorded as code and kept in the device's volatile memory.
Part 1: How to Retrieve Deleted Text Messages on iPhone Without Backup
The best way to retrieve deleted text messages in iPhone is by using a powerful software that can guarantee you no data loss and full recovery. Eassiy iPhone Data Recovery software is a one of a kind tool that can help you with that. It offers the safest ways to retrieve lost/deleted data from your iPhone without any hassle. All kinds of advanced features, user friendly recovery process, attractive user interface, and premium vibe makes this software one of the best tool on the market right now. If you want to retrieve deleted text messages on iPhone, then let us assure you that this tool can easily recover more than 36 file types including text messages. The advanced technology to recover data using multiple methods and deep scan is also available here. You can do iPhone deleted text recovery in 3 simple steps using this tool.
Key Features:
Search through over a thousand trashed files in a matter of seconds.
36+ file types are supported including photos, songs, video, documents and more!
Recovers data easily from your iOS device, iCloud backup and iTunes backup.
100% guaranteed data recovery in any situation including accidental deletion, external damage, system crash, broken screen, factory reset, jailbreak etc.
Compatible with almost all iPhone, iPad and iPod devices that are available.
Pros:
Offers highest recovery rate on the industry, so users are assured about the recovery rate.
Scan and recover data from many data loss scenarios including accidental deletion, system crash, water damage, upgrade/downgrade, factory reset, broken screen, virus attack and many more!
It can recover various social media app data including various other data files.
It's compatible with all kinds of iOS devices and iOS versions.
Cons:
Sometimes your computer might slow down because of high system usage.
Steps to Retrieve Text Messages:
Step 1: If you have an iOS device, you may download, install, and use Phone Rescue from a Windows or Mac computer. Use the USB cable to link your iPhone to the computer, select Recover from iOS Device, and proceed with the Right Arrow.
Step 2: Select the Texts tab and tap Okay to restrict the scan to the deleted messages.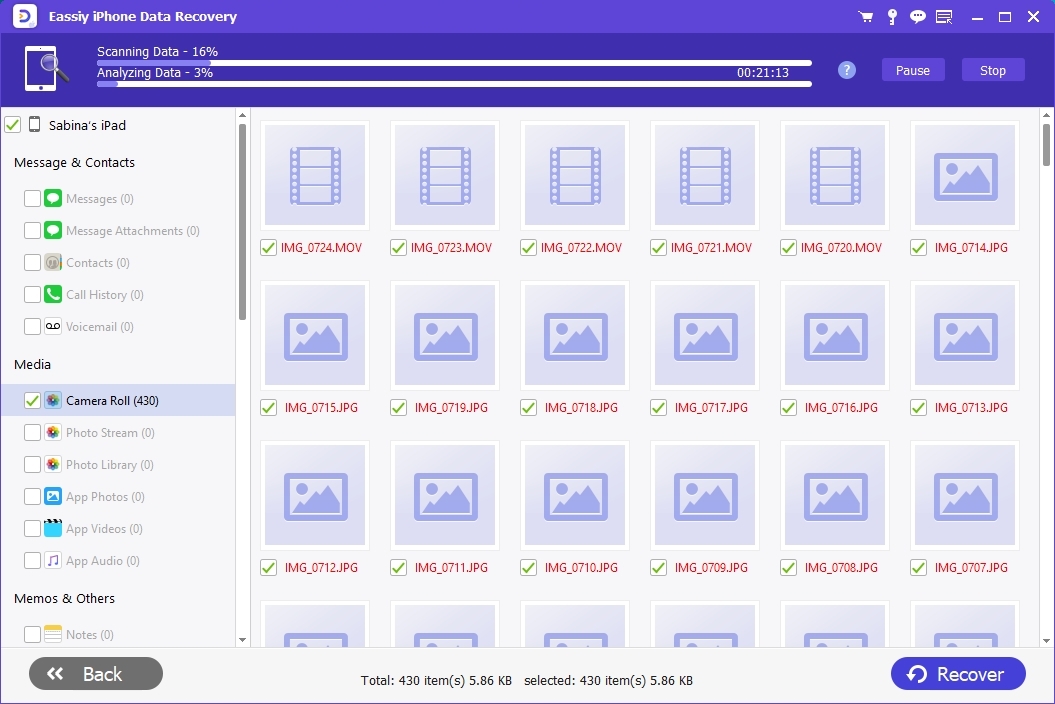 Step 3: Read past SMS messages and retrieve lost data. Once scanned, the textual exchanges appear in the format shown below. To get your selected items back on your computer or iPhone, you'll need to check them off and click the corresponding To Computer or Device option.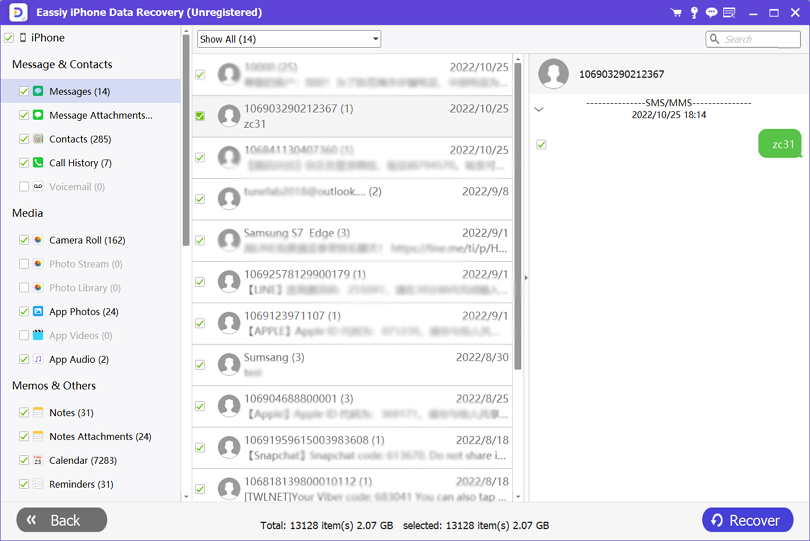 Part 2: How to Retrieve Deleted Text Messages iPhone from iCloud Backup
This can come in handy when your iPhone is lost, stolen, or otherwise inaccessible. The best course of action, if you have an iCloud backup, is to restore the data from the backup.
Verify that the backup was created recently and contains all the trashed messages you need to retrieve. To begin, you need to do this. Since iPhone backups are encrypted, you won't be able to get a sneak peek at the data they store. The backup's usefulness, however, can be gauged by looking at its last update date. If you're sure you want those texts back, you can restore your iPhone from your iCloud backup and get them back. Follow the steps below to recover deleted text messages from iCloud backup
Step 1: Got to the "Settings" menu on your iPhone and select "General", then tap on the "Reset" button.
Step 2: Next tap on the "Erase All Content and Settings" option.
Step 3: Now you need to follow the onscreen instructions to reach the "Apps & Data" screen. Then select the "Restore from iCloud Backup" option.
Step 4: After that, you'll get a window where you'll need to sign in to iCloud with your Apple ID. Select the backup that stores the messages you need.
Step 5: Finally, tap on Restore to start restoring the backup to your iPhone.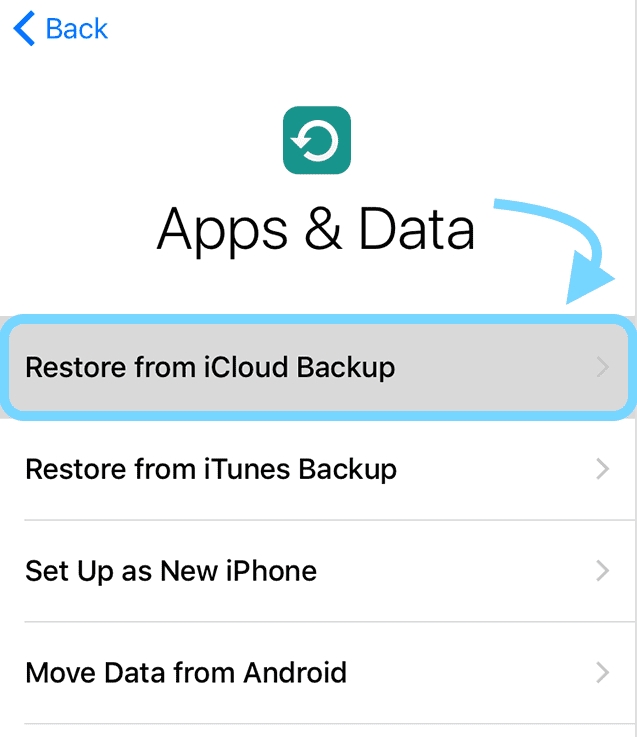 Part 3: How to Retrieve Deleted Messages on iPhone from iTunes Backup
If you have a recent iTunes backup and are positive that it contains the messages you believe you have lost or deleted, you may be able to utilize it to retrieve the messages from your iPhone. There is no other way to get the messages if you are not confident that the iTunes backup does. However, if you restore your iPhone, it will wipe its existing contents and replace them with data from your most recent backup. All the data backed up from your iPhone, not only the texts, will be transferred to your Android device. Your data, from messages and contacts to photos, is included. Here are the steps for how to retrieve deleted text messages from iPhone using iTunes
Step 1: Launch iTunes and connect your iPhone to your computer. Then click on the device icon like the below image.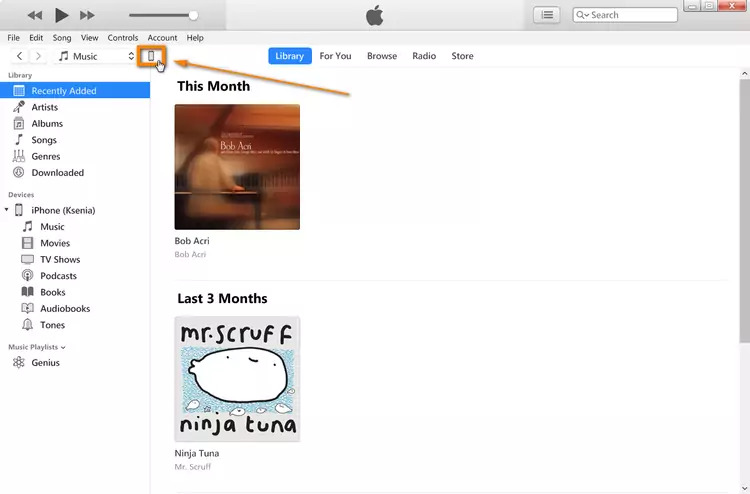 Step 2: Now click on the "Restore from Backup" option under the Backups tab.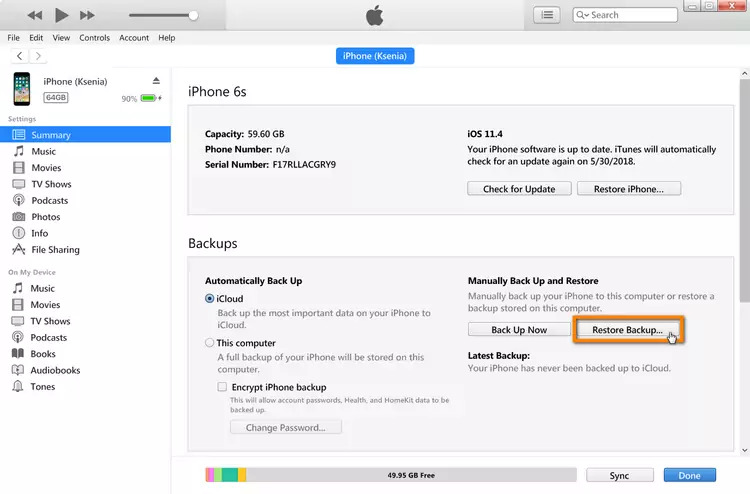 Step 3: Finally select the latest iPhone backup from iTunes and click on "Restore".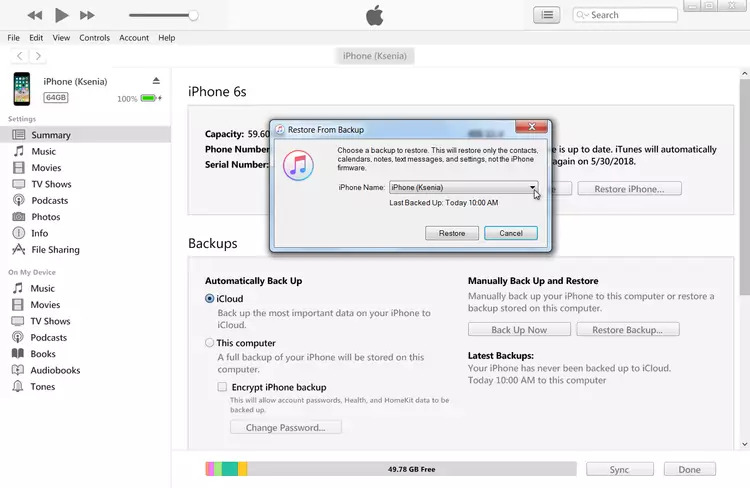 Part 4: How to Find Deleted Messages on iPhone using another iPhone Without Computer
Another way to recover deleted text messages on iPhone is by using another iPhone. If you didn't get this statement, then let me clear it for you. As you are texting another person, the text messages should be available on their phone too, right? So you can easily contact them and ask them to give you those text messages again if there is anything important. This method is not so effective if the other person doesn't allow you to access those text messages again. So the best way is to use the Eassiy iPhone Data Recovery tool.
Part 5: How to Retrieve Deleted Messages from iPhone using Your Carrier
We consider two mobile phone numbers to communicate when they exchange text messages. In addition, mobile phone companies take extensive measures to protect the privacy of their consumers' data. Since the other party to a text message exchange has the right to expect their privacy to be protected, your cell phone carrier is bound to do so even if you insist on getting copies of your communications. Accordingly, you'll need a court order before your cell phone carrier hands up your text messages.
Step 1: For this article, "communication" between two mobile phone numbers occurs when they send and receive text messages to and from one another. More than that, mobile phone companies take numerous measures to protect their consumers' privacy. The other party to a text message exchange is entitled to the protection of their privacy under the law regardless of whether or not you demand copies of your conversations.
Step 2: Put in your claim. You can't get a court order without first filing a case.
Step 3: Once you have a case, tell your lawyer or investigator you have text message evidence. The attorney will next submit a motion to the judge. The petition won't be granted unless the text messages are significant.
Part 6: FAQs
1. How can I get back iPhone text messages that I accidentally erased without a backup?
 If you haven't created a backup file and any messages you've accidentally deleted have been overwritten, your final resort is to contact your iPhone's cellular provider or carrier since they may have copies of your deleted messages stored on their servers.
2. When an iPhone message is deleted, where does it go?
On the iPhone, deleting a text message does not make the message completely unrecoverable. An initial copy is transmitted to the service provider. Next, the iPhone's internal database just marks the copy in your phone as "deleted" rather than erasing it.
3. If I don't have a backup, is it possible to get back a bunch of text messages?
If you need to access your data from an Android device but don't have root, select Quick Recovery mode. Deep Recovery mode allows you to thoroughly search your device and successfully recover deleted data without a backup.
Conclusion:
You may still get back texts that you accidentally deleted from your iPhone and have many options. Though you may have erased the messages from your iPhone, you can retrieve the deleted text messages. Pick the option that best satisfies your needs while also fulfilling any preferences you may have. In conclusion, don't skip out on the chance to try out Eassiy iPhone Data Recovery on your iOS device. It is possible to retrieve iPhone text messages that have been deleted permanently by using this tool. Restoring the messages from an iTunes or iCloud backup is a convenient official option. Still, full programs are available that can enable you to achieve this without backing up or restoring. Pick the one you'd like to try the most. Lastly, take precautions to avoid data loss the next time around.