Nobody is immune to loss, so at some point, you might accidentally jailbreak your iPhone, try to update it to the newest software version, or attempt to reset the device to factory settings and discover that you've lost crucial data. Maybe a vital file wasn't properly backed up. Don't sweat; Joyoshare iPhone Data Recovery will precisely assist you in gaining entry to your deleted universe's complex structures and extracting these priceless publications.
With a guaranteed method for recovering lost data, Joyoshare iPhone Data Recovery can fix up to 20 different types of data files. This trustworthy program also gives the ability to easily recover all lost data from any iPhone, iPad, and iPod touch devices and has broad compatibility with the most recent iOS 16. Alternatively, you might simply locate the photos from a trip you took last year. In addition to giving you a comprehensive review of Joyoshare Data Recovery for iPhone in this article, we will also provide you access to our most amazing Eassiy Data Recovery, which is a great alternative!
Part 1: Is Joyoshare iPhone Data Recovery Free?
Joyoshare iPhone recovery software provides a free trial version for everyone interested in it to have a try. A secure recovery procedure is provided by Joyoshare iPhone Data Recovery. The program is compatible with practically all iOS systems and devices, including the newest iOS 15 beta version and Apple iPhone 13, and is accessible for both Windows and Mac. Although there is a free trial version accessible, it does not include all the features, making the software only available to specific individuals.
The software is affordable, dependable, and simple to use. In addition, it offers a free trial version for anyone interested in trying it out. Even if the software has a free edition, Joyoshare Data Recovery's sophisticated features are still necessary in the event of a serious data loss emergency. To access the new features, you must update your free program to a later, paid version.
Pricing Details:
Anyone who wants to recover data with Joyoshare iPhone data recovery is able to do so using the trial version. For only $49.95, you may purchase Joyoshare paid edition and gain access to all of its capabilities, which makes data recovery simpler. Paid versions additionally have the ability to decrypt data from backups, preview data in real-time, restore data to a computer, and convert HEIC to JPG in addition to scanning data from an iOS device. However, the trial edition only permits the scanning of data from an iOS device, decryption of data from backups, and real-time data preview.
Part 2: Features of Joyoshare iPhone Recovery
Rapid recovery time - The recovery process can be finished in a few minutes and uses advanced scanning technology to restore files from iPhone without a backup.
Adaptable Recovery - 20+ various types of deleted data files can be recovered, and Recover missing files from numerous data loss circumstances, and you can choose to recover all or only a portion of the missing data.
Assist with encrypted backups - Unlock encrypted iTunes or iCloud backups to recover lost data, and you can preview and choose which data to restore.
A Wide Spectrum of Interoperability - There are no limitations on scanning and previewing data, and it is fully compatible with the newest iOS 16 and iDevices versions.
Fully Secure Recovery - Save and export data as CSV or HTML without overwriting any already-existing information on your iOS device.
Part 3: Reviews from Users
Here are some customer reviews and our explanation below for you.
Juan Bernal: 1 Star
BE AWARE!!
BE AWARE!!! STAY AWAY FROM THIS COMPANY!!!! I purchased a software that that was supposed to recover my data, but it fails every time that reach 7%. Tried to contact customer support nobody responded my emails. This is a SCAM COMPANY!!!
Paul Severns: 1 Star
Downloaded the software (free version)
Downloaded the software (free version), went to go through the procedure and it wouldn't go any further than the part of "connect to iTunes" section. Tried numerous times with no success. Very disappointed with this program.
JasonC: 4 Star
Useful and Good
I've been using Joyoshare iPhone Data Recovery software for 3 years. Very easy to use and the quality of data is good. The tool also has function to recover data from iTunes backup if you have created before.
Mee Leem: 5 Star
I like Joyoshare iPhone Data Recovery very …
I like Joyoshare iPhone Data Recovery very much. This professional iPhone Data Recovery tool helps me recover photos to JPG or other common used image formats easily and perfectly.
So by following all these mixed reviews from different users, we can reach to a explanation that Joyoshare iPhone Data Recovery tool is not the final solution for everyone. You might not get proper customer support or refund back if you can't make use of the software properly. Also sometimes, connecting to iTunes might not work. So you should use the alternative solution that we are about to show you in this article.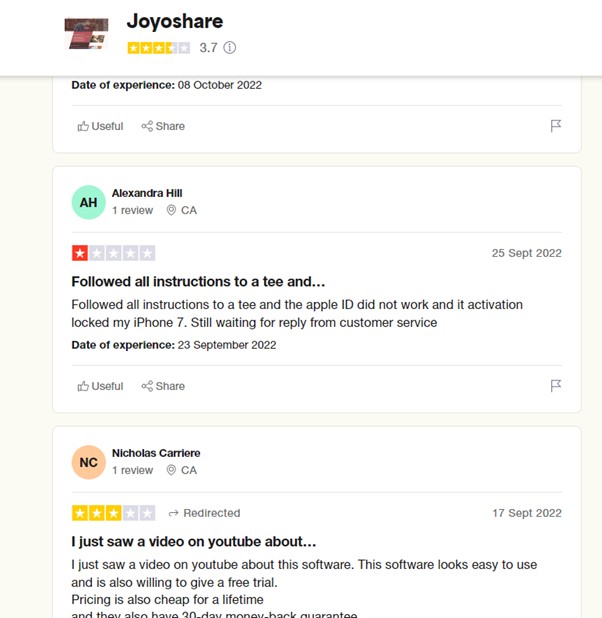 Part 4: Best Alternative: Joyoshare iPhone Data Recovery Review
Using the Joyoshare iPhone data recovery tool may be problematic for you, or perhaps you're encountering problems and bugs when utilizing the Joyoshare tool. Error messages may occasionally appear, the software may stall down, or both. The greatest option in this article is Eassiy iPhone Data Recovery, which will not only relieve your stress but also help you retrieve the desired data.
There is nothing more upsetting than losing important data from your iPhone or iPad, such as treasured contacts, photos, films, videos, app messages, notes, and other files. Eassiy iPhone Data Recovery excels in recovering a variety of data with ease. It is undoubtedly easy to choose Eassiy that would best meet your needs.  Eassiy iPhone Data recovery is the solution since it not only makes data recovery simpler for you but also has the ability to thoroughly examine 36+ different types of files. Joyoshare's trial edition offers few features, but Eassiy's features are superior to Joyoshare's in terms of aesthetics, usability, and dependability, making it the ideal option.
You may recover data in only 3 easy steps using the most amazing tool, Eassiy iPhone Data Recovery. It can restore more than 1000 different photos in their original quality. In order to recover lost data as soon as possible or with the best chance of success, you can choose between a quick scan and a deep scan depending on the circumstances. No matter how your iPhone data was lost—due to a mistakenly deleted file, a system crash, external damage, or any other scenario. Eassiy iPhone Data Recovery is the best solution to help you get out of this hassle.
Key features:
Access information on your iPhone, in iTunes, and in iCloud.
Recovery of more than 30 file types without data loss.
Numerous methods for addressing data loss
Instantly search through more than 1000 deleted photos.
The highest rate of data recovery as compared to competitors.
By using the methods described below, you can acquire the best replacement for Joyoshare iPhone Recovery, which makes it simple to recover your data on an iPhone:
Step 1: Download and launch Eassiy
With the outstanding Eassiy Data Recovery, you may recover your lost data. To achieve this, you must install the most recent version of this software on your computer. Your iPhone and computer must be connected with a cable. After that, launch the program and select "Recover from iOS Device" to immediately jump to the scan process for lost data.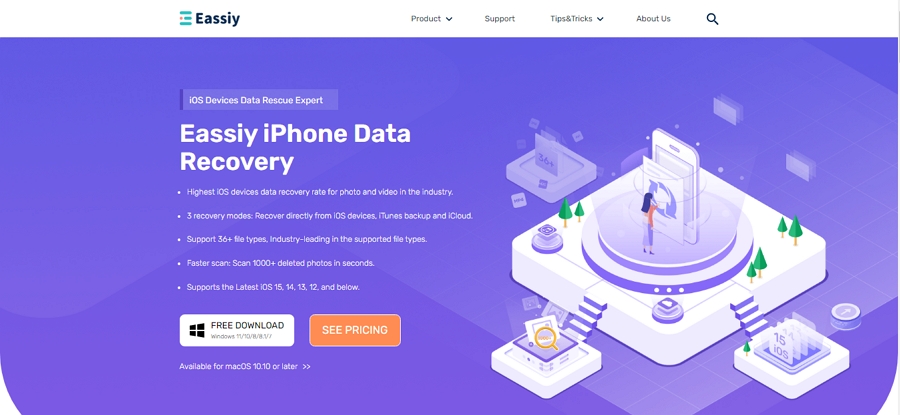 Step 2: Choose a certain mode to scan files
Now press "Start Scan" to look for the missing files after choosing a mode.
Step 3: Review and Restore Deleted iPhone Notes.
After scanning, all of the data on your iPhone will be appropriately listed. Individual reviews are accessible for a variety of items, including photos, contacts, music, movies, and bookmarks. Select the specific file, such as "camera roll," to find the necessary deleted data. Finally, click the "Recover" button in the bottom right corner of your screen to recover your deleted iPhone videos and photos onto your computer. After that, you can quickly restore the photos or videos you want.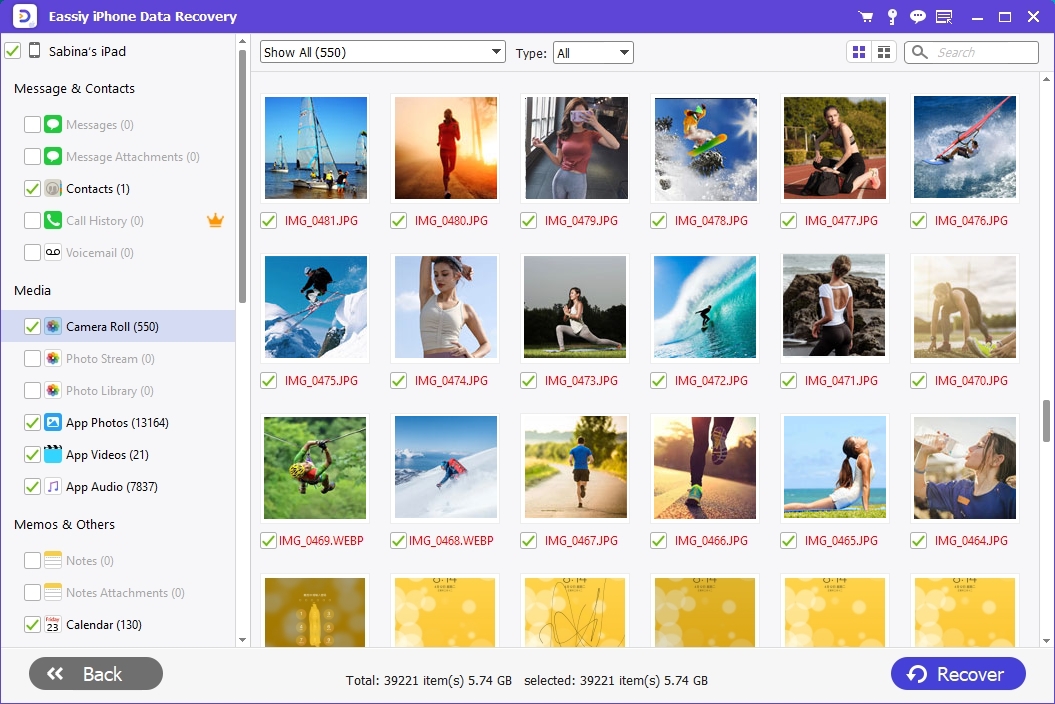 Part 5: Comparison Table
The goal of this post is to provide a comprehensive and objective comparison of Eassiy iPhone Data Recovery and Joyoshare iPhone Data Recovery. If you require a quick comparison table, one is available:
Eassiy iPhone data Recovery

Joyoshare iPhone Data Recovery

Recovery rate

The highest recovery rate for photo and video

High recovery rate

Supported file types

36+ file types supported

20+ types of file

Scan speed

Quick, scan 1000+ files in a single second

A few minutes to finish the recovery process

Recovery mode

Three types of recover mode

Three types of recovery mode

Selectively restore

Supported

Supported

Price

$49.99/yearly
And $79.99 for lifetime, multiple devices.

$79.95 for lifetime multiple devices.

Stability

High

Relatively less

Output format

According to supported data formats.

According to supported data formats.

Compatibility

Mac & Windows

Mac & Windows

Free Data Preview Function

Available with the function to filter data

With no data filtering options, yes
Part 6: FAQs
1. What is Joyoshare's newest update delivering New Visual Effects For Windows & Mac Users?
You will find a ton of new features included for your convenience in the newly upgraded version. Many graphic effects that are necessary for you to finish your work effectively are now introduced. Joyoshare You have complete access to add visualization to your film and improve its effectiveness with the help of the Joyoshare iPhone Data Recovery 2.4.0 Registration Code. It's a promise that once you start working here with your demanding video, you won't ever leave.
2. What does the free trial version of Joyoshare iPhone Recovery offer?
You may get the program through a free trial from the Joyoshare website, which is accessible for both Mac and Windows. This trial allows you to check for missing files on your device or backup. However, in order to recover the actual data, you must acquire the software.
3. What is the software's Joyoshare coupon code for iPhone data recovery?
Using the iPhone Data Recovery for Mac from Joyoshare. The following coupon code will save you 50%: the difference between the original price ($79.95) and the discounted price ($63.96).
4. Is Joyoshare media cutter free?
VidiKit by Joyoshare. In general, Joyoshare VidiKit (formerly Joyoshare Media Cutter) is a free, expert video cutter program that is simple to use. It seeks to rapidly, up to 60X faster, and losslessly reduce huge video and audio files into smaller portions.
5. Is Joyoshare Vidkit safe?
Surprisingly, VidiKit from Joyoshare software is a video toolbox with utilities in addition to being a credible screen recorder with simple-to-use capabilities.
Conclusion:
There is nothing more upsetting than losing important data from your iPhone or iPad, such as treasured contacts, unforgettable photos, films, videos, app messages, notes, and other files. It speeds up the market growth for iOS data recovery. Comparisons between Joyoshare iPhone Data Recovery and Eassiy iPhone Data Recovery, which excel in recovering a variety of data with ease, are frequent. It is undoubtedly difficult to choose which one would best meet your needs when they are identical in features and operate excellently.
With support for third-party software files and backup copies of iTunes or iCloud cloud servers, Joyoshare is a straightforward, practical, and efficient application for recovering practically any sort of data from Apple mobile devices.
Contrarily, it should be highlighted that the finest substitute for Joyoshare iPhone Data Recovery is Eassiy iPhone Data Recovery. When it comes to safely recovering lost data, you can fully trust on Eassiy and be confident that the program won't let you down at this vital moment. Joyoshare contains a capability to protect against data rewriting. Which do you believe? In the comments section below, please share your thoughts with us.