As you may have noticed most of the free video editing tools leave a watermark on the videos. Also, there are many online videos which have watermark specifically added by the uploader to avoid anyone else use it without due credit. However, what if you need a personalized video with no watermark on it? Don't worry, as we have a solution.
Eassiy Video Converter Ultimate has many functions that may help you erase video watermarks without impacting video quality. This guide will walk you through the process of editing and removing video watermarks so that you may share or use the video for personal purposes. Let's get this party started.
How to Remove Video Watermark
Follow these simple steps to remove a video watermark using Eassiy Video Converter Ultimate.
Step 1
Visit Toolbox and Video Watermark Remover
On your PC, launch and run Eassiy Video Converter Ultimate. Go to the Toolbox option and select "Video watermark remover" from the toolbox's list of tools.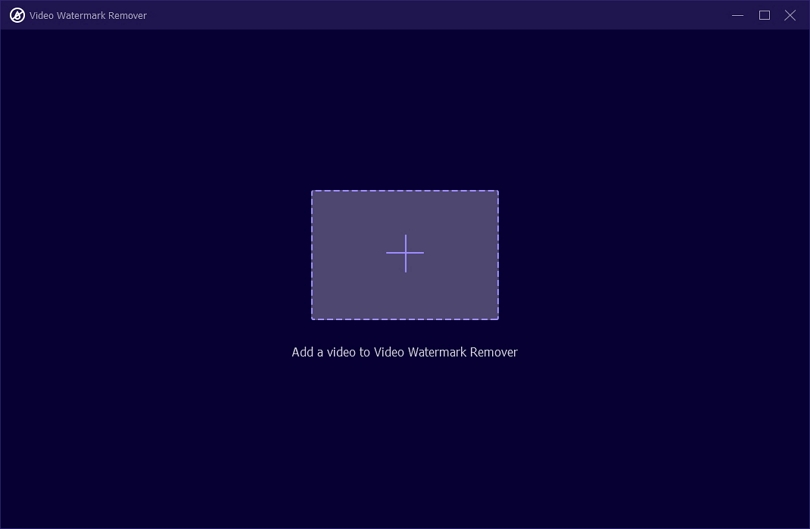 Step 2
Upload Video Files
Add the video you wish the watermark erased from by clicking the "+" button or a simple drag and drop.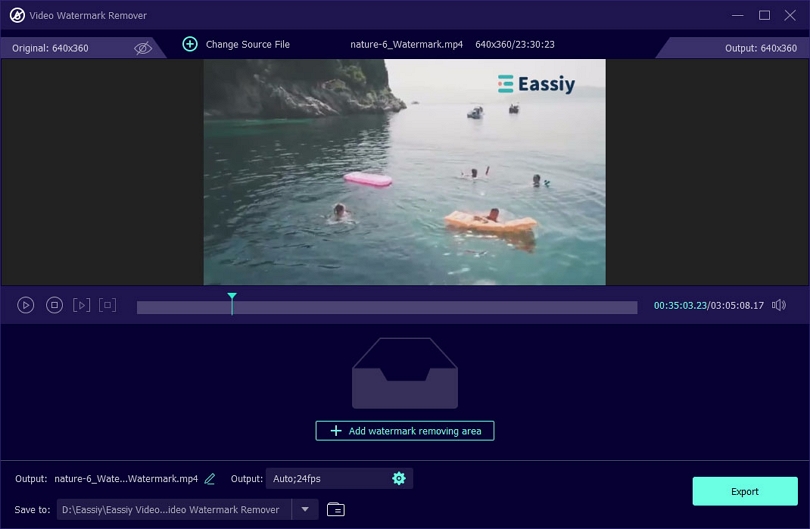 Step 3
Remove Video Watermark.
After your video has fully uploaded, edit it and remove the watermark. Select the area where you want to remove your watermark by clicking the "+ Add watermark removing area" button. Now, use the mouse to change the area selected on the video (see the dotted selection)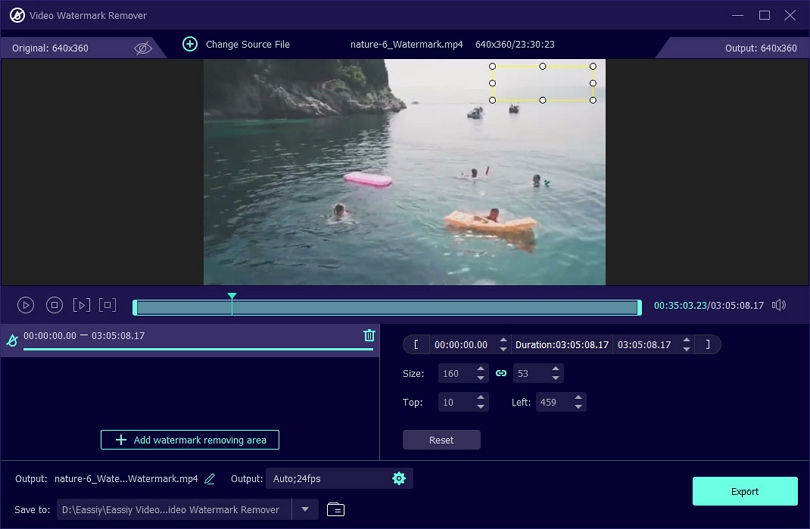 You can keep adding multiple areas to remove watermark by using the + Add watermark removing area. Select the duration or timestamp, size, or Top and Left area.
Step 4
Export Video without Watermark
Finally, click the "Export" button to export your video. Once the export process is complete, an alert box will pop up on your screen displaying the message "The watermark of the video has been removed!". Click OK to close the alert box.
Thus, we learned how to use Eassiy Screen Ultimate Ultimate to erase a video watermark. This software tool has many videos editing options that make it simple to erase video watermarks quickly without affecting the overall quality of your video.