A screenshot is an image that shows the contents of a computer screen. Screenshots allow you to capture what you see on the screen so you can share it with others or refer to it later. Taking, saving, and sharing screenshots can be beneficial.
Eassiy Screen Recorder Ultimate is a high-quality, excellent, and very usable screen casting software. It captures high-quality screenshots on your computer screen. You can grab videos and graphics, take screenshots of online education notes, and even live sessions.
How to Quickly Take Screenshot While Recording
There are three ways you could take screenshots on Eassiy while recording.
Use hotkeys.
Use the snapshot feature.
Use the camera icon while recording.
Using Hotkeys
With the hotkeys feature on Eassiy, you can easily take screenshots by enabling it and then pressing the key when you want.
Step 1
Go to Preferences.
After downloading and installing the Eassiy Screen Recorder Ultimate software from its official website, open it to reach the main page.

On the preferences page, select hotkeys and make changes where you want. Also, take note of the settings, then click Ok to save it.
For screen capture, the default setting is ctrl+shift+C to take a screenshot. Now press the keys to take a screenshot.
Using the Snapshot feature.
Step 1
Click the Snapshot Icon
Open Eassiy Screen Recorder Ultimate, click on a build-in recorder, you will find the Snapshot icon at the upper right corner. Tab the Snapshot icon.

Step 2
Select the Window You Want to Capture
After clicking the snapshot icon, use the margin to select the window you want to screenshot.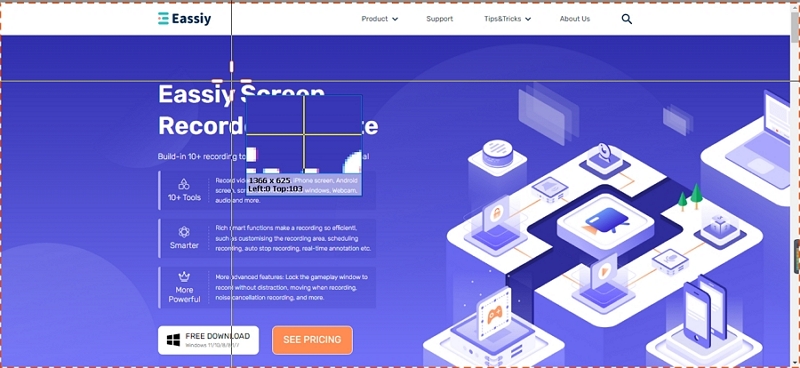 Using the Camera Icon On the Recording Window
To quickly take screenshots while recording, locate the camera icon on the recording window and click on it.