Have you just purchased the new Samsung Galaxy and want to transfer all your data, including contacts, messages, photos, and music, from your old LG device to your new one? Eassiy Phone Transfer is an excellent tool for seamlessly transferring data between Android devices. It allows users to transfer all file types, including contacts, messages, photos, videos, and music, between two Android devices with just a few clicks. Here are a few critical features of Eassiy Phone Transfer that make it an ideal tool for transferring data between Android devices:
Easy to use: Eassiy Phone Transfer has an intuitive and user-friendly interface that makes transferring data between Android devices a breeze, even for users with minimal technical knowledge.
Fast and efficient: Eassiy Phone Transfer uses advanced algorithms to transfer data quickly and efficiently, so you can transfer large amounts of data in minutes.
Selective transfer: With Eassiy Phone Transfer, you can select specific files or data types to transfer between Android devices. This makes transferring only the data you need accessible and saves time and storage space on your device.
Two-way transfer: Eassiy Phone Transfer supports two-way transfer, allowing you to transfer data between Android devices in both directions. For example, you can transfer data from your old Android device to your new one and then transfer data back to your old device if needed.
To move files between an Android device and another Android device using Eassiy Phone Transfer, follow these simple steps:
Step 1
Connect both Android devices to your computer.
Connect both the Android devices you want to transfer files to your PC using USB cables. Launch the Eassiy Phone Transfer software and wait for it to detect and connect both devices.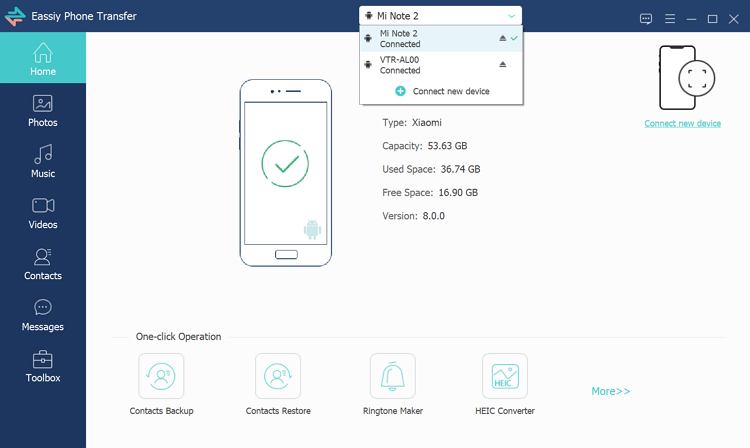 Step 2
Choose the file types that you want to shift.
Click the source device (any Android) in the device menu at the top-middle of the page. After that, pick the desired file type from the left panel. For example, if you want to move photos, click the "Photos" option.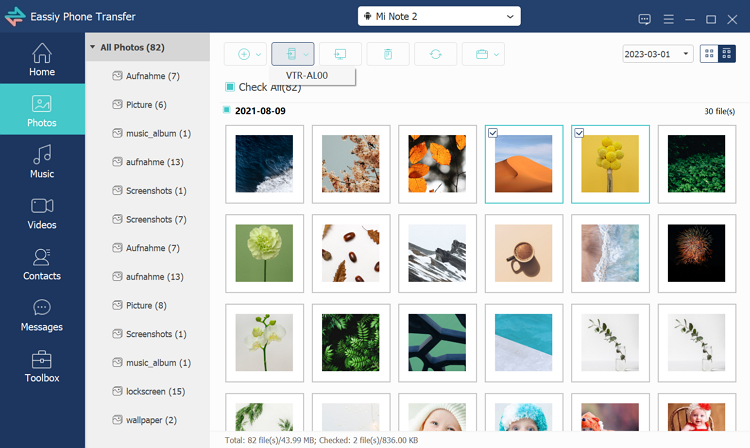 Step 3
Transfer the files you want to the target Android phone.
Once you have selected the files you want to transfer, click the "Export to Device" tab at the top of the interface and check the target Android device to export the files. You can choose multiple data at once to transfer.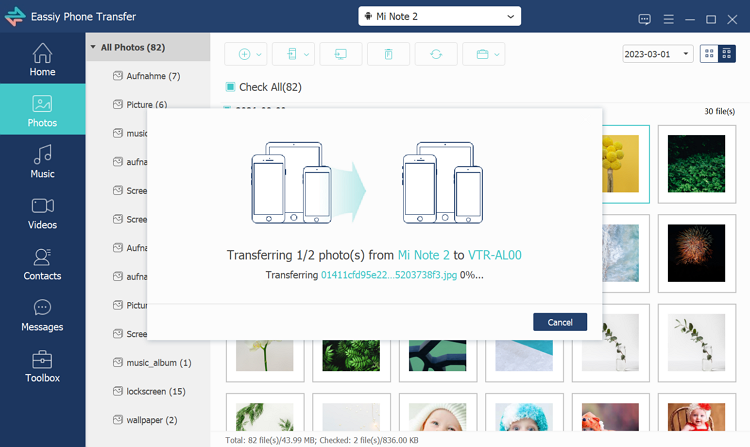 The transfer process will start right away and complete within a few minutes. However, if the file size is large, the time will extend. Once the transfer is over, you can disconnect both devices from your PC and access the transferred files on the target device.
In summary, Eassiy Phone Transfer offers a seamless and straightforward solution for data transfer between Android devices. It also supports data transfer between iOS and Android devices, data management, backup and restore, and data recovery features, making it versatile software for all data transfer needs.