Eassiy Phone Transfer is a comprehensive data transfer software enabling users to transfer various file types between devices like smartphones, tablets, and computers effortlessly.
Some of its unique features are as below:
Support for an extensive range of data types including; contacts, messages, photos, videos, music, and more, making it an all-in-one solution for data transfer needs.
With Eassiy Phone Transfer, you can seamlessly transfer files between iOS devices, Android devices, or between iOS and Android devices.
The software lets you conveniently transfer data between your computer and mobile device. This feature is handy when backing up your data or transferring files to a new device.
Furthermore, Eassiy Phone Transfer offers many other features, including data management, backup and restore, and data recovery.
The software's user-friendly interface and ease of use make it accessible for users of all levels of technical proficiency.
If you are an iPhone user, Eassiy Phone Transfer has several features tailored to your needs. You can transfer files from iPhone to iPhone directly without needing iTunes or iCloud.
The software also allows you to manage your iPhone's data effortlessly, perform backups, and restores quickly and easily.
Thus, the software can quickly recover lost or deleted iPhone data.
Here is a step-by-step tutorial to transfer data between iOS and iOS using Eassiy Phone Transfer. To transfer files between two iOS devices using Eassiy Phone Transfer, follow these simple steps:
Step 1
Connect both iOS devices to your PC using USB cables.
Once connected, launch the Eassiy Phone Transfer software and wait for it to detect and connect both devices.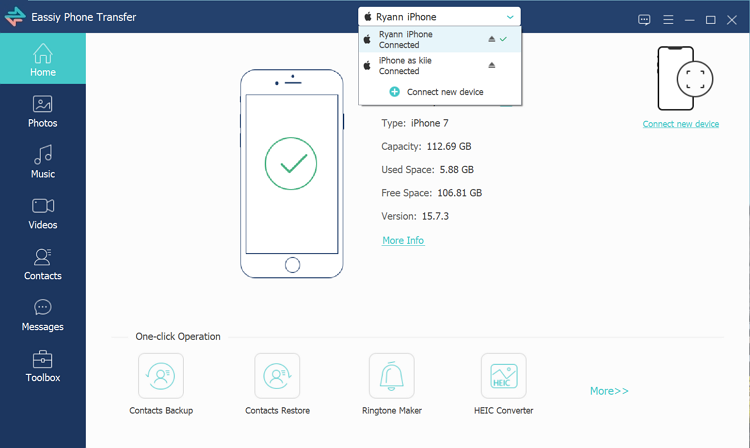 Step 2
Select the file type that you want to transfer.
Click the source device in the device menu at the interface's top-middle. After that, please choose the desired file type from the left panel to access its files.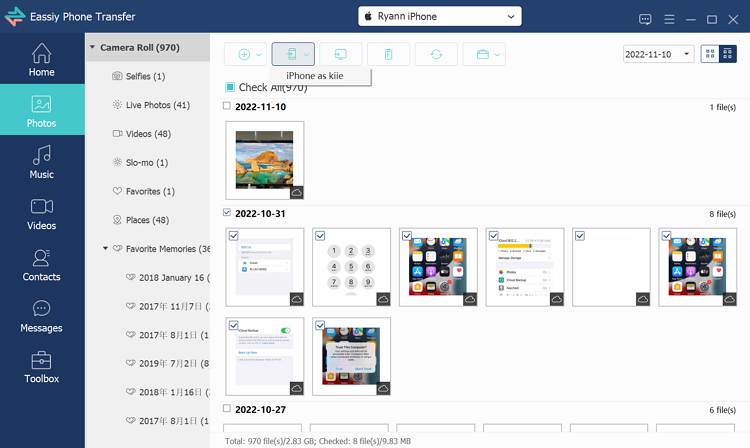 Step 3
Transfer the files you want to the target iOS device.
Once you have selected the files, click on the "Export to Device" button at the top of the interface, and select the target device to export the files.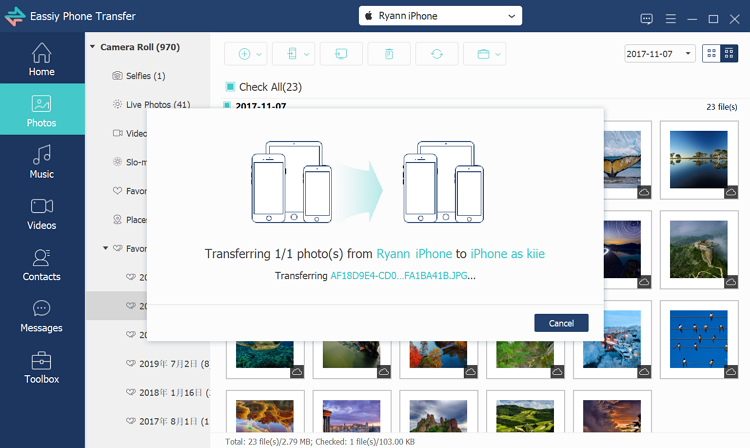 The transfer process will begin and will usually complete within a few minutes, depending on the size of the files you want to move.