As accidents and mishaps are a part of life so they are unavoidable. You should tackle them wisely to address the current situation and avoid future consequences rather than being depressed because of them. For lost data, the same is valid if you know the situation, you can easily deal with it and recover your data. To assist you in surviving the data loss issue, we have complied a detailed review of one of the best recovery tools: iBeesoft iPhone Data Recovery in this article. We'll show you the most reliable and best alternative to this software if it doesn't work for you in addition.
Part 1: Is iBeesoft Data Recovery Safe for iPhone?
Before starting to download the program from the website, you might ask "Is iBeesoft iPhone data recovery software safe for iPhone?" The iBeesoft iPhone Data Recovery is useful and can work in many situations as iPhone data recovery software. Also, there is a version which can recover data from iPhone but that is not included in the Windows or Mac version. However, sometimes you might be disappointed sometimes because its deep scanning is slow and with its free version, you cannot recover any data as mentioned.
It's true that the iBeesoft iPhone Data Recovery is virus-free. It has no major controversies from users since this program was released in 2015. This tool helps a lot of them get their lost files back according to users' review. In general, it is safe to use though it has some disadvantages and about security issues, you don't need to worry.
Part 2: Features of iBeesoft Data Recovery iPhone
The iBeesoft iPhone Data Recovery is a well-known data recovery software for iOS devices. It allows you to recover lost or deleted photos or other data which you might accidentally deleted from your iPhone. However, this program has some main features. The main features of this data recovery tool are given below.
1. Three Recovery Modes
To ensure success data recovery from iPhone, this program offers your three different recovery modes. By using these modes, you can easily recover your lost data from any iOS device.
2. Supports Various Scenarios
Almost all the scenarios of data loss on iOS devices are supported by this program. You can recover your data no matter whatever scenarios caused your data lost from iPhone.
3. Recovers 20+ file types
To help you with data recovery on iPhone, this tool can recover almost 20+ file types on iOS devices including photos, videos, contacts, notes and so on.
4. Compatible with all iOS Devices
This iPhone data recovery software is compatible with almost all iPhone, iPad and iPod Touch models. So you can use this tool from any iOS device and get your data back.
5. Simple Steps to Recover Data
To recover data, it only take three simple steps. Through the whole process, the program will guide you.
Part 3: How to Recover Lost Data Using iBeesoft Data Recovery for iPhone
You can recover your lost data by using iBeesoft Data Recovery for iPhone. This program helps you to retrieve videos, audio files, photos, documents, and more. To prevent data overwritten issue, you should stop using the hard drive or device from where files are lost. Follow the given steps to recover lost data using iBeesoft Data Recovery for iPhone.
Step 1: On your computer, download and install iBeesoft iPhone Data Recovery. As it is virus free, so feel free to install it.
Step 2: Connect your iOS device by using a digital cable once the software is up and running on your computer. From the first window, choose the "Recover from iOS Device" option after launching the software. The software will ask how you want to proceed after automatically detecting your iPhone. To allow the recovery software to scan your device for lost data, click "Scan".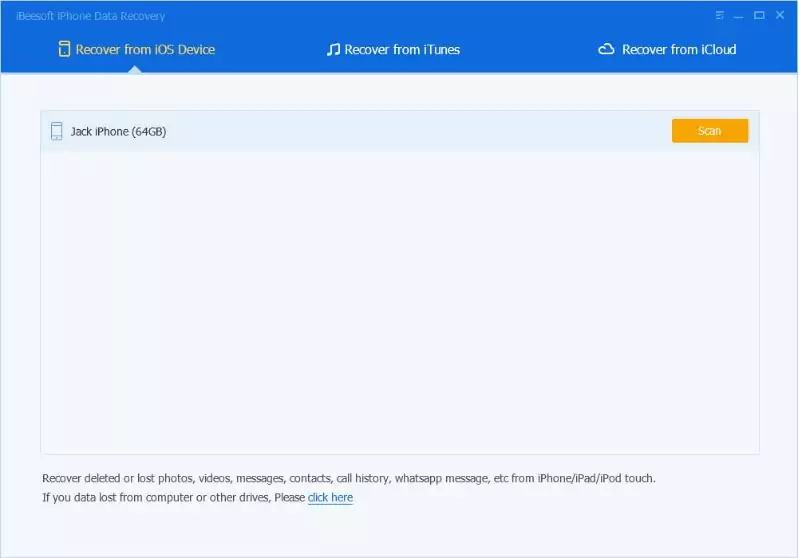 Step 3: You can view them and recover the ones you want to be saved on your computer after the software has scanned your iPhone for deleted files. You can attempt to recover them through iTunes or iCloud backup files if you can't find the target files from your iPhone.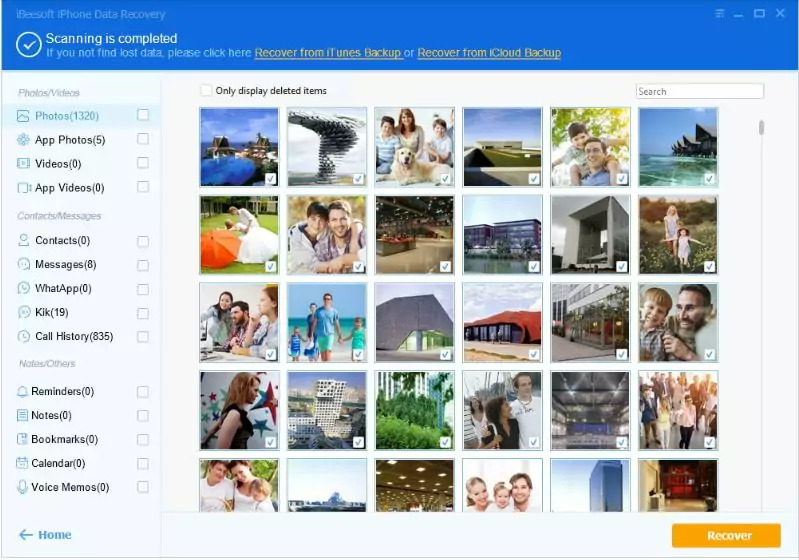 Part 4: Pricing
For scanning lost data, you can download iBeesoft iPhone Data Recovery for free and this program will even let you see what they are. But you must have a paid license in order to recover them. Both Windows and Mac users can buy this program for only $39.95/per year. Again if anyone wants the iBeesoft Data Recovery program also, then they can buy the both program with only $59.9.
Part 5: Reviews from Users
There are mixed reviews from users about iBeesoft software. Here are some reviews from real users that might help you understand:
James: 1 Star
"Don't expect any customer service…"
Don't expect any customer service support. License key is supposed to last a year. Mine terminated before that time. Contacted support and never got a response.
Scott Savoia: 1 Star
"Horrible."
My Mac crashed and I found iBeesoft. Purchased the recovery software, never received a link. In a week's time I have emailed iBeesoft three times with no reply back what so ever. This is highly unprofessional and apparently I cannot get a refund even though it falls under the full refund guidelines from the company.
Richard: 1 Star
"Possible malware"
The macOS version of "Mac Data Recovery" claims to recover all manner of data such as deleted messages. After running a scan the interface displays technical files/data that to a user are incomprehensible. After uninstalling it I detected two iBeesoft files in /private/var/db/oah/ which are impossible to delete. This smells of malware.
Nav: 5 Star
"Efficent Data Recovery tool to recover data in different scenarios"
I have been using the iBeesoft data recovery tool for recovering data from old data storage devices and I was satisfied with the quality it offers to its customers. It has different data recovery options which can be used for different scenarios to recover data.
So by following all these reviews, we can reach to a verdict that iBessoft iPhone Data Recovery software cannot be the ultimate solution for everyone. Based on your region, you might not get the best customer support. You might also get malware issues with the software on your computer. Sometimes newbie users might find it complicated to use because of the technical usage. If you want a refund, it might take some time as well. All in all, we should introduce you with another alternative that can satisfy your needs with flying colours.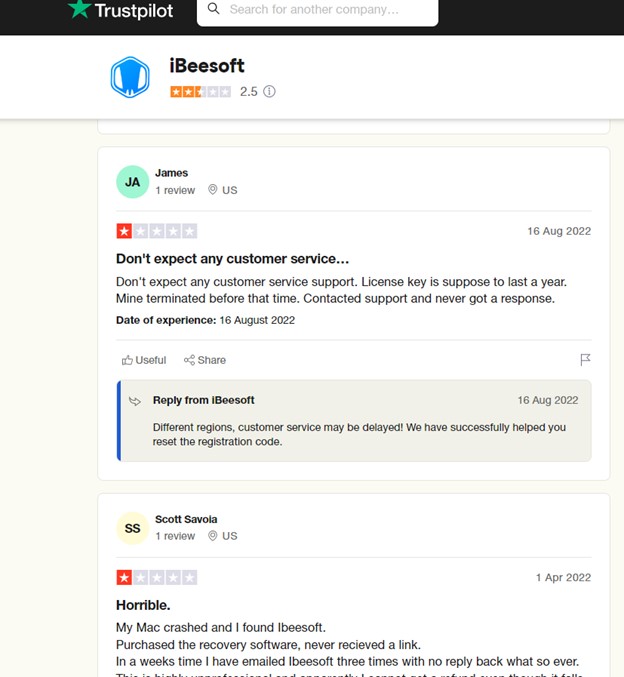 Part 6: Best Alternative: iBeesoft iPhone Data Recovery Download
Another most popular and widely used software available in the market is Eassiy iPhone Data Recovery. It is one of the best software to recover lost data from iOS devices which is also compatible with both Mac and Windows. Including accidental deletion, water damage, system crash, jailbreak and more data loss scenarios are supported to help you in recovering lost files. This program offers you a user-friendly interface apart from recovering lost data. The whole process is made relatively easy by this program especially for the users who doesn't have much tech-related knowledge. In just 3 easy steps, anybody can recover their lost data by using this tool. If you want you can run this program for free in your computer or you can also buy it for only $39.99/per year which can be run on 6 devices and 1 PC.
Features:
More than 36+ file types can be recovered by this tool without data loss.
Have the ability to scan more than 1000+ deleted photos in seconds.
Supports recovering data from three different modes: Recover from iOS Device, Recover from iTunes Backup and Recover from iCloud Backup.
Recovery rate is the highest among similar data recovery programs.
Multiple scenarios including accidental deletion, water damage, system crash and so on, are supported to deal with data loss.
Steps to recover lost data on iPhone
Step 1: From the official website, download and install Eassiy iPhone Data Recovery on your Computer. After that you have to connect both your iPhone and PC together.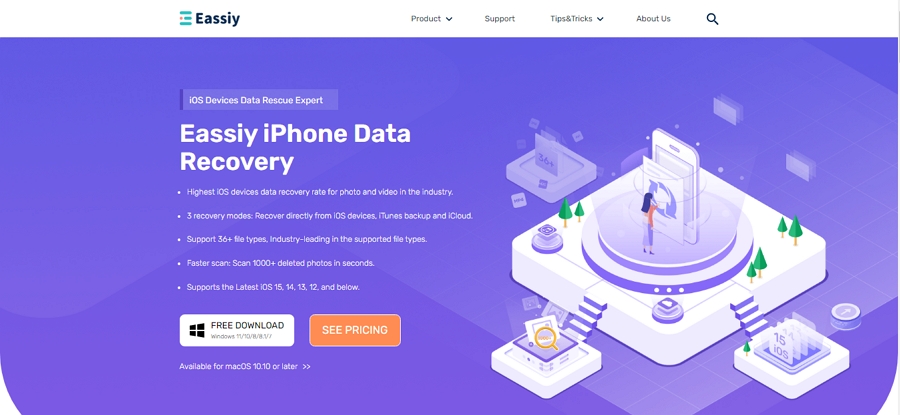 Step 2: After connecting the iPhone to PC, select "Recover Data from iOS Device" option. Then the program will start searching through your iPhone for all of the lost data when you click the "Start Scan" button.
Step 3: You can view both current and lost data on the screen after scanning. By clicking on "Recover", select data you want to recover. After a few seconds of waiting, your lost data will be recovered on your iPhone. Besides this, you can also recover data from iTunes and iCloud backup with the help of this program.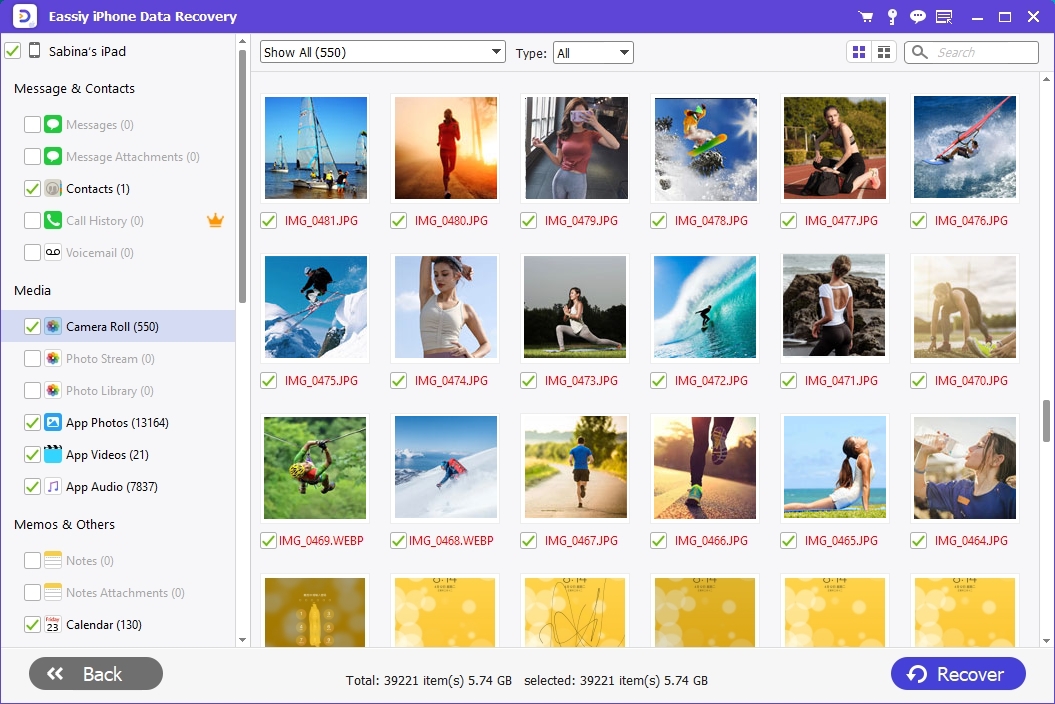 FAQs:
1. Is iBeesoft iPhone Data Recovery software free?
You can recover up to 100MB files and data for free in this tool. It requires you to buy their paid version for recovery exceeding that.
2. Does iBeesoft iPhone Data Recovery steals data?
No, without the user consent, iBeesoft iPhone Data Recovery does not steal or collect their data. Such actions is strictly against of its policy.
3. Does iBeesoft iPhone Data Recovery work?
Yes, for recovering lost files and data, it is one of the best software available in the market. This tool is easy-to-use, practical and user-friendly.
Conclusion:
To all of us, data is something very precious which makes it even more valuable. It might be quite distressing if you lose your data. However, such delicate and complicated matters can be solved by iBeesoft iPhone Data Recovery. But still, certain issues of data loss can't be addressed by this tool. For which, Eassiy iPhone Data Recovery is the winner in iPhone data recovery. You'll get more benefits if you go for the Eassiy iPhone Data Recovery instead of iBeesoft iPhone Data Recovery though both the software have the same prices. This program supports more file types compared to iBeesoft iPhone Data Recovery. Also, it can scan the whole device in a few seconds while iBeesoft takes too much time in scanning.