The demand for efficient screen recording software has increased lately, and this is because many folks like yourself have been requiring such a tool to record simple videos for various purposes. With screen recording software, you can save yourself the stress of setting up a camera and fixing technical errors just to create a simple how-to guide video, gameplay tutorial, and lots more. So, if you're wondering what Mac screen recorder is best for recording your Mac screen, fret not. This guide will walk you through the seven most effective Mac screen recorders you can try in 2023. Let's dive into the article without wasting much of your time.
Part 1: Here are the 7 most effective Mac Screen Recorders
Eassiy Screen Recorder Ultimate
Screen Flow
Movavi
Screencast O Matic
Jumpshare
QuickTime
Camtasia
Let us look at the tools in detail with key features and Pros and Cons.
1. Eassiy Screen Recorder Ultimate - Best
Eassiy Screen Recorder Ultimate is a multifunctional tool that allows you to screenshot and screen record without hassle. The tool boasts more than ten recording tools that facilitate various screen recording operations, including a game recorder, video recorder, window recorder, phone recorder, audio recorder, and lots more.
With Eassiy Screen Recorder Ultimate, you don't have to worry about recording Mac screen with high quality as it can record computer screens up to 60FPS. And what's more fascinating about this tool is that it offers special video editing tools that allow users to perform various editing operations like video conversion, noise cancellation, video splitting, and video compression.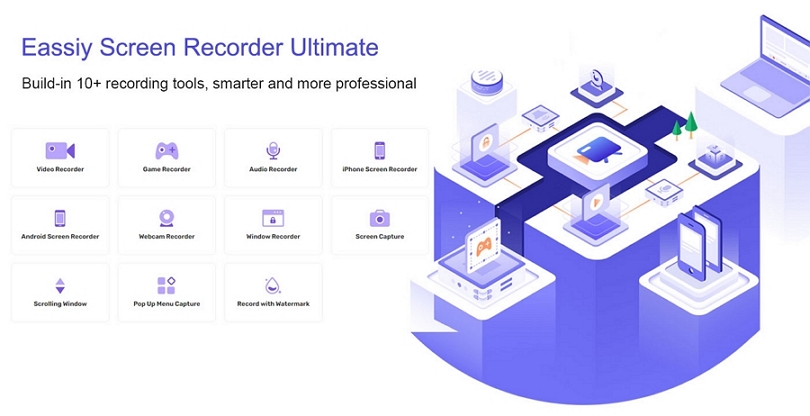 Besides, Eassiy Screen Recorder Ultimate allows you to perform scheduled screen recording with an advanced scheduled screen recorder, and it can record PC screen with audio simultaneously. All it takes is only a few clicks.
Key Features
Record Mac screen with high-quality up to 60FPS.
Game recorder allows users to lock and record gameplay without any distractions.
Add text, draw, and highlight important elements in real-time during screen recording using an advanced real-time annotation tool.
Simultaneously record Mac screen with internal or external audio seamlessly.
Support noise cancellation to improve audio quality in recorded video.
Boast many video editing features, including auto-split, video compressor, video converter, and many others
Save the recorded footage in any format, including MP4, WMV, AVI, MOV, FLV, ASF, etc.
Task scheduler facilitates auto-screen recording operation without requiring you to sit in front of your PC screen during the screen recording process.
Record Mac screen with or without watermark seamlessly.
Record iPhone screen on Mac within a few clicks.
Use the built-in editing tools in Eassiy Screen Recorded to trim, auto-split, and do more such functions to curate your clips professionally.
Pros
Hassle-free Screen Recording
Easy Customization
Versatile File Options
Quick Edits
Stability
Record PC screen up to 60FPS.
Boast a wide range of video editing tools.
Free version allows you to record Mac screen for up to 3 minutes unlimited.
Cons
The free version does not give you access to all features.
2. ScreenFlow
ScreenFlow is one of the most powerful screen recording software online that's packed with many amazing features, including multi-screen recording, stock library, video filter, and lots more that can help users to create amazing videos for various purposes. Although this tool is compatible with only Mac computers, it allows you to enjoy improved screen recording operations. Besides, thanks to its robust features, you can employ it to record high-quality videos without any complications.
Key features
Fully packed stock library.
Supports video filters.
Publish subtitles
Previewing video
Share video to many platforms directly.
Multi-screen recording.
Pros:
Displays video in high quality on retina displays
Powerful editing tools.
Play the reverse video by flipping it in the timeline
Cons:
You must pay to access all its features.
3. Movavi
Movavi screen recorder is a multifunctional screen recorder to capture how-to tutorials, online chats, training, tutorials, webinars, and gaming footage with high-quality ( HD and 4K resolutions) seamlessly. The tool offers a wide range of features that facilitate easy screen recording operation on Mac. Plus, it's not limited to just recording only Mac screen. It can record Mac screens with audio, webcam, etc. Overall, Movavi simple interface makes navigation easy for all users, and it supports great tools that can come in handy to edit recorded videos within a few clicks.
Key Features
Real-time annotation.
Supports efficient movie creation tools.
Simple user interface.
Efficient motion tracking and picture-in-picture tool.
Pros:
Output videos in high quality
Display show keystrokes and mouse and during recording
Add Annotations to draw in real time.
Cons:
Does not remove the watermark in the free trial version.
It does not support advanced trim mode.
4. Screencast O Matic
Another top-notch screen recording tool for Mac is the Screencast O Matic online screen recorder. It's an online tool that boasts excellent screen recording features that allow users to record screen on Mac or Windows computer without requiring to install a third-party app. With Screencast-O-Matic, you can get access to efficient features screen record Mac screen with or without audio and webcam effortlessly. Plus, it supports video editing tools that allow you to trim, cut, and insert clips in recorded videos. But you must pay to access all these features.
Key Features
Previewing screen recording.
Selection of recording area.
Add graphics, text, and many more.
Supports a video editor to enhance recorded videos.
Pros:
Saves videos online.
You don't need to install an app.
Records Webcam and screen simultaneously
Cons:
Need to be connected to the internet
The free trial does not record audio
5. Jumpshare
Jumpshare is an easy-to-use screen recording app that allows users at all levels to record Mac screen and share it via other platforms within a few clicks. It can come in handy to record webinars, live streams, games, zoom meetings, and lots more. It does not matter whether you intend to record your PC full screen or a specific area of your screen. Also, Jumpshare can be used to take high-quality screenshots, and it supports helpful features that allow you to annotate, add text, trim, cut, and do lots more to screenshots and recorded videos. You don't even require a learning curve to operate the tool.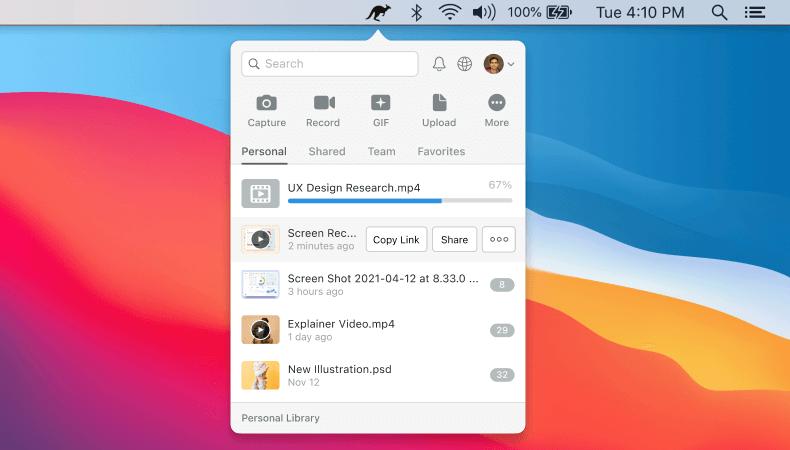 Key Features
Screen recording
File sharing by drag and drop
Annotation of screenshot
Bookmark websites
Screen records as video or GIF.
Pros
User-friendly Desktop and mobile App
Save recording as Video and GIF
 Share the link of the recorded video directly to other platforms.
Easy to share the recorded video
Cons
Limited storage option.
Expensive compared to competitors.
6. QuickTime
QuickTime is an inbuilt app for Mac that uses the latest technology to facilitate easy screen recording operation. Although it's popularly known to be a multimedia app, the tool allows you to perform basic screen recording and screen capture operations within a few clicks. Besides, QuickTime has a small and attractive user interface, which makes navigation easy for all users, and it allows users to select a full screen or a specific area to record. The only problem is that it does not offer advanced editing tools that allow you to edit and annotate the recorded video.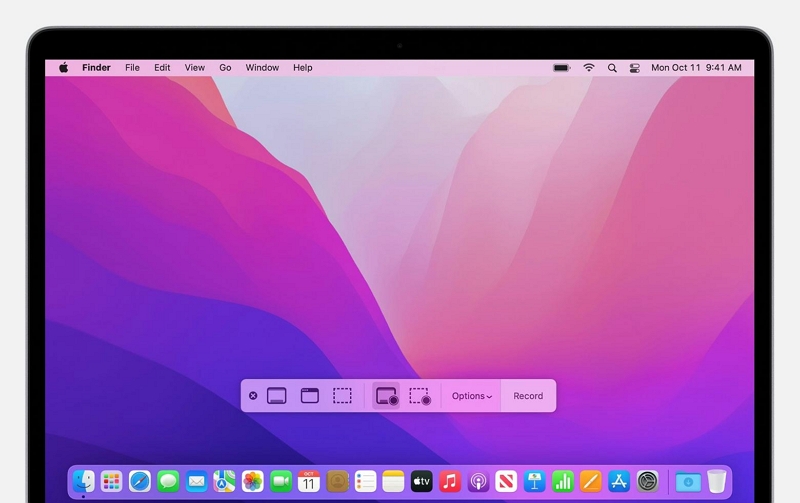 Key Features
Simple UI.
Record Mac with audio.
Record full or specific areas on Mac.
Take high-quality screenshots on Mac.
Pros:
Records system audio and microphone audio
Captured Mac screen and audio.
Records high-quality video with no limitations on time
Flexibility to record an entire screen or selected area of the screen.
Cons:
Supports basic recording and editing.
Recorded files have a huge file size.
The huge file size makes it difficult to share.
7. Camtasia
If you're looking for  Mac screen recorder with all the necessary features you need to record videos with high-quality, Camtasia is one the best options you can always rely on. The tool can be utilized to record Mac screen for game tutorials, how-to guides, webinars, and lots more. Besides, it has an intuitive user interface, so you don't necessarily need to be tech-savvy to employ its features in recording your Mac screen, anytime.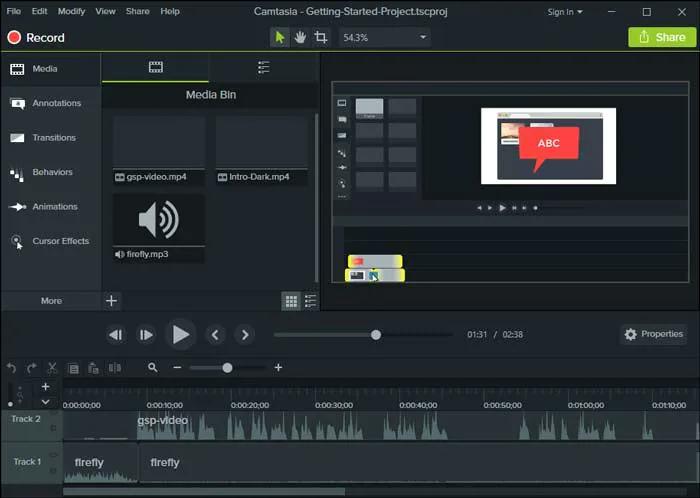 Key Features
Record Mac screen with audio or webcam easily.
Split and remove clips from recorded videos seamlessly.
Supports hundreds of icons that can be inserted into recorded videos.
Add motion graphics.
Pros:
Annotation with arrows, lines, shapes, callouts, etc.
Allows transitions smoothly
Present with Animations.
Captures audio, mouse effects, and voice narration
Cons:
Supports on a 15-day free trial.
Camtasia does not support free upgrades.
Part 2: How to Record Mac Screen with Audio Effectively
The best way to record Mac screen with audio is by using the Eassiy Screen Recorder Ultimate.  It is a great alternative to Mac's inbuilt recording tools and meets almost all screen recording needs. Besides it is easy to use.
See the steps to operate below;
Step 1: Install Eassiy Screen Recorder Ultimate on your Mac
Step 2: Launch the installed program and click Video Recorder from the main interface.

Step 3: Select how you intend to record your PC screen. If you wish to record Mac full screen, click Full from the left side. But if otherwise, click Custom and select the specific area of your screen you want to record.

After that, turn on the toggle next to System Sound or Microphone to record the Mac screen with internal audio or external audio, respectively. Then, use the relevant button to adjust the volume.
Step 4:  Click REC to start recording your Mac computer screen with audio. You can perform various tasks, like taking real-time screenshots and applying real-time annotation during the screen recording process.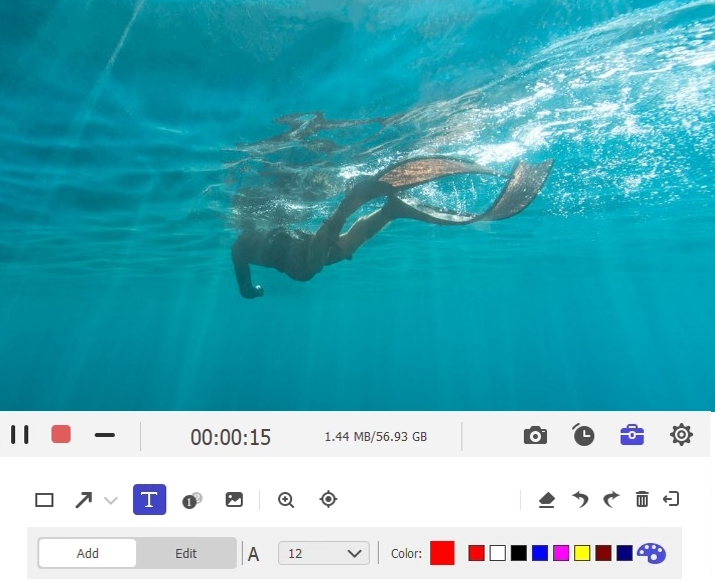 Step 5: Click the Stop button to end the screen recording.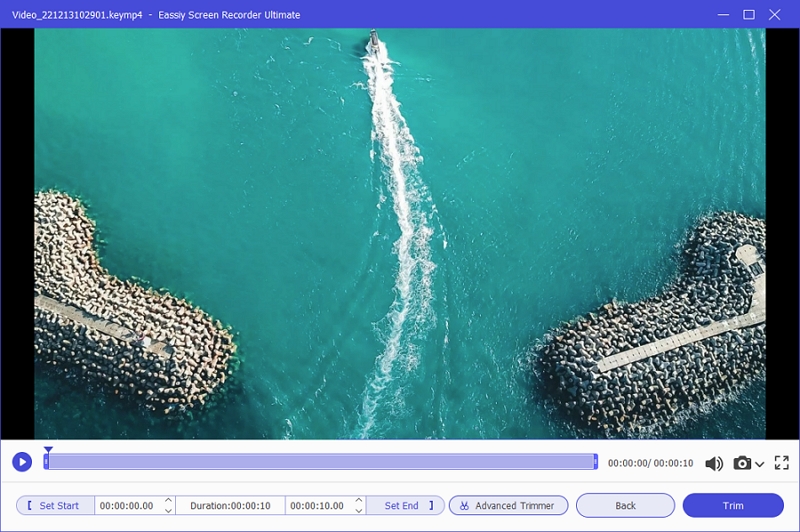 A new window displaying your video should appear on your screen. You can take advantage of the video editing tools to trim, auto-split, cut, etc., and do lots more on the recorded video.
Step 6: Click Done to save the video to your PC's storage automatically.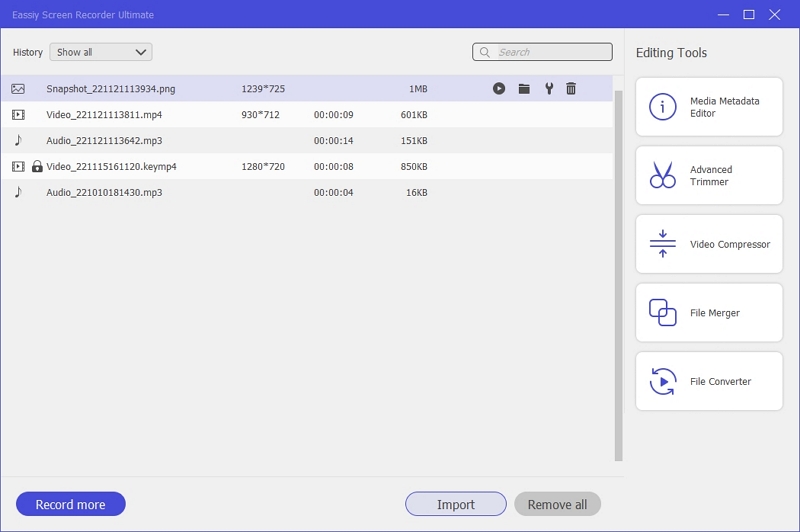 You can also use use File Converter, Video Compressor, etc., to work on the video.
Part 3: FAQs
1. How do I Screen Record on Mac with Sound for Free?
The best way to screen record Mac with sound for free is by using QuickTime Player. It does the job smoothly, though it does not offer editing tools. See how to use it below.
Launch QuickTime from the application
Click on File > New recording
Select the option from the prompt which appears to customize the setting preferred for recording
Setting such as Camera, Microphone, Quality which is high or maximum

High - H.264 video and 44100 Hz AAC audio
Maximum - Apple ProRes 422 video and Linear PCM audio

Adjust volume control
Click the recording button to start screen recording, click on the stop button to stop recording or click on the touchpad
Click on File and Save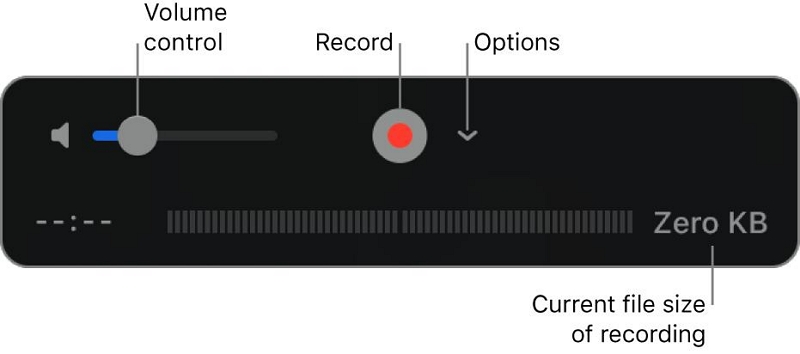 2. Can I Screen Record on Mac with Sound?
Yes, you can screen record on Mac with sound. All you need is reliable screen recording software for Mac like Eassiy Screen Recorder Ultimate or any of the other tools recommended above.
3. How long can I screen record on Mac?
Screen recording does not have any limitations on recording time. Video can be taken as much as your requirement. However, should have disc space to save the video.
Conclusion
The above screen recording software are the seven most effective screen recording tools for Mac available on the market. While some are free others are paid, and the amazing thing about all the tools is that they're lightweight, which means they won't occupy too much storage space on your Mac computer. Overall, Eassiy Screen Recorder Ultimate is one the tool that is highly recommended, as it is multifunctional and fits most of the screen recording requirements. It will save you time and energy to perform screen recording on Mac.