It's no doubt the gaming industry has evolved over the past years, and with continuous development, lots of gamers have turned into experts that dominate games so effectively with unique techniques, that they even turned into mentors. Lots of game professionals today have taken up the task to impact their special gaming techniques into newbies in the industry, and they do this by recording their gameplay with the help of a game recording software. 'What is a game recording software?' A game recording software makes it possible for gamers to stream their gameplay online or offline. Thus, enabling game experts to teach newbies different special gameplay techniques.
That being said, if you're also looking to join the train and start recording your gameplay on PC, you need a reliable screen recorder for PC gaming. But the big question is 'which screen recorder is best for gamers?' Well, this post got you covered. Here, we've introduced the best screen recorder for PC gaming in 2023 be it free or paid. So, without wasting much of your time, let's dive in so you can find the screen recorder for PC gaming that suits your requirements.
Part 1: Which is the best screen recorder for PC Gaming in 2023?
To save you the stress, we've reviewed hundreds of screen recorders for PC gaming and we've come up with a list of the best ones that are worth trying.
Eassiy Screen Recorder Ultimate (Free/Paid)
ManyCam (Paid)
PassFab Screen Recorder(Paid)
Democreator (Free/Paid)
Windows Xbox Game Bar (Free)
QuickTime (Free)
OBS Studio (Free)
Apowersoft (Free)
1. Eassiy Screen Recorder Ultimate (All time best)
As you can see from its indication, Eassiy Screen Recorder Ultimate is the all-time best screen recorder for PC gaming, and this is because of the unique features it boasts compared to other screen recording tools you see online. From auto-scheduled screen recording to recording PC with or without facecam, recording gameplay, recording live streams, and lots more. It has many advanced and practical functions for gameplay recording. Unlike other recording tools, It can record only the gameplay window no lag without any distraction thanks to unique technology, and stop the recording automatically after you close game window. If you play games on your iPhone or Android phone and want to record your gameplay, Eassiy is a must-have tool. It won't affect the process of game playing while gameplay recording and won't take up your phone's storage. Moreover, you can customize camera position, style, opacity and more as you wish, when you record gameplay tutorials displayed camera on your screen.
And the amazing thing about using Eassiy is that it supports efficient editing tools like real-time annotation to highlight important elements, audio-clean to remove background noise and make voice clearer, auto-split to split recorded videos, and lots more to enhance the quality of recorded videos.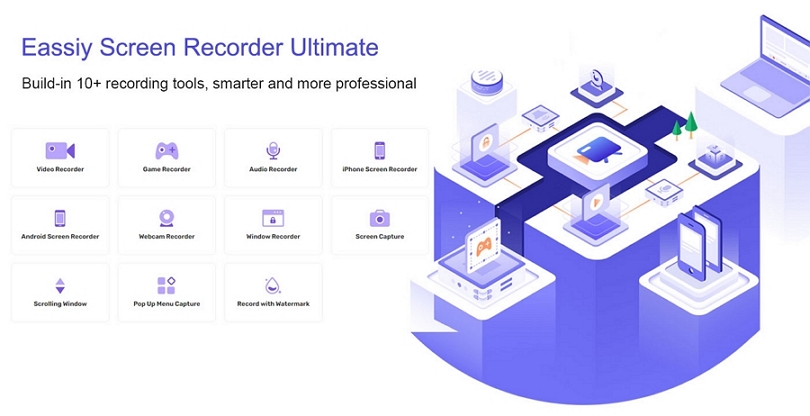 Key Features
Supports advanced hardware acceleration that allows computers to run faster and more smoothly when recording gameplay or any kind of processor-heavy screen activities.
Record high-quality gameplay with or without facecam without any sort of lag or disruption.
Facilitate quick and easy gameplay recording with Android or iPhone on Windows/Mac computer.
Simultaneously screen record gameplay and take normal screenshots or scrolling screenshots without affecting the recording operation.
Customize camera style, opacity, style, and more using advanced editing tools.
Advanced features: Schedule recording, auto-stop recording, auto-split, real-time annotation and more
Pros
Boasts a wide range of functionalities.
It's very fast and simple to operate.
Lots of quick edit features are available for users to take advantage of.
It can be used to record screen on a wide range of devices including PCs and Phones.
Cons
Requires installation of app.
2. ManyCam
ManyCam is a simple live streaming software that can also be employed to record gaming activities on the PC screen. With this tool, users can share their PC screen, execute live streaming teaching/conferences, and do lots more seamlessly. Yes, it offers users a great way to teach online and it's a great way for professional gamers to teach newbies via Livestream. Plus, users can take advantage of a plethora of effective features like color adjustment, GIFs and Pictures, effects, and lots more to make game screen recording more efficient.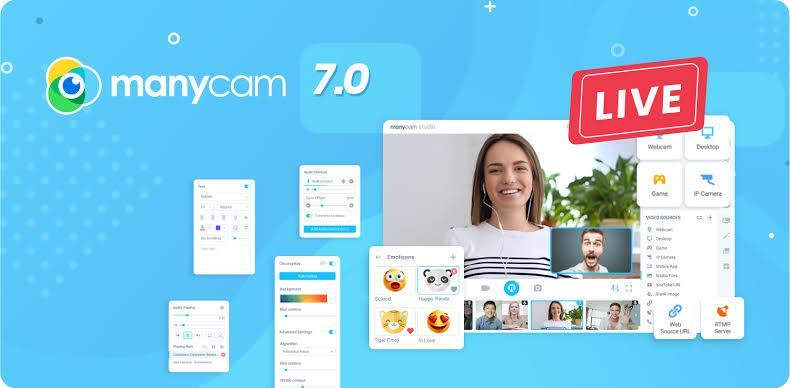 Key Features
Record gaming screen using advanced screen recording features.
Support a wide range of sources like Web Cam, Game, YouTube URL, and lots more for broadcasting.
Add backgrounds and texts to screen records without compromising the quality of the output.
ManyCam allows users to download more effects to take advantage of from reliable sources.
Pros
Very user interface.
Support free trial version.
It does screen recording tasks smoothly.
Availability of lots of helpful features.
Cons
It's quite complicated to understand for beginners.
Users report a few sound and connectivity problems with the app.
3. PassFab screen Recorder
PassFab screen recorder is another robust software that allows users to record computer screens in HD quality.  Yes, with this tool at your fingertips, you can screen record your Windows PC full screen or specific part of the screen seamlessly. Besides, its user interface makes it easy to use, and the availability of rich features like real-time drawing while recording, a built-in video editor, schedule recording, and lots more make PC screen recording easy.
Key Features
Support HD screen recording.
Availability of multiple output formats like MP4, MKV, etc.
Easy record PC screen and webcam in just a few clicks.
Allows efficient game recording operation.
Pros
Support lots of customized settings.
Support switching graphics cards.
Support full and custom screen recording mode.
Cons
It's not supported on Mac computers.
It can't be used to edit recorded videos.
4. DemoCreator
The Wondershare Democreator is very popular among users and it's known for the great quality it offers to users to perform screen recording tasks efficiently. This tool allows users to record all activities being executed on a computer screen in real-time, and it offers a plethora of features to make screen recording as easy as possible. From capturing YouTube videos to gameplay, webcam content, and lots more, you can for sure, rely on Wondershare Democreator to deliver you the quality you need.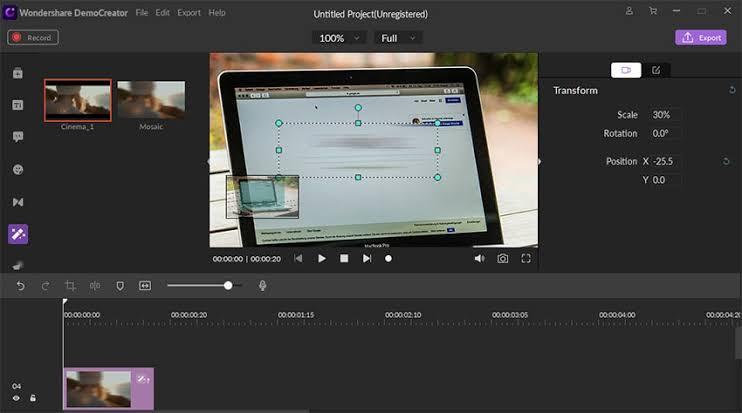 Key Features
Support real-time screen drawing.
Screen record PC screen with good quality efficiently.
There's a helpful annotation which is helpful for users looking to create tutorial videos.
Add green effects and transitions without requiring technical knowledge.
Pros
Facilitate flexible screen recording.
The interface is very easy to operate.
Support free updates for paid versions.
Good for screen recording any kind of videos.
Cons
The free version has watermark.
5. Windows Xbox Game Bar
The Xbox Game Bar is a free built-in tool on Windows 10 PC that allows users to record gaming activities on their PC without downloading any software. This tool is easily accessible and users don't need to set it up whenever they intend to record their PC screen - all you just have to do is to click the Windows key + G simultaneously for quick access to the feature. Although the Xbox game bar it's not highly effective for long-time gameplay screen recording operation, it can be used to record different applications intuitively, and it makes it easy for users to even access other features like Xbox control focus, without the need to leave their game screen.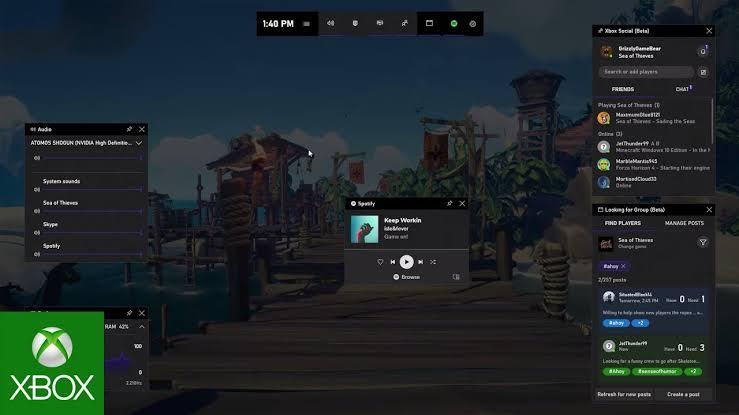 Key Features
The Broadcast & Capture tool allows quick and easy access to screen capture controls.
Record PC screen with audio seamlessly using Mic.
Show all capture allows users to access screen records directly
Great game recording tools including Xbox social and chat box.
Pros
Allows screen recording on windows PC for free without installing third-party apps.
Support a wide array of tools that helps record PC screens efficiently.
Cons
It's efficient for only short-time screen recording of a PC.
6. QuickTime
Besides just being a video editor, the Mac Quicktime is a free tool that also supports screen recording to allow users to execute PC screen recording tasks without installing any third-party tool. The tool is great for creating video tutorials, editing videos, and doing lots more. The clean UI of Quicktime makes it easy to navigate, and the availability of simple screen recording features makes it a decent go-to option for newbies who just want to execute basic screen recording tasks.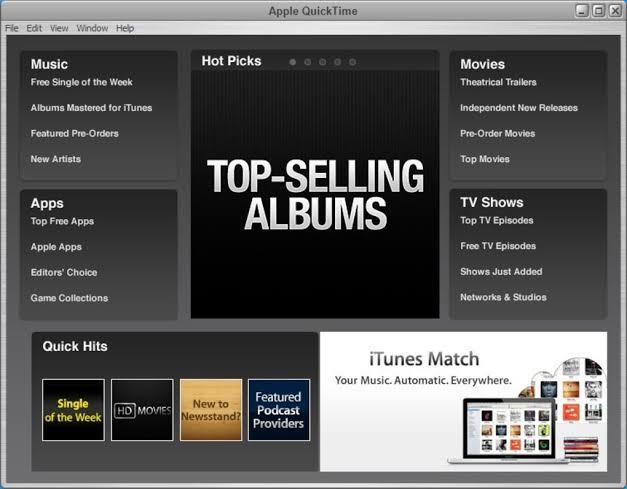 Key Features
Edit videos without compromising quality.
Screen record PC screen real-time.
Great video tutorials without requiring the installation of a third-party app.
Supports different video formats.
Pros
It can be used with iTunes.
The interface of the tool can be easily understood by any user.
It's 100% free and you don't need to install.
Cons
It works with only Mac computers.
It's not compatible with common subtitle files.
7. OBS Studio
Another free tool on the list is OBS Studio, but compared to other free screen recorders like QuickTime and Windows Xbox Game recorder mentioned prior, this tool supports more refined features that make screen recording interesting. The saying that OBS studio is one of the most powerful free screen recorders in the industry is no lie. Its credibility is even backed by lots of positive critics from users. It can execute simple operations like addition of videos to still images, videos editing, game screen recording, and lots more 100% free.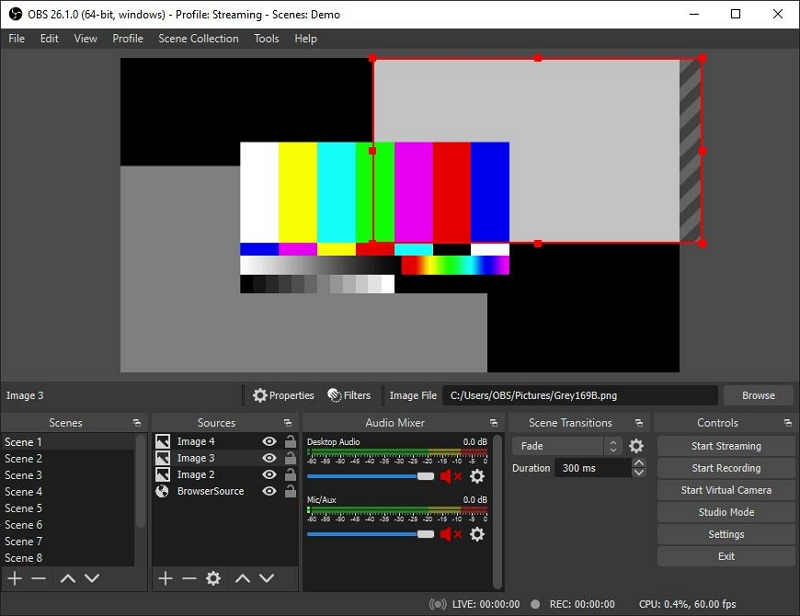 Key Features
Screen record with audio on PC handily.
Facilitate easy screen record operation with Set Hotkeys.
Manage quality of screen records efficiently.
Personalize screen records using helpful video editing tools.
Pros
The tool is really flexible and customizable.
Very powerful do seamless screen recording.
It's 100% free and can be used on any computer.
Cons
Navigating your way around the app can be quite confusing as a first-timer.
The advanced screen recording features can only be used for basic PC screen recording operations.
8. Apowersoft free online software
Last but not least on our list is the Apowersoft free online software. This free online tool allows users to screen capture PC screen activity with audio concisely. You don't need to install any app or have a built-in free tool on your PC, Apowersoft will record all types of activities on your PC screen in just one click. Besides, it also supports different output formats and be used for customizable screen recording tasks.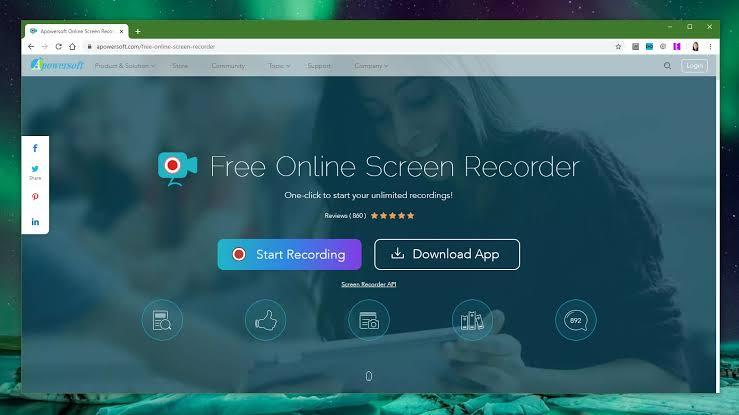 Key Features
Screen record PC screen activity and save in different formats like MP4, GIF, MPEG, VOB, etc.
Record all types of PC screen activities including live chats, video streams, and lots more.
Easily insert webcam while recording PC screen.
Edit screen records in real-time.
Pros
Very easy and user-friendly interface.
Support Annotation to allow users to add text to screen records
Share screen records to third-party platforms YouTube
Cons
It's not efficient for recording gameplay.
Bad customer support service.
Part 2:  How Do I Record high-quality gameplay on PC?
Recording a high-quality game on PC is very easy as long as you have powerful screen recording software like Eassiy. So, here, we would walk you through the simple steps to record gameplay on OC effortlessly.
Step 1. Visit Eassiy Screen Recorder Ultimate official website and download the tool, then install it on your computer.
Step 2: Start Eassiy Screen Recorder Ultimate program, then launch the game you want to record.

Step 3. Then, from the Eassiy Screen Recorder Ultimate interface, click 'Game Recorder' icon to open game recorder and select the target Game Window. Turn on toggle next to system sound and microphone sound and manage audio during recording operation. You can also utilize the 'Webcam' option to record games with or without facecam. using the relevant button. Then click on the orange 'Rec' button to start recording your gameplay screen.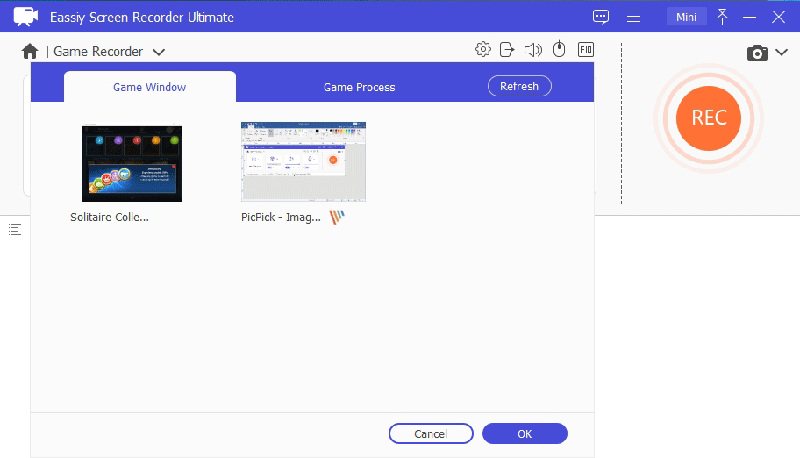 During the game recording process, you can click the 'Camera' at the bottom left to screenshot during the live recording. You can also use the real-time annotation to highlight important elements of the game.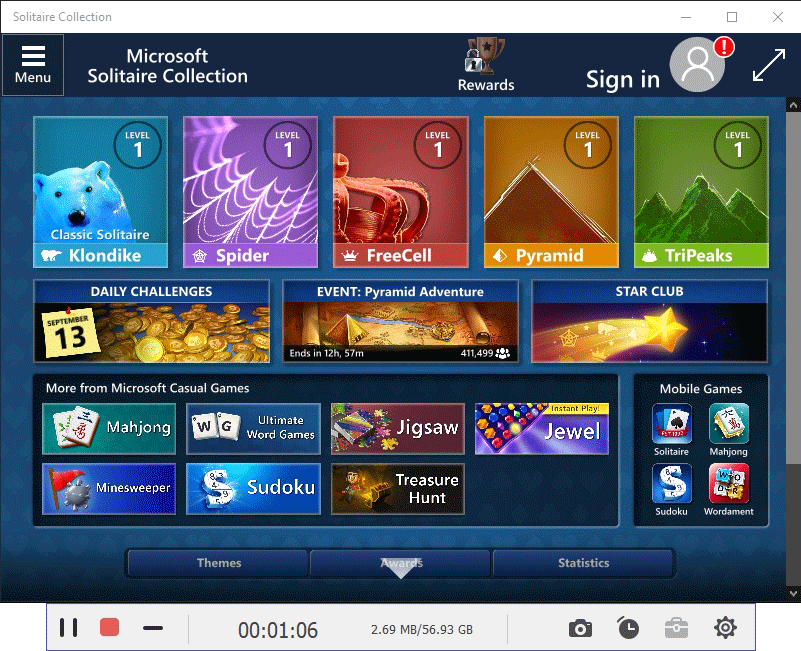 Step 4. After you've completed the recording operation, the recording will be stopped automatically. Finally, preview and edit the recorded video. Then click on the 'Done' button to upload the recorded video to your computer library.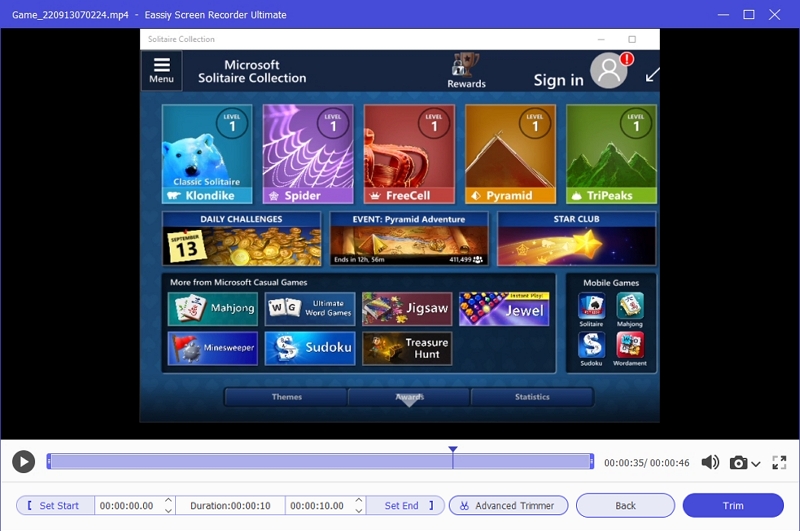 You can also share the recorded video to their social media apps and platforms. All recorded files, screenshots, audios, etc, can be found in the 'Recording History' tab too.
Part 3: FAQs
1. What screen recorder do gamers use?
Screen recorders for gamers include Eassiy Screen Recorder Ultimate, Wondershare Democreator, and Windows Xbox Game bar.
2. What's the best quality screen recorder for PC?
If you're looking to record high-quality videos, you need Eassiy for a fast and seamless screen recording task.
Conclusion
Today, expert gamers are the ones newbies look up to when they want to start their gaming journey especially online, and for this reason, we've created this article to enlighten users on the best screen recording for PC gaming in 2023. It doesn't matter if you're looking for a free tool or paid tool. Just make sure you choose the best game screen recorder that can suit your requirements.