In this day and age, protecting one's data is one of the most important concerns for people all over the globe. iTunes can assist us back up our iPhone, iPad, and iPod Touch to the computer. Since iTunes backups are stored on the computer, we may want to ensure that unauthorized parties will not see our data. This is where iTunes encrypted backup comes into play; this feature allows you to encrypt the backup of your iPhone using a unique password.
In this tutorial, we will explain what it means to encrypt your iPhone backup using iTunes and teach you how to do it to keep your information secure. We will also teach you how to disable the encrypt iPhone backup option on iTunes if you find that you do not need it. In particular, we will show you how to disable the feature if you have forgotten the password for the iPhone backup.
1. What Does It Mean When It Says "Encrypt Backup" on iTunes?
When you choose to encrypt your backups in iTunes, your iPhone, iPad, and iPod Touch backups will be locked and encoded with a password. If you encrypt your iTunes backup, you may not only provide an additional degree of protection for the sensitive data you save on your device, but you can also store more information that an unencrypted iTunes backup cannot accommodate.
Your saved login credentials.
Wi-Fi settings.
The history of the website.
Indicators of health
The most notable feature of encrypted backups stored on iTunes is that when you need to restore an encrypted iPhone backup, you will get a prompt to "Enter the password to unlock your iPhone backup." This is the case since encrypted backups need a password to be unlocked. Some customers got the password for iTunes backup wrong when they tried to input it, thinking it was the password for iTunes itself. You should be aware that the iTunes backup's password often differs from the password for iTunes.
2. What is the password for iTunes?
You must enter the key phrase to log in to the iTunes Store. The password you use for your Apple ID is often the same password you use for iTunes. Because a backup is unencrypted by default inside iTunes, you will need to activate encryption within iTunes all on your own. In the next section, I'll walk you through encrypting an iTunes backup.
3. What is the password for the backup in iTunes?
Set a password to encrypt and safeguard any backups of your iPhone, iPad, or iPod touch stored in iTunes. This will allow you to keep your data secure. Many folks may get iTunes backup password and iTunes password mixed up in their heads. It is a password that may safeguard and encrypt backup data stored in iTunes for your iPhone, iPad, or iPod. You may have mixed up the iTunes password and the backup password for iTunes. Continue reading, and be sure to differentiate between the two passwords. The password is generated for your iPhone's encrypted backup when the Encrypt iPhone backup function in iTunes is on or active. In addition, you will need to provide the password to restore an encrypted backup created using iTunes. It is essential to commit the password for the iTunes backup to memory since failure to do so would prevent you from accessing the backup of your iPhone inside iTunes. Everything you need to know about the iTunes backup password is included in this guide. In addition, if you have forgotten the password to your iTunes backup, you may find some helpful hints here.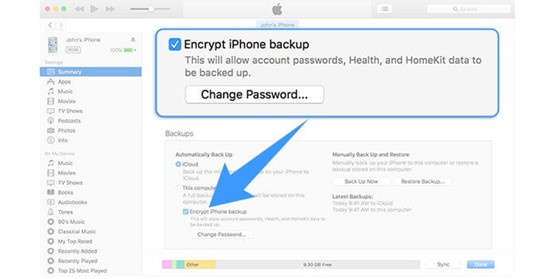 4. What kinds of files and pieces of information may be encrypted using iTunes?
You have the option in iTunes to encrypt the backup, which will lock and encode your data. This function is capable of doing more than other backup options (those unencrypted ones). In addition to standard data like as contacts, movies, and music, it can back up the following information:
Wi-Fi setting
All saved passwords
Information on medical conditions
The history of a website
It is not the responsibility of iTunes to encrypt your backups automatically. If this is your first time encrypting a backup in iTunes, you will see a prompt to enable the Encrypt backup option, which requires a password to enter. After that, from that point forward, iTunes will always create encrypted backups by default for that device.
5. iTunes tutorial on how to establish a password-protected encrypted backup.
The encryption function will not be configured automatically by iTunes. The first time you wish to encrypt a backup of your iPhone, iPad, or iPod touch, you will need to switch on the function by generating a password for your iTunes backup. This may be done by following these steps. After that, iTunes will assist you in creating encrypted backups on their own automatically.
Step 1: Get the most recent version of iTunes, and then run it.
Step 2: Connect your iOS device to your computer by USB connection; at this point, iTunes should be able to identify it (iTunes does not recognize iPhone?). To access the "Summary" pane, go to the upper left corner of the screen and click the device symbol.
Step 3: You will not be able to overlook the "Encrypt iPhone/iPad/iPod backup" option from the primary user interface.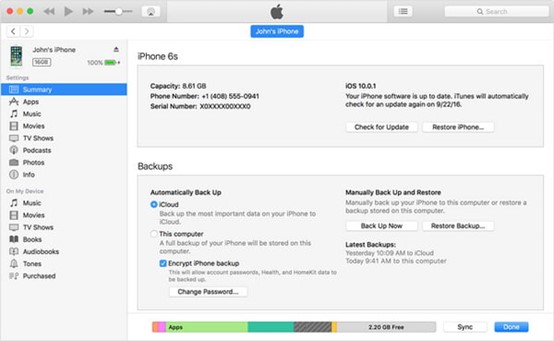 Step 4: iTunes will prompt you to establish a password for your iTunes backup. Please create a simple password to recall; otherwise, retrieving the password for the iTunes backup won't be easy, and then getting access to the iTunes backups.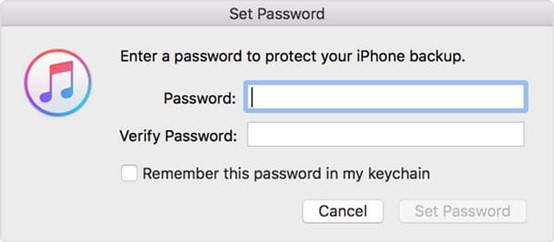 Step 5: Verify that you know the password. Then iTunes will generate a new encrypted backup after overwriting any earlier backups it has made.
Verify that the backup has been encrypted successfully.
If you choose "Edit" (for Windows) or "iTunes" (for Mac) > "Preferences" > "Device," you will see a lock symbol appear to the right of your device name, along with the data and time of your most recent iTunes backup.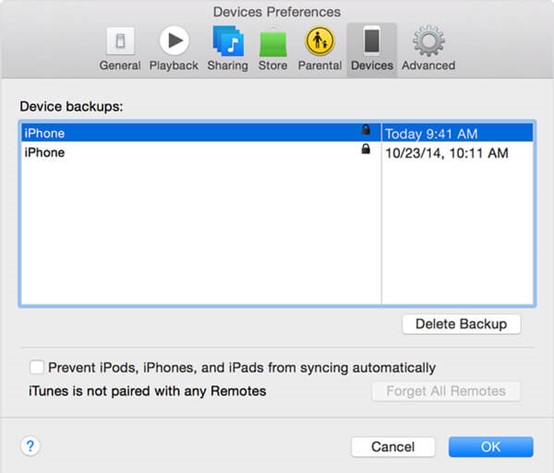 6. Stop using encryption for backups in iTunes.
Entering the password and unchecking the option to disable encrypted backups are the two steps needed to turn off the encryption function in iTunes. It is essential to know the password for the iTunes backup. If you cannot recall it, you will need to retrieve the password for your iTunes backup, create an iCloud backup in its place, or restore your iPhone, iPad, or iPod to its factory settings.
7. What happens if you forget the password for the iTunes backup?
iPhone data may be recovered using Eassiy iPhone Data Recovery for Mac. It would be best if you had the appropriate password when you wish to access an encrypted backup on iTunes. If you forget the password for the iTunes backup:
8. The recommendations made by Apple for recovering your iTunes backup password
Without knowing the encrypted backup's password, you won't be able to restore it. But there is no need to be concerned. You may create a fresh encrypted backup of your smartphone on iTunes by resetting the password if your device is running iOS 11 or a later version of Apple's mobile operating system.
Step 1: First, on your iOS device, navigate to the Settings menu, then select General, and finally select Reset.
Step 2: Select the Reset All Settings option, then enter the passcode for your iOS device.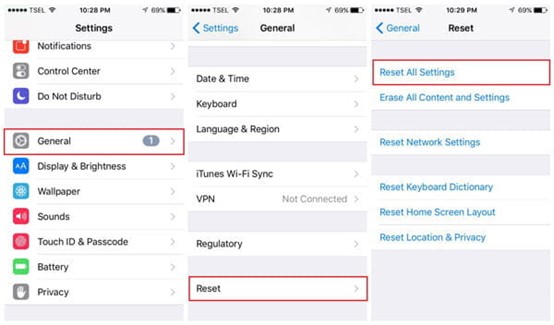 Step 3: Follow these instructions to get your settings back to normal. Your user data and passwords will not be affected, but all your settings, including your previous encrypted backup password, will be reset.
Step 4: Reconnect your iOS device to iTunes and create a fresh backup of your encrypted data.
You will not be able to access the previously encrypted backups again, but you can back up the data on your current device by using iTunes and creating a new password for the iTunes backup.
You cannot reset the password on any device running iOS 10 or an older version. Using the following clues, you might be able to recover the old password for the iTunes backup possibly:
Yourself.
If you don't know the iTunes password for your device, you should ask the person who set it up for you.
Instead, you should use a backup from iCloud. If you don't have an iCloud backup, you should create one. You may want to try using an earlier backup from iTunes.
9. Other Tips for You to Recover or Reset iTunes Backup Password.
Try Known Password
Apple ID passwords are an example of a typical kind of password. A passcode for an iPhone or iPad. Principal email account passphrase. The password for your user account is on the computer. Passwords that are easy to remember can be 0000 or 1234.
10. On a Mac, use the Keychain Access application.
If you use iTunes on a Mac, you can choose to save the password to your iTunes backup in the Keychain. You will need to go to Keychain Access to determine whether you can get the password for the iTunes backup.
Step 1: Launch Keychain Access by navigating to Application > Utilities > Keychain Access on your Mac. You also have the option to search Keychain by using the spotlight.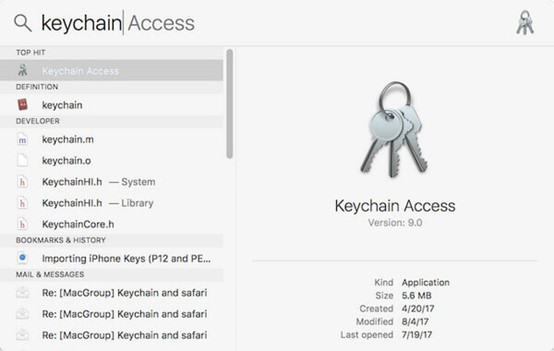 Step 2: Choose "All Items" from the "Categories" drop-down menu.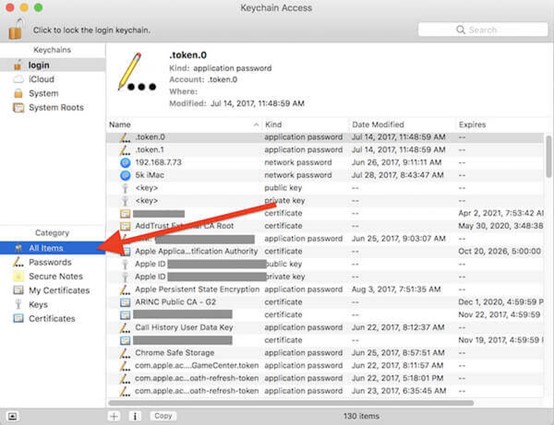 Step 3: Enter "iPhone" into the search area located in the top right corner, and then look for an "Application Password" that is titled "iPhone Backup." If you find it, be sure you double-click on it.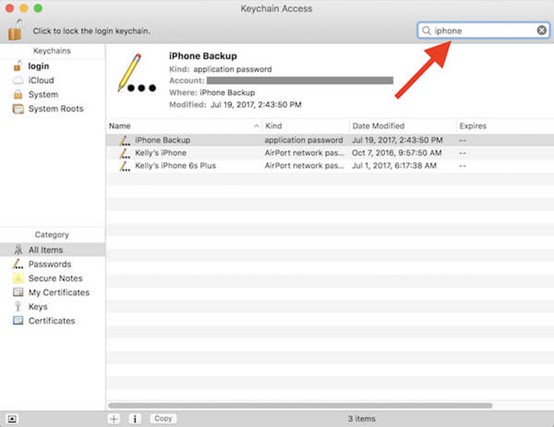 Step 4: A new window will pop up; in this window, select the option labeled "Show password," type in the password for your Keychain, and then click the "Allow" button.
After that, the password for your iPhone's iTunes Backup will be visible in the pop-up window.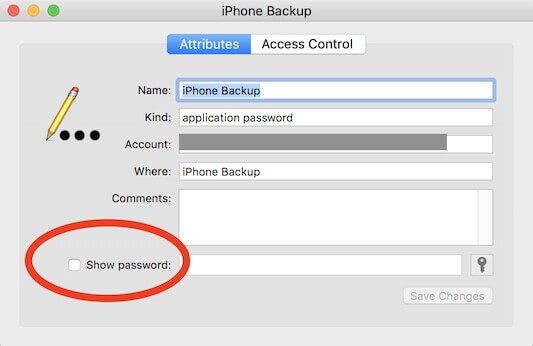 Consider using a backup password recovery tool for iTunes.
Suppose none of the ways described above are successful in resolving your issue. In that case, you will be forced to use specific iTunes backup password recovery solutions, which have a chance of assisting you in recovering your iTunes backup password.
In this essay, we will explain the password for iTunes backup and suggest what to do if you forget your iTunes backup password. If you have anything to say, please do not hesitate to share it with us.