SD Cards offer an extremely versatile storage solution that can be used across multiple storage devices. However, there is a risk of SD Cards becoming corrupted and having stored data lost. It might be quite frustrating for you to encounter such kind of issues. In this article, we are introducing the 6 best SD Card recovery Mac to recover deleted files in 2023. If you are a Mac user and facing this issue, then this article is for you.
Part 1: Most Common Reasons for Data Loss on SD Card
The SD (Secure Digital) card is a multimedia storage device that provides a lot of advantages, including mobility of files, faster access, smaller size, and lightweight. However, despite its benefits, it has limitations as a sustainable data storage system. Some experts recommend the occasional reformatting of SD cards, either through manual reformatting or automatic reformatting in response to certain factors that can result in the loss and recovery of files. Essentially, the SD card is a flash memory device with a memory chip designed to require periodic data clearing or self-clearing after a specific number of operations. In addition to this, there are common causes of data loss on SD cards.
Malware
The internet is rife with malicious software, and among the most prevalent is the malware virus. It's worth noting that approximately 6,000 new computer viruses are created and disseminated each month, increasing the likelihood of contracting one when transferring files from one device to another, particularly when using an SD card.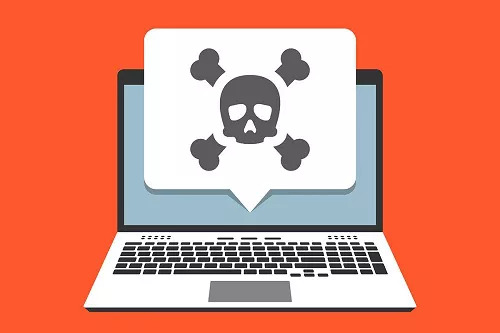 Corruption of File System
File systems are vulnerable to corruption beyond malware infections. A file system can become corrupted when removing an SD card from a reader or experiencing a sudden power failure while transferring files. Unfortunately, systems and software can also become outdated, crash due to bugs or malfunctions, and cause issues that are not your fault.
Physical Damage
The compact and lightweight nature of SD cards makes them prone to falling into crevices and sustaining damage when extracted forcefully. Physical damage such as dropping them from a height or submerging them in water can also occur, requiring specialized data recovery services from professionals in a data recovery laboratory. Such a complex process is best left to experts.
Unintentional Format of SD Card
Human error can result in the occasional deletion of files from an SD card during use. It's possible to mistakenly delete files from the wrong drive, leading to permanent loss of data from the SD card memory, unless an SD card recovery Mac is performed.
Accidental Deletion
Accidentally adding and deleting wanted files while attempting to move, cut, copy, or delete files is a common cause of SD card data loss. It can occur after just a few clicks, leading to unwanted deletions.
Part 2: Best SD Card Recovery on Mac
If you have a corrupted SD card and need to recover your data, using an SD card data recovery tool is the best solution. One of the best SD card recovery on Mac is Eassiy Data Recovery. This software is capable of recovering more than 1000 file types, including photos, videos, documents, audio, emails, and more, from over 2000 storage devices, regardless of the circumstances. Additionally, it provides two scanning modes for smoother operation and allows you to preview your files before recovering them. Both free and paid versions are available for MacOS and Windows PC.
Key Features:
Have the ability to recover data from multiple storage devices.
Offers a fast and deep scanning mode.
Provides preview function before recovering any file.
Able to filter search results by file type, size, and date.
Can recover numerous file types like images, videos, emails, documents, archives, etc.
Here are the steps to recover SD card data with the best SD Card data recovery software Mac and Windows
Step 1: Connect the SD card to your computer and launch Eassiy Data Recovery. The program will detect the SD card automatically and add it to the Removable Drive option. Select the SD card by checking the box next to it.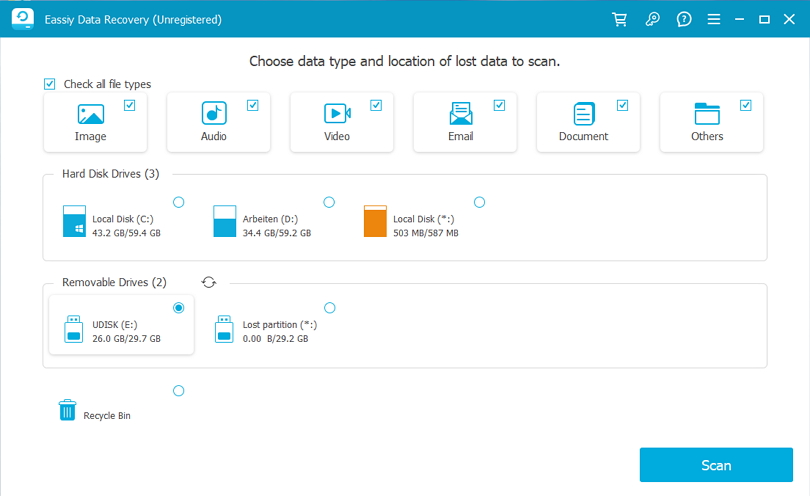 Step 2: As the program provides you with two scanning modes, choose the scanning mode that suits your needs. Quick Scan is faster and recommended for recent data loss, while Deep Scan is better for complex data loss situations.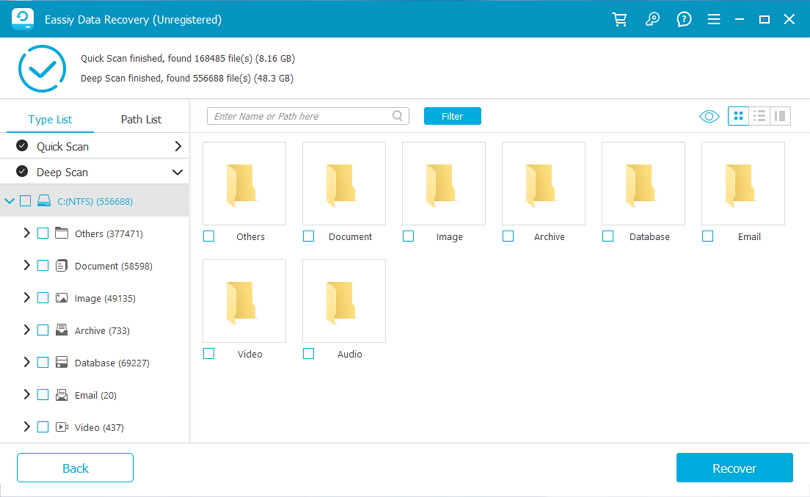 Check the external drive scanned results by type list and path list to see if the data you want to recover is found.
Step 3: Select the files you want to recover after scanning and click on the "Recover" button to retrieve them.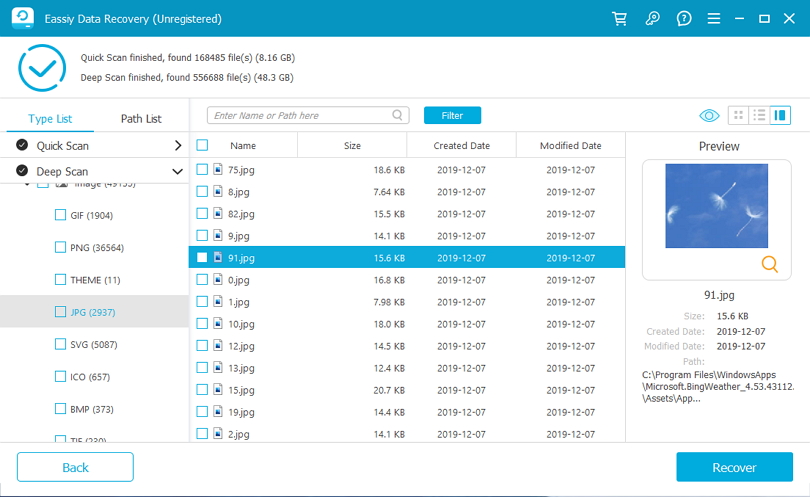 Part 3: Free SD Card Data Recovery Mac from Trash
For those who may not be aware, Mac has a folder that automatically transfers files when deleted. However, this feature only works for SD cards that are connected during the deletion process. Follow the below steps to perform free SD Card recovery Mac from the trash.
Step 1: Locate the Trash icon.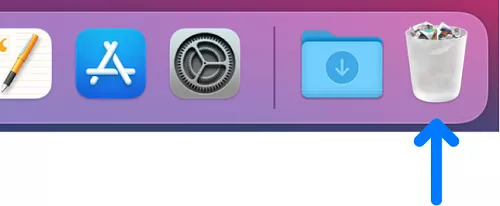 Step 2: Visit the root folder of the SD card and press the combination of the (CMD + Shift + >) button to reveal the Trashes folder.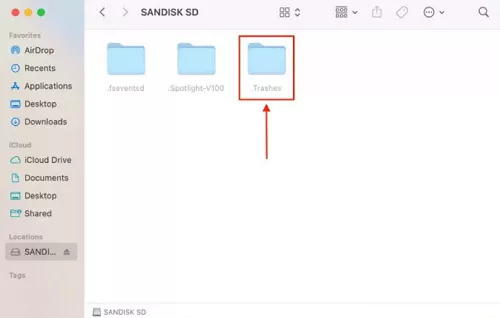 Step 3: Select the file you wish to recover and right-click to display the available options.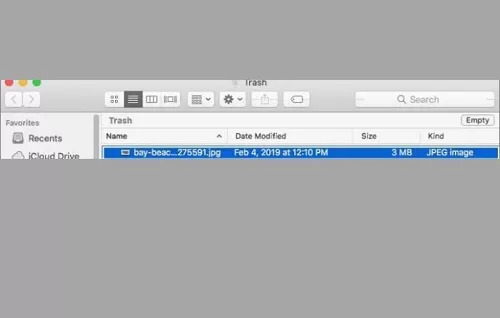 Step 4: Tap on "Put Back" to successfully recover the file.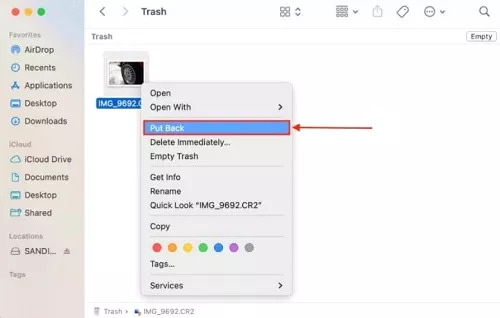 Files deleted after you eject the SD card cannot be recovered from the trash using a memory card recovery Mac.
Part 4: Recover Data from SD Card on Mac Using Terminal
If you're wondering whether you can recover files using Terminal, it's important to note that while Terminal can recover deleted files from Mac trash, it can't recover deleted files from an SD card. However, using a program like PhotoRec, it is possible to recover deleted files from an SD card. PhotoRec is an open-source data recovery program designed for Mac users that uses the command line to recover over 400 types of files, including photos, videos, archives, and documents. While the program is not easy to use and requires careful input and movement between codes, it can be a useful tool for recovering lost data. Any errors during the recovery process can lead to failed recovery, so caution is advised. Here are the steps for you to recover data from SD Card on Mac using Terminal.
Step 1: On your Mac computer, download and install PhotoRec.
Step 2: Attach the SD Card to your Mac computer or connect it using a card reader.
Step 3: Open the program in Terminal and enter your Mac password to proceed.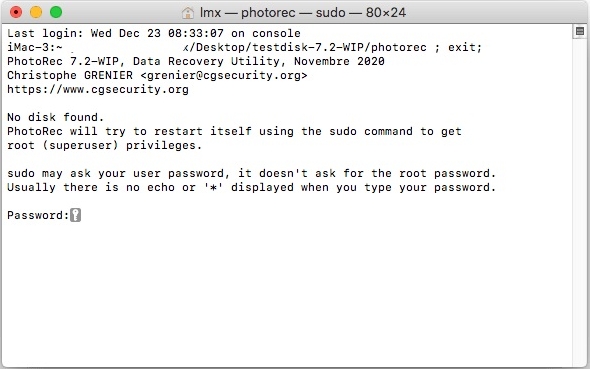 Step 4: Choose the SD card that you want to use to recover the deleted files on your Mac, and then press Enter.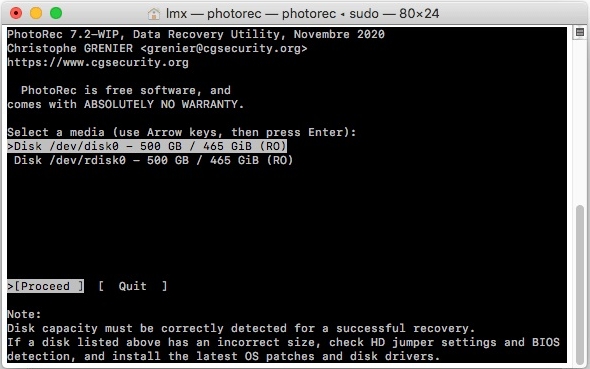 Step 5: Press "Enter" after choosing the Partition type.
Step 6: Tap "Enter" after selecting "File System".
Step 7: To save the restored files from the SD card, choose the output folder, and to start the process, press "C". To view the recovered SD Card photos or other files, check the folder.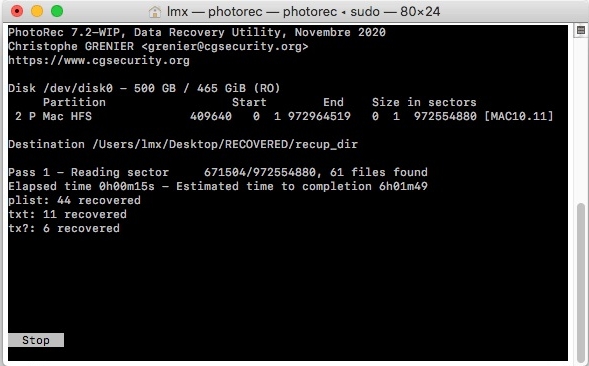 Part 5: Recover Data from SD Card Mac with Time Machine Backup
If you're unable to recover deleted files through the Trash, you may want to try using Time Machine. Time Machine is a built-in backup feature on Mac that enables you to manually or automatically back up your files. Follow the below-given steps to recover data from SD Card Mac with Time Machine Backup.
Step 1: To access Time Machine, you can either click on the Time Machine icon from the menu bar and select "Enter Time Machine" or go to the Apple menu, select "System Preferences," and then click on the "Time Machine" icon.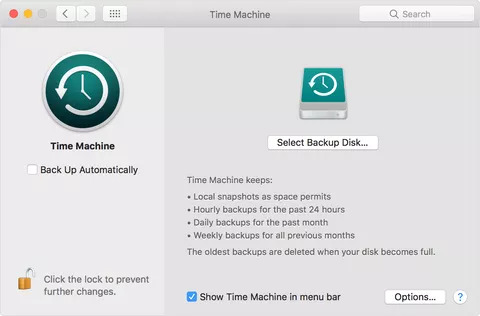 Step 2: If you are accessing Time Machine for the first time, by default, you would need to navigate past the desktop folder to the desired folder that has the deleted file you wish to recover, in the Finder window.
Step 3: Depending on the model of your Mac, you can locate the files you wish to recover by using either the onscreen up and down arrows or the timeline at the edge of your screen. Once you've selected the desired files, you have the option to quickly preview them by clicking the spacebar, or restore them directly without a preview.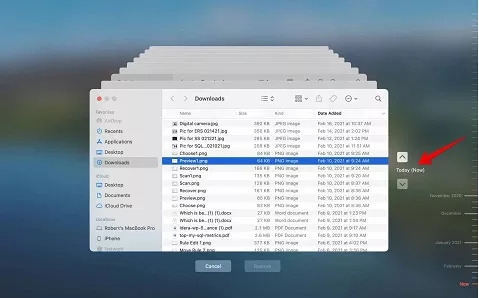 To enable the possibility of Mac card recovery via Time Machine, you must have initially enabled the specific SD card for backup on your Mac. If you haven't, it won't be possible to recover any lost data through this method. To start a Time Machine backup, follow these steps: connect the SD card to your Mac using an SD card reader.
Step 1: To access Time Machine, click on the Apple icon, then select System Preferences and click on Time Machine.
Step 2: Select the Backup Disk by clicking on it.
Step 3: Choose the SD card that you have inserted and wish to back up.
Part 6: Data Recovery for SD Card Mac with iCloud Backup
It's worth noting that if you make a habit of regularly backing up your files, you can recover deleted files from your SD card with your backup. This means you won't need to download any additional apps to retrieve your SD card files, making the recovery process much more straightforward.
Nowadays, many people prefer to use cloud services to upload and back up their files and folders. This approach can help save storage space on their local devices. Most Mac user prefers iCloud to back up their data files. Here are the steps to perform data recovery for SD Card Mac with iCloud Backup.
Step 1: Access icloud.com and log in using your Apple account credentials.
Step 2: Locate the Data Recovery section and click on it to enter.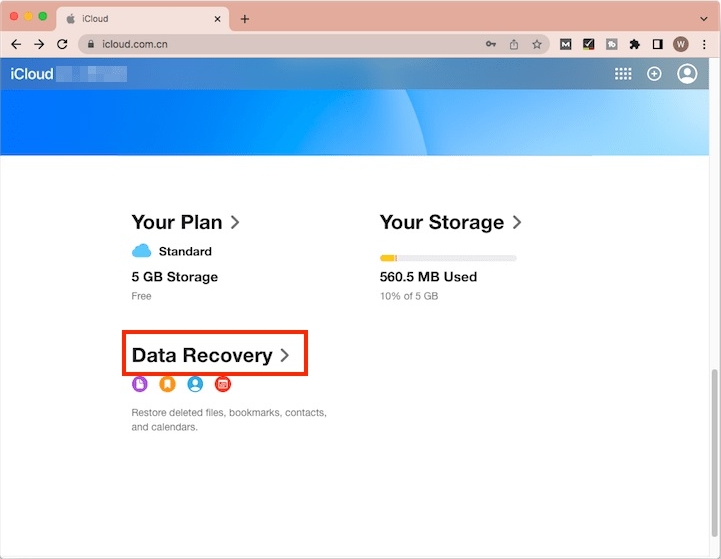 Step 3: Select "Restore Files." If you've recently deleted backup files, click "Restore" to recover your SD card files after choosing the deleted files.
Part 7: SD Card Recovery Mac by Contacting a Data Recovery Service
In case the lost data has been overwritten by other files on the memory card or if the corrupted SD card does not appear on your Mac, it is advisable to seek professional assistance. Data recovery specialists possess the knowledge to restore the SD card's functionality and apply sophisticated methods to retrieve lost data. If you opt to retrieve data from a corrupted SD card through a data recovery service, here are the steps you should follow.
Step 1: Get in touch with the data recovery center and explain the issue you are encountering.
Step 2: Prepare and dispatch the SD card to the laboratory of the company.
Step 3: Get an estimate of the cost.
Step 4: Inform the center that you want to initiate the data recovery procedure if the cost is satisfactory.
Step 5: Receive the recovered data on a new storage device through shipment.
Part 8: FAQ for Free SD Card Data Recovery Mac
1. Is it possible to recover data from a formatted SD card on a Mac?
Yes, it is possible to recover data from a formatted SD card on a Mac as long as the formatted SD Card has not been overwritten with fresh data.
2. What is the process to recover photos from my SD card on a Mac for free?
While it is possible to retrieve your photos for free on Mac from Trash or Time Machine, it is advisable to use reliable data recovery software like Eassiy Data Recovery for enhanced security and stability. This software is deemed trustworthy and is highly recommended.
3. What are the steps to resolve an SD card that cannot be read on a Mac?
Here are the steps to resolve an SD card that cannot be read on a Mac:
Verify the Mac system is functioning properly.
Verify the file system of the SD card.
Use Disk Utility to repair any issues with the SD card.
Initialize the disk as a last resort.
4. Can delete items on a Mac be recovered from the trash?
There are several methods to recover deleted files on a Mac. You can restore lost files from the Trash Bin, use the Undo option, access the Terminal, restore from a Time Machine backup, or use a tool like Eassiy Data Recovery Wizard for Mac to recover permanently deleted files.
Conclusion
In this article, we have introduced the 6 best SD Card recovery Mac to recover deleted files in 2023. Having learned about SD card recovery on a Mac, it's recommended to use a solution that enables the restoration of accidentally deleted files or corrupted and malfunctioning SD cards. While there are various ways to recover deleted files, not all methods are guaranteed to be successful. Therefore, reliable software is needed to ensure a successful SD card recovery process. If you have important documents, images, or videos stored on SD cards, it is advisable to download and install Eassiy Data Recovery to begin the recovery process.