Do you want to keep the pictures on iCloud and delete them from an iPhone? Are your iCloud photos not downloading?
If you need to download or manage pictures, you will finally turn to the iCloud Photo Library feature. Here, two options are offered, Optimize iPhone Device and Download and Keep Originals. However, many iOS users still don't know what "Download and Keep Originals" is and how they can use it. To help you better use this feature and your iOS device, this post lists some common questions about it.
Part 1. What is Download and Keep Originals?
iCloud offers a convenient way to back up various photos on your iPhone, iPad, or iPod to better protect your iOS data. In iCloud Photo Library, you can simply access the feature.
All types of images from all your iOS devices with the same iCloud account can be saved by iCloud Photo Library. This feature will download a copy of all iCloud photos on your iPhone/iPad/iPod once you turn it on. There are two options provided as we mentioned above, "Optimize iPhone Device" and "Download and Keep Originals".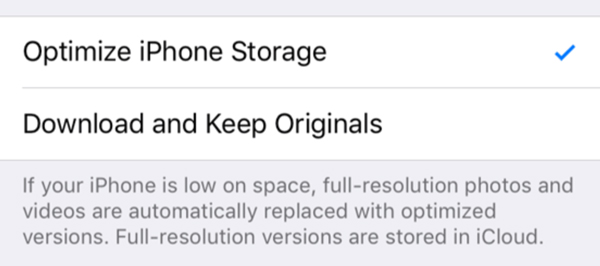 The iOS device will start to download the original photos (full-resolution) when you choose the "Download and keep originals" option. On the contrary, it will save optimized versions to replace full-size photos if you pick the "Optimize x Storage". This feature can help you save a lot of space when you have low storage.
Part 2. Will iCloud still keep my photos in the photo stream if I delete them?
You might want to delete some photos to free up storage and get more space. When you have enough storage, you prefer to get them back while in most cases. So here is the question, will the images still exist if you don't delete them from the photo stream?
Well, the answer to this question is NO. You are not eligible to save a picture in iCloud but not save an iOS device. Every iOS device (same Apple account) will be synced with the same data as long as you turn on the iCloud Photos function.
The deleted photos will be moved to the recently deleted folder for 30 days when you delete them from your iPhone, iPad, or iPod. Also, they will be removed from iCloud. iCloud will not back up these photo files.
You are recommended to back up iPhone photos to a computer to get enough storage space. Here, the best iOS data transfer is recommended.
All types of iOS data between iOS devices can be shared (iPhone, iPad, and iPod touch).
Numerous iOS data from/to iOS devices to/from PC can be transferred.
Any popular files such as photos, contacts, videos, messages, and others are supported.
Able to manage iOS data on a computer directly.
Allow you to create and add ringtones on iOS devices directly.
Supports iPhone 14/13/12/11/X/8/7SE/6/5/4, and the latest iOS 16.
For easy viewing on other image viewers, HEIC images from iPhone to JPEG/PNG can be converted.
Part 3. Download and Keep Original not working?
Your iPhone/iPad/iPod may recommend you optimize storage and you did that. You have to re-download the original picture again when you check pictures on an iOS device which is very boring, especially when you have enough storage space. But nothing happened once you choose the "Download and Keep Originals". What should you do then?
Users complain that "Download and Keep Originals" is not working, even after selecting the feature. Different reasons will cause this feature not to work temporarily.
You are required to keep your iOS device in a good network connection to quickly download all photos. Additionally, you'd better charge your iPhone, iPad, or iPod to ensure that it has enough battery.
Part 4. How to turn on or turn off Download and Keep Original?
You can easily turn on or turn off the "Download and Keep Originals" option as long as you can find it. To access this feature, you can follow the next simple steps.
Step 1. Open the Settings app once you have turned on your iOS device.
Step 2. Locate the iCloud option after tapping your "iCloud account".
Step 3. Enter the Photos interface by clicking on Photos.
Step 4. Here, you can find these two options, Optimize your iPhone Device and Download and Keep Originals by turning on iCloud Photos.
Part 5. How to transfer the original-quality photos to Mac/PC?
In some cases, you will notice that they are only optimized versions after copying iPhone photos to a computer. How can you export full-resolution pictures from an iOS device to a computer?
The key point is to turn on Download and Keep Originals on your phone. You can easily do that with the method above. After that, you will be able to check this article to know more details about how to transfer photos from an iOS device to a computer.
This post talks about 5 common problems related to iCloud Photo Library and the Download and Keep Originals feature. If you still have any puzzles, you can leave us a message.