1. What if your iOS device cannot be detected?
Situation 1. Examine if iTunes has been installed.
In such a case, you have to examine whether you have installed iTunes on your desktop and ensure it is the latest version. You can use the below-given links to download the latest iTunes for various OS. By using the following link, Windows users can directly download and install it on their computer. The latest version of iTunes is installed with the latest macOS Monterey for Mac users. You can also download it from the following link if you are using the previous version of macOS or just want to update iTunes.
For Windows 32-bit: https://www.apple.com/itunes/download/win32
For Windows 64-bit: https://www.apple.com/itunes/download/win64
For macOS: https://www.apple.com/itunes/download/macos
Just let iTunes help you check the problem if you have installed your iTunes up to date, but the device cannot be detected. Run iTunes on your computer after quitting this app. Check if the iOS device icon shows in iTunes by connecting your iOS device to the computer.
Situation 2. Ensure that you have trusted this Computer.
You need to click Trust on your iPhone/iPad/iPod touch if this is the first time you have connected your iOS device to the program on this computer. Then your iOS device will be detected normally by the program. You need to input your PIN password to confirm your trust for iOS 12 and above.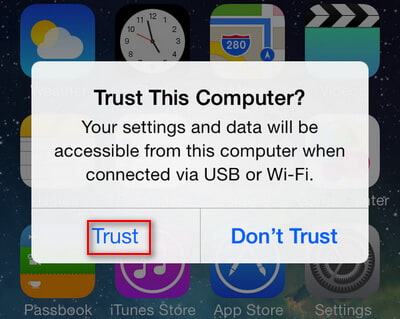 Situation 3. Check the USB cable or port.
You can try using another USB cable. And ensure that the iOS device is not in Recovery Mode or DFU mode.
2. What if your Android device cannot be detected?
Situation 1. Ensure your phone is in Transfer files mode, instead of Charge Mode
Your phone might be charged after connecting your phone to the computer. You have to change the Charge Mode to Transfer file. Swipe down on your screen after connecting your device. Expand and touch the notification "Charging via USB" if you see it. From the popup window, you have to tap Transfer files.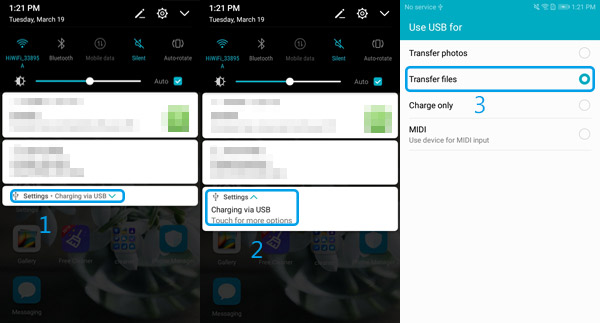 Situation 2. Forget to enable USB Debug?
For developers, Android provides a function named "USB Debug Mode" which enables Android users to get more access to Android phones, such as data management on the computer via third-party apps.
As different Android OS and brands of Android phone works in various steps, it is a very long story about USB Debug Mode enabling on Android devices. Learn how to enable USB to debug for different phone brand here.
Situation 3. Examine if you have allowed MTP
Please allow the "MTP connect" request if it appears on your device.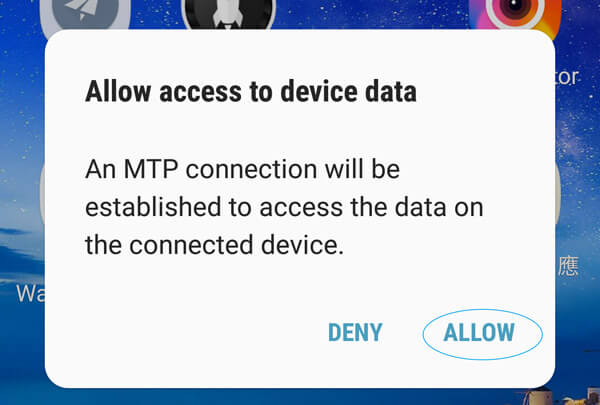 Situation 4. Make sure you have disabled AutoPlay on your Windows PC
The AutoPlay feature might occupy your Android phone automatically once you connect your device to the computer if you enabled it on your computer. This might be the reason why your Android phone cannot be detected by our software. In such a case, you have to disable the AutoPlay feature.
Please tap the "Windows" icon in the left corner if you are Windows 10 user. After that, you need to search the "Settings" icon. You will enter the Settings window by tapping it. From the menu, you have to click on the "Device" button. Choose the "AutoPlay" option from the left side panel and after that, turn off the option.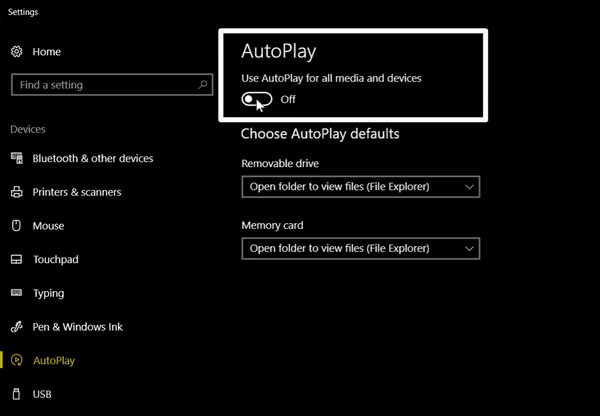 If you are a Windows 7 user, then you can tap the "Start" button and move forward to "Control Panel". Find "AutoPlay" by clicking the "Hardware and Sound" option. To disable AutoPlay, please uncheck the "Use AutoPlay for all media and devices" option.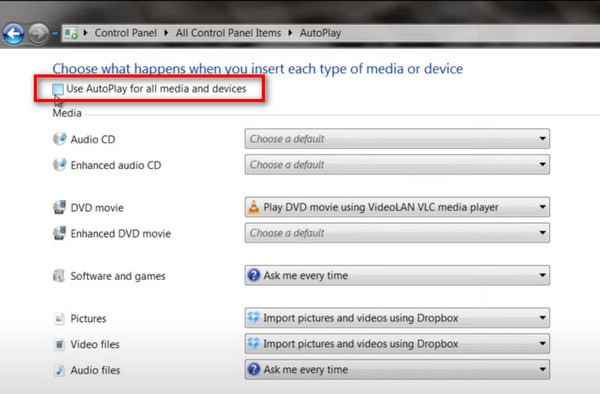 Situation 5. Ensure you have trusted and installed FoneGo
The safe data management application from Eassiy, FoneGo lets you manage your Android device data on the computer via the third-party Android-related software from Eassiy. You don't have to worry, this software only reads the data from an Android phone but doesn't store any data from your device. This program is safe, reliable, and trusted by many users and also, passed the security verification.
You should trust and install this application first for running Android-related software on the computer.
Click on "Continue" in the popup screen on your Android device to agree with the rules > Then check hit "INSTALL" > Toggle the "Trust this app" option ON and "Done" to install this app on your Android device.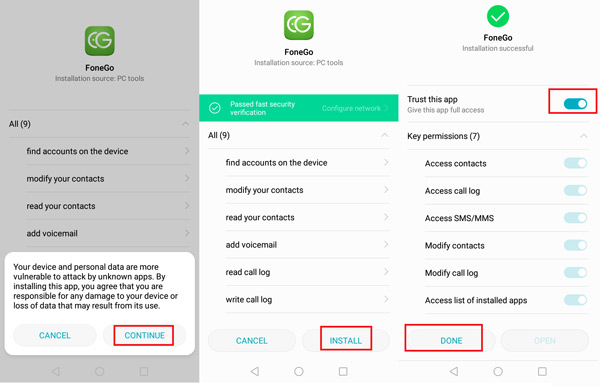 Note: You had better toggle on all the "Key permissions" if it is possible. You need extra steps to allow data reading permission for some Android devices.
Situation 6. Fail to access permission (contacts and SMS) on some devices
Eassiy Android software will need your permission to read data (contacts and messages) from your phone while using some Android devices such as Sony. You have to grant full access to the data permission.
Here, you can take HUAWEI Hono7 as an example, just visit "Settings" > "Apps & Notifications" > "Permissions" > Search "FoneGo" and click it > Toggle "Contacts" and "SMS" ON > Hit "Set individual permissions" > Then Toggle "Trust this app" on.
After that, you can check if your Android phone has been detected by this software.

Situation 7. Check USB cable or port issues
You can change to another USB cable or port. With the computer, connect your Android phone and re-connect it. Try with another USB cable or port if that still doesn't work.
Situation 8. Outdated software or device drive software
Ensure you are using the latest version of the software (Download and install the latest software from Eassiy), and update the USB device driver program. Please let us know what smartphone you are using if your device still cannot be detected. Also, feel free to contact our support team anytime: support@www.eassiy.com.