Hi, I accidentally deleted some video clips from my iCloud storage unit. I tried several recovery tools to bring them back; however, none could execute the operation without depleting the file quality. I need a top-class iCloud video recovery tool.
Sounds familiar? We are here to assist you with the list of high-quality iCloud video recovery solutions. Our team of experts has done some legwork to handpick the six best software programs that can easily and quickly retrieve iCloud data, including videos. In addition to the quality, the software should be able to retain the file quality.
Part 1. How to Backup My Videos to iCloud?
Data backup to storage units like iCloud is one of the best ways to keep vital files you find on your iOS device. The storage unit stores various data types, from videos to audio, images, contacts, and more. It's one of the safest storage systems available to Apple users. To back up your videos to iCloud, follow the procedure below:
Step 1: Launch the Settings app pages on your iPhone with the correct key.
Step 2: Tap on your Profile Picture to access the next page.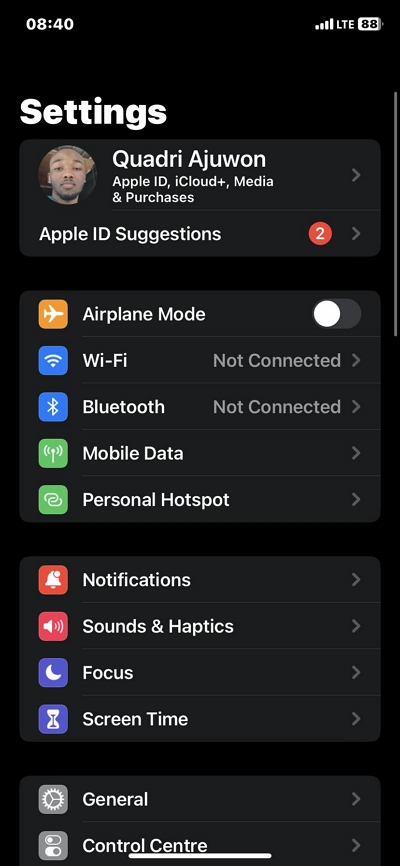 Step 3: Now select iCloud > Photos.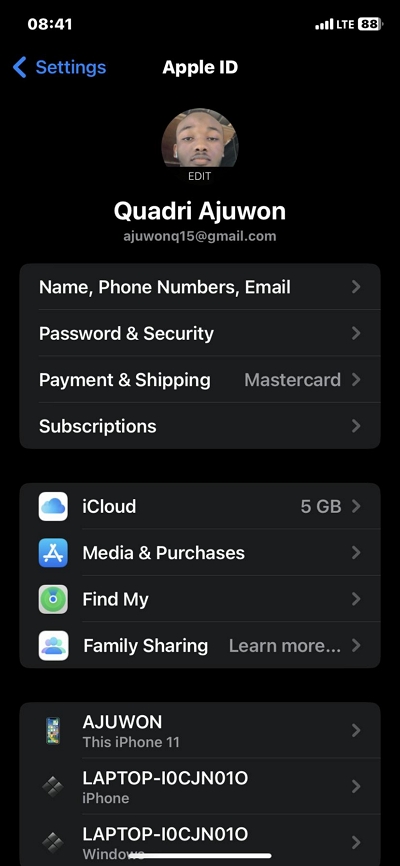 A new screen labeled photos will immediately come up. Slide the toggle next to iCloud Photos to enable photos and video backup. Once done, your videos will occasionally back up to iCloud.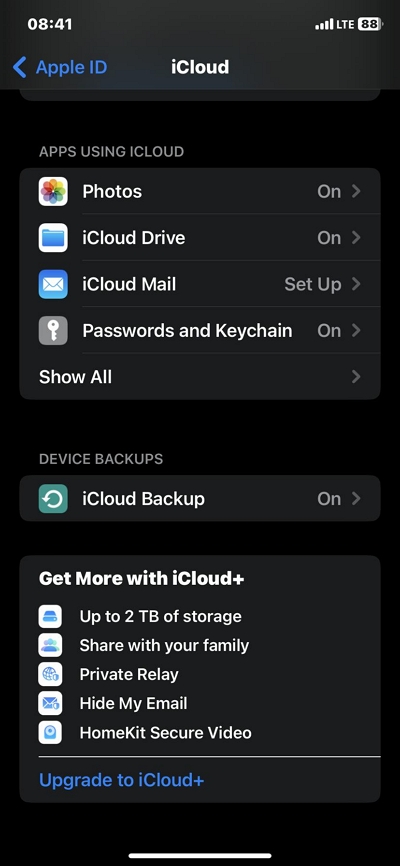 Now that we've successfully explained how to back up video files from an iPhone to iCloud let's take a step further to check the best iCloud video recovery solutions.
Part 2. Best iCloud Video Recovery Software
Eassiy iCloud Video Recovery is one of the most outstanding iCloud data recovery solutions available for iOS devices. The software lets you quickly retrieve lost or deleted video files from your iCloud without compromising your device. This software scans and recovers over 36 iOS data files, such as videos, audio, photos, contacts, etc. For several reasons, Eassiy is often regarded as an industry-leading iCloud data recovery solution. From the interactive interface to the fast data recovery rate, capability to scan & recover over 1000 photo files concurrently, etc. Eassiy has all it takes to retrieve those unseen data files you lost.
Another exciting feature that makes Eassiy appealing is data selectivity. Unlike other iCloud data recovery software programs, Eassiy permits users to select their desired data to retrieve from iCloud. This eligibility also extends to recovering via iTunes or directly from the device.
Key Features
1-click to recover iCloud video files without compromising the user's data.
It offers three (3) recovery modes; from iOS devices, iTunes, and iCloud.
Eassiy supports the seamless recovery of over 36 data types, including photos, videos, contacts, calendars, etc.
Scans and retrieves multiple data files simultaneously with high success rates.
Steps to Recover Videos with Eassiy iCloud Data Recovery Software
Using the Eassiy iCloud data recovery solution, you can retrieve your lost or deleted videos from iCloud following the stepwise guide below:
Step 1: Via Eassiy's official webpage, install a compatible software version on your computer system. Launch the software and your iPhone to the computer using a USB cable when the installation is successful. Next, choose Recover from iCloud.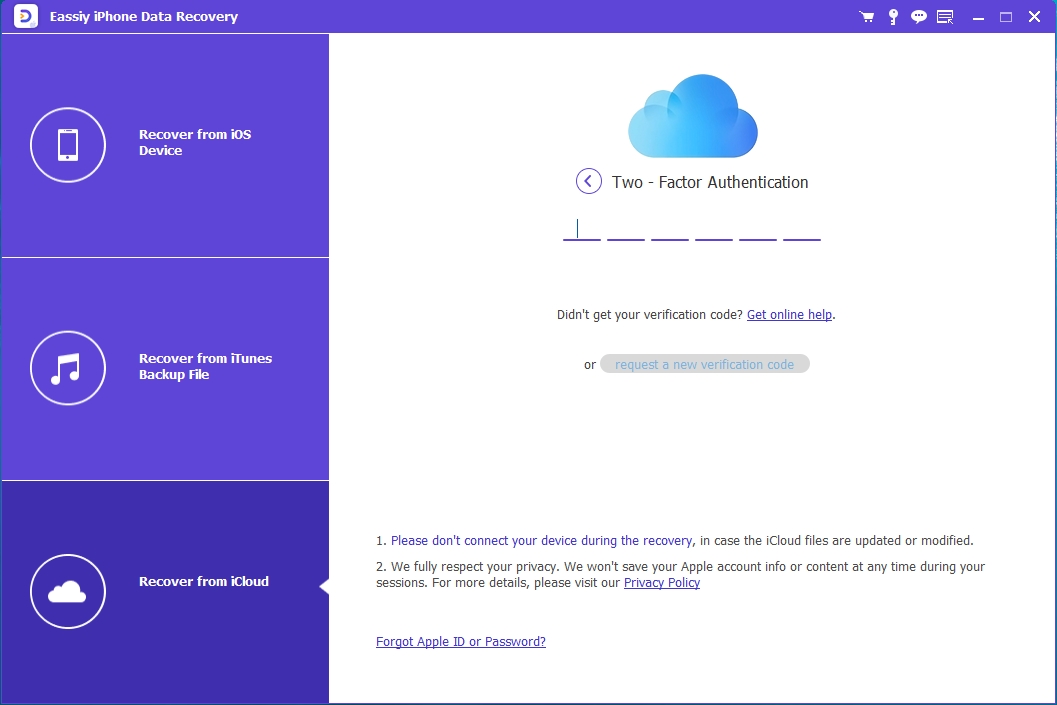 Step 2: On the next screen that shows, enter your iCloud details in the fields provided, and hit the Enter button. Verify your details by entering the 2FA code sent to your iDevice in the space given on the Eassiy page.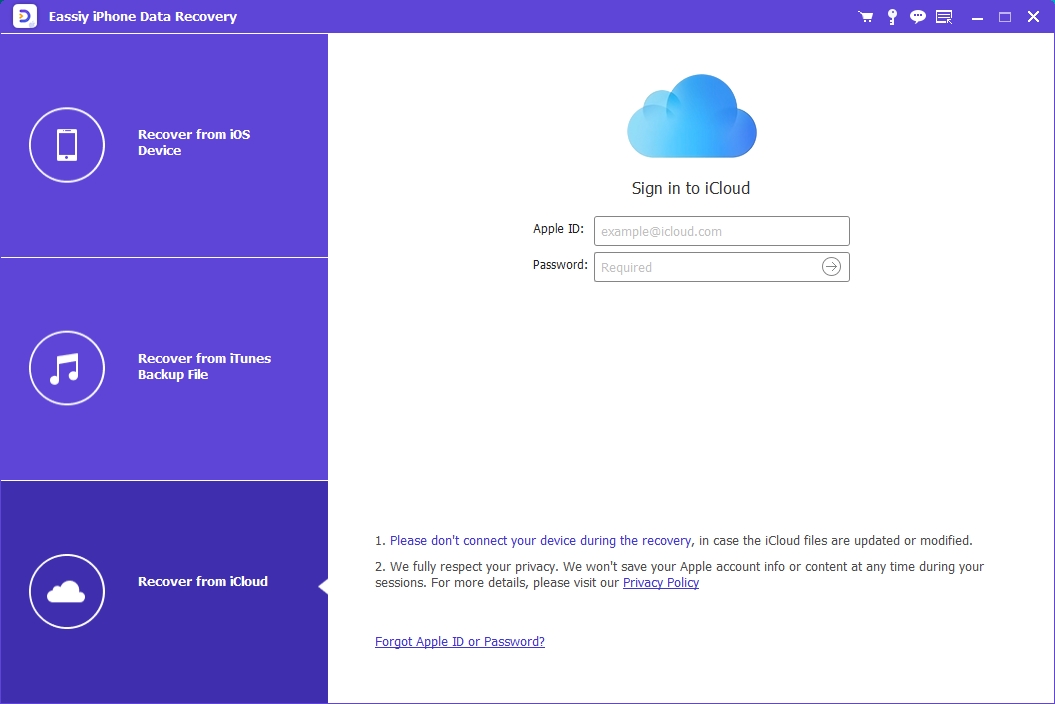 Now click on iCloud Backup, and Eassiy will scan your iCloud for backed-up files.
Step 3: Next, select the iCloud backup o to retrieve data to proceed. A new screen showing the available backed-up files will appear. Head to where you have Videos on the left sidebar, and click on it.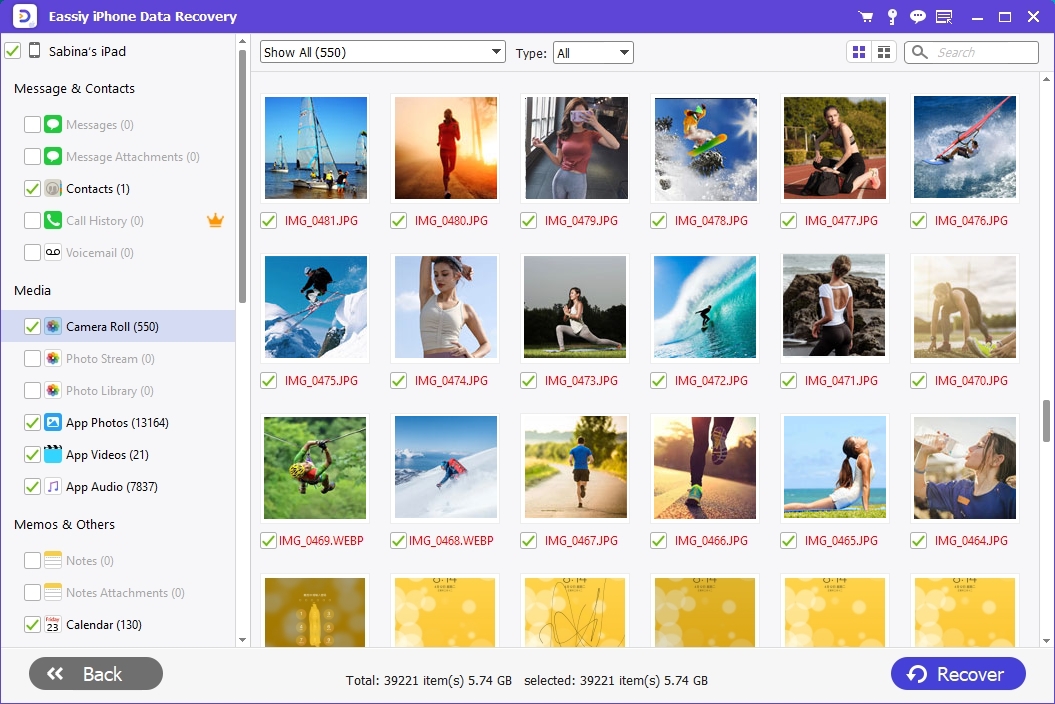 Once done, select the videos to recover from iCloud and choose a destination path to export the data.
Note: Eassiy also supports recovering data files from the device and iTunes. It allows you to retrieve data without stress selectively.
Part 3. 5 Other iCloud Video Recovery Software
Aside from the Eassiy iCloud recovery software, what other tools support recovering lost or deleted video files from iCloud? If you ask the question above, the list below is worth checking out. So read on to see the five (5) other powerful software programs capable of retrieving videos from your iCloud storage unit.
1. Tenorshare UltData
Tenorshare UltData is another excellent data recovery solution capable of retrieving iCloud video clips. It recovers iCloud videos lost due to any scenario. So whether you accidentally deleted the file or not, Tenorshare UltData will help you bring it back. This software works with nearly all iOS models and retrieves over 15 data types. Besides iCloud, Tenorshare UltData can also recover deleted data from your iDevice and iTunes just like Eassiy does. It's capable of maintaining users' data. However, the only challenge is the slow data recovery process. Tenorshare UltData spends so much time recovering both small and large-sized data files.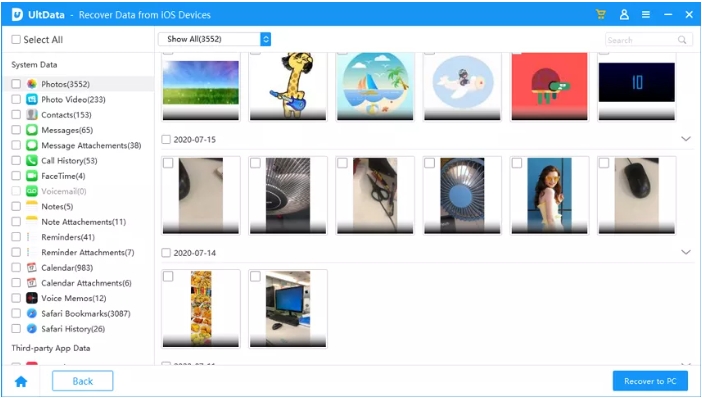 Pros
Capable of retrieving lost or deleted iCloud video clips from any iOS mode.
It enables you to retrieve data files like calendars, photos, videos, emails, and more.
Cons
Slow data recovery speed.
Recovers limited iOS data files.
2. Enigma Recovery
Enigma is a well-known data recovery solution with impressive features suitable for retrieving deleted iCloud backup data files. The software recovers iCloud videos of any size within the shortest possible time. It recovers over 10 data types without iOS version limitations. Enigma enables you to retrieve your data whether you run your device on an older operating system or the newer one. It's one of the most powerful tools to try out on this list.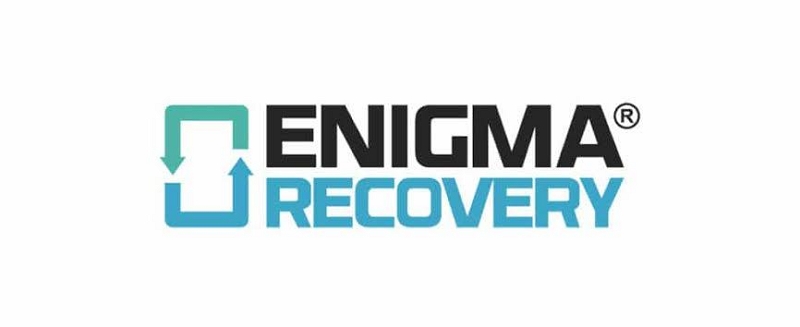 Pros
Enigma is available in Windows, Mac, and iOS versions.
Users have access to a 14-day trial plan.
Offers a 30-day money-back guarantee, so users that aren't satisfied with the service can get their funds.
Cons
The free version permits you to retrieve a maximum of 5 deleted files and 20 existing ones.
Enigma isn't capable of retrieving WhatsApp data unless you've backed it up to iTunes or iCloud in the past.
3. EaseUS MobiSaver
Here is another lifesaving tool you can employ to retrieve your iCloud video files. EaseUS MobiSaver is one of the most effective data recovery solutions that offers top-notch services. It's loaded with unique features like the support for over 10 iOS data types, the capability to retrieve data lost due to any scenario, and more. Besides iCloud data recovery, EaseUS MobiSaver would come through if you wish to retrieve data from your iDevice or via iTunes backup. This tool can retrieve data from your social media account, such as WhatsApp, Kik, and more.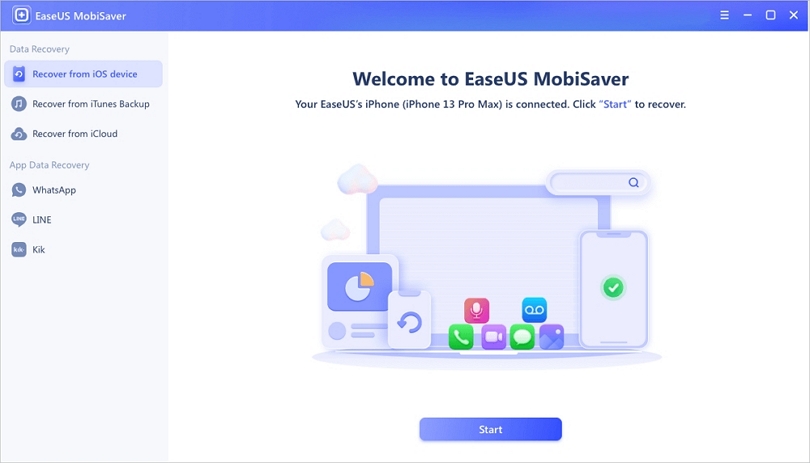 Pros
EaseUS MobiSaver allows you to recover iCloud video data files without hassles.
Simple interface with excellent results.
It supports 3 data recovery modes [iTunes, iCloud, and from the device]
Cons
You cannot use it to retrieve data on the latest iOS versions, including iOS 14 and 15.
Suitable for retrieving a few data types.
4. Stellar Data Recovery for iPhone
Stellar is an all-in-one data recovery program that retrieves deleted or lost data files from any iOS mode. It should be your option if you are looking for an effective tool that recovers data via iCloud, iTunes, and the device itself. It's an easy-to-manage data recovery system with high functionality. Stellar can retrieve 14+ files, including recovering deleted WhatsApp and Kik data files. The supported files are photos, audio, video, calendars, messages, and lots more. You can also use it to wipe or erase unwanted files from your device. However, you have to migrate to the Toolkit version.
Pros
Users are provided with a simple working interface that enables them to work smoothly without involving a third party.
Stellar performs deep scanning on your iDevice before recovering your lost or deleted files.
Cons
There's no option to preview the lost or deleted files before retrieving them to your iDevice.
Stellar has a limit on the number of iDevices you can recover data to.
5. Aiseesoft FoneLab
The last data recovery solution on this list is Aiseesoft FoneLab. This software program used to be the best iPhone data recovery software before now, and that's because it recovers data seamlessly without damaging the user's existing data. However, recently, there has been low demand because of the complex user interface and limited features. Aiseesoft FoneLab supports over 8 data types you can retrieve to your iDevice. You can use it for data recovery from social media platforms like LINE, WhatsApp, Kik, etc.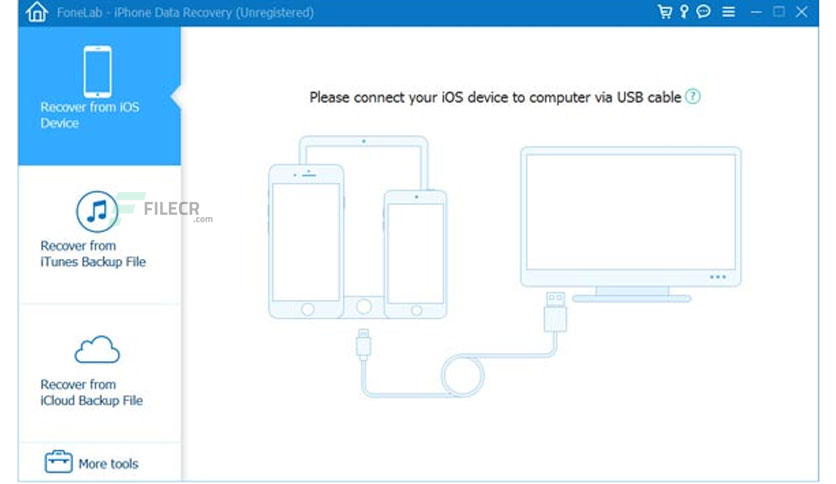 Pros
Aiseesoft FoneLab allows users to retrieve data in three (3) ways; from the iDevice internal disk, iCloud, and iTunes backup.
Permits you to export retrieved data to your device.
Compatible with all iDevice models, including the iPhone 13 series.
Cons
Aiseesoft FoneLab can only retrieve 8 data types.
Users on the free version can only access limited features.
Part 4. Recover Deleted Videos from iCloud.com
For folks who don't want to use a data recovery software program to retrieve videos from iCloud, you can try retrieving them via iCloud.com- an online service where iCloud backup files can be easily accessed. Retrieving your lost or deleted videos via this option is pretty easy. However, you must bear in mind that this solution depends solely on the data connection. Also, the Apple server's downtime can restrict your website access. To recover your videos from iCloud via iCloud.com, apply the procedure given below:
Step 1: Launch iCloud.com on your iDevice, enter your Apple ID and password correctly, and hit the Sign-in button to access your profile.
Step 2: Select Settings on the next page that appears. Now scroll down to the Advanced section, and click Restore Files.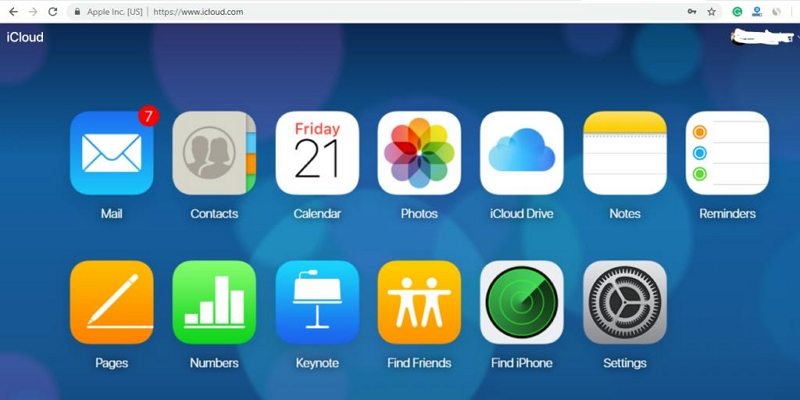 Step 3: Next, mark the checkbox next to the files you want to recover. Better yet, you can click on Select All to restore all the backed-up data on iCloud.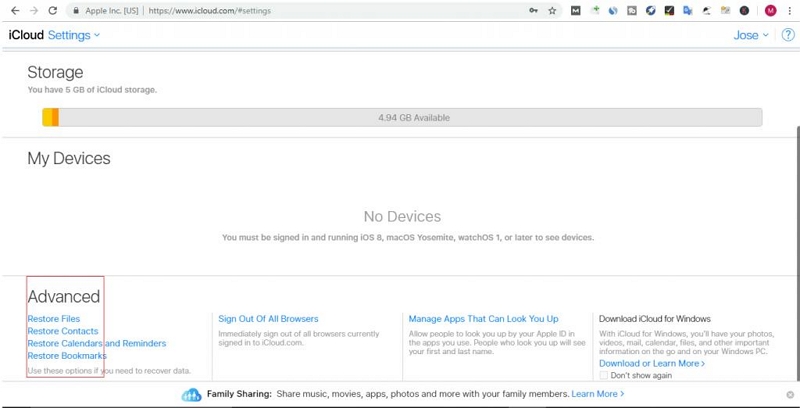 Step 4: Lastly, click on the Restore Files button. The selected files will be restored to your iDevice in a few minutes or hours, depending on the data size.
Part 5. Recover Deleted Videos from iCloud without Computer
Without your computer, you can recover deleted photos from iCloud. There are no expenses required. You can perform the operation directly from your iPhone. Follow the stepwise guide below to do that:
Step 1: Open the Settings app and tap on the General icon.
Step 2: Head down to the bottom of the next screen that appears and select Transfer or Reset iPhone. Click on the icon and tap on Erase All Content and Settings.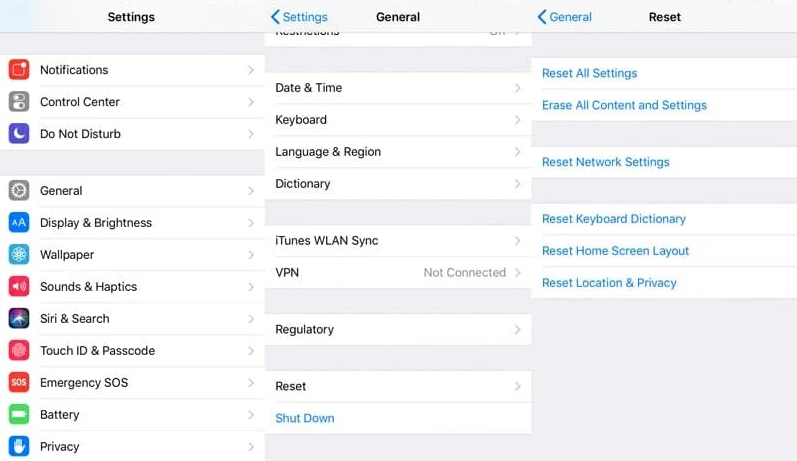 Step 3: Provide the passcode to unlock your iDevice on the next screen to erase your device completely. Once done, your iPhone will come up. Kindly set up your device following the instructions provided on the screen.
Step 4: Fast Forward to when you get to the App and Data page, select Restore from iCloud Backup, enter your Apple details correctly and choose the backup file to recover from. Once done, your data will automatically return to your iDevice.
Conclusion
With the guide above, iCloud videos are easy to find, whether permanently or temporarily deleted. The guide contains 6 powerful tools that you can use to retrieve your lost or deleted iCloud data files. In addition, we added other techniques to recover iCloud data with or without a computer. Select one of them to recover your iCloud data today. Remember, our best data recovery solution from the list is Eassiy iCloud data recovery software. The software is known for excellent performance as it often recovers data without compromising the user's data files. It's simple, fast and reliable.