Even crucial files are not always sufficiently protected from deletion by mistake. And the situation can seem so hopeless if they were erased and your Recycle Bin was cleaned out before you discovered they were gone! Eassiy and EaseUS, both of them are incredibly powerful program that everyone seems to be immensely pleased of, can thankfully restore erased files and even lost partitions. To assist you in choosing the finest data recovery for your iPhone, we've included a thorough comparison of the Eassiy iPhone Data Recovery and EaseUS iPhone data recovery software in this article. Let's begin our evaluation so you can choose which of these tools will help you recover your data.
Eassiy iPhone Data Recovery leads the industry in terms of supported file formats with its support for over 36 different file types. You can quickly, effectively, and properly load your file using Eassiy's 3 recovery techniques from iOS devices, iTunes backups, and iCloud. The majority of photo and video data recovered from iOS devices comes from Eassiy iPhone Data Recovery. Eassiy is a trustworthy, efficient, cost-free data recovery program with a variety of useful features. Below, we'll thoroughly contrast the two widely used iPhone data recovery apps, Eassiy and EaseUS iPhone Data Recovery, and show why Eassiy is the superior choice for quickly and securely retrieving your data.
Part 1: Features comparison
We'll compare the pros and cons of Eassiy iPhone Data Recovery vs EaseUS iPhone data recovery in this post and conclude that Eassiy is the better choice for your iPhone since it has a wonderful graphical interface, a greater success rate, and is consistent and user-friendly. So continue reading to discover which method you ought to use for your iPhone data recovery!
Recovery rate: Eassiy has almost the highest recovery rate which is industry-leading for restoring iPhone photos and videos. Because EaseUS has a successful recovery rate of 90% to 99.7%, Eassiy is the best substitute.
Supported Files: Eassiy supports up to 36+ files, making it the industry leader in supported types of files in comparison to EaseUS, which supports different kinds of file, including contacts, messages, photographs, videos, WhatsApp, Viber, notes, etc. Eassiy is without a doubt the greatest software to use if you're wanting to restore your data.
Compatibility: Eassiy iPhone Data Recovery is the best available since it has the highest level of compatibility on the market, while EaseUS is somewhat limited by that function. Eassiy supports iOS 16, 15, 14, 13 and all the latest iOS versions and devices including the old ones but EaseUS doesn't supported all the versions or devices.
User-friendly: Whether users are experts or beginners, Eassiy offers a user-friendly interface for all of them. While EaseUS iPhone Data Recovery presents more of a challenge for novice users.
Secure Recovery: On Eassiy, personal information is never shared because it is completely secure. On the other side, because to its low recovery rate, EaseUs iPhone Data Recovery only provides secure recovery to a limited extent.
Recovery speed: Eassiy can scan 1,000+ deleted photos and videos in a matter of seconds, in contrast to EaseUS iPhone Data Recovery, which takes a while to recover the needed data. EaseUS can never recover so much data in such a short time.
Restore selectively: Data recovery is simpler and more effective with Eassiy and EaseUS iPhone Data Recovery since you can choose and choose the precise data you want to recover.
Both EaseUS iPhone Recovery and Eassiy iPhone Data Recovery offer a ton of functionality in their iPhone data recovery software. But Eassiy iPhone Data Recovery wins when it comes to recovering data from either of these sources. Eassiy lowers tension, offers you a lot more features and alternatives, and is rapid and effective.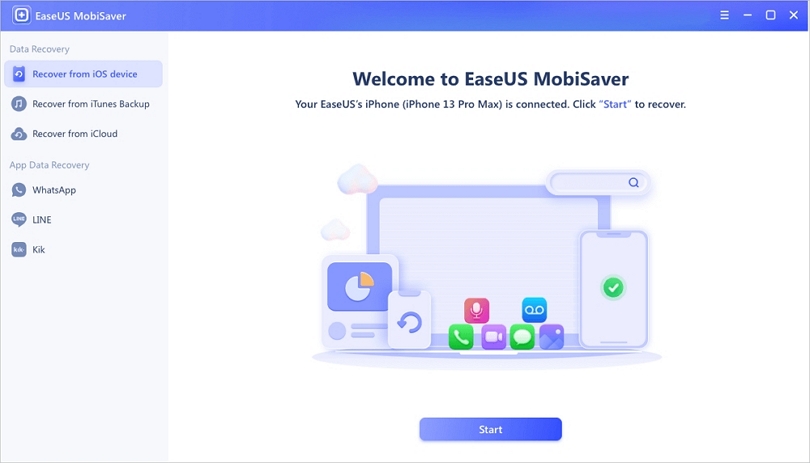 Part 2: Performance
We put Eassiy and EaseUS iPhone Data Recovery Software to the test in order to assist you in making the best decision. Our ability to compare them allowed us to discover some astounding information. Continue reading to find out more about these amazing facts!
All of the images retain their original quality, and both of these programs, Eassiy iPhone Data Recovery and EaseUS iPhone Data Recovery, can accurately read every text message. In comparison to EaseUS, Eassiy has a higher data recovery rate, making it more user-friendly and convenient for users. Furthermore, Eassiy offers more than 36 file types, whereas EaseUS iPhone Data Recovery merely supports various file types. Because it rescues data more quickly than EaseUS iPhone Data Recovery, Eassiy is more practical and user-friendly.
With just a fast scan, Eassiy and EaseUS can both recover recently deleted data. In a matter of seconds, Eassiy detects up to 1000+ deleted pictures. The files can be copied to the desktop or restored to the device using one of the two platforms after being found. The goal of Eassiy iPhone Data Recovery is to be the one-stop solution for recovering your stolen and sensitive data. In many scenarios, Eassiy iPhone Data Recovery tool has successfully recovered up to 99% data but EaseUS iPhone Data Recovery tool was unsuccessful many times. It even got to recover 70% to 90% data in easy scenarios.
We tested both tools with 1800+ images, songs, videos, texts and documents that was lost from an iPhone. Eassiy showed great performance against EaseUS iPhone Data Recovery tool. The whole recovery process took less than 10 minutes for Eassiy iPhone Data Recovery tool but EaseUS took more than 20 minutes for this.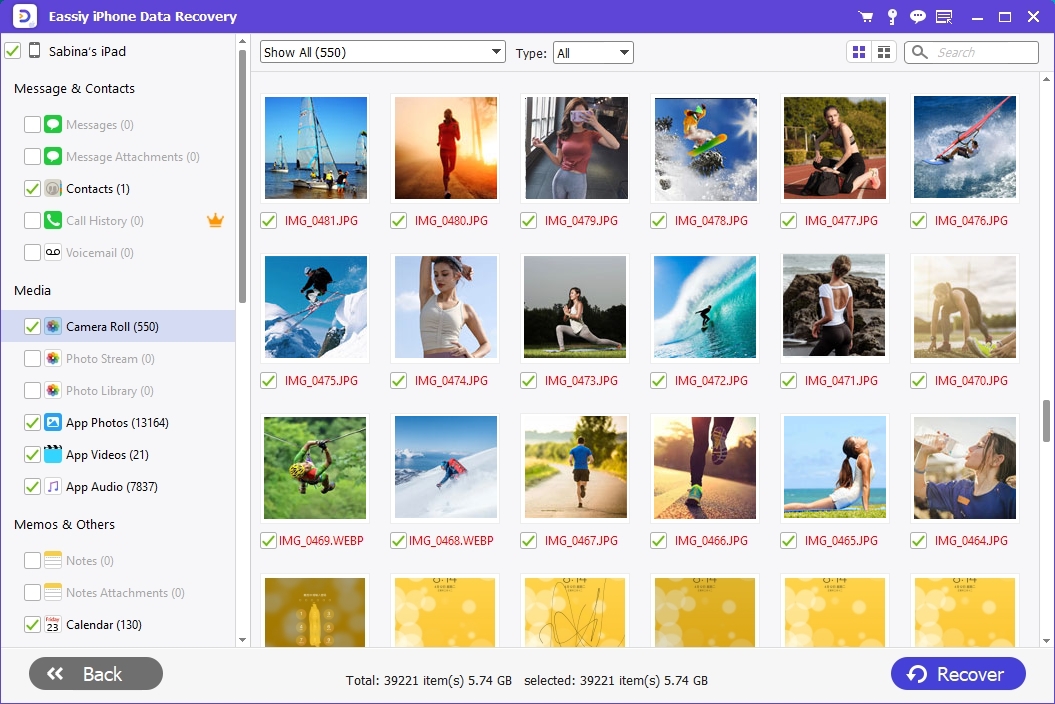 Part 3: Scan speed
Do you wish to know how quickly a device may be scanned by the Eassiy and EaseUS iPhone Data Recovery software? Or maybe you wish to use a software scan velocity characteristic to select the best program?
Our test of scanning 1800+ images, songs, videos, texts and documents shows that Eassiy can scan all the data within less than 5 to 10 minutes at most, but EaseUS takes 15 to 20 minutes. Sometimes EaseUS takes more time as well!
Eassiy's is easier to navigate and analyzes records more efficiently than EaseUS iPhone Data Recovery Software, which can scan 1,000+ deleted photographs in just these few moments. It is designed to walk any computer system through the process of recovering data from an iPhone in just three simple steps: immediate connect, quick scan, and successful recovery. It offers the highest industry average data recovery rate for salvaging videos and photographs from iOS devices.
On the other hand, EaseUS iPhone Data Recovery scans slowly, discovers photographs slowly, and then provides you with the required file. With this program, you can retrieve any kind of data file that was stored on an iOS device. EaseUS for iOS can restore data that was backed up using other programs when in iTunes Backup mode. But for EaseUS, the process is long due to the 97.5% recovery rate. Additionally, you don't need to enter a passcode to access data from third-party apps that was restored from iTunes and iCloud backups on your iDevices. Before the erased data is recovered, a preview is provided so that the necessary data can be chosen.
Part 4: Compatibility
Thanks to the innovative and skilled Eassiy iPhone Data Recovery and EaseUS iPhone Data Recovery tool software, consumers of Apple devices can quickly and easily extract any deleted information. What about the software' compliance characteristics, though? Are both of these philosophically aligned with the newest iOS version?
Yes, Eassiy and EaseUS are both fantastic options for customers as their software is accessible on both Windows and Mac systems and is compatible with essentially all iOS gadgets and platforms, in response to your inquiry.
If we are only talking about Eassiy, it can assist you in recovering all of your personal information from latest iOS 16, iOS 15, iOS 14, iOS 13, iOS 12.3, iOS 10.3, iOS 10, iOS 9, and older iOS versions that have been accidentally deleted, upgraded or downgraded, stuck hanging, damaged by water, malware, unsuccessful jailbreak attempts, and factory reset.
If we are only talking about EaseUS, it can assist you in recovering all of your personal data from iPhone 13/mini/Pro/Pro Max, iPhone 12/mini/Pro/Pro Max, iPhone 11/11 Pro, iPhone X/XS/XR/XS Max, iPhone 8/8 Plus, iPhone 6/6s/6 Plus, iPhone 5/5s/5c, iPhone 4/4s, iPhone 3GS. This software can support iPad or iTouch as well.
Part 5: Successfully recover rate
The most disheartening feeling imaginable is losing crucial data from your iPhone or iPad, including cherished contacts, priceless images, movies, videos, messages shared through applications, notes, and other things. Since they are great at recovering a variety of data quickly, Eassiy iPhone Data Recovery and EaseUS iPhone Data Recovery are often utilized. The success rates of these two software packages in terms of data recovery may now be something you're interested in knowing.
The user-friendly Eassiy interface can quickly search through 1,000+ deleted photos thanks to a faster scan speed. The highest iOS devices and the highest market recovery rate for photos and videos. Thanks to its 3 methods for recovering iPhone data without any data loss and highest recovery rate, Eassiy is the top in the industry for supported file formats. However, EaseUS is a world-renowned software company that specializes in disk management, data backup, and recovery. But it doesn't provide so much accuracy in successful data recovery all the time. Though both software is world renowned but EaseUS has disappointed us when we tested it to recover data in different circumstances with 1800+ images, songs, videos, texts and documents. It was unable to recover all the data most of the times. But Eassiy has recover more than 95% data every time! Whereas, EaseUS iPhone Data Recovery has failed to recover more than 70% to 80% data most times. Sometimes it stopped during the recovery process and we had to start from the beginning. So basically, according to recovery rate, Eassiy iPhone Data Recovery is better.
Part 6: Prices
Read the details below to find out more about the pricing of these two programs.
3 plans are available from Eassiy: the quarterly plan costs $45.99, the annual plan costs $49.99, and the perpetual plan costs $79.99 with savings. The yearly plan, offering accommodates a maximum of six devices and 1 PC and provides auto renewal and a year of free upgrades, is the most preferred budget package. If you have the perpetual plan, you can use everlasting privileges.
EaseUs MobiSaver offers a single license for one PC for $59.95, and there is a lifetime upgrade option, which is expensive for users. The annual plan will cost you $79.95 /year supporting up to 5 iOS devices and 1 computer. The Lifetime upgrade plan costs $99.95 for one-time payment.
Part 7: Comparison Table
This thread will compare EaseUS iPhone Data Recovery with Eassiy iPhone Data Recovery in-depth. Here is a straightforward comparison table:
Eassiy iPhone data Recovery

EaseUS iPhone Data Recovery

Rate of recovery

95% to 99% (according to our test)

70% to 90% (according to our test)

User-friendly

appealing user interface

moderate interface

Supported file types

36+ file types supported

Different kinds of file

Scan speed

Quick, scan more than 1000 files in one second

Long process

Compatibility

Mac and Windows OS operated PC.
The iOS 16, iOS 15, iOS 14, iOS 13, iOS 12.3, iOS 10.3, iOS 10, iOS 9, and older iOS versions with iPhone, iPad and iPod touch all models.

The iPhone 13/mini/Pro/Pro Max, iPhone 12/mini/Pro/Pro Max, iPhone 11/11 Pro, iPhone X/XS/XR/XS Max. (including iPad and iTouch models)

Place

Industry-leading in recovery

Well positioned

Selectively restore

Supported

Supported

Price

Plans with discounts are $45.99/quarter, $49.99/year, and $79.99/lifetime.

$59.95/month, $79.95/year and $99.95 for lifetime upgrade with pro version.
Part 8: FAQ
1. Is EaseUS Data Recovery Wizard safe?
A promising data recovery program that can instantly restore files to your device in usable formats is EaseUS Data Recovery Wizard. The EaseUS Data Recovery Wizard is a dependable user interface that successfully recovers all of your data from your device after it has been lost or corrupted.
2. Can you recover data from iPhone using EaseUS iPhone Data Recovery?
Data recovery from iTunes or iCloud backups is supported by EaseUS MobiSaver for iOS users. However, it may be important to recover data from iOS devices if you don't have backups or if they don't contain the lost data.
Conclusion
Patient history, office hiring registers, school documents, or even just a list of phone numbers could be considered to be your important information. It could cost you a lot if you manage to lose your crucial information. Due to high demand, we are happy to present Eassiy and EaseUS iPhone data recovery programs, both of which are excellent at swiftly obtaining a variety of data.
But it should be highlighted that Eassiy iPhone Data Recovery is the industry leader in recovering photos and videos since it is crucial to use software with a high rate of recovery. Because it dominates the software market and functions more quickly than EaseUS iPhone data Recovery program, Eassiy is the finest substitute. All of your lost or deleted personal data can be recovered using Eassiy iPhone Data Recovery. Whether it be a failed jailbreak, a factory reset, a lost or stolen item, a jammed hanger, water damage, malware assault, etc. What do you think? In the space provided below, kindly provide your feedback.