Have you ever unintentionally lost your iPhone contacts, text messages, images, or other crucial data and experienced intense sadness or helplessness? If the response is affirmative, I advise you to use the TunesKit iPhone Data Recovery, which will undoubtedly solve your problem. A well-known and highly effective iPhone data recovery tool, TunesKit iPhone Data Recovery, was created to recover all of your lost data in a variety of challenging situations. The fastest speed of restoring lost and deleted files on iPhone, iPad, and iPod touch is what sets TunesKit iPhone Data Recovery apart from all other iOS data recovery options.
Is anyone safeguarded against data loss brought on by virus attacks, accidental deletion, and similar events? Unambiguously, the answer is no. Inadvertently breaking your iPhone, trying to update the software, or attempting to reset the device to factory settings only to discover that doing so may result in data loss are all possibilities. But TunesKit iPhone Data Recovery can fix up to 20 different types of data files. This trustworthy program also gives the ability to easily recover all lost data from any iPhone, iPad, and iPod touch devices and has broad compatibility with the most recent iOS 16. We will provide you access to our most excellent Eassiy Data Recovery, which is a fantastic option, in addition to giving you a thorough evaluation of TunesKit Data Recovery for iPhone in this article. So keep reading this article!
Part 1: Is Tuneskit iPhone Data Recovery Safe?
Are you concerned that your iOS/tvOS repairs would cause data loss? Not to worry! You won't ever run the risk of losing any data on your iPhone, iPad, iPod touch, or Apple TV when using TunesKit iOS System Recovery. It will fix the iOS system problems without affecting or disclosing any of your personal information already stored on the device.
In terms of privacy and data loss, data recovery is a very delicate operation. Because of this, you should only let reputable software programs handle your device. For me, TunesKit has shown to be a dependable solution. It functions properly with my devices and is simple to use.
TunesKit iPhone Data Recovery is a completely secure program that won't harm your iOS device in any way. By choosing iPhone data recovery mode, scanning and previewing the lost data, then choosing and recovering the necessary files, you may restore all of the lost data to your iOS devices in just three easy steps.
With no risk of data loss, TunesKit is carefully designed to assist iOS users in resolving various system difficulties. It can quickly fix a variety of iTunes difficulties, iPhones stuck updating, blank screens, boot loops, and other issues. The fact that there is no chance of data loss makes TunesKit the most cutting-edge feature. TunesKit iPhone Data Recovery, the most effective data recovery tool for iPhone, can recover up to 20 different types of lost data from your iOS devices.
Part 2: Features of TunesKit iPhone Recovery
Utilizing 3 intelligent recovery modes, TunesKit iPhone Data Recovery's most cutting-edge data recovery technologies enable you to recover all erased data. To the users, we will be outlining each feature and their amenities:
Quick recovery time - Recover all data with the moderate success rate, even from encrypted backups.
Complete iOS support: It is compatible with iPhone, iPad, and iPod touch as well as the most recent version of iOS, iOS 15.
Adaptable Recovery - Recover missing files from a variety of data loss situations, and you can select to recover all or only a portion of the missing data. Recover missing files from 20+ different types of deleted data files.
Support for encrypted backups - To recover lost data, decrypt encrypted iTunes or iCloud backups. You can then preview and decide which data to restore.
Completely secure recovery - During the recuperation, your privacy and data are very well safeguarded. No data on your iOS device will be overwritten when you save and export data as CSV or HTML.
Free advancement - TunesKit iPhone Data Recovery supports all current and future versions of iOS and macOS as well as lifetime software upgrades.
Simple structure - The data recovery process is considerably simpler than ever with TunesKit iPhone Data Recovery's clean style.
Fast support - After contacting the TunesKit Support staff, you will receive a prompt response.
Part 3: Pricing Details
TunesKit iPhone Data Recovery is a 100% safe app that won't cause any damage to your iOS device. Anyone who wants to recover data with TunesKit iPhone data recovery is able to do so using the trial version.
The plans from TunesKit iPhone Data Recovery, which start at $59.95 and function on 5 devices and 1 computer, must be purchased after the trial version, though. The most popular package costs $69.95 and has an auto-renewal feature. It can be used on up to 5 devices and 1 computer. It is also possible to purchase the Lifetime version for a one-time cost of $99.95.
With TunesKit iOS System Recovery, you can instantly resolve any typical iOS/tvOS issue on your own without visiting an Apple technical professional.
Part 4: Compatibility
Users of Apple devices can easily and rapidly recover any lost data using the clever and skilled TunesKit iPhone Data Recovery program. What is TunesKit's compatibility range, though? Is it actually compatible with the most recent iOS version?
TunesKit iPhone Data Recovery for Windows is highly regarded for its strong ability to recover all data types on iPhone/iPad/iPod touch losslessly as well as its full compatibility with a variety of iOS devices running the most recent iOS 15, including the iPhone 13 Pro Max, iPhone XS, iPhone 8, iPad 4, iPad Pro, iPad Air, iPod touch 5, and more.
With the help of the clever and skilled TunesKit iPhone Data Recovery tool, you can access recovery mode, exit recovery mode, fix a black screen or an Apple logo that is stuck, fix a boot loop, etc.
Part 5: Best Alternative: TunesKit iPhone Data Recovery Review
You might have trouble using the TunesKit iPhone data recovery tool, or perhaps the TunesKit mobile application is giving you issues and bugs. On rare occasions, error messages could show up, the program might freeze, or both. Right now, you're looking at alternative options. There are many comparisons between TunesKit iPhone Data Recovery and Eassiy iPhone Data Recovery because both programs excel at quickly recovering a range of data.
The best choice in this article is "Eassiy iPhone Data Recovery," which will both help you find the needed data and reduce your worry. Eassiy iPhone Data Recovery, which is the most incredible program, allows you to recover your 36+ different sorts of files in only three simple steps. It can restore more than 1000 different file types in their original quality.
In order to recover lost data as soon as possible or with the best chance of success, you can choose between a quick scan and a deep scan depending on the circumstances. Eassiy iPhone Data Recovery No matter how your iPhone data was lost due to a mistakenly deleted file, a system crash, external damage, or any other scenario. Eassiy iPhone Data Recovery is the best solution to help you get out of this hassle.
Key features:
The greatest data recovery rate as compared to rivals.
Various approaches of dealing with data loss
Data loss-free recovery of more than 36 different file types.
Get to information stored in iCloud, iTunes, and your iPhone.
Instantly search through more than 1000 deleted photos.
The finest substitute for TunesKit iPhone Data Recovery, which makes it easy to recover your data on an iPhone, can be obtained by employing the techniques indicated below:
Step 1: Download and launch Eassiy iPhone Data Recovery
Eassiy iPhone Data Recovery, which is outstanding, can help you recover your lost data. To do this, you must install the most recent version of this software on your computer. Your iPhone and computer must be connected with a cable. Then, open the app, then select "Recover from iOS Device" to begin searching for lost data straight away.
Step 2: Start scan files
Click Start Scan button to scan your iOS device. Eassiy iPhone Data Recovery will scan all deleted and exited files on your iDevice.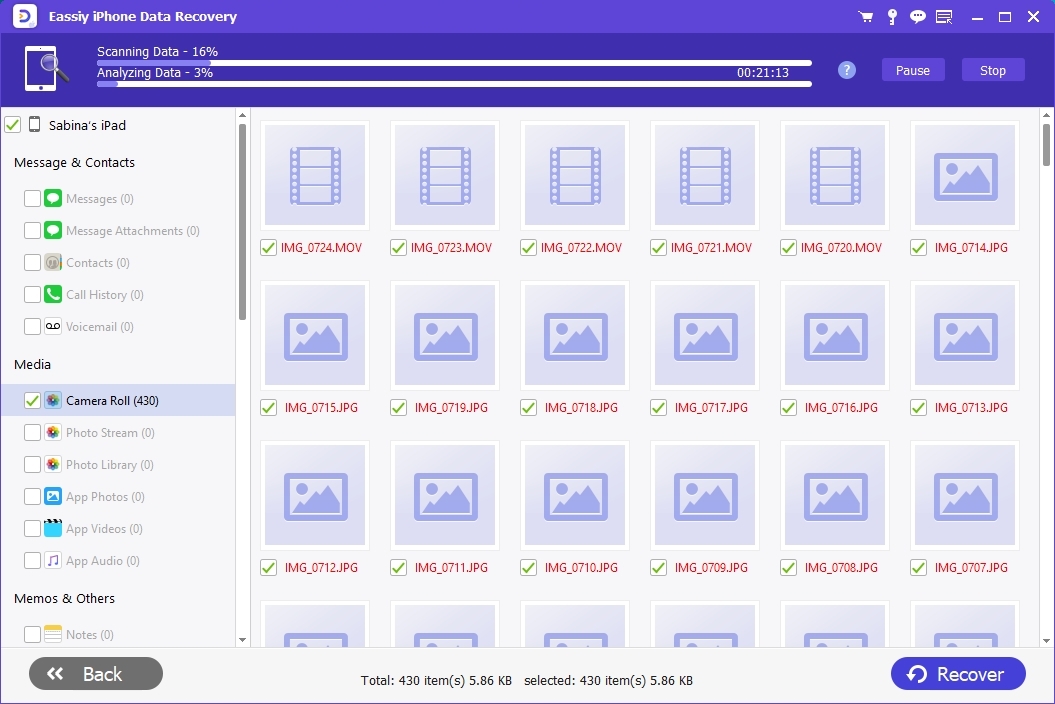 Step 3: Review and Restore Deleted iPhone Notes
Following the scan, a complete listing of the data on your iPhone will appear. Individual reviews are accessible for a variety of items, such as photographs, contacts, music, movies, and bookmarked pages. Select the appropriate file, such as "camera roll," to locate the crucial data that was destroyed. Finally, use the "Recover" button in the bottom right corner of your screen to restore your deleted iPhone photos and videos to your computer. Afterward, you may quickly recover the desired pictures or movies.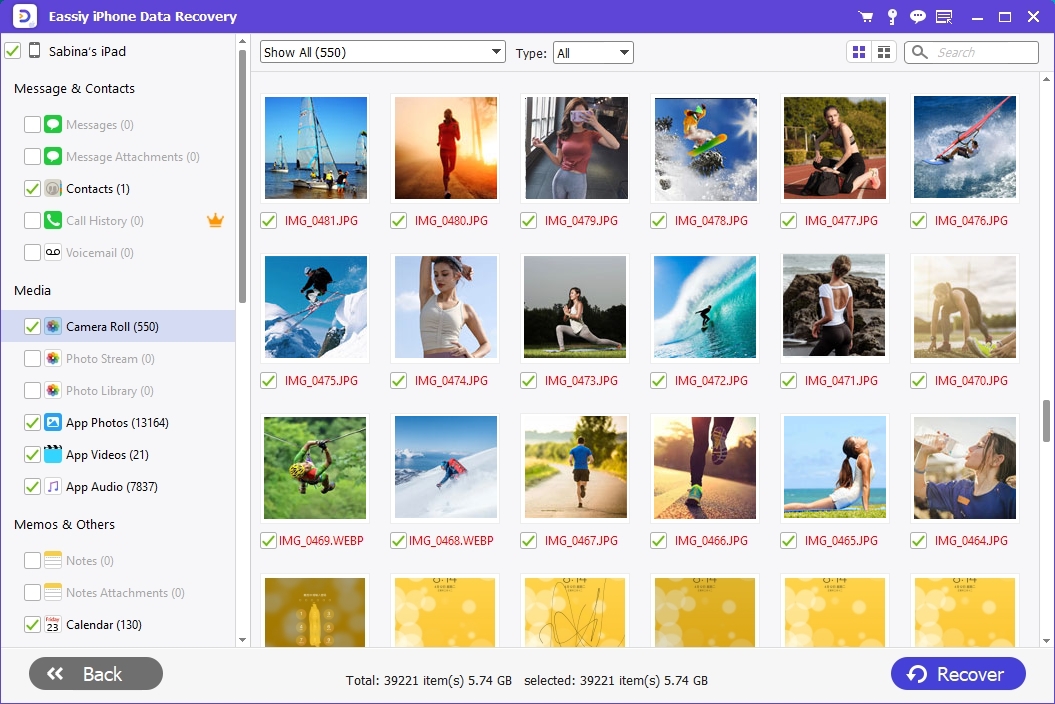 Eassiy, which can recover data from deleted or lost photographs as well as contacts, text messages, pictures, movies, bookmarks, calendars, call histories, and other objects, is your main tool.
Part 6: Comparison Table
The purpose of this discussion is to offer a detailed comparison of Eassiy iPhone Data Recovery and TunesKit iPhone Data Recovery. We are providing you a comparison table to check out the main points of both of these software's.
| | | |
| --- | --- | --- |
| | Eassiy iPhone data Recovery | TunesKit iPhone Data Recovery |
| Recovery rate | The highest recovery rate for photo and video | Fast recovery rate |
| Supported file types | 36+ file types supported | 20+ types of file |
| Scan speed | Quick, scan 1000+ files in a single second | Takes some time |
| Trial Version | Full- feature is available | Just two of the feature is available |
| Recovery mode | Three types of recover mode | Three types of recovery mode |
| Selectively restore | Supported | Supported |
| Secure data | Highest rate with secure connection | Offer's safe recovery |
| Price | $45.99/quarter | $59.95/month |
| Stability | High | Relatively less |
| Compatibility | Mac & Windows | Mac & Windows |
| Interface | User-friendty interface for non-users and novice | basic interface |
Part 7: FAQs
1. Does iOS recovery with TunesKit work?
A quick repair for problems like an iOS device stuck in recovery mode, DFU mode, a headphone phone, a white Apple logo screen, etc. is TunesKit iOS System Recovery. When it comes to recovering from server issues like failed iPhone upgrades and corrupted data, Tuneskit iOS system recovery software is quite effective. The fact that this software is accessible for both Mac and Windows, two of the most popular operating systems in the world, is its strongest feature.
2. What is TunesKit audio rapture?
TunesKit Audio Capture for Windows is a potent sound recorder that can capture virtually any sound that your computer's soundcard produces, including streaming music, live broadcasts, in-game sound, movie soundtracks, etc. through web players or browsers like Chrome, Internet Explorer, etc. It may also capture audio from other programs and media players, like RealPlayer, Windows Media Player, iTunes, QuickTime, VLC, and others. TunesKit will make every attempt to assist you in capturing any appealing songs, excellent radio streams, or other noises you might wish to record.
3. How can I use system recovery on an iOS device with TunesKit?
Open TunesKit iPhone Data Recovery on your computer, then connect your iPhone. Wait a short while until the application correctly detects your iOS device. Select the appropriate iTunes backup file to restore lost data from an iTunes backup. If you have an iCloud backup, you can also restore lost iOS data from that backup.
4. What Makes Recovery Mode Apart from DFU Mode?
Recovery Mode is typically launched as a failsafe in Boot when iOS devices are updated to the newest iOS version and refreshed.
All iOS devices can be restored from any circumstance using DFU Mode, also known as Device Firmware Update Mode. It couldn't be removed because it was a piece of the SecureROM stored in the hardware. It's important to note that when your device is in DFU Mode, any data stored on it will be deleted.
Conclusion
The worst thing that may happen is for your iPhone or iPad to lose important data including important contacts, irreplaceable photos, movies, videos, app messages, notes, and other files. In light of the demand, here comes iPhone data recovery software.
The irreversible loss can be turned into a temporary one with TunesKit iPhone data recovery for Windows. Almost all missing, lost, or deleted data files from your iPhone or iPad can be recovered with our intelligent recovery solution. TunesKit has three data recovery options that allow it to recover information from iOS devices, iTunes backups, and iCloud backups.
It should be noted, however, that Eassiy iPhone Data Recovery is the best alternative to TunesKit iPhone Data Recovery. You may put all of your trust in Eassiy to safely recover lost data, and you can be sure that it won't fail you down at this crucial time. TunesKit is a dependable solution in your hands because it can assist you in recovering 36+ types of data from various scenarios. Let us know what you think in the comments area below.