Because it enables you to keep track of a great deal of information for yourself, the Notes app is one of the most popular smartphone applications. You may use the Notes app as a traveler to jot down plans or list items that could interest you while you're away. If you are a teacher, you may store your lesson plans on it. If you are the kind of person who enjoys working out, you may use these Notes to plan out your workout program and nutrition. It does not matter what you have written down since it is possible to encrypt anything, even the spreadsheets you have prepared and the papers you have scanned in iOS 11 so that no one else can access them.
The Notes app on your iPhone provides a convenient place to save sensitive information such as medical, financial, or other personal data. Notes on the iPhone may assist you in encrypting your notes with a password so only you can access them. In addition, the iPhone and iPad also have a Touch ID function that may lock down a single note. This article will demonstrate how to secure notes on your iPhone or iPad so only you can access them.
The Notes app allows you to create a password or utilize Touch ID to prevent other people from seeing your notes in detail. In addition, you have the option to decode the message that is locked, but doing so is entirely up to you. For instance, while using Eassiy iPhone Data Recovery to recover lost notes, it will remind you that it is necessary to unlock the notes first so that you may follow this tutorial to repair the issue. If you want to open the notes, you can get them here.
Part 1: How to Protect Your Notes on an iPhone or iPad with a Password
You are in luck if this is your first time setting a password for all of the notes on your iPhone or iPad, as two different methods may assist you in protecting your privacy inside the Notes app. Because you are the only one who can establish the Password and the Touch ID, no one else will be able to check your notes without your express permission. Do not be hesitant; instead, check out the procedures outlined below to set a password for the Notes app.
Method 1: In the Settings menu, you may choose a password for the Notes app.
Step 1. Start the Notes app by going to the Settings menu on the homepage.
Step 2. To input any characters of your choice into the password space, tap the Password button.
Important: When entering the passcode, you must do it twice. In addition, if you are prone to forgetting things, we recommend setting up a hint for your Password so that you are not forced to change it after you have failed it repeatedly.
Step 3. Activating Touch ID will make unlocking your device and accessing its notes easier.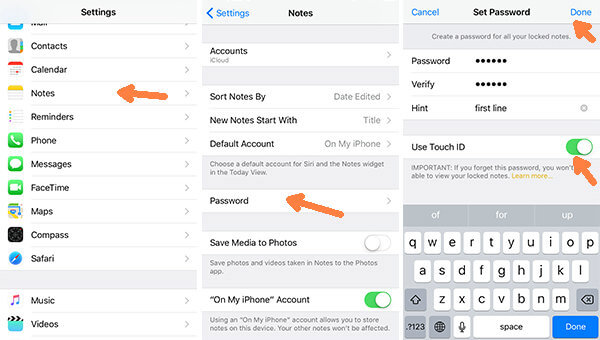 Method 2: Set Password in Notes App
Step 1. Proceed to the Notes app and choose a note from the list of available notes.
Step 2. Choose Lock Note from the pop-up menu after clicking the Share button.
Step 3. After that, provide the Password for each message. You are the only person who can decide whether or not to utilize Touch ID. However, utilizing your fingerprint may make the procedure easier.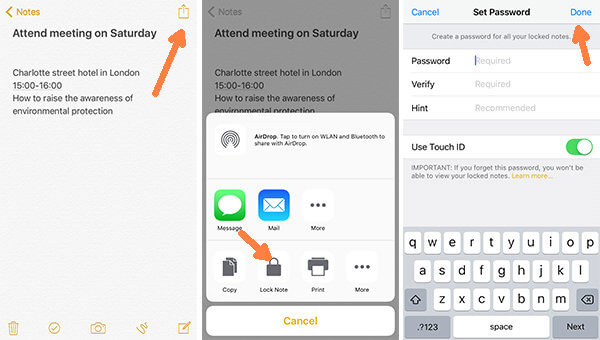 Part 2: How to Password Protect a Note on Your iPhone
You are permitted to lock particular notes, but you are required to use the same Password you have established for other notes if not all notes are accessible by others.
Step 1. Navigate to the Notes app and choose the most suitable note.
Step 2. Tap the Share button, then tap the Lock Note button. You may use Touch ID or enter the Password to secure that note.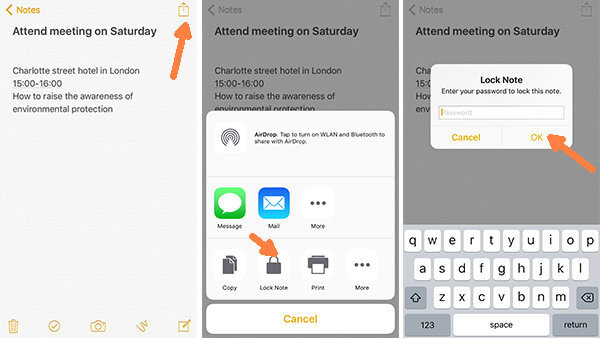 Step 3. A signal indicating that the lock applied to this note got implemented (see image below).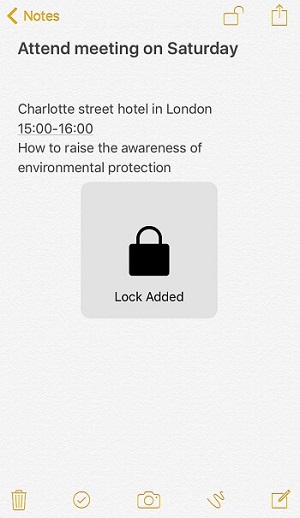 Part 3: How to Modify the Password for Your Notes Account
Please update the Password to your Notes whenever it becomes clear that your privacy has been compromised. In addition, the Password should be longer; nevertheless, you must first ensure that you have not forgotten it.
Start from Settings > Notes.
Choose the option to change your Password.
Enter the previous Password, then change it to a new one that requires two separate keystrokes. If the Password is complex, you should provide yourself with a clue.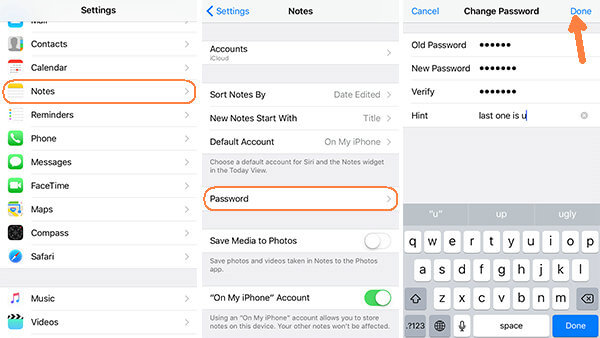 Part 4: The Secret of Opening a Note
Some of the locked notes may be no longer relevant owing to the passage of time; in that case, you may unlock them. You may review the message without restriction on your iPhone, or you can read it on your computer after scanning it with an application like Eassiy iPhone Data Recovery. This will allow you to unlock the note.
Step 1. To see a locked note, tap the note and then tap View Note.
Step 2. Use either your Password or your Touch ID to unlock the message. If you want to see a locked note, you will first need to unlock it using this method, and only then can you check it. The process is identical to that of removing the lock from a note.
Step 3. Proceed to the Share button, then at the bottom of the menu, choose Remove Lock.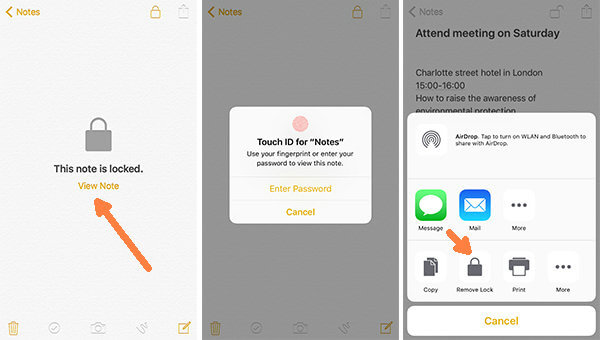 Step 4. When the words "Lock Removed" appear on display, it indicates that you have successfully unlocked the note.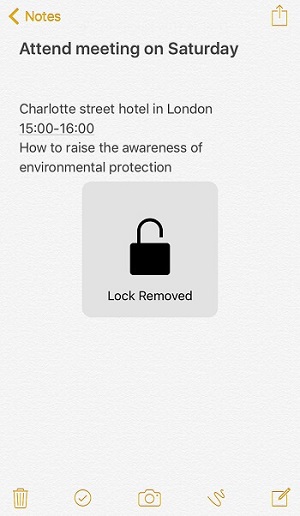 Part 5: Troubleshooting: I Forgot My Notes Password. How Does This Happen?
If you have established a password for Notes but have not used the app in a while, you may forget the Password. Using your Apple ID is, in point of fact, the solution to this problem.
Navigate to Settings, choose the Notes app, and select Password.
To change your Password, use the Reset Password option.
When the pop-up window appears, you must enter the Password associated with your Apple ID.
Following that, you will need to reset the Password using the clue, which is functionally equivalent to establishing the Password for the first time.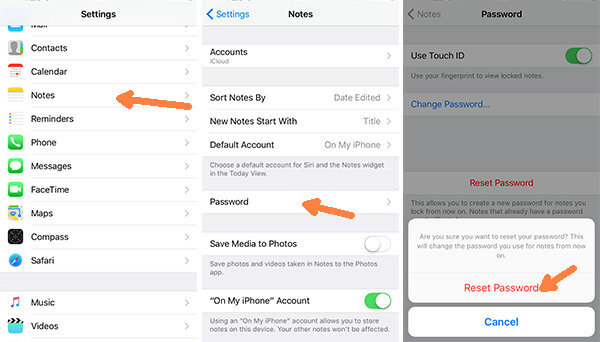 In addition, you may utilize Eassiy iPhone Data Recovery to recover notes from your iPhone, iPad, or iPod if you ever find yourself in a situation where you need to do so.
It can back up the data currently on your iPhone, iPad, and iPod, as well as any other things that got deleted.
Eassiy synchronizes your Messages, contacts, photographs, music, videos, Safari history, bookmarks, call logs, and other content to your computer, whether a Mac or a PC.
It allows you to examine and retrieve information from your iCloud backup on your local computer.
This software allows you to examine and restore files from your iTunes Library onto your computer.
Compatible with devices such as the iPhone X, 8, 7, 6, 5, 4, iPad Pro, and iPod, among others.
Using this app, you can effortlessly retrieve notes that got erased from your iPhone or any other iOS device.
This post's primary focus was on demonstrating how to lock notes. Thus, we hope this article taught you how to lock an individual note on your iPhone or iPad and lock all of your notes simultaneously. In addition, the post also provided you with some advice and instructions to help you reset, alter, or eliminate the Password for the notes lock screen.