We rely significantly on our smartphones to record and save our most treasured memories in the digital age. These moments are frequently captured in photographs, whether they are images of our loved ones or a stunning scenery. But occasionally, whether accidentally or because of technological difficulties, we lose our images and feel frustrated and powerless. Fortunately, with the advancement of technology, there are now various online photo recovery tools available that can help you recover your deleted photos.
Online photo recovery refers to the process of recovering lost or deleted photos from an online storage platform, such as cloud-based services like Google Drive, iCloud, or Dropbox. These services automatically backup your photos and keep them safe in case of unexpected loss or deletion. Additionally, online photo recovery tools allow you to recover photos from a range of devices such as Windows, Mac, and Android. It's important to use online photo recovery tools because it can save you from losing valuable photos that are not backed up elsewhere. In this article, we'll provide you with a comprehensive guide to the 9 best deleted photo recovery tools online in 2023 for Windows, Mac, and Android devices.
Part 1: Can You Recover Deleted Photos Online?
It's possible to recover deleted photos online, but it depends on several factors. If the photos were stored in a cloud-based service such as Google Photos, iCloud, or Dropbox, there's a chance that you can recover them from the service's trash or recycle bin.
However, if the photos were stored on your device's internal storage or a removable storage device like an SD card, recovering them online may not be possible. In such cases, you may need to use specialized data recovery software to recover the deleted photos. It's important to note that the success of photo recovery online or through software depends on several factors, including how long ago the photos were deleted, whether the storage device has been overwritten with new data, and the type of file format of the photos. It's always recommended to try to recover the deleted photos as soon as possible to increase the chances of success.
Part 2: Best 4 Photo Recovery Online
Cloud storage services can be a useful option for online photo recovery. These services allow you to upload and store your photos in a secure online location, providing a backup in case your local files are lost or damaged. Online photo recovery solutions are important because they provide a quick and easy way to retrieve lost or damaged photos.
Traditional data recovery methods can be time-consuming and expensive, requiring the help of a professional data recovery service. However, with online photo recovery solutions, you can often recover your photos in just a few clicks from the comfort of your own home. They allow you to access your photos from any device with an internet connection. This means that even if you don't have access to your original device or hard drive, you can still recover your photos as long as you have the login information for your cloud storage account.
1. Google Drive
Google Docs, Forms, and Calendar are all integrated with Google Drive. For everyone else, though, Google Drive is the slowest of all services to sync your data, has a limited feature set, and an unappealing user experience.
Google Drive allows you to automatically backup your images, and document previews are fairly speedy. Other than updating Google documents in Google's apps, the search features are poor, and there isn't much in the way of content creation. The 15 GB of free storage offered by Google Drive is slightly mitigated by the fact that Gmail uses up some of that space, which you will notice if you have a tendency to retain emails forever.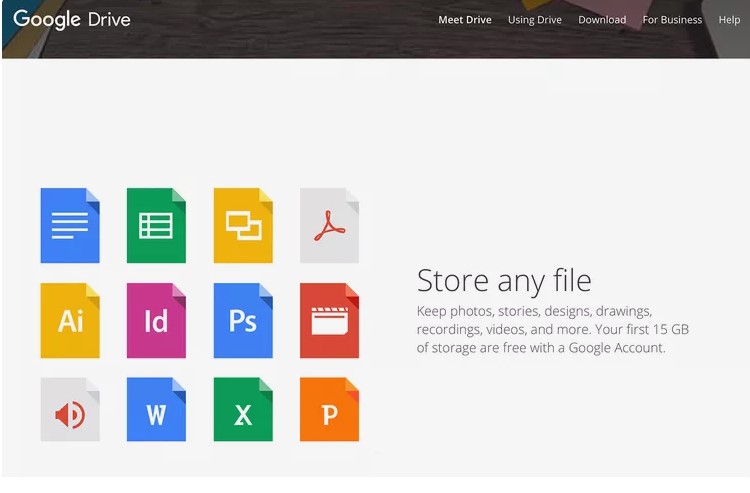 Pros:
You can access your photos from any device with an internet connection.
You can share your photos with others using a shareable link.
Offers a range of Google apps that you can use to edit your photos.
Cons:
Limited free storage space.
Other programs are required for document editing.
2. iCloud
The iCloud is a cloud storage service offered by Apple that allows you to store photos, as well as other files, in the cloud. It offers 5 GB of free storage space, with additional storage available for purchase. The iCloud service from Apple offers an optional function called iCloud Photo Library, which can automatically sync and save any photos and videos you take. It offers sync services for gadgets like Apple TV and is compatible with Photos for iPhone, iPad, and Mac. When you enable iCloud Photo Library, all photos and videos you've taken, screenshot, saved, or imported onto any of your iOS devices or Macs are uploaded to your iCloud storage space.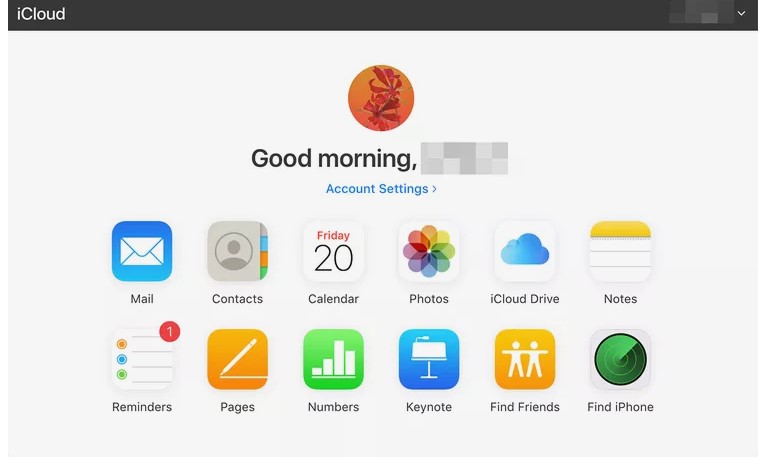 Pros:
Automatically uploads your most recent photos to the cloud.
Designed specifically for Apple devices.
Additional Features Are Included In The iCloud+ Package
Cons:
Internet connectivity is crucial for iCloud storage.
To use every iCloud+ feature, you require a lot of storage.
3. Dropbox
In 2008, Dropbox, a cloud-based file synchronization and storage service, was initially made available. It offers 2 GB of free storage space, with additional storage available for purchase. You may use the service to sync all of your local Dropbox folders between various devices and back up your stuff online. You can also just upload files directly to Dropbox's cloud storage if you don't want to use up local storage. Although these functions make up the majority of Dropbox's functionality, the service also provides supplemental advantages including collaboration tools and digital signatures.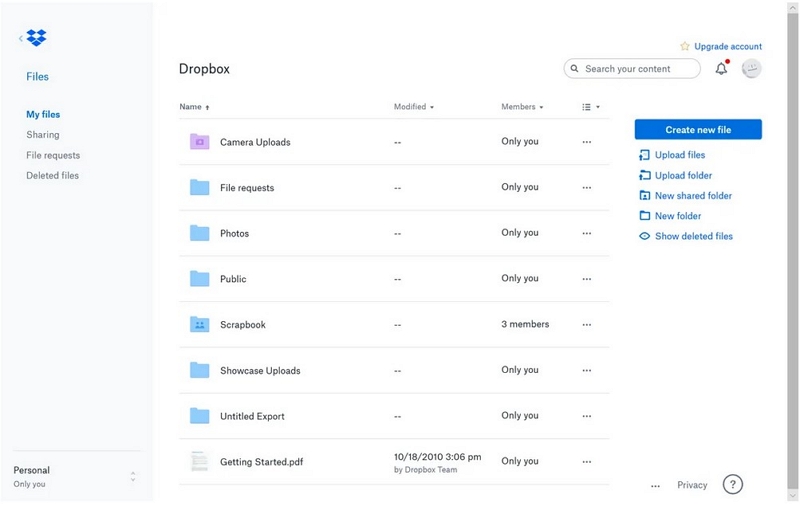 Pros:
Offers a range of third-party apps that you can use to edit your photos.
Enabling digital signatures; excellent app integration.
Automatic file synchronization and backup.
Cons:
Not specifically designed for photo recovery; lapses in security.
Reasonably pricey premium subscriptions.
4. OneDrive
OneDrive is a cloud storage service offered by Microsoft that allows you to store photos, as well as other files, in the cloud. It offers 5 GB of free storage space, with additional storage available for purchase. Word, Excel, PowerPoint, OneNote, and other Microsoft products all work perfectly with OneDrive. It also excels at marking up PDF documents without requiring the user to leave the app.
You can configure OneDrive to automatically backup your photographs and videos, much like Dropbox and a few other online services. With the exception of Microsoft files, loading previews for all files is quick. This is excellent when you want to alter the document, but it makes browsing documents much more difficult.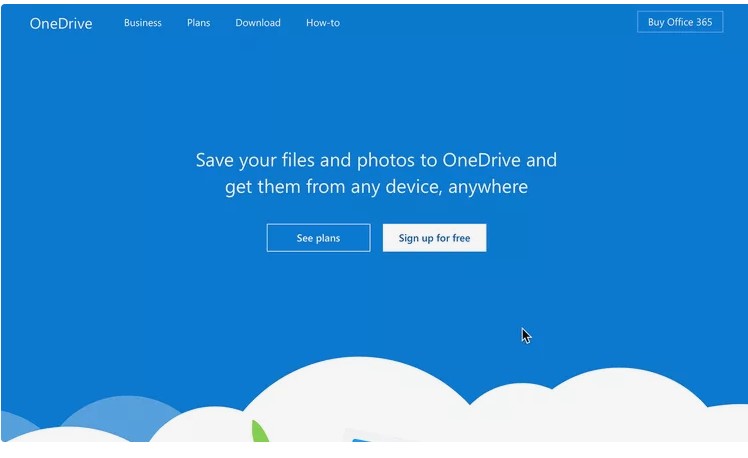 Pros:
Designed specifically for Windows devices.
Cheap paid plans; drag-and-drop assistance.
  File previewing built in; multiple account login.
Cons:
No sophisticated link-sharing choices.
Few parameters are programmable.
Part 3: Best Online Deleted Photo Recovery Software for Windows/Mac
Eassiy Data Recovery can quickly restore any deleted information stored on your computer or outward-facing media. It is capable of handling a variety of situations, including virus attacks, accidentally lost data, structure, disk loss, and system freezes.  It has the ability to recover data from more than 2000 different types of storage, spanning PCs, USB drives, SD cards, cameras, solid-state drives, SSDs, and more.Even non-technical people may use the software easily thanks to its attractive user interface. Both the Windows and Mac versions of OS are functional with Eassiy Data Recovery.
Main Features:
98.6% Accuracy Percentage with Deep Scan for Recuperating Maximum Files.
Extract information from more than 2000 storage devices, such as a computer, USB drive, memory card, digital cameras, hard disks, and SSDs.
Recover more than 1000 different file kinds, such as emails, documents, documents, and videos.
Both quick scan and deep scan are accessible scan capabilities.
Prior to recovery, you can examine recovered files using the software's preview feature.
To rapidly find the files you require, you can filter search results with this data recovery by file type, size, and date.
Even non-technical individuals may easily utilize the software thanks to its intuitive user interface.
Steps by step to recover data using Eassiy:
Step 1: Launch Eassiy Data Recovery and select the type of data you want to recover.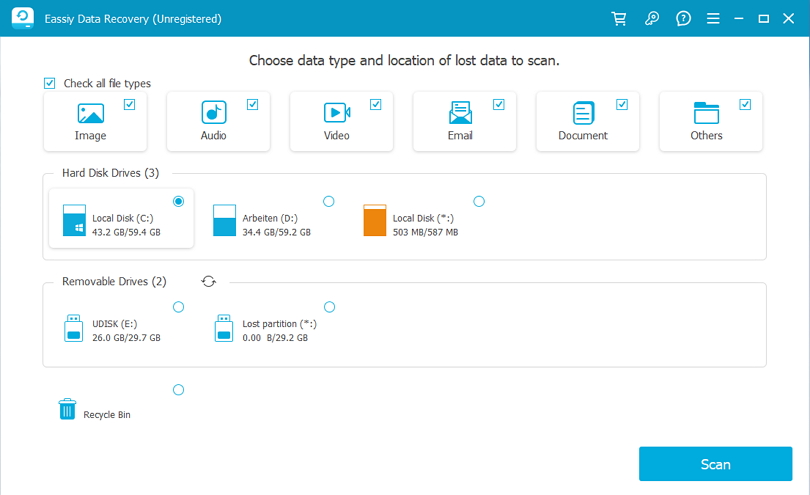 Step 2: Choose the scanning mode you want to use - Quick Scan or Deep Scan. Quick Scan is a fast and efficient way to find recently deleted or lost files.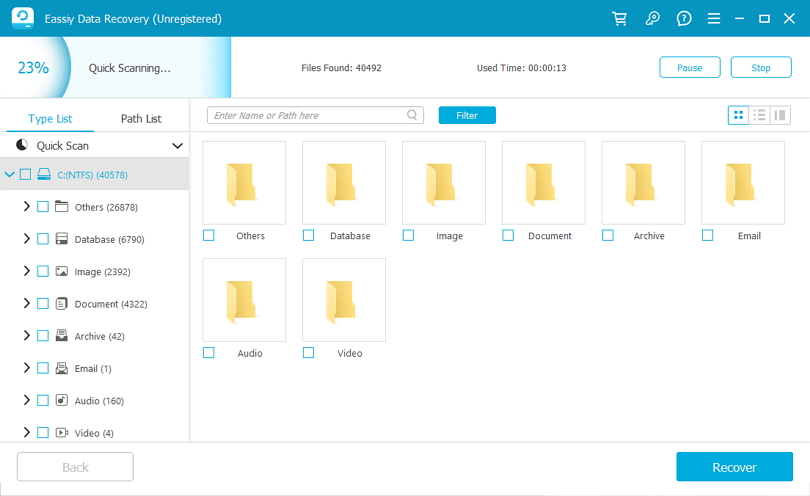 Deep Scan uses an advanced algorithm to search for lost files that may not be found during the Quick Scan.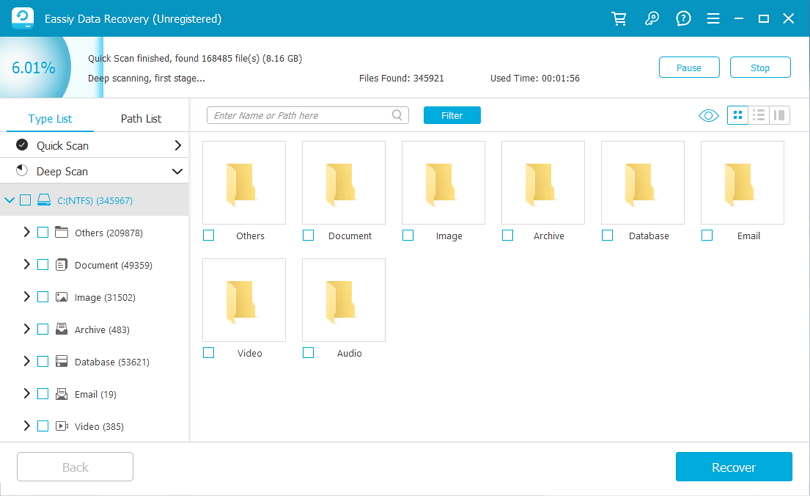 Step 3: Start the scanning process by clicking "Scan." Your device will be scanned by the software, which will then recover all the lost or deleted data.
Step 4: Select the files you wish to recover after previewing the ones that can be recovered.
Step 5: To begin the recovery process, click "Recover". In order to save the specified files to your computer, the software will recover them.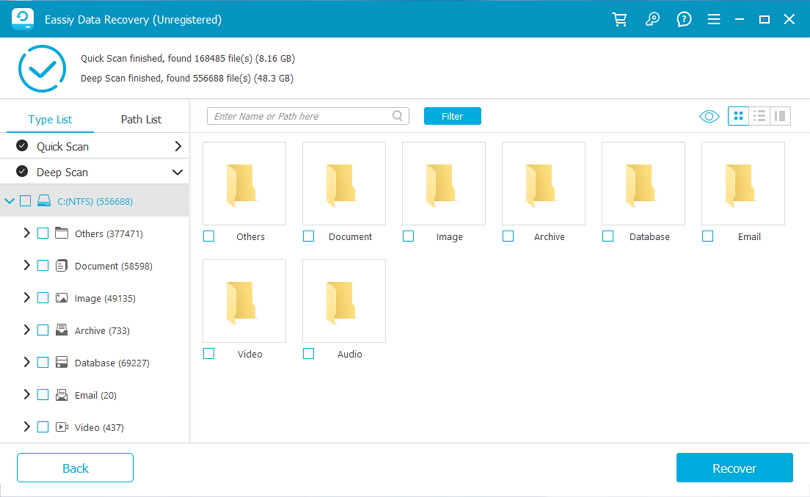 Once the recovery process is complete, you can browse the recovered files and check if they are intact.
Part 4: Best Online Photo Recovery for Android
The highest recovery success rate in the business for images and videos is held by Eassiy Android Data Recovery. The file types that Eassiy Android Data Recovery supports include Photos, Videos, Audios, Contacts, Messages, Call Logs, Attachments, WhatsApp, WhatsApp Attachments and many more. There are 3 recovery options available: recovering deleted or unrecoverable files from your Android device, recovering data from your SD card, and recovering data from your SIM card. Make your choice of the data you want to restore first using the preview before recovery option.
Main Features:
Before recovering files, users can preview them using the software.
You can select specific files to recover instead of recovering all the data. This saves time and disk space.
3 different recovery modes to recover from Android devices, SD card and SIM card.
Supports both root and non-root recovery.
Supports 16+ file types including Videos, Photos, Audios, Attachments, Messages, Contacts, Call Logs, WhatsApp, DOC, PPT, XLS, PDFs, ZIP, HTML, RAR etc.
It can scan 1000+ lost videos and photos in a few minutes.
Guaranteed 100% safe recovery!
Here's a step-by-step guide on how to recover deleted data from your Android device using Eassiy Android Data Recovery:
Step 1: Download and install Eassiy Android Data Recovery on your computer.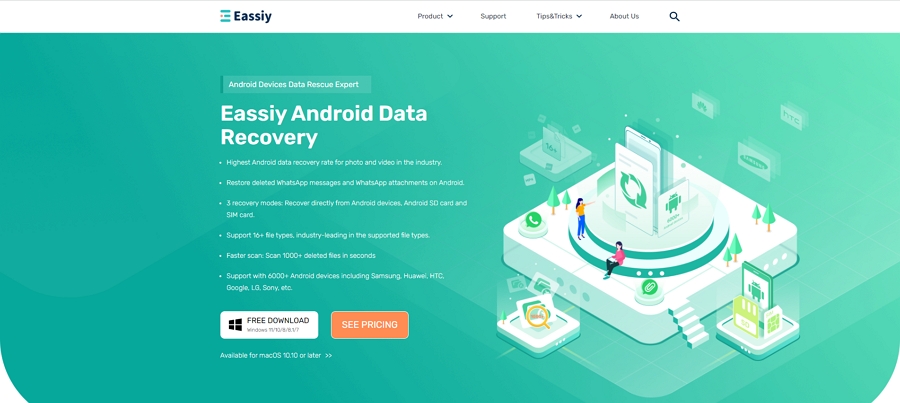 Step 2: Utilize a USB cable to link your Android handset to your PC. Enable USB debugging on your Android device. To do this, go to "Settings" > "Developer options" > "USB debugging" and turn it on. Install an Eassiy APP on your Android phone.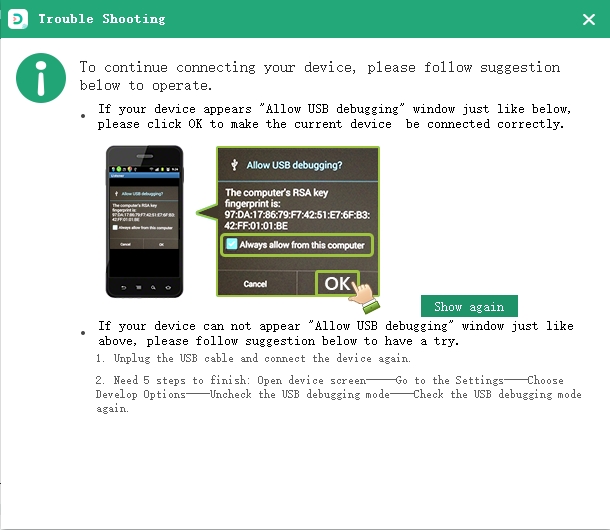 Step 3: Open Eassiy Android Data Recovery and decide what kinds of data you wish to restore.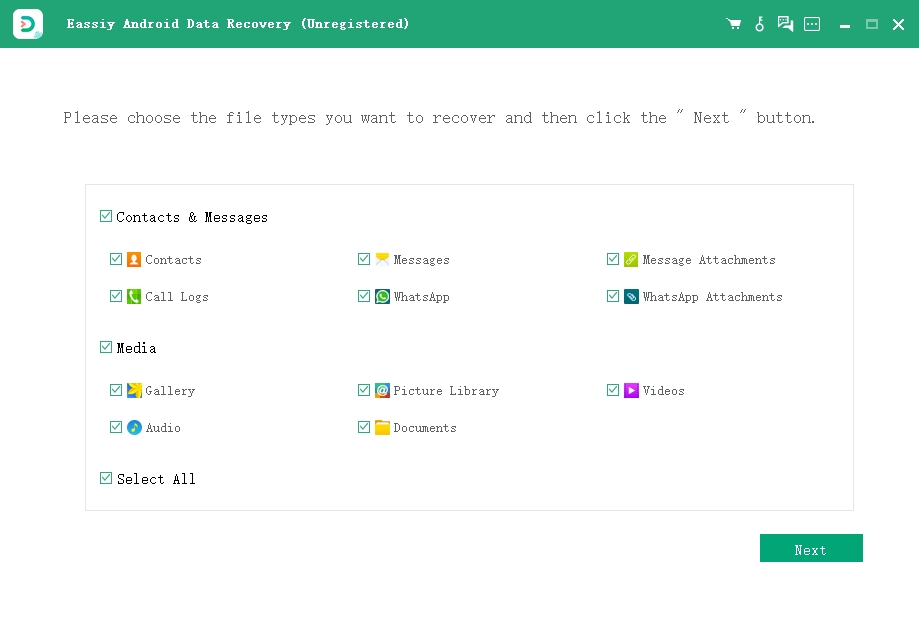 Step 4: To begin the image acquisition procedure, press "Scan". The gadget will be examined by the application in order to locate any partitioned or erased information.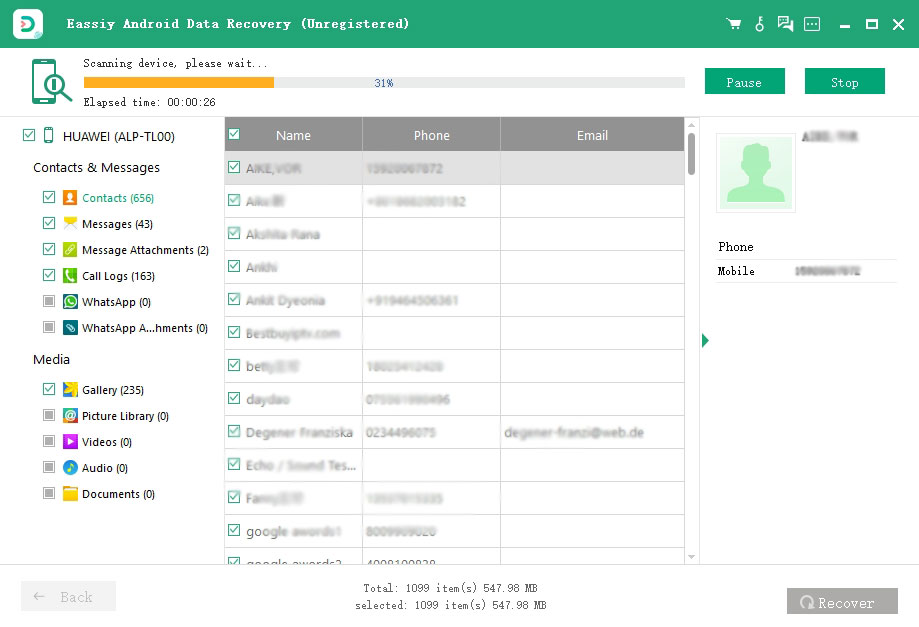 Step 5: Continue the recuperation procedure through tapping "Recover." The software will store whatever chosen files to your PC after recovering those.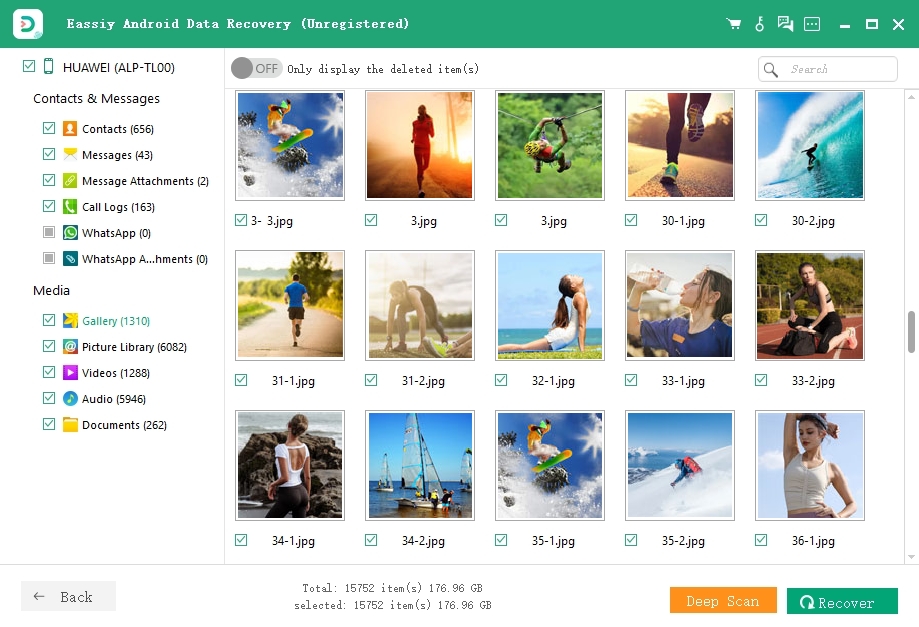 Once the recovery process is complete, you can disconnect your Android device from your computer.
Part 5: Challenges Encountered in Online Photo Recovery
Performing photo recovery online can present a range of challenges and technical problems. Some of the common issues encountered during online photo recovery are:
Incomplete or corrupted files: Sometimes, the recovered files may be incomplete or corrupted, making them unreadable or unusable. This can happen due to data fragmentation or file system errors during the recovery process.
Slow internet connection: Online photo recovery requires a fast and stable internet connection. If the connection is slow or unstable, it can affect the speed and efficiency of the recovery process.
Compatibility issues: The recovered files may not be compatible with the software or device used to open them. This can happen if the files were recovered in a different format than the original.
Privacy and security concerns: Uploading personal photos to an online recovery service can raise concerns about privacy and security. Users may be hesitant to trust third-party services with their sensitive data.
To overcome these difficulties, the following solutions can be applied:
Use a reliable recovery software: Using a reliable photo recovery software can help ensure that the recovered files are complete and free from corruption. This can reduce the risk of data loss or incompatibility issues.
Check internet speed and stability: Before starting the recovery process, it's important to check the internet speed and stability to ensure that the process can be completed smoothly. A fast and stable internet connection can significantly reduce the time needed for recovery.
Convert file formats if necessary: If the recovered files are not compatible with the device or software being used, they can be converted to the required format using a file converter tool.
Choose a trusted service: When using an online photo recovery service, it's important to choose a reputable and trusted provider. Users should research the service's privacy and security policies before uploading any sensitive data.
In summary, while online photo recovery can present challenges and technical problems, careful planning and attention to detail can help overcome these difficulties and ensure successful recovery of valuable data.
Part 6: FAQ about Deleted Photo Recovery Online Free
1. How does online deleted photo recovery work?
Online deleted photo recovery works by scanning the storage device for any recoverable data, and then restoring the deleted photos to a usable state. The recovery process may differ depending on the online tool or software being used.
2. Is it safe to use online deleted photo recovery tools?
Yes, it is generally safe to use online deleted photo recovery tools. However, it is recommended to use a trusted and reputable tool to avoid potential malware or data breaches.
3. How can I increase the chances of successful photo recovery?
To increase the chances of successful photo recovery, it is recommended to stop using the storage device immediately after the photos have been deleted. Additionally, avoid overwriting any data on the device and use a trusted and reliable photo recovery tool.
Conclusion
In conclusion, there are several reliable and effective photo recovery tools available online for Windows, Mac, and Android platforms. These tools can help you recover your precious photos that you may have accidentally deleted or lost due to various reasons. The best online photo recovery tools mentioned in this article are Google drive, iCloud, DropBox, OneDrive. But we would like to recommend Eassiy Data Recovery and Eassiy Android Data Recovery. These tools offer a user-friendly interface, advanced scanning algorithms, and quick recovery times. They also allow for selective recovery, previewing of recoverable files, and resuming of the recovery process. Therefore, if you're looking for a reliable and efficient photo recovery tool, Eassiy Data Recovery and Eassiy Android Data Recovery are the best choices available.