Flash drives are widely used to expand the storage capacity of computers and mobile devices. They come in various names, such as thumb drives, memory sticks, pen drives, and USB sticks, and are highly portable storage devices. Data loss is a common issue for frequent users of USB flash drives, as files that are accidentally deleted cannot be retrieved from the recycle bin. However, there is usually a way to recover lost data using the appropriate methods. If you find yourself in a situation where your USB flash drive files are deleted, there is no need to panic. In this article, we are describing how to recover deleted files from USB on Windows 10. By following this article, you can easily perform Windows 10 USB recovery.
Part 1: Why Do You Need USB Data Recovery?
USB Data loss is a common issue among us and different kinds of reasons are responsible for USB data loss. For this, you must need USB data recovery to perform. Here we are listing some common reasons behind losing data from USB drives.
Driver Failure
Random read/write errors and significant file corruption may occur due to a malfunctioning flash drive driver.
Connection Issues
Continuing to use a pen drive with a damaged USB connector can lead to connection problems and potentially result in file corruption.
File System Errors
The reliability of file systems varies, particularly when connecting USB flash drives to computers with different operating systems.
Malware
Cybercriminals are continuously refining their strategies and developing increasingly hazardous malware.
Hardware Damage
USB drives are small and delicate, and they can easily sustain damage. Fortunately, minor damages to USB drives can usually be fixed and recovered.
Power Loss
Important data transfer processes may not complete correctly due to a sudden power outage, which is not always preventable.
Software Crashes and Bugs
Most software applications contain bugs, and some of these bugs can result in crashes that cause data corruption.
Partitioning Mistake
Partitioning a USB flash drive can be prone to errors, and even a minor mistake can result in significant file corruption.
Part 2: 5 Ways of How to Recover Deleted Files from USB
Many of you may be wondering how to recover deleted files from a USB drive for free. In this article, we will provide a detailed guide of 5 ways to recover deleted files from USB
Way 1: USB Data Recovery Using the Best Software for Windows 10 Recovery USB
Unlike a computer, files deleted from a USB cannot be retrieved from the Recycle Bin. However, this does not necessarily mean that they are permanently lost. The system labels them as deleted and conceals them, anticipating that they will be overwritten by new data. In the absence of newly written files, the deleted files persist on the USB drive, presenting an opportunity for recovery. Nevertheless, proficient data recovery software is necessary to facilitate the retrieval process. Here, you can rely on Eassiy Data Recovery. It is one of the best USB data recovery software that supports 1000+ file types. This software helps you to scan with two different scanning modes. You can use this program to recover deleted files from USB in both Mac and Windows. This adept software expedites the retrieval of data lost due to malware attacks, accidental deletion, formatting, or other causes from a USB flash drive. The Eassiy Data Recovery tool will take seconds to resolve this issue.
Key Features:
Retrieve data from over 2000 storage devices, such as PCs, USB drives, SD cards, cameras, hard drives, SSDs, and more.
Recover more than 1000 types of files, including photos, videos, documents, audio files, and emails.
Two scanning modes are at your disposal: quick scan and deep scan.
Grants you the liberty to halt or recommence the scanning process at your convenience.
The software incorporates a user-friendly interface, rendering it straightforward to operate, even for individuals who lack technical expertise.
Here are the steps to perform USB data recovery using the best software for Windows 10 recovery USB
Step 1: To initiate the process of retrieving your deleted data, launch Eassiy Data Recovery and connect the external storage device (such as a USB Flash Drive) to your computer. Upon connection, the tool will automatically detect the external drive and incorporate it into the roster of drives that can be scanned through the "Removable Drive" option. From this list, you can select the external device by marking the checkbox next to it under "Removable Drives."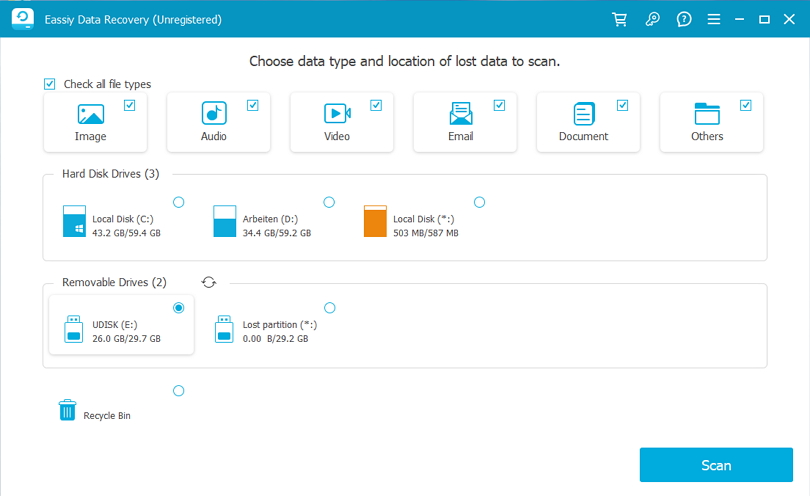 Step 2: Eassiy Data Recovery features two scanning modes: Quick Scan and Deep Scan. Quick Scan is suitable for recent data loss as it is faster, while Deep Scan is more extensive and is advised for intricate data loss scenarios.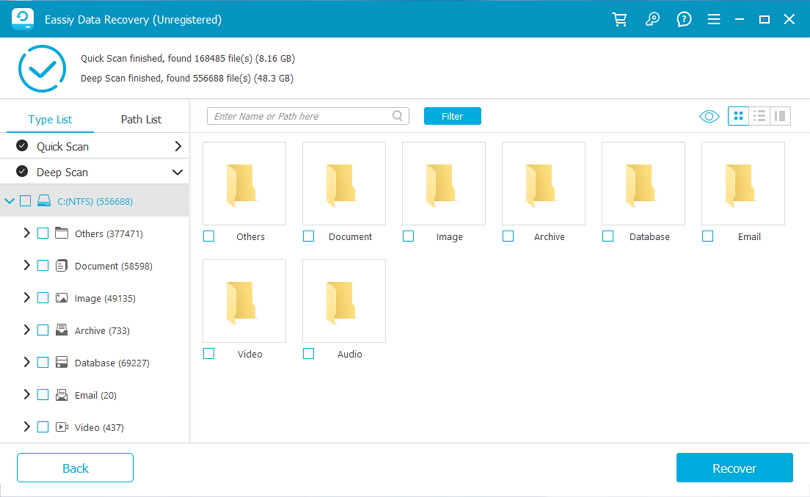 Ascertain the outcomes of the scan of the external drive by examining the "Type List" and "Path List" to determine whether the desired data is incorporated in the search results.
Step 3: Choose the desired files for recovery post-scan and proceed by clicking the "Recover" button.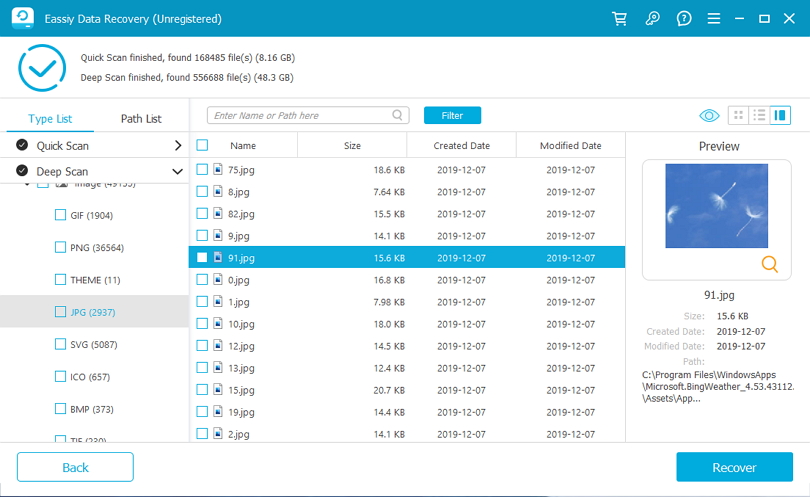 Way 2: Recover Files from USB Using Command Prompt (CMD)
CMD or Command Prompt is a command-line interpreter that comes pre-installed in Windows operating systems. To use it, one needs to open it and enter specific commands. However, this method may be challenging for beginners as it requires familiarity with special commands to execute the desired task. Follow the below steps to recover files from USB using Command Prompt (CMD).
Step 1: To open the command prompt, you can search for "cmd" or "command prompt" in the search bar. Alternatively, you can launch the Run program and type "cmd" to access the application.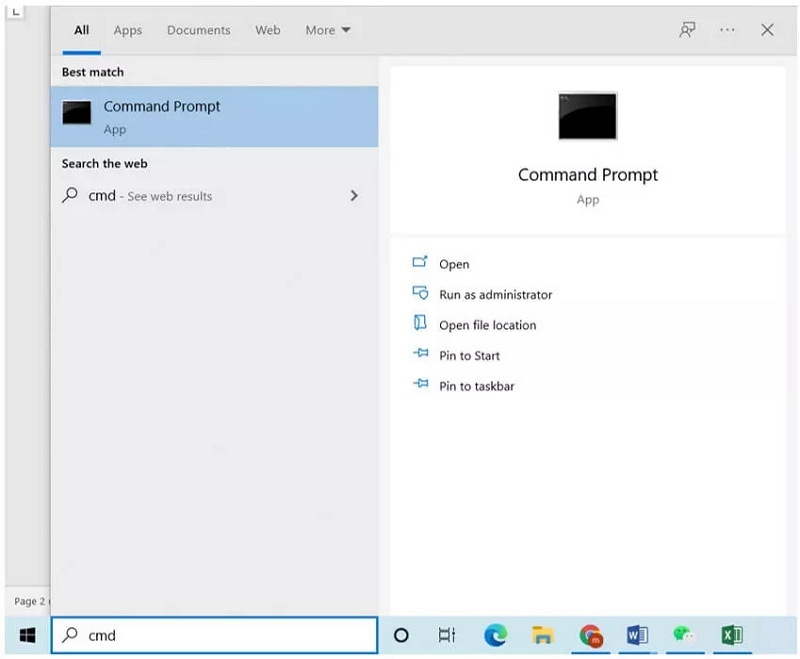 Step 2: After launching the application, you can begin typing the necessary commands. Ensure that the USB drive is connected to your computer, and take note of the assigned drive letter, as it will be required in the commands. For instance, let's assume that the USB flash drive is assigned the letter "F" on your computer.
Step 3: Now, you have to enter the following command: "chkdsk F: /f".
Note: The final letter "f" in the command is not the same as the letter assigned to the drive. It is simply a part of the command. You can substitute "F" with the letter assigned to your drive. It's important to remember that CMD is not case-sensitive.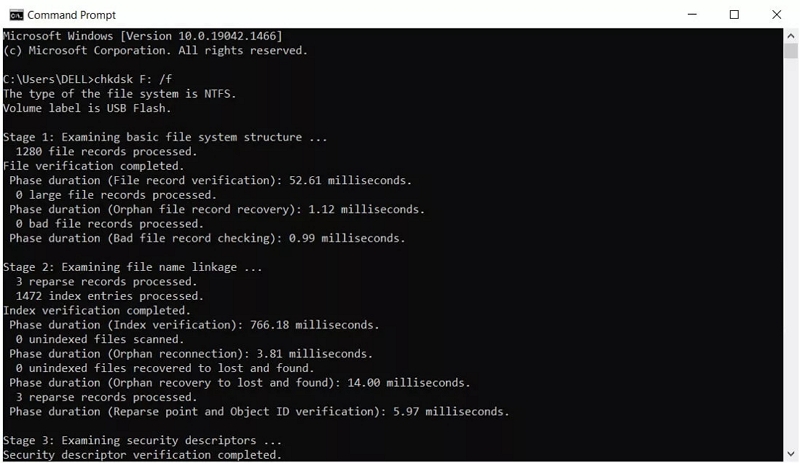 Step 4: Next, enter the following command: "attrib -h -r -s /s /d F:*.*".
Substitute the letter "F" in the command with the letter assigned to your drive and press Enter. Check the flash drive to see if the files have been successfully recovered. If so, consider yourself lucky!
Way 3: Recover USB Drive with Windows Backup
In case you have previously backed up your data, it's recommended to check your backups. Additionally, verify whether your files have been synced to an online or cloud storage service like Dropbox, Microsoft OneDrive, or Google Drive. If you have enabled the Windows backup feature, you may be able to recover the data from there as well. Here are the steps to recover USB Drive with Windows Backup.
Step 1: Access the "Control Panel", navigate to "System and Maintenance", and choose "Backup and Restore (Windows 7)".
Step 2: Now, choose "Restore my files" by clicking on it.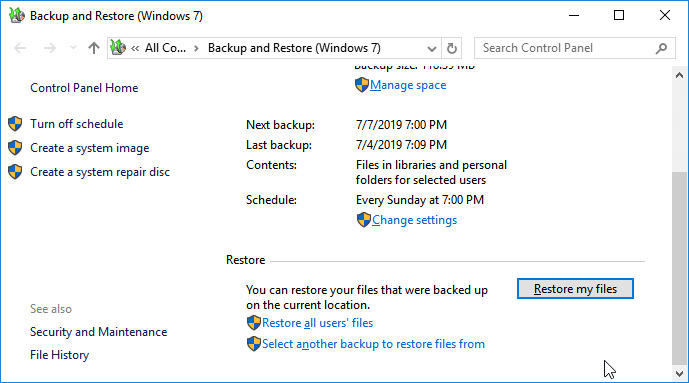 Step 3: To select the previously created backup, click on "Browse for files" or "Browse for folders".
Step 4: Select a location to save the backup, either "In the original location" or "In the following location". In case of a conflict, choose from the options "Copy and Replace", "Don't copy", or "Copy, but keep both files", based on your requirements.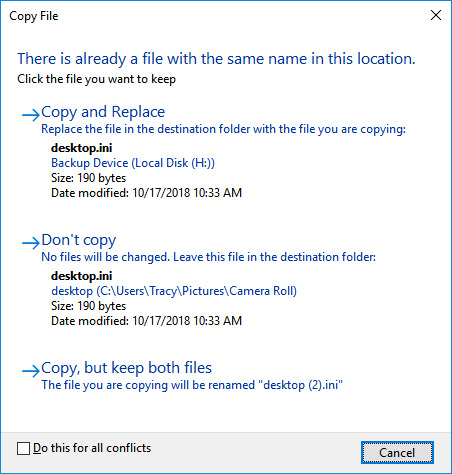 Step 5: Wait for the restoration process to finish. Then, all the files or folders that were permanently deleted will appear on your computer at their original or new location.
Way 4: Recover Files from USB Drive from Previous Versions
One way to restore lost files without relying on external recovery software is by using the previous version's feature in Windows. This feature is available in Windows 7, 8, and 10, and allows users to recover data from previous versions of their operating system. When using this method, Windows will undo any changes made after the operating system was upgraded and revert to a previous version of Windows. Follow the below steps to recover files from USB drive from Previous versions.
Step 1: Plug the USB flash drive into your computer.
Step 2: Access the Start menu, type "This PC", and press the Enter key on your keyboard
Step 3: Click with your right mouse button on your USB flash drive and then choose "Properties".
Step 4: Navigate to the "Previous Versions" tab and observe the selection of recoverable options.
Step 5: Click on the desired previous version from the list and then click on the "Restore" button.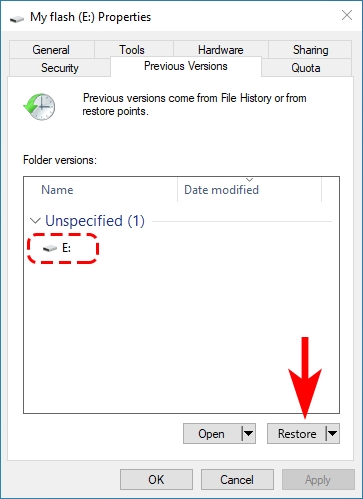 Way 5: USB Data Recovery Free with Windows File Recovery Built-in Tool
To retrieve lost or deleted files from USB drives, HDDs, SSDs, and memory cards, Windows File Recovery is a command-line tool that can be used. Learning the syntax, recovery mode, and switches of the tool is necessary to recover files using it. Here are the steps to perform USB data recovery free with Windows File Recovery built-in tool.
Step 1: You can obtain Windows File Recovery by downloading it from the Microsoft Store.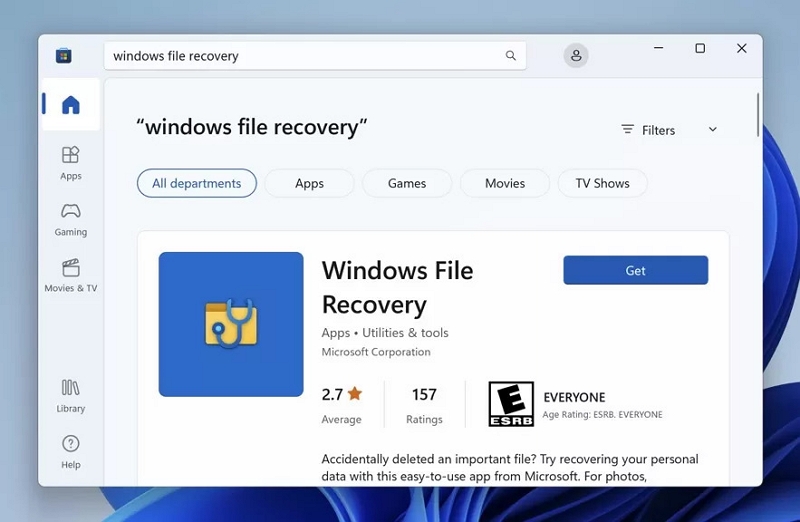 Step 2: Attach your USB flash drive to your computer and note down the drive letter assigned to it.
Step 3: Launch Windows Terminal or Command Prompt as an administrator.
Step 4: Now, you have to enter the command: Winfr E: C: /extensive (Note that you should replace E: with the drive letter assigned to your USB flash drive and C: with the drive letter assigned to the storage device where you want to store recovered files.)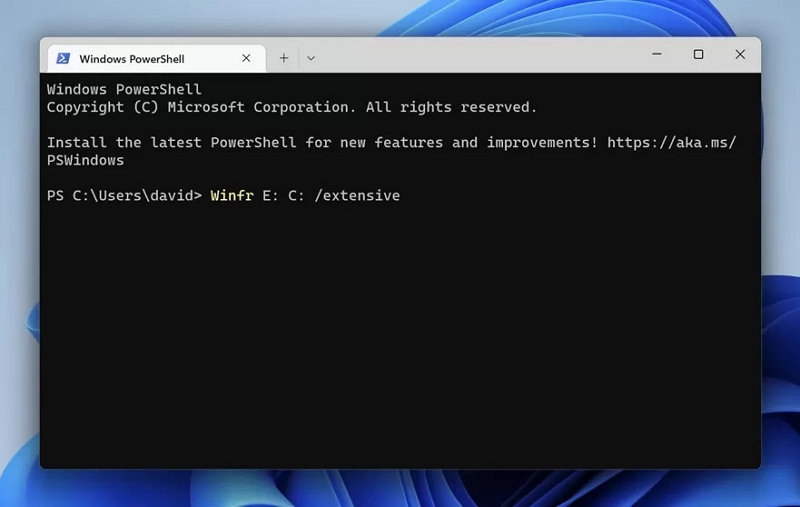 Step 5: Allow Windows File Recovery to complete the process.
Part 3: FAQ for Windows 10 Recovery USB Flash Drive
1. Is the data stored on a USB Flash drive permanent?
USB flash drives and memory cards are not ideal for long-term data storage. To ensure data longevity, it is recommended to use an external hard drive and regularly back up important data. Generally, the data stored on a USB flash drive can last up to ten years.
2. Is it possible to recover data from a USB Flash drive?
It is possible to recover lost or deleted data from USB Flash drives using reliable data recovery software on Windows. Eassiy Data Recovery is a tool that can be used to recover deleted files from USB Flash drives.
3. What is the process for retrieving pictures from a USB flash drive?
Attempting to use CMD or accessing the previous version are options to consider. If these methods are unsuccessful, Eassiy Android Data Recovery is a reliable tool that can assist you in recovering photos from a USB drive on both Mac and Windows operating systems.
4. When you delete a file from a flash drive, what occurs to the file?
The operating system designates the space previously taken up by the file as accessible, however, the information remains intact until the space is overwritten.
5. What could be the reason for my flash USB drive not functioning?
There could be various reasons why your flash drive is not operating properly. Physical damage caused by heat or moisture may have occurred. Alternatively, the file system could have become corrupted due to a virus, or you might be using a malfunctioning USB port. It is also plausible that the issue is caused by an outdated driver on your system.
Conclusion
Don't fret if you've misplaced crucial files from your flash drive, as it's feasible to retrieve deleted information. Several methods are available to recover deleted files from USB Flash drive. In this article, we have described we are describing how to recover deleted files from USB on Windows 10. If the aforementioned approaches prove unsuccessful, you may consider utilizing Eassiy Android Drive Recovery for retrieving deleted files from your USB flash drive. It is a dependable solution that effectively recovers data in all scenarios, allowing for a trouble-free experience.