Having an external data storage media like SD Cards, and hard drives at your disposal is great but you need to bear in mind that both come with their dark sides. Sometimes you may experience issues such as missing data, or damaged storage media- all of which leads to data loss. Regardless of how the data loss comes, you need professional software to bring it back.
This is where Yodot comes into play. With Yodot Hard Drive Recovery software, you can easily do justice to those missing files, and bring them back within the snap of a finger. But does this software offer the quality it promises? Well, you can find out here in this article. We've created a comprehensive overview of the Yodot software. In addition, we have an alternative software to share with you. Read on!
Part 1: What Is Yodot Hard Drive Recovery?
Yodot Hard Drive Recovery is one of the most versatile tools with a host of features to ensure the successful recovery of data from a hard drive. This software retrieves countless data from a hard drive. Regardless of your hard drive brand, Yodot retrieves data without limitations. It's capable of retrieving data such as photos, videos, documents, music, and more.
Key Features:
Yodot Hard Drive Recovery software boasts of a smooth data recovery process - thanks to the interactive interface. The software is simple to navigate, so you need not be tech literate to use it.
To ensure that you don't overwrite your data, Yodot Hard Drive Recovery software offers selective recovery services. The software lets you preview and choose which data to recover before exporting to the corresponding hard drive, or your preferred destination path.
With Yodot, you don't need to worry about subscriptions, as it offers several pricing plans which you can select from. Yodot has 3 premium versions with the lowest going for as low as $39. Here is what the pricing plan looks like:
Basic: $39.95, suitable for retrieving only deleted or lost documents.
Advanced: $49.95, capable of retrieving lost photos, videos, music, and documents.
Premium: $69.95, combines the features of the aforementioned pricing plans plus ability to retrieve data from formatted drives.
| | |
| --- | --- |
| Pros | Cons |
| Allows you to retrieve data selectively without stress. | Yodot does not retrieve all data types. |
| Yodot Hard Drive Recovery software retrieves all existing, and missing files with high quality. | Unlocking codes to access the premium version can take a few minutes to several hours to land in your email. |
| Scans data before recovery to ensure that it's safe for your hard drive, or the corresponding device. | Each pricing plan unlocks more features, which shouldn't be so since you are paying based on your budget. |
| You can pause and resume the data recovery process at your convenience. | It doesn't show the real name of the file you want to retrieve. |
Part 2: How Does Yodot Hard Drive Recovery Work?  
Recovering data with the Yodot Hard Drive Recovery software is straightforward. Here is the detailed approach to do that:
Step 1: Install Yodot Hard Drive Recovery tool, and launch it for operation by clicking on the corresponding icon. When it opens, kindly connect the hard drive using the appropriate cord, then select either Partition Recovery or Formatted/Reformatted Recovery.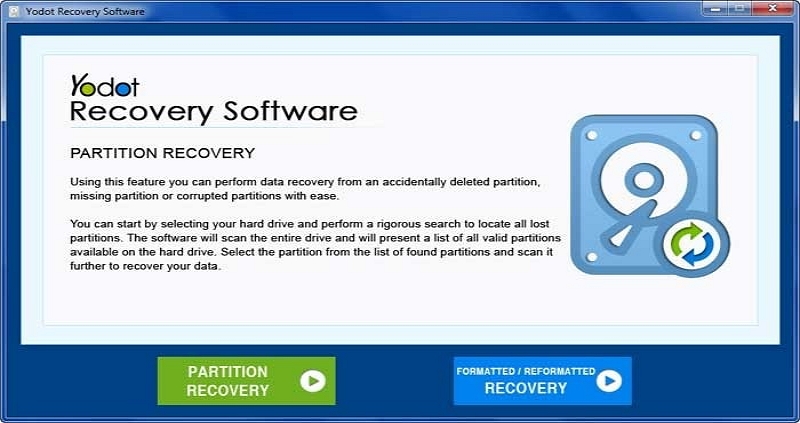 Step 2: Once done, Yodot will direct you to the interface down here: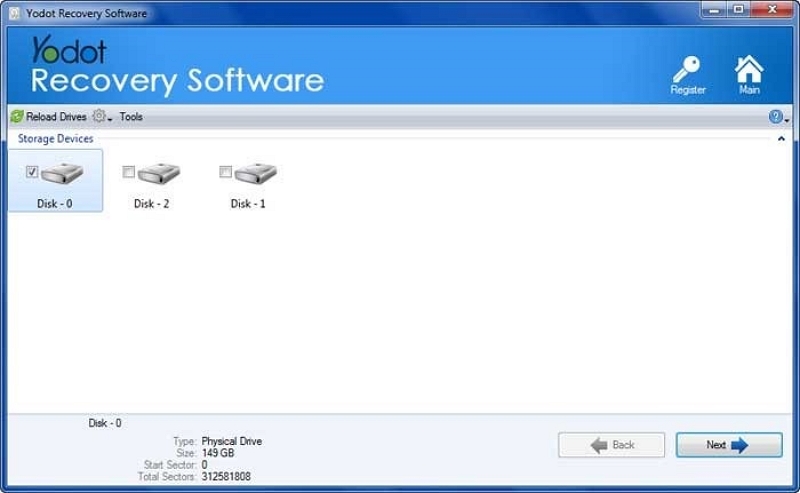 Select the hard drive you want to retrieve data from, and hit the Next button at the lower right corner of your screen to proceed.
Step 3: Next, Yodot will scan the hard drive. After scanning, all the recoverable data on the hard drive will come up. Preview the files, and click the appropriate button to retrieve the data.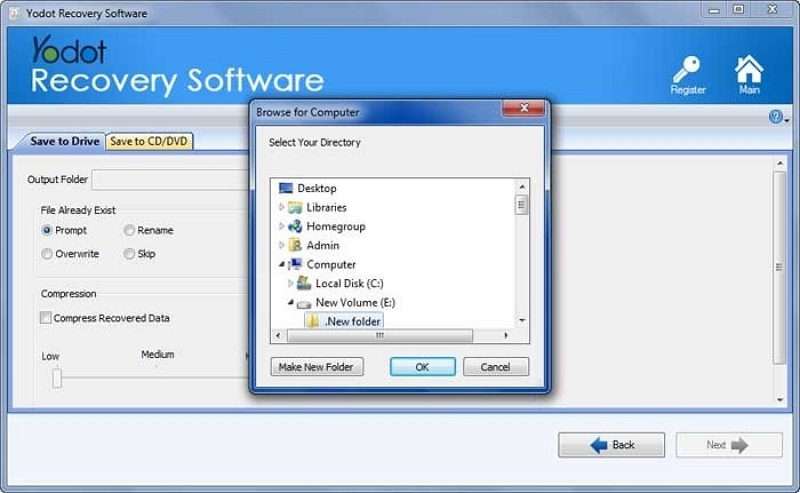 Part 3: Best Alternative to Yodot Hard Drive Recovery
Yodot Hard Drive Recovery software isn't the best tool for data recovery. The software comes with its own limitations which can be seen in the cons section underneath part 1 of this article. If you don't want a similar challenge, you should consider investing with Eassiy Data Recovery tool- the data recovery solution for hard drives.
Easily Data Recovery solution retrieves data from all hard drive brands with high quality. It's one of the game changers in the data recovery industry because of the excellent results it offers. With Eassiy, you enjoy smooth data recovery without compromising your system. This software offers a budget friendly pricing plan unlike Yodot.
With this software, you can retrieve over 1000+ data from your hard drive, and other external storage facilities, such as SD Cards, formatted drive and more. Tech proficiency isn't a criteria for using this software program. Eassiy retrieves data on Windows, and Mac computers with no limitations.
Key Features:
Eassiy retrieves data from more than 2000+ external storage media, including hard drive, SD Card, cameras and more.
With 1-click, you can recover 1000+ types of data [photos, documents, emails, music, etc].
Capable of retrieving data loss due to formatting, accidental deletion, virus attack, and more.
Offers both quick and deep scan data recovery mode.
Steps to Retrieve Data with Eassiy Data Recovery Software
Here's the instructions you need to follow to bring back your missing or loss data on a hard drive using the Eassiy data recovery tool:
Step 1: Install and add the Eassiy data recovery software to your app list on your computer. Launch the software and choose the data to retrieve by ticking the box next to it. Connect and select the hard drive you want to recover data from to proceed.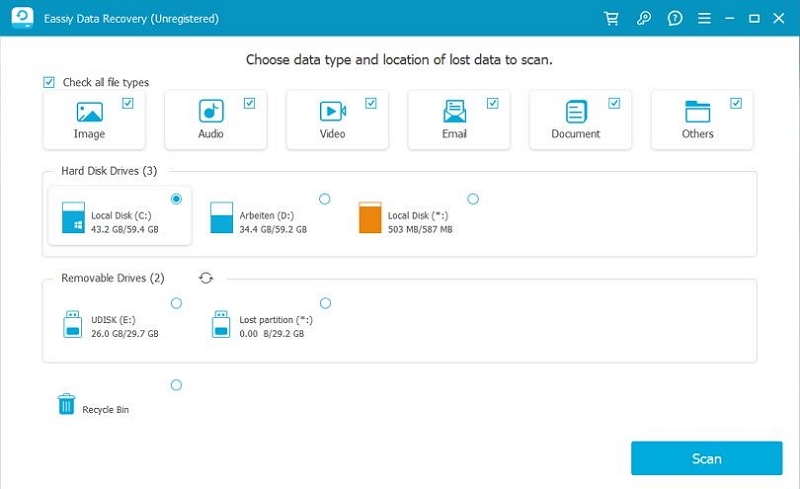 Step 2: Next, tap on the blue Scan button situated  at the lower right corner of your screen. Wait for Eassiy to complete scanning your hard drive, and the screen below will come up: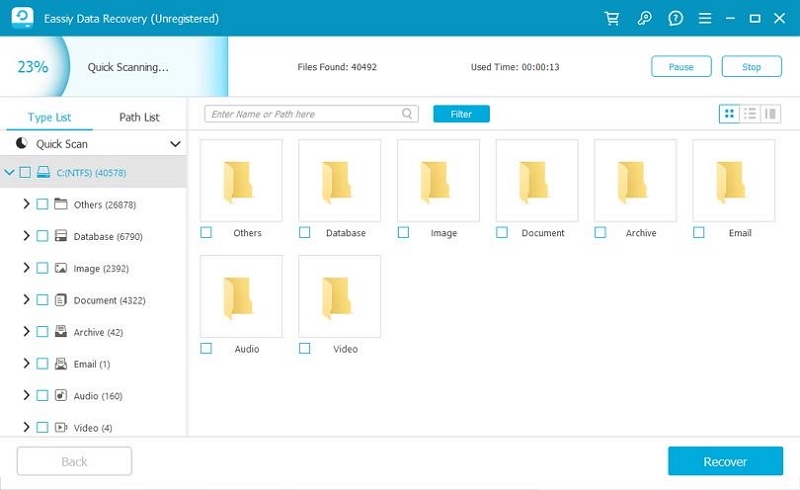 Step 3: Preview that data you want to retrieve, and choose the ones worth recovering. Once done, click on the Recover button to proceed with data recovery. Eassiy Data Recovery software will retrieve the selected data to the corresponding destination path.
Part 4: Yodot Hard Drive Recovery vs Eassiy Data Recovery
Here is a comparison table showing the difference between Yodot, and Eassiy data recovery software:
| | | |
| --- | --- | --- |
| | Yodot Hard Drive Recovery | Eassiy Data Recovery |
| Sleek Interface | ✅ | ✅ |
| Pricing Plans | The number of features is limited to the selected pricing plans. | Once you subscribe to Eassiy premium plan, you access all of the features it supports. |
| Number of Recoverable Files | Yodot retrieves a limited number of files, about 100+ data types. | With Eassiy, you can retrieve over 1000+ data types without limitations. |
| Speed of Recovery | Data recovery can take several minutes to hours, or even days, depending on the file size of the data you want to retrieve. | This software has a high data recovery success rate, as it retrieves countless data files within the speed of light. |
| Compatibility | Can only boast of working with just SD Cards, and hard drives. | Connects with over 2000+ external storage media, including SD Cards, hard drive and more. |
| Filter Option | Not available. | Allows you to choose the category of data files you want to retrieve from. |
Part 5: FAQs
For extensive knowledge on the topic, check out the frequently asked questions and answers below:
Q1. Is Yodot Hard Drive Recovery Safe?
Yes, Yodot Hard Drive Recovery software is safe to use. The software helps you retrieve data selectively without overwriting it. However, it has a dark side which is the reduction in data quality, especially when you use it for video recovery.
Q2. What are other alternative tools to Yodot?
There are other hard drive data recovery solutions you can use in place of Yodot, but we are only confident on Eassiy. The software offers quality data recovery at a remarkably high speed. Eassiy can retrieve data from over 2000+ storage media.
Conclusion
Yodot is one of the best data recovery programs but has its limitations which is why the Eassiy tool was developed. You can always use Eassiy in place of Yodot. This software is one of the most outstanding data recovery programs out there. It's worth investing so you should try it out.