Hi, Recently, I mistakenly deleted an email message from my mailbox. It's an important email with crucial files from my business partners. Right now, I wish to recover the deleted message as I will need it in a couple of days. I have tried different methods to recover the message, but no way. I feel bitter. Does anybody know how I could recover the message? 
Does the scene above sound familiar? To err is human as we all know. So there's no one who can't make mistakes. Losing vital email messages on an iPhone can be so frustrating but not again as you've made your way here. Our team of experts in iOS devices has researched the net for how to recover permanently deleted emails on an iPhone.
Results of our findings will be shared with you here as we walk you through our 100% effective techniques on how to recover permanently deleted emails on iPhones/iPad.
Part 1. Can I Recover Deleted Emails on iPhone?
Yes! You can recover your deleted emails on your iPhone. There are 3 ways by which you can do this. While one requires third-party data recovery software, the others don't. However, regardless, all are simple, fast, secure, and cost-free.
Part 2. [Zero Data Loss] How to Recover Permanently Deleted Emails on iPhone?
As earlier mentioned, one of the methods requires a third-party data recovery software program to recover deleted emails on an iPhone. Eassiy iOS data recovery software you need to execute such an operation. The software is dedicated to recovering all forms of data on an iOS device without compromising the quality. Eassiy iOS data recovery software recovers photos, contacts, videos, voicemails, WhatsApp chat, Facebook messages, and emails.
Eassiy iOS Data recovery scans and recovers iPhone data at a remarkably high speed without distorting the quality. This software is well-structured with a clean user interface that allows you to recover data on your iPhone easily.
Key Features
Recovers contacts, WhatsApp attachments, videos, and over 36 data types
Recovers permanently deleted emails on iPhones and iPad
Scans multiple image files simultaneously, over 1000 to be precise
Recovers data from iOS device, iPad, iTunes, and iCloud backup
Stepwise Guide to Recover Permanently Deleted Emails on iPhone/iPad with Eassiy
Here is the illustrative instruction you need to follow to recover your permanently deleted emails on an iPhone using Eassiy iOS data recovery software:
Step 1: With an internet-enabled device, download and install Eassiy iOS data recovery software on your computer system. Open the software, connect your iPhone with a USB cable and then click on Start Scan.
Step 2: The iOS data recovery software will scan your iPhone for the deleted email messages and the interface below will pop up on your display screen: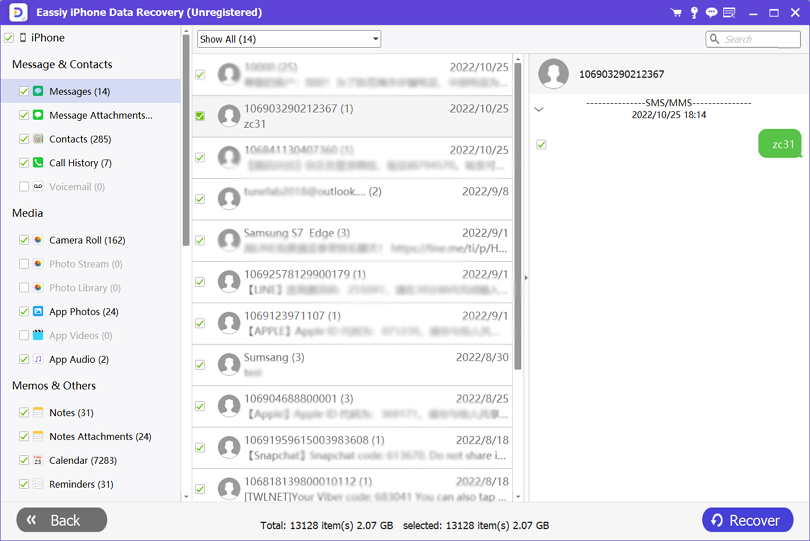 Hover your mouse to the Mail app on the left sidebar, and click on it. Select Messages or Message Attachments, and then proceed to the next step.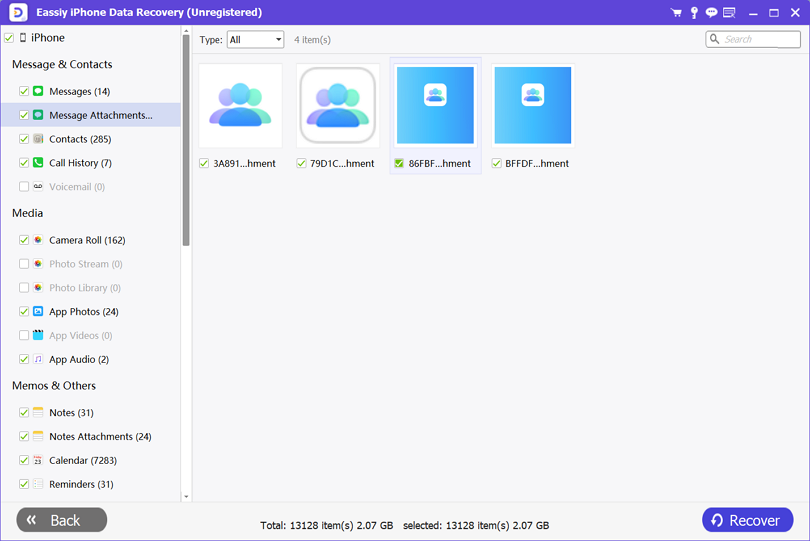 Step 3: At the lower right corner of your computer screen, you will find the Recover icon. Kindly click on it so
Eassiy iOS data recovery software can recover your permanently deleted email. Mind you, the deleted email will be sent to your computer's local drive. So in future when you need it, you can always access it.
Part 3. How to Recover Deleted Mail Account on iPhone?
Whether you accidentally deleted the Mail app, moved it away from your home screen, or deleted your mail account, you can fix the issue using the solutions provided below:
How to Recover Deleted Mail App on iPhone
Recover your deleted Mail app on your iPhone following the stepwise guide given below:
Launch the Apple Store icon on your home screen
When Apple Store opens, click on the Search icon
Next, enter Mail App in the search field
Now tap on the Cloud icon to download and reinstall the app on your device. Wait until the installation is over then you launch the app
Provide your email account details in the required field and in no time, you should stay using your profile
How to Recover Mail App Back on Home Screen
You can recover the mail app back on your home screen with the stepwise guide below:
Swipe your screen till you get to the App Library screen
Now locate the Mail app icon and then hold on to it
Immediately, an interface with a couple of options will pop up on your screen just as seen in the image below:
Now click on the Add to Home Screen button, and the mail app will automatically move to your home screen
Part 4. FAQs
Find below some frequently asked questions and the appropriate answers to help you understand the topic better:
Q1. What is the best way to recover accidentally deleted emails?
With iOS data recovery software like Eassiy, you can recover accidentally deleted emails easily without compromising your iPhone data. The software offers a smooth recovery process with high accuracy. It's one of the easiest data recovery software available on the market today.
Q2. Where are my deleted emails stored?
When you delete an email message from your mailbox, they are moved to the trash can also known as bin. These messages stay there for a maximum of 30 days, after which they are erased from your account. You can recover them within this stipulated period directly from your mailbox.
Should you fail to recover them within this time frame, then you need to use an iOS data recovery software. Eassiy iOS data recovery software is a great software to use. It's well-designed with incredible features that you need to recover data from your iPhone.
Conclusion
Permanently deleted emails are easy to recover now that you have our tutorial guide at hand. We've provided a detailed guide for the different scenarios that may lead to email loss. Check the appropriate solution to recover your deleted email messages today.
Remember, the Eassiy iOS data recovery software is our ultimate solution in the guide. The software recovers with 100% accuracy and speed. It ensures your data files are recovered without data loss. You don't need to be a tech-guru to use the software.