You know, your phone's call history on your iPhone includes every missed, incoming, and outgoing calls. These calls could compromise your privacy or perhaps lead you into trouble. As a result, a lot of iPhone users regularly delete their call histories in order to safeguard their privacy. It does safeguard your privacy from snooping, and this sounds excellent. Have you unintentionally deleted any important calls from your call history? However, frequently removing call logs from your iPhone can also lead to issues.
For instance, you might delete all of your call logs and then realize that you neglected to check your iPhone's call history and preserve some crucial phone numbers to the Contacts app. Many inquiries, such as: Can I see deleted calls on iPhone? "How do I get my deleted call history back on my iPhone?" and "How do I get them back on my iPhone?" come to mind at this point. Don't Panic! You can still retrieve the call log list from your iPhone. Recovery is a possibility, which is heartening news! We're going to share several unique techniques with you in this article so you can use them to quickly and efficiently examine and retrieve deleted call logs on your iPhone. Using one of these four amazing techniques, you might be able to recover the erased call history from your phone. It is simple, efficient, and accessible, and can help you de-stress with just a few easy steps. Here, we'll show you how to recover your iPhone's erased call history using three more methods in addition to the greatest solution, Eassiy iPhone data recovery. In order to find out, keep up with us!
Method 1: How to Recover Deleted Call History iPhone Without Backup [Best]
Whether your iPhone data gets lost in accidental deletion, system crash, external damage, or any possible situation, if you suffer from an unexpected loss of your iPhone, Eassiy iPhone Data Recovery offers 3 possible modes for you to quickly recover various sorts of data from your iPhone. You can choose the proper recovery option and adjust it to your specific situation to easily regain your data. Even if you are a novice when it comes to working with iPhone data recovery, Eassiy iPhone Data Recovery will be the best choice because to its user-friendly interface.
The easiest way to get over the extreme anxiety brought on by having your content unintentionally deleted is using Eassiy, which is the most dependable and user-friendly. With the most amazing program, Eassiy iPhone Data Recovery, you can regain your deleted photos, movies, messages, memories, and notes in only 3 simple steps. Eassiy creates cutting-edge iOS data access and recovery technology that enables us to recover mistakenly deleted data. Eassiy is the most reliable source when compared to its rivals because it has the highest data recovery rate and can recover files of more than 36 distinct types.
Key features:
The best data recovery rate in comparison to rivals.
Over 8 scenarios, including broken device and update failure, supported
Get your information back from your iPhone, iTunes, and iCloud.
Immediately scan 1000+ deleted photos.
Recovery of more than 36 file formats without data loss.
The following methods can be used to recover your data from an iPhone using the best, most dependable, and user-friendly program, Eassiy iPhone data recovery:
Step 1: Download and run Eassiy iPhone Data Recovery
Installing the most recent version of this software on your computer is required in order to accomplish this. You must use a cable to link your iPhone to your computer. Run the program after that and choose "Recover from iOS device" to instantly scan the deleted call history on your iPhone.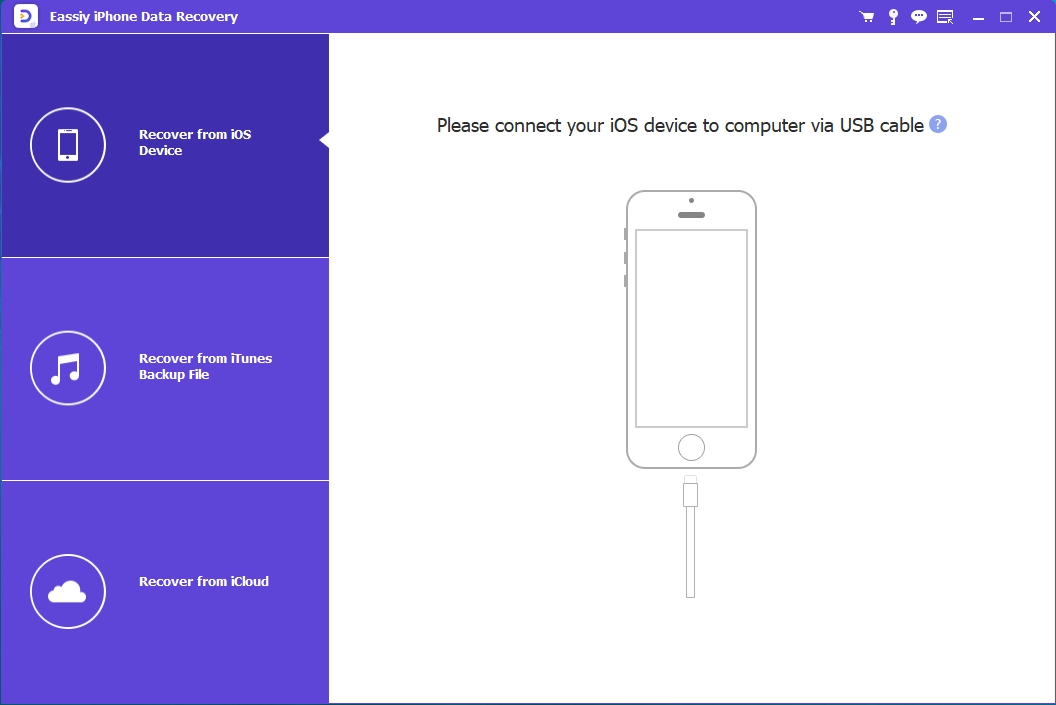 Step 2: Click "Start Scan"
To begin a scan, select Recover from iOS Device. You will be prompted to enter your iPhone or iPad passcode three times before the application begins a deep scan of your device.
Step 3: Review and Restore Deleted iPhone Call History
All of the information on your iPhone will be listed properly after scanning. Notes, contacts, music, images, bookmarks, and more are all available for individual preview. To locate the deleted call history, select "Call History." To retrieve your deleted iPhone deleted history back on your computer, finally, click the "Recover" option in the bottom right corner. After that, you will recover your desired deleted call logs easily.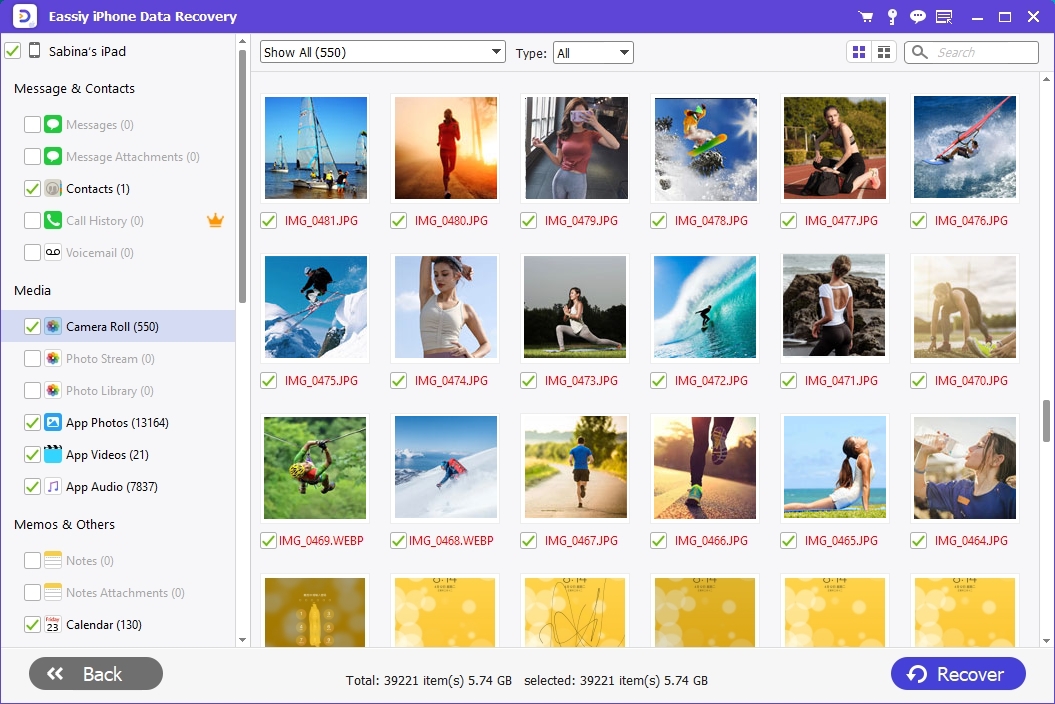 No matter how your iPhone data was lost—due to a mistakenly deleted file, a system crash, external damage, or any other situation—Eassiy iPhone Data Recovery is the best choice to help you get out of this situation.
Comparison Table:
Here's a closer look at how these 3 approaches contrast with one another in terms of functionality, usability, and efficiency before we get started.
| | | | |
| --- | --- | --- | --- |
| | Eassiy iPhone Data Recovery | Official iTunes | Official iCloud |
| Recover data without backup | Yes | No | No |
| Recover data without resetting | Yes | No | No |
| Recuperate the desired data with care | Yes | No | No |
| User-friendly | Yes | No | No |
| Previewing the recovery | Yes | No | No |
| Straightforward iOS device recovery | Yes | No | No |
Method 2: Perform iPhone Call History Recovery Via iTunes Backup
As is well known, iTunes serves many purposes than only playing music. In addition to backing up iPhone data, it can also save data from multiple applications. Your deleted call history may still be there in your iTunes backups if you often back up the data on your iPhone. You might therefore access iTunes to retrieve your deleted call log if, by chance, you had backed them up there. Follow these steps to recover deleted call history from an iTunes backup.
Step 1: Install and start iTunes. Update it to the most recent version if necessary.
Step 2: Connect your iPhone to your PC using a cable. Tips: Use an Original Apple cable.
Step 3: Select your device (iPhone) once it appears in iTunes.
Step 4: Clicking "Summary" in the left panel will take you to the "Backups" section. After that, by selecting "Restore Backup," you can get back your erased call history.
Select the most recent backup file or the backup with the most relevance. After selecting "Restore Backup," wait for the procedure to be completed. As soon as the gadget resumes and syncs with the PC, keep it connected. You can now disconnect the iPhone until then.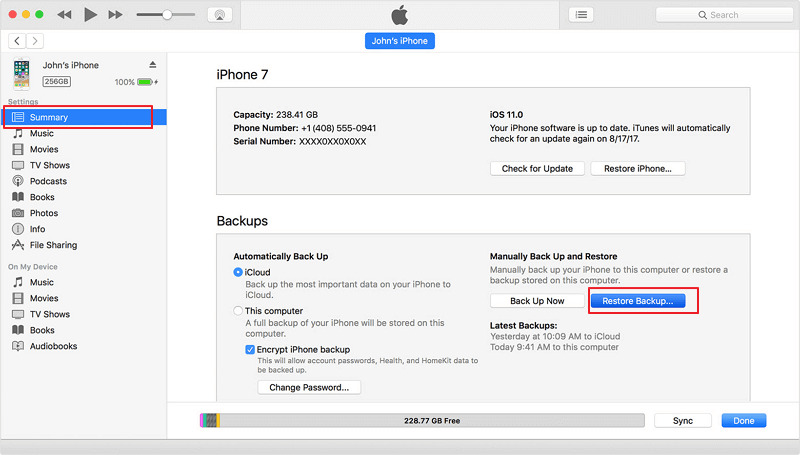 If you only need to restore a single number or a small number of call history, this alternative could be a pain. However, if you want to retrieve all of your call history, you have to follow the steps above. Continue reading if you want to learn if there is another way to recover call history that has been deleted from iTunes.
Method 3: Perform iPhone Call History Recovery Free with iCloud Backup
Unfortunately, there is no toggle choice for call history in the iPhone's iCloud settings, unlike for contacts, calendars, or other types of data. The truth is that if you keep iCloud turned on, all call logs will sync to iCloud and can be restored if a call disappears from your Recents list. Here are the steps for retrieving iPhone call logs from an iCloud backup.
Step 1: On the iPhone's Settings app, select General > Reset > Erase All Content and Settings.
Make sure iPhone is connected to a stable Wi-Fi network. You'll be given instructions on how to set up your iPhone from scratch after the wiping process is finished. To reach the App & Data screen, simply follow the on-screen instructions.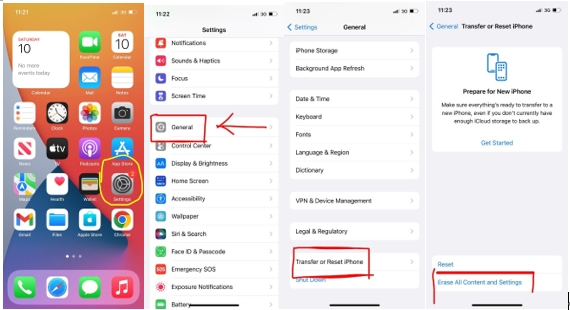 Step 2: Sign into your iCloud account after selecting "Restore from iCloud Backup".
The procedure can take a few minutes, depending on the size of the backup.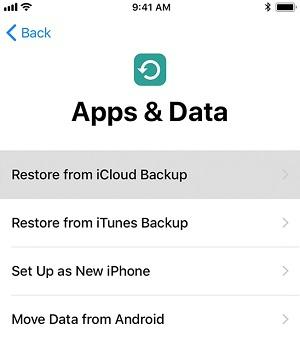 Step 3: Select a backup you want to use and the restore will starts.
Once it is complete, set up the iPhone as usual, and the deleted call logs from the selected iCloud backup will be saved immediately to your iPhone inbox, where you can see all of your incoming, outgoing, and missed calls.
With iCloud, you have the option of going all in or nothing at all. Records of calls made up until the backup time will be included in any iCloud backup. To restore everything from the iCloud backup to your iPhone, however, is the only option. There is no way to pick just the particular goods you desire. The potential issue is that restoring the backup via iCloud will also replace any existing data on the iPhone. When attempting to retrieve call history on an iPhone, you must be extremely careful with any data that has been created after the backup was completed. The procedures you must take to recover your iPhone call history are listed above.
Method 4: How to Retrieve Call History on iPhone By Contacting Your Carrier
There is another technique to retrieve your deleted iPhone call history, which is to ask your network operator for assistance if you have lost your important contacts or unintentionally erased them. You can ask for those records by contacting the subscriber service of the network operator. They can provide you exactly what you need if you provide certain dates or the phone number whose call logs you're requesting. Like with medical records, you have a right access your own records as a subscriber. Usually, this should be provided without charge. Just provide them with documentation proving your ownership of the number.
The Things You Need to Know About iPhone Call History:
1. How to check call history on iPhone and iCloud?
The Apple representatives we spoke with said that although iCloud will save your call log data so that it may be shared with your various devices, there is no way to actually view that data on the iCloud app or website. You can only see your call history on your phone's Recents screen. But you may use iCloud to access your contacts. Simply access the iCloud website and select Contacts from the menu on the home page.
2. How long will the Apple Store keep call records?
Numerous calls can be simultaneously stored in the local memory of our phone. The 1,000 most recent calls, regardless of their age, are stored on iPhones. However, you can only view the last 100 calls on the phone itself. This cap cannot be altered, declares Koster. "You can delete some of the most recent items from your call history if you wish to search further back. For instance, your call history will display 10 older calls if you delete 10 recent ones.
A clever exception is that repeated calls to the same number only count as one call, so the call history can theoretically display information on more than 100 calls at any given time.
How long will this information remain on your phone then? Call logs and other data from your last backup are kept for 180 days after you stop using iCloud before being erased. Your phone stores any location data it collects for 24 hours before erasing it. According to Apple, it also retains customer data associated with sales and downloads for a maximum of ten years.
3. How to delete entire call history?
You can choose to completely erase your call history in order to free up memory on your phone or to start over. After hitting Edit on the Recents screen, select Clear, and then tap Clear All Recents to remove the whole call history.
FAQs
1. Can I recover WhatsApp Call History on iPhone?
Re-download WhatsApp to your iPhone from the App Store > Launch it and sign in using the same account that you used to backup WhatsApp earlier. Simply click Restore when you reach the "Restore Chat History" window, and WhatsApp will begin transferring your old chat history to your iPhone.
2. Is Eassiy trustable to recover iphone Call History?
When compared to its competitors, Eassiy is the most trustworthy source because it has the highest data recovery rate and can recover files of more than 30 different types. You can choose the proper recovery option and adjust it to your specific situation to easily regain your data.
Conclusion
We really hope that using one of the methods we have just discussed, you were able to retrieve your lost iPhone call history. You can regain your erased call history and feel at ease by using these 4 great methods. However, it should be emphasized that Eassiy iPhone Data Recovery is the most effective of these solutions. You can fully rely on Eassiy to recover lost data safely, and you can be confident that it won't let you down now that it's sorely needed. Due to its capability to not only immediately scan 1000+ lost images but also to provide you the finest satisfaction and recover data from diverse conditions, Eassiy is a reliable possession. Let us know what do you think!