WhatsApp is without a doubt the most popular messaging app, with around 2 billion monthly users globally. However, many users are unable to retrieve their messages owing to a variety of factors. One typical occurrence is unintentionally deleting WhatsApp chat. So, being in this situation may be quite unfortunate. But first, you don't have to worry much, as WhatsApp is designed in a way so that users may access their messages even after they have been deleted or erased.
In this post, we will go through six easy methods for retrieving WhatsApp messages, including backup and non-backup options, that are simple to implement and do not require any extensive technological knowledge. We will also provide our top recommendation for restoring all kinds of WhatsApp data/attachments without having extra hassle, which takes no time.
Part 1: Why Did I lose My WhatsApp Messages on Android?
WhatsApp messages could be crucial for many of us. However, sometimes we lose them for various reasons from our Android devices. The reasons could be technical, or it could be human error. For example:
The deletion of chats mistakenly or any damage to your phone is the most common cause of WhatsApp data loss.
If you connect your Android device to a virus-infected PC, WhatsApp conversations may get lost in the process.
When transferring or backing up WhatsApp data, your USB could be accidentally deactivated or unplugged. It may cause WhatsApp data loss.
Other scenarios, such as restoring factory settings, flashing ROM, rooting, and so on, might also result in WhatsApp data loss on your Android device.
Part 2: How to Recover Deleted WhatsApp Messages Android? [Top 6 Ways]
When you lose a WhatsApp chat for whatever reason, it is always recoverable through various methods since this application is provided options for the restoration of the data that you've lost. Also, the solutions could offer any backup service or data recovery tool. So, let's get onto the methods without wasting any time.
Way 1: Best Way to Recover Deleted WhatsApp Messages Android without Backup [100% Effective]
Eassiy Android Data Recovery tool is the most effective method for restoring WhatsApp messages from any Android device. You can use this application not only to recover WhatsApp chats but also other WhatsApp attachments like videos, photos, voice, stickers, documents, and so on. The most interesting part is that you don't need to have any backup of your data to complete the restoration process. It's a sophisticated tool that can restore almost any file format, specifically 16+ data types, from any Android device. Also, this software supports over 6000+ Android phones, including popular ones. You can restore any data with its easy-to-follow three recovery modes: directly from your Android device, SD card, and SIM card. In terms of speed, this software offers both quick scan and deep scan options that take a few seconds to a few minutes for scanning 1000+ deleted files. On top of that, you can preview lost messages that you want to recover after the scan, which saves time.
Features:
Supports more than 16+ file types.
1000 deleted files can be scanned in seconds using the quick scan process.
Supports over 6000+ Android smartphones.
It is compatible with both rooted and unrooted Android smartphones.
Three scanning methods: Android phone, SD card, and SIM card.
Steps to recover Android WhatsApp messages without Backup:
Step 1: Download and install the appropriate version of Eassiy Android data recovery tool from their official website. After that, connect your Android device to your PC and enable USB debugging.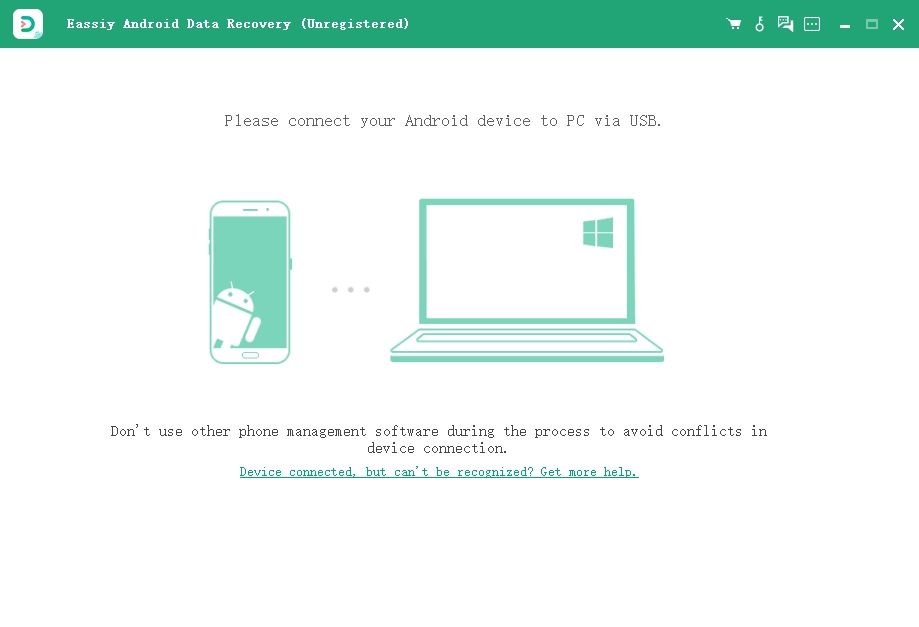 Step 2: After connecting your phone to your computer, there will be an interface that allows you to pick categories of deleted data. To recover deleted WhatsApp data from your Android device, select the "WhatsApp" or "WhatsApp Attachments" option and click the "Next" button.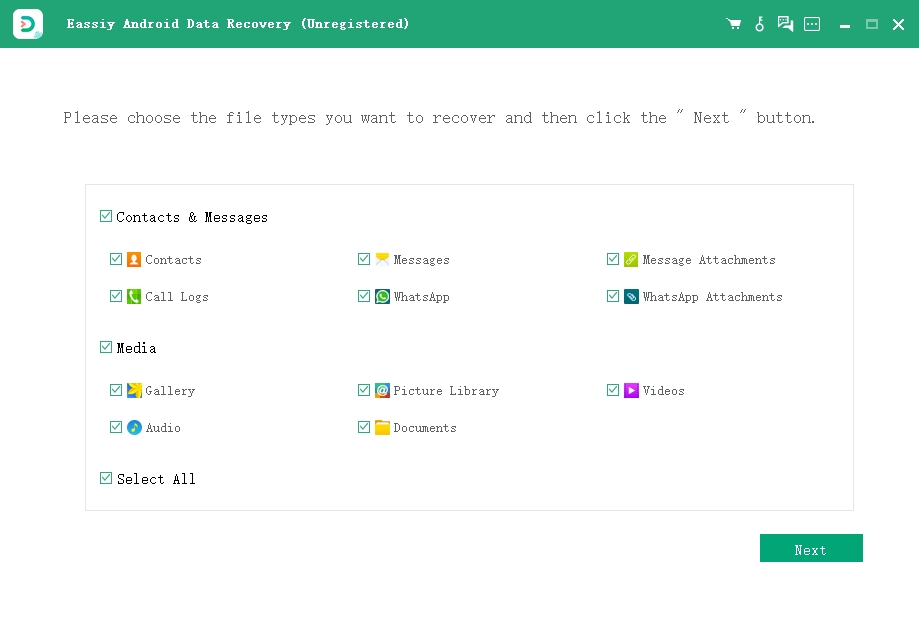 Step 3: To access lost WhatsApp messages, the application will add an app to your phone asking for permission, which will be later deleted following your data recovery. After opening your phone, go to the Developer Options and select Install to download the Eassiy app through USB.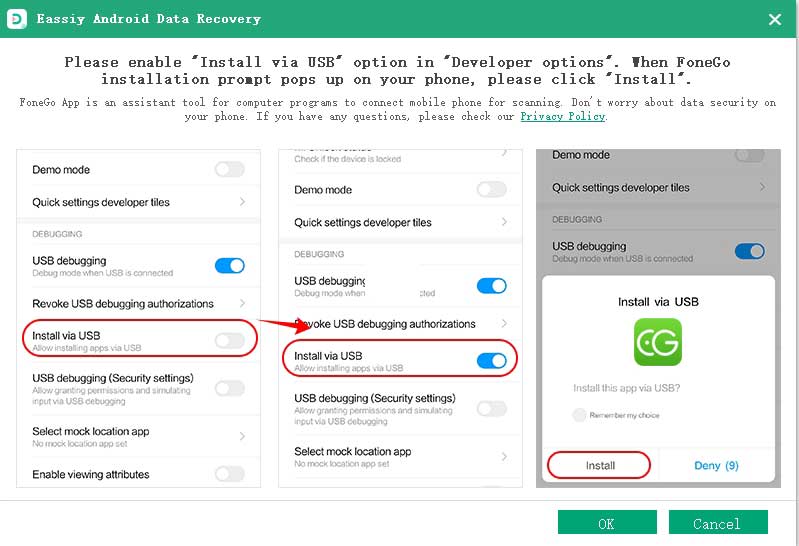 Step 4: After granting permissions to the application, select "Scan Authorized Files" to begin searching for deleted WhatsApp chats from your device.
Note: Eassiy software does not collect any of your information. So, granting access to the app is completely safe.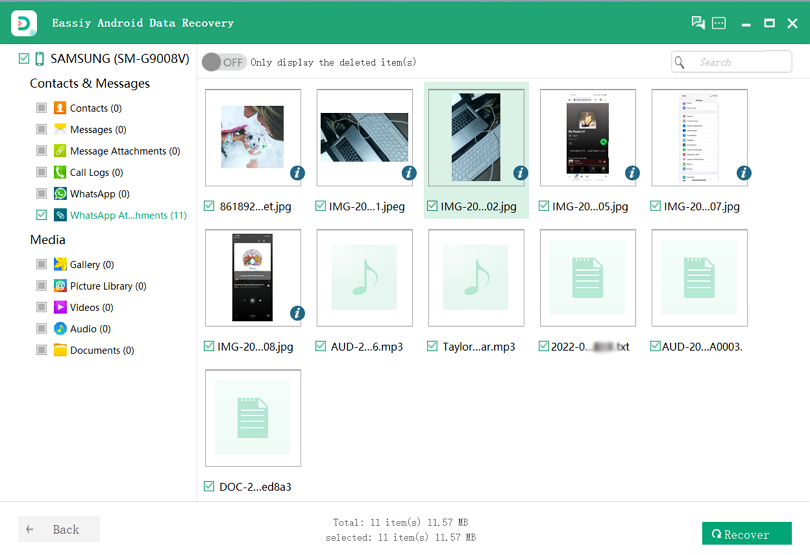 Step 5: After the completion of the scanning process, you can preview the deleted WhatsApp messages or attachments and selectively recover the data that you are looking to restore by simply clicking the "Recover" button.
Way 2: Retrieve Deleted WhatsApp Messages Android from Google Drive
If you activate Chat Backup in the app's settings, WhatsApp Automatic Backup makes it simple to restore deleted messages. In this simple method, you can recover WhatsApp chats from Google Drive by using the same phone number and Google account that is linked to your WhatsApp account.
Step 1: First, uninstall your WhatsApp application from your Android device.
Step 2: Next, you have to reinstall WhatsApp and sign up with the same phone number you used previously.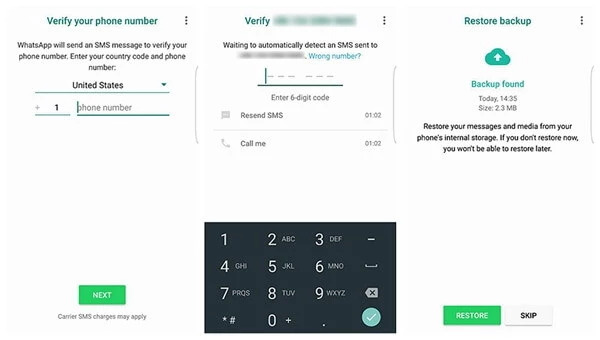 Step 3: When asked to restore message history from a backup file. Tap the "Restore" button to recover everything from the most recent backup. It will do the work for you.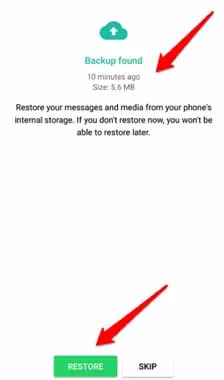 Note: Remember that WhatsApp will only keep the two most recent backup files in Android, no more than that.
Way 3: Android Data Recovery WhatsApp Messages from Local Backup
WhatsApp automatically generates local backups every day and uploads them to your phone's internal memory or an external microSD card on your Android phone. So, restoring you WhatsApp messages from this backup file is possible following these steps.
Step 1: To begin, launch your Android phone's file manager. Almost every Android system features a File Manager folder where you can manage files and folders.
Step 2: Next, navigate to SD card/WhatsApp/Databases in the file management app. If your data is not saved on the SD card, it may be stored on the internal storage of your phone.
Step 3: Change the backup file's name from msgstore-YYYY-MM-DD.1.db.crypt12 to msgstore.db.crypt12. (A previous backup may have used an older algorithm, such as crypt9 or crypt10.) However, don't modify the cipher extension number.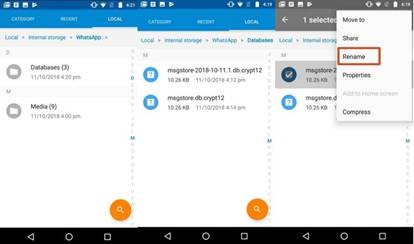 Step 4: Open the Google Drive app and go to Backups. If you come across a WhatsApp backup file that contains your phone number. Tap the three-dot Menu, then select Delete backup.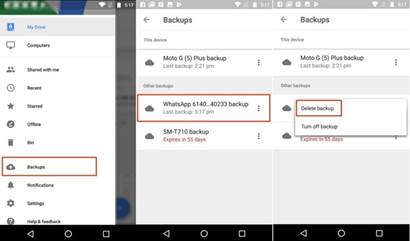 Step 5: Uninstall and then reinstall the WhatsApp application. After you create an account using your phone number, the app will urge you to recover all of your messages. Just click the "Restore" tab to start the process. Though it takes a few steps, it's easy to follow.
Way 4: Recover Deleted WhatsApp Messages Android from Archived Chats
If you have preserved your WhatsApp messages instead of deleting them, you can retrieve WhatsApp chats with the help of WhatsApp itself. Though it no longer shows on the Chat tab, the data is still available, and you can restore this archived WhatsApp conversation thread at any time.
Step 1: Open WhatsApp and go to the bottom of the Chats window before selecting the "Archived" tab.
Step 2: Tap and hold the thread you wish to recover, then select Unarchive from the top bar.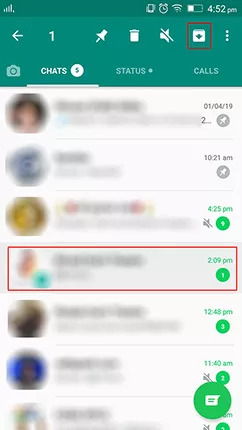 Way 5: Android Data Recovery WhatsApp Messages (Photos/Videos)
There is another way to recover not only WhatsApp messages but also the photos/videos you share through the application. WhatsApp records every image and video you transmit and receive in the WhatsApp media folder by default. Although you may erase a photo or video from your chat, it remains in your media folder. Here is how to retrieve those media and image files.
Step 1: Navigate to Internal Memory > WhatsApp > Media on your device's file manager app. Here you'll find all of the attachments, such as videos and images, that you received and sent using WhatsApp.
Step 2: Browse the files you've lost, and now you can see those or restore them.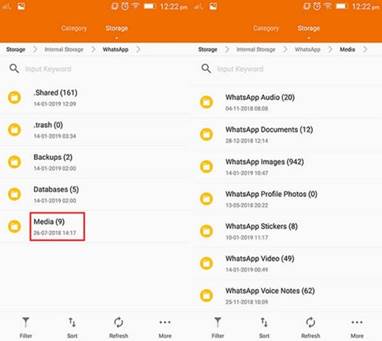 Way 6: Retrieve Deleted WhatsApp Messages Android by Asking the Sender/Recipient
It's a method that doesn't require any tool or device to retrieve your WhatsApp messages. You can just ask the message receiver to send the deleted chat that you may have accidentally erased on your end or vice versa. However, if you choose the "DELETE FOR EVERYONE" option by chance, then the message will be removed for both the sender and receiver's end. So, be careful about that.
Part 3: FAQs to Recover Deleted WhatsApp Messages Android
1. How can I restore my WhatsApp messages without reinstalling the application?
Install any File Manager or File Explorer software on your device and access your WhatsApp backup on local storage. Navigate to your device's storage and choose WhatsApp. After that, navigate to Databases or SD card> WhatsApp> Databases. It is the place where you will find the backup files.
2. Where to find the WhatsApp bin in any Android device?
To access WhatsApp trash, first launch the app on your mobile device. Following that, long click the WhatsApp icon. A little window will appear; then, in Android, tap the trash symbol or uninstall. On iOS, you may also select to remove the program.
3. Does WhatsApp keep your chat private?
Many WhatsApp features make chat private as end-to-end encryption ensures that messages and file transfers remain "private," meaning between the sender and the recipient. However, undelivered messages are not stored on WhatsApp's server. So, WhatsApp is safer than other messaging apps.
Conclusion
WhatsApp is a popular platform for sharing messages or any other attachments where you may lose data for various reasons. However, as we saw, there are always some effective ways to retrieve your messages. There are three versions for the successful restoration of WhatsApp chats: using external/internal storage, local backup service, or a third-party data recovery tool. Eassiy Android data recovery software was our best recommendation as only this method ensures a high chance of retrieving deleted WhatsApp messages without going through any difficulties. In this way, you can restore all kinds of WhatsApp attachments in no time.