How do I get my Android device root access? The concept of "rooting" is known to us. But do you know the actual definition of rooting? In this piece, we will provide you with an overview of rooting, discussing both the positive and negative aspects of the practice. Rooting an Android smartphone is possible using various rooting applications, such as Kingo Root, One Click Root, KingRoot, and many others. And which one should be best for you? One Click Root may be the best option for your Samsung device. This post contains information that might teach you how to root your Samsung device using One Click Root.
What is "Root"?
Android users using devices that run the Android operating system may get root access by rooting their devices. After you have rooted your smartphone, you can install or remove any app you choose, regardless of its developer.
The advantages and disadvantages of establishing roots
Rooting your smartphone will result in the warranty being voided.
You can delete any applications or programs preloaded on your device that you do not need.
Rooting your device can let you block certain pop-up information or advertisements from appearing on specific applications.
If you follow the rooting instructions, there is no risk that rooting will brick your phone.
Even though rooting is entirely risk-free, there is still a possibility of unanticipated blunders and mishaps occurring. For instance, if the battery on your phone dies, your gadget can become inoperable and bricked. There is a possibility that critical system files will be removed, which will lead to errors throughout the system.
Before Using One Click Root to Root Your Samsung Android Phone, What Steps Should You Take?
Back up your device data
You should create a backup of the contents, images, and videos stored on your phone before beginning the rooting process. This is in case any unforeseen errors or mishaps occur during the procedure. In such a situation, we would like to provide a suggestion for the most user-friendly and effective Android backup program available.
Make sure that your phone's battery is ultimately charged
Because running out of power might result in your smartphone being unusable, you should make sure that it is fully charged to at least 80 percent before rooting it.
Pick a root tool you can rely on
We advise One Click Root. One Click Root is the fast, easy, secure rooting software that supports thousands of devices. It just takes one click for it to root your Android handset.
Instructions on how to root Samsung devices with One Click Root
One-click rooting of Android devices using the computer program One Click Root
Step 1
Download the One Click Root installer.
You may get One Click Root for PC by going to its download page, downloading it, and installing it on your computer.
You may activate USB debugging on your phone by going to "Settings" > "Develop options" > sliding the "USB debugging" switch to the "ON" position. This will allow you to operate your phone from your computer without receiving alerts.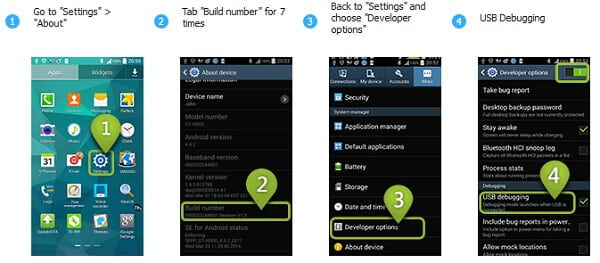 Step 3
Connect Samsung to PC
Plug your Samsung phone into a computer with a USB cable, and One Click Root will detect your phone automatically.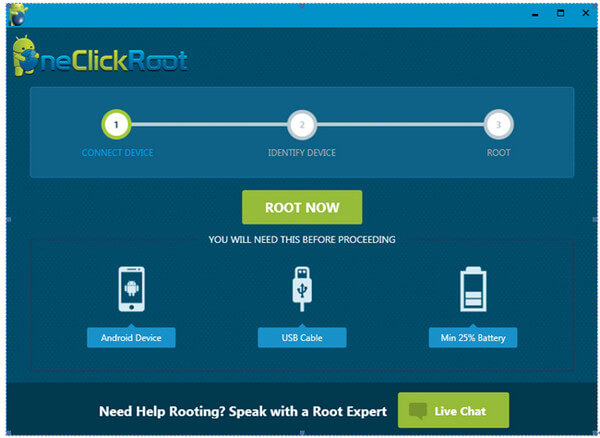 Step 4
One-Click Rooting for Samsung Using One-Click Root
Click the "ROOT NOW" button once One Click Root has appropriately detected your phone to begin the process of rooting your device. The procedure of rooting will take just a few minutes. So, all you need to do is be patient and wait.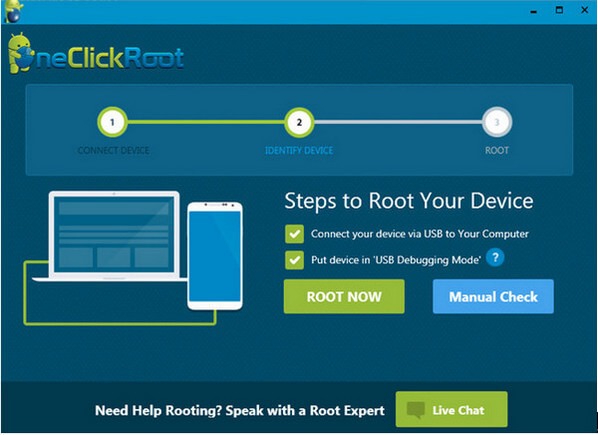 Your phone will automatically reboot after the rooting procedure is complete successfully.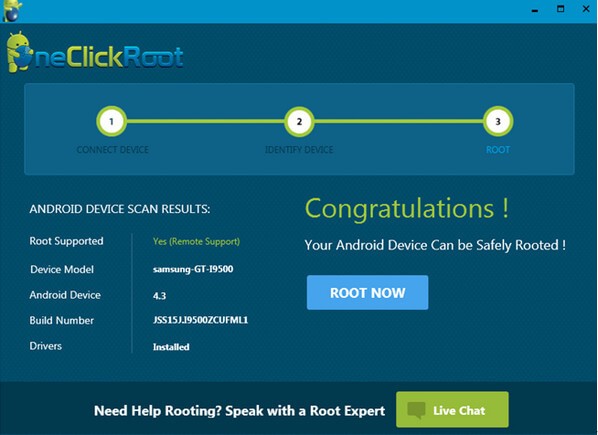 Root Samsung with Only One Click Using One Click Root On Mac.
Because certain unknowns and vulnerabilities are associated with rooting on Mac, we recommend that you root Samsung devices on Windows rather than Mac if you are using a Mac computer and wish to root your Samsung on Mac.
Conclusion
The primary focus of this post is to demonstrate how to root Samsung Android smartphones by using a tool called One Click Root. We are happy to answer any questions you may have about rooting Android; just let us know.