A youngster toying with your phone, a system crash, or an unintentional scroll all have something in common. You could easily lose data as a result of these. When this occurs, you could search for the recycling bin right away by scrolling. Unfortunately, the Google Messages app on the majority of Android devices lacks a recycle bin. Unlike the Google Photos app, you do not have a grace period of 30 or 60 days after deleting a message. Your data isn't permanently lost, though.
We can provide solutions to assist you in recovering essential text messages that you've lost on your Samsung smartphone from a loved one or business colleague. In this article, we'll go over in detail all you need to know about recovering deleted text messages on your Samsung Galaxy Device. In this article, we've highlighted the 7 best ways to retrieve deleted text messages from Samsung devices. The best Android data recovery tool, "Eassiy Android Data Recovery," which is a useful tool for retrieving lost or deleted text messages, will also be introduced.
Part 1: Can We Recover Deleted Text Messages on Samsung?
Let's be honest; there's a significant chance that you concur with my viewpoint. In a word, the answer is that erased texts from any device, including Samsung, can be recovered. All other sorts of data, such as images, documents, and other types, are subject to the same rules. To understand this, you must be familiar with how data is stored on a device. A primary memory allocation table stores (and allocates) specific regions for data storage.
Its memory table cell is activated instead. This means that the space that was allotted to it is now available for use by anything else. Therefore, if you opt to cease using the smartphone, you might be able to successfully execute Samsung text messages right away.
Part 2: How to Recover Deleted Text Messages on Samsung Galaxy S7/S8/S9/S10/S21/S22? [Top 7 Ways]
Let's study more about the various options now that you are aware that deleted text messages from a Samsung device can be recovered. We've included numerous techniques for recovering deleted Samsung text messages for your convenience:
Way 1: How to Retrieve Deleted Texts on Samsung with Samsung Data Recovery
You can recover irreversibly deleted text messages from your Samsung device without a backup by using the Eassiy Android Data Recovery application. This ultimate Android data recovery tool has the most user friendly design that will help you retrieving deleted text messages Samsung even if you are a newbie user. It provides the quickest rate of data recovery from Android devices. This application supports a record-breaking 16+ different file types. Eassiy Android Data Recovery works with a wide range of Android handsets, including those made by Samsung, Huawei, HTC, Google, LG, and Sony.
Accidentally deleted text messages can be easily recovered thanks to Eassiy's cutting-edge Android data access and recovery technology. Whatever the cause of the lost text messages, audio messages, WhatsApp messages or snapchat messages on your Samsung android phone(system failure, an unintentional deletion, external damage, or any other issue), Eassiy Android Data Recovery is the best recovery tool to get you out of this jam. The finest recovery source is Eassiy Android Data Recovery since it recovers data more frequently than its competitors and can swiftly go through 1000+ deleted files.
Key Features:
Assistance with more than 6000 Android mobile devices.
The highest industry leading data recovery rate for Android smartphone data recovery.
Look through 1000+ deleted files quickly by using a quicker scan.
There is a separate set of functionality available for each of the 3 recovery modes offered by this software: recover from Android device, SD card and SIM card.
Supports astonishingly more than 16 distinct file types.
It can restore not only WhatsApp data, attachments but also other social media and app data with ease.
Steps to recover deleted data on android using Eassiy:
Step 1: Install and run Eassiy Android Data Recovery
Your erased text messages information can be recovered with the excellent Eassiy Android Data Recovery on your Samsung device. Installing the most recent version of this software on your computer is necessary to accomplish this.
Step 2: Connect your Android to a computer.
A connection between your PC and Samsung device is required. Next, go to "USB debugging" on your Samsung smartphone.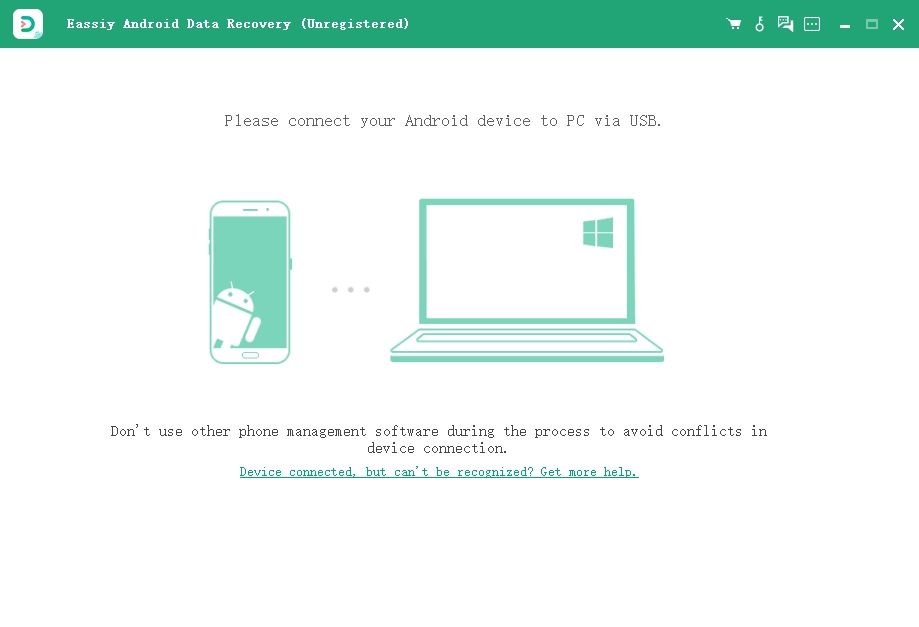 Step 3: Select Your File Types
Pick the type of file you want to recover. Check all the boxes pertaining to "Contacts & Messages" after choosing this option. After choosing a file type, click "Next" to restore your deleted text messages.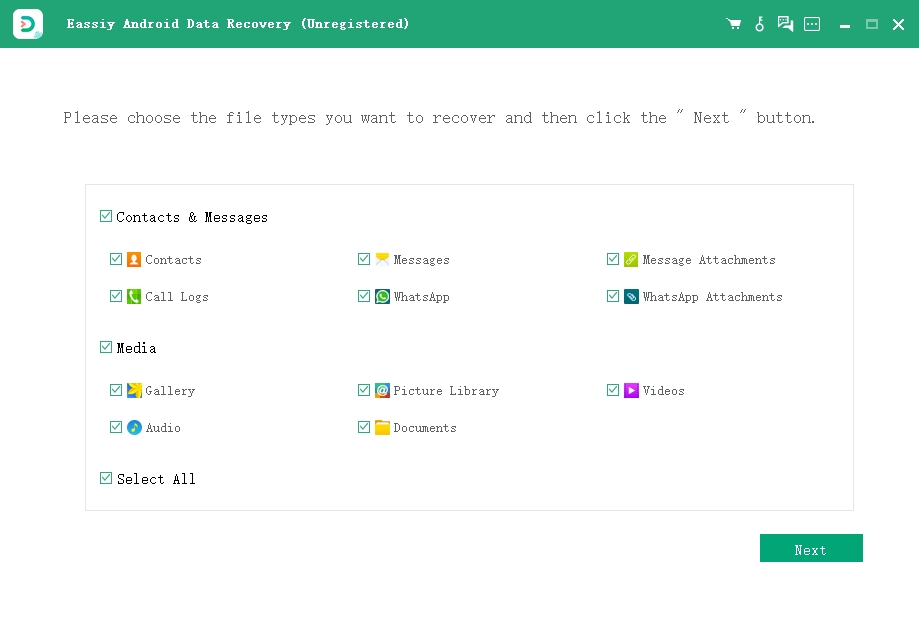 Step 4: Download the Eassiy app on your device
When the pop-up appears on your Android smartphone, pick "Install through USB" in the software's developer options, then click "Install". Give Eassiy permission to access the memory of the Samsung device. When the Eassiy pop-up box asks for permission to read data from your Android smartphone, click "Allow." Select "Scan Authorized Files" on the software to start looking for the deleted text messages.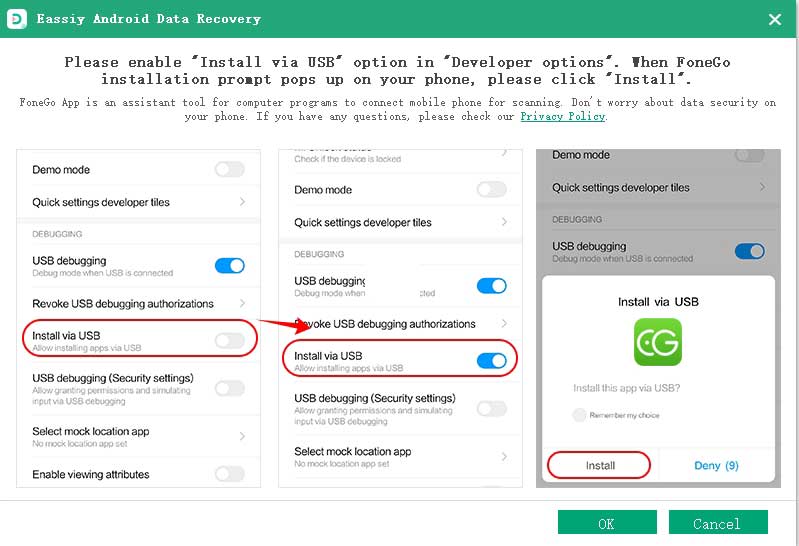 Step 5: Restore Android Data
Keep your phone plugged into the network while the system is being scanned. Verify the necessary data is present after the initial scan. If not, select "Deep Scan" to look for concealed data.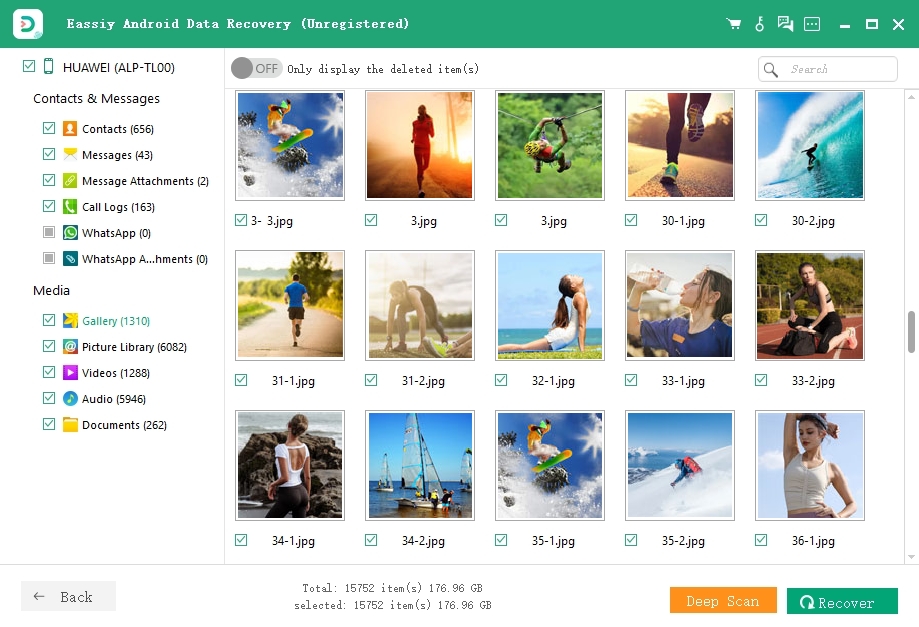 You may now select each file type to view the data after the deep scan technique. For instance, you can view text messages along with names, emails, and phone numbers by clicking on the sub option of "Contacts & Messages" on your Samsung Galaxy app. After that, select "Recover" and indicate text messages you want to get back.
Way 2: How to Recover Deleted Text Samsung from Restore and Backup Option
The majority of Samsung devices enable backup and restore. You can restore your text messages from the backup if you lose any crucial messages.
Step 1: Visit Settings > Backup & Restore.
Step 2:  Pick the most recent backup, then restore it. There are the text texts you erased.
Step 3: Be patient as the procedure recovers your deleted text messages.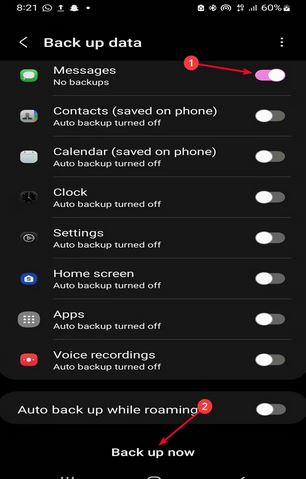 Way 3: Retrieving Deleted Text Messages Samsung via Samsung Cloud
Samsung Cloud is one of the best methods for backing up all of your lost phone data. Using this method, users can quickly recover text messages or other data, including contacts, photographs, videos, etc.
Step 1: Navigate to Settings on your Samsung Galaxy phone and choose "Samsung Cloud."
Step 2: Next, choose from the menu "Backup and Restore" > "Restore Data." Choose the "Messages" button there.
Step 3: Finally, click "Restore Now" to get your text messages back.
Way 4: Retrieve Deleted Text Messages Samsung Using Samsung Kies
Another useful feature offered to owners of Samsung smartphones is Samsung Kies. Customers could sync and transfer data between mobile smartphones and PCs thanks to Samsung's creation. Remember that you must have previously backed up your data for this to operate.
Step 1: Start your PC by launching Kies.
Step 2: Use a USB cord to now connect your device to the PC.
Step 3: After that, tap the "Backup/Restore" button.
Step 4: Next, pick "Restore data" and the backup file containing the deleted messages.
Step 5: Here, select the messages you wish to retrieve.
Step 6: Last but not least, choose "Restore" from the menu.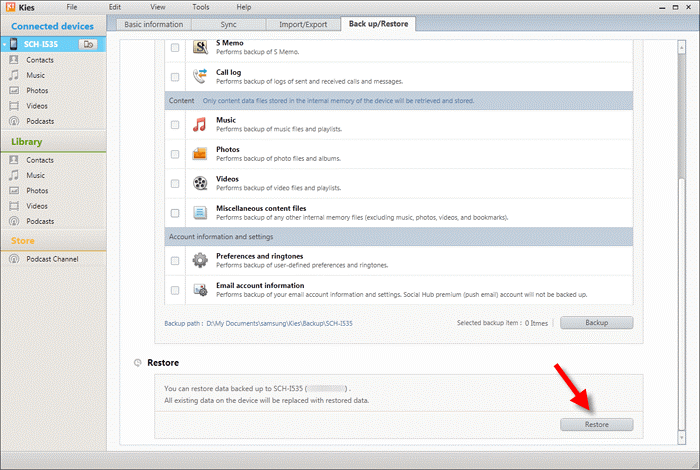 Way 5: View Deleted Texts Samsung Galaxy Using Samsung Smart Switch
The Samsung Smart Switch, which also enables users to instantly retrieve deleted texts on Samsung if you have generated the backup on it, is another similar functionality provided by Samsung officials. Samsung Smart Switch is an application used to manually create backups for the old Samsung devices to your Windows PC or Mac computers, then restore them to the new ones. Samsung Cloud, on the other hand, is a built-in feature provided on all Samsung devices that is available to automatically sync the data for backing up to the cloud.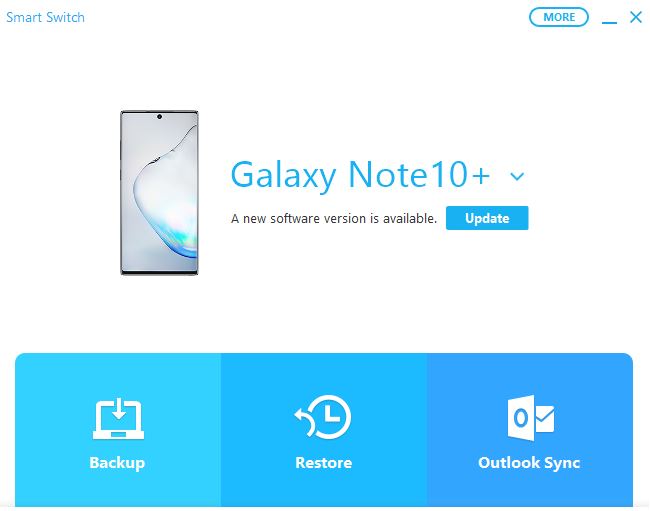 Therefore, congrats if you've already used Samsung Smart Switch to back up your deleted texts. All you have to do to restore the text to your Samsung smartphone is to retrieve the backup on your PCs.
Way 6: Samsung Recover Deleted Text Messages with Undeleter App
You can still use a mobile app to retrieve lost SMS on a Samsung phone, despite the fact that doing so is not recommended. After all, some of you might think it is impractical to use a computer. Using the robust, free application GT Recovery, you may easily recover your deleted text messages from your Samsung Android phone. With GT Recovery, you can easily recover your deleted texts by following the instructions below:
Step 1: Launch the GT Recovery app on your device after downloading it from the Play Store. If you haven't already rooted your smartphone, GT will prompt you to do so.
Step 2: On the screen that follows, you must run a scan to hunt for your lost messages. To do that, click Start new scan.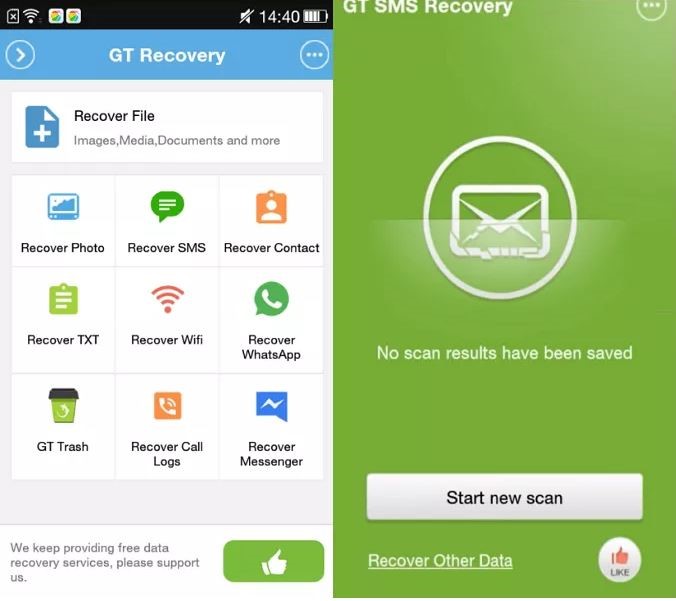 Step 3: You can preview the phone number and choose the desired messages. After your phone has been checked for recoverable texts. To retrieve them, click "Recover Selected SMS" on your Samsung phone.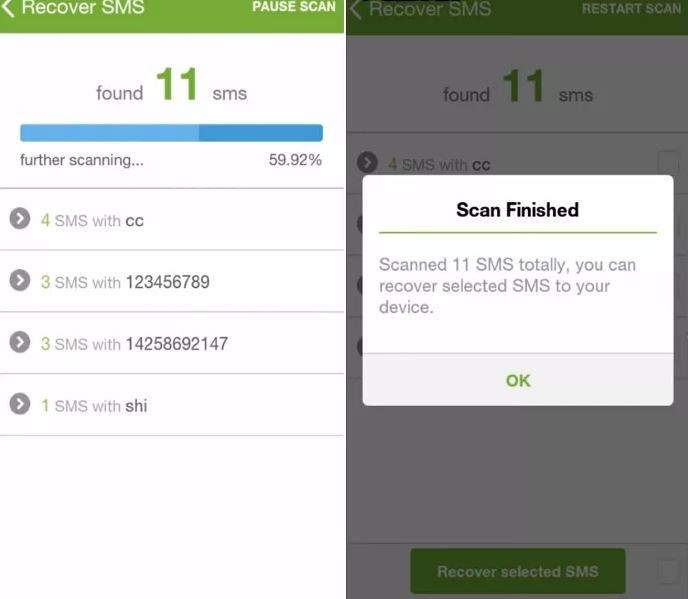 That was how to recover deleted messages from a Samsung Android device without using a computer. However, when you download and install the program on your Samsung phone, new data will be created in the phone's memory, potentially overwriting any previously deleted messages and permanently deleting them.
Way 7: Contact Sim Carrier/Service Provider to Retrieve Deleted Texts on Samsung
Even if communications are deleted, carriers keep them in their massive databases. As a result, you can acquire free access to deleted text messages from another phone by contacting your carrier. It's possible that certain providers may not offer direct access to saved text messages. Instead, they give you access to their backup program so you may get back deleted SMS. For example, customers can use Verizon's retrieval software.
Part 3: FAQs to Samsung Recover Deleted Text Messages
1. How can I retrieve deleted text messages from my Android without root or computer?
To recover deleted text messages from an Android phone without a computer, use the SMS Backup+ app. A useful free program called SMS Backup+ allows Android users to restore deleted text messages without having to root their device. You must link the app to your Gmail account and enable IMAP in order for it to begin producing backups.
2. How can I see already deleted messages?
How to See Deleted Messages on WhatsApp (Android)
1. Select Notifications under Settings > Apps and Notifications.
2. Find and select the "Notification History" menu item.
3. Use Notification History by selecting the button next to it. After the first two steps are finished, this page will show all upcoming notifications.
Conclusion
Without text messages, our lives would be incomplete, and occasionally, losing one can be truly troublesome. Even while it is quite easy to recover your texts and SMSes using recovery software, or any other Cloud Storage backups, it is better to be safe than sorry. Remember to save screenshots and backup the important texts to avoid future instances like this. However, we've given you the best 7 methods for recovering text messages from your Samsung smartphone so you don't have to dig around for your misplaced messages. By using the preceding procedures, you should be able to retrieve any deleted texts from your Samsung device.
However, you should be informed that out of all of these techniques, Eassiy Android data recovery is your most sensible choice for your Samsung device. This can serve as a reliable source while also ensuring your complete security for data recovery for you.