Recording your computer screen is something you can use for professional or personal purposes. There are people who like to record themselves playing Minecraft and share them with their friends, while others prefer to make tutorial videos so their viewers can learn along with them. Regardless of whatever you might need a screen recorder for, the good news is we've found the best selection for you. So, in this post, we will walk you through the best easy screen recorder for PC that you can use for any task.
Part 1: Which Is The Best Easy Screen Recorder for PC?
1. Easily Screen Recorder Ultimate (Experts Choice)
Eassiy Screen Recorder Ultimate is many tech-experts recommendations. Yes, this is because this screen recorder is not only the best easy screen recorder for PC, but it's also packed with many incredible amazing features that tick boxes around. With Eassiy Screen Recorder, you record everything on your desktop in HD or as a video recording using more than ten different types of recording tools, including a game recorder a video recorder, a window recorder, a scheduled recorder, and many more.  
Also, this tool offers many professional features that you won't find in other products like audio recording, hotkeys, real-time annotation, real-time screenshots, and auto-stop. The best part is that it has no time limit or watermark so you can share your work without any worry.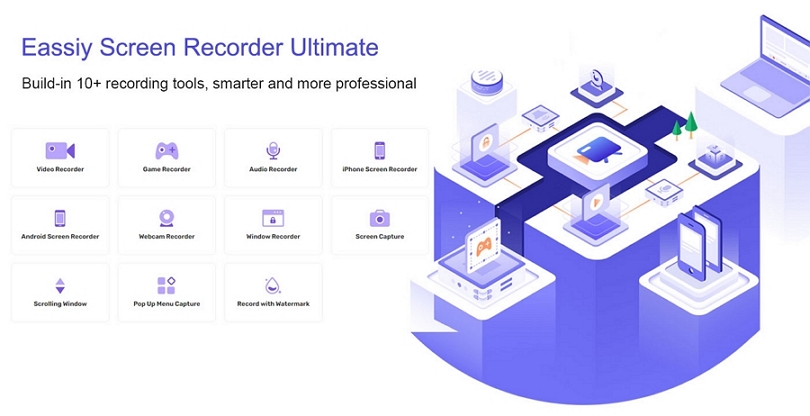 Key Features
Eassiy is not limited to just recording PC screen. It can also record phone screen from a PC.
Easily customize the recording area to record any area of your PC screen efficiently.
The scheduled recorder allows automatic screen recording of the PC without requiring you to sit in front of the PC screen during the recording process.
Auto-split allows users to automatically split the recording task into multiple files for various use.
Real-time annotation facilitates the process of highlighting important elements when screen recording.
Simultaneously record PC screen with or without audio.
Lock and record a particular window on your PC smoothly.
Supported System: Mac, Windows, Android, iPhone
Price:
$19.99 (Monthly Plan)
$39.99 (Annual Plan)
Pros
The simple UI makes navigation easy for all users.
It's packed with many incredible features.
Boasts over ten types of recording tools.
Record PC screen in different resolutions up to 1080P.
Cons
Trial version is limited in 3 minutes
2. Snagit
Snagit is one of the best and most popular screen recorders for pc. This efficient screen recording tool offers great features that you can use to screen-record videos for tutorials, how-to guides, and many more. Plus, it can record a webcam, take screenshots, etc. And you don't need technical knowledge to operate. Ultimately, you can't go wrong with the Snagit screen recorder, though it does not offer any video editing tools to edit recorded videos.
Key Features
Support GIF maker.
Export recorded video to cloud storage and make it accessible via various devices.
Supports 4k video recording.
Screenshot PC screen quickly and easily.
Supported System: Windows, Mac
Price: $62.99 on the first year, then $12.72/year afterward
Pros
It's compatible with both mac and windows PC.
Offers many versatile tools.
Recorded videos can be synced across various devices.
It's easy to use.
The app is lightweight.
Cons
Occasional glitches
File syncing needs third-party cloud storage.
It's relatively expensive compared to other screen recording tools.
No video editing tools.
3. Jumpshare
Jumpshare is a good choice. It is really easy to use and will record the screen of your desktop or laptop in just a few clicks. If you need more customization, you can always change the resolution and bitrate of the video file before recording it. The best part is that you don't have to download anything, as it's all done through your browser.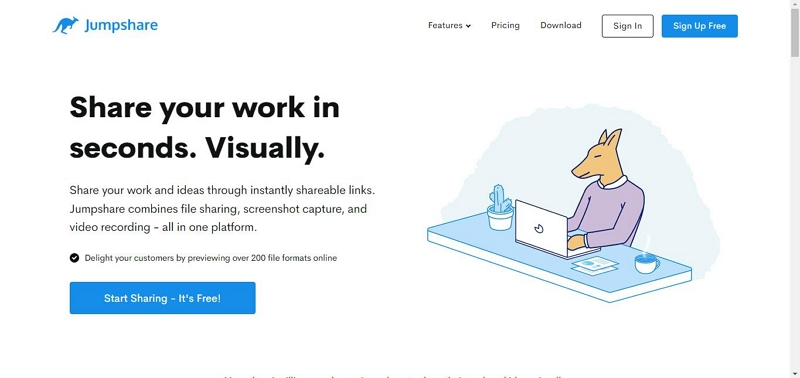 Key Features
Create video recordings, GIFs, and screenshots seamlessly.
Annotate recorded videos using arrows, highlighters, and lots more.
Excellent file-sharing tools.
Supports cloud storage for saving recorded video files.
Supported System: Windows, Mac, iPhone
Price: Free; $8.25/month (Plus); $12.50/month (Business)
Pros
Easily organize recorded videos into different folders.
Supports several features for recording a PC screen and creating GIFs seamlessly.
Great annotation tools.
Its free trial allows you to explore its features before you purchase the premium version.
Cons
It's pretty expensive compared to its competitors.
The setup process is a bit confusing.
4. SimpleScreenRecorder
SimpleScreenRecorder is a screen recording tool for Linux that enables you to create high-quality recordings of the screen. This tool can record a PC screen with audio from your computer or from an attached microphone. And it does not matter if you're looking to screen record instructional videos, product demonstrations, or anything else where a video would be useful, this tool offers you efficient features that'll help you operate smoothly. It's also easy to operate.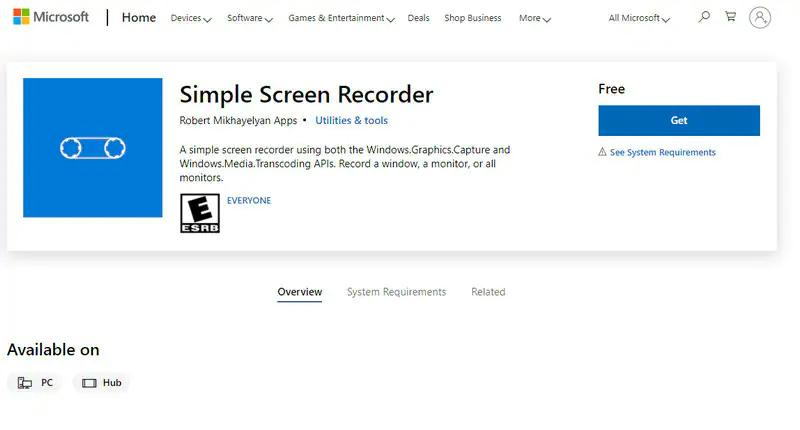 Key Features
Simultaneously record PC screen with or without audio.
It's lightweight.
Record PC screen in any dimension.
Supported system: Windows
Price: Free
Pros
It offers a plethora of reliable features.
It's free
Cons
The app has some buggy issues.
The user interface feels outdated.
It's compatible with only Linux computers
It does not support webcam recording
5. Screencast-O-Matic
Screencast-O-Matic is one of the easiest and most powerful screen recorders for Windows, Mac, iPhone, and Android. With this tool, you can record a full screen, a single window, or capture a region of your PC without requiring you to install or download any app. Besides, it's easy to use, and it offers many editing features that allow you to edit recorded videos effortlessly. You can even upload the recorded videos to third-party platforms YouTube and other platforms directly from the app.
Key Features
Supports webcam recording.
Record screen on Windows, Mac, Android, and iOS devices efficiently.
Add overlays, including text, shapes, images, and lots more to recorded videos.
Take PC screen screenshots without any complications.
Supported System: Windows, Mac, Android, iOS
Price: $3.60/month
Pros
Share recorded videos to third-party platforms quickly and easily.
It can be used on any device.
It's easy to operate.
Easily save recorded videos to cloud storage.
You don't need to install or download an app to use this tool.
Cons
Most of the features can't be used with the free version.
The editing interface can be quite confusing for first-time users.
Part 2: How Do I Record My PC Screen Seamlessly?
The mobile screen recorder FonePaw has been designed with simplicity in mind. It also has plenty of recording modes and options, as well as the ability to record directly from HDMI and USB devices, meaning that you can use it on virtually any device you own.
Eassiy Screen Recorder can be used in the following steps;
Step 1. Download Eassiy Screen Recorder from the official website and install it on your Mac or Windows computer.
Step 2. Record the Screen.
To record PC screen, click Video Recorder, though there are other options such as Game Recorder to record your PC game screen, Window to record a locked window, and lots more.

Once you click Video Recorder, you'll be prompted to a new screen as shown in the image below. Now have to choose the dimension at which you intend to record your PC screen at. You can choose Full to record PC full screen or Custom to record a particular area of your PC screen within a specific dimension. 

Also, you can apply other editings, such as turning on the toggle next to system sound to record the PC screen with system audio, Microphone to record the PC screen with external audio, and Webcam to record the PC screen with face cam. After you apply the required settings, click the REC button to start recording your PC screen.
Step 3. Perform Real-time Annotation and Screenshots
Eassiy Screen Recorder allows users to take screenshots and annotate screen recordings in real-time. For Annotation, click the Briefcase icon at the bottom left side of your screen. Doing that will prompt all Eassiy Screen Recorder annotation tools to appear on your screen. Then, you can use tools to add text, highlight important elements, draw, etc.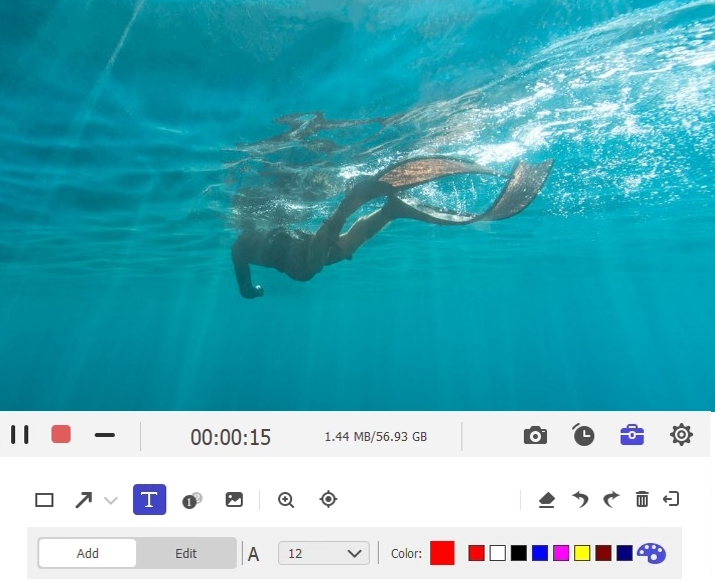 To take real-time screenshots, you just have to click the Camera icon in the region where the annotation tool (Briefcase icon) is located.
Step 4. Stop Screen Recording
After you complete the screen recording operation, click the Stop button to end the process. Once you do that, your recorded video will be displayed on your screen. Easily allows you to perform more editing such as trimming, cutting, splitting, and more from this page. Click Done once you complete the editing task.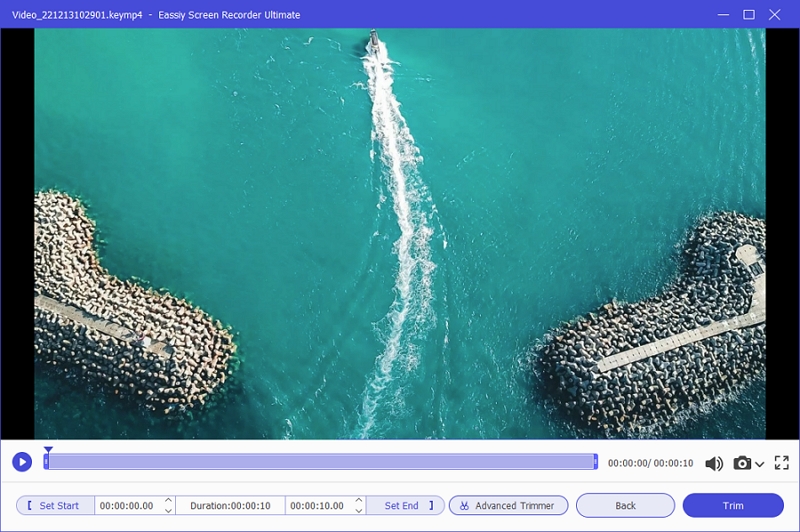 Step 5. Save & Share the recording
By clicking the Done button, you'll be prompted to the Recording History screen where you can save and share the recorded video. To save the recorded video, click the Folder icon next to it and save it to a preferred location on your PC local storage. You can share the recorded video to other social media apps by clicking the share icon next to it.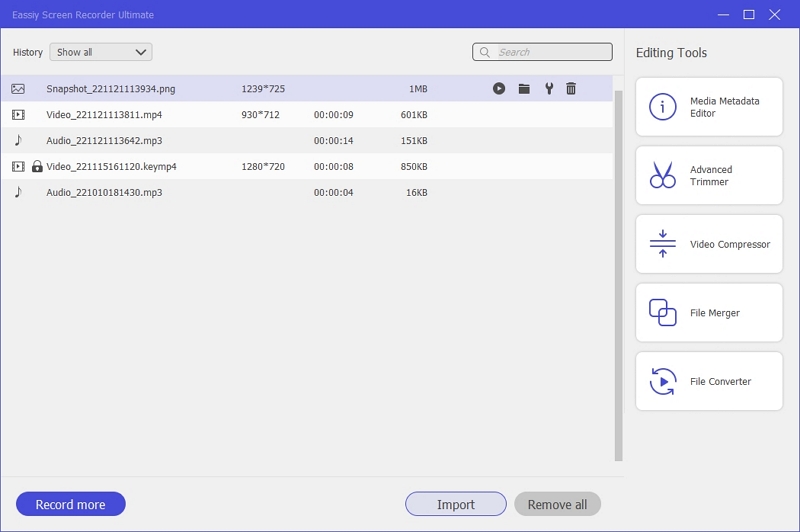 Part 3: FAQs
1. What is the best screen recorder for a PC Without a watermark?
Most screen recorders have a watermark and require you to pay for the full version. This app doesn't have a watermark, doesn't require anything extra, and provides some of the best screen recording services available. Whether you need to make a video or audio file, this app can provide an all-in-one solution.
2. What is the best screen recorder for PC Free?
Easily Screen Recorder is the best screen recorder for PC. With an intuitive interface, this program provides everything you need to record anything from your screen. It's a no-brainer! If you're looking for the best easy screen recorder for PC, then look no further than Eassiy Screen Rceorder.
3. What Do Youtubers use to record Gameplay?
Eassiy is an all-in-one screen recording app that is trusted by many YouTubers, including newbies and professionals. It allows them to seamlessly record gameplay from any screen, be it a phone screen, Windows computer screen, or Mac computer screen. It's the real powerhouse!
Conclusion
When it comes to screen recording software, the above are the best easy screen recorder software you can find online. They all offer great quality for recording PC screens for any purpose, and you don't necessarily need advanced knowledge to use them.Nevertheless, if you ask our opinion on what screen recorder will be best for you, the answer is obvious from the list above. Easily Screen Recorder is trusted by tech-experts, so you can't go wrong with such a tool at your fingertips.