Few years ago, no one was talking about screen recording their PC screen. But now, the demand for a perfect screen recording tool has become so high that some folks with low-end PCs are already looking for the best light screen recorder for PC. Fortunately, there are many light screen recording software available online, and all of them claim to be the best, which is not true, thus making the process of finding the one that might suit your requirements feel endless. If you're looking for the best light screen recorder for Windows 10, worry less, you've just stumbled on the right page. Here, we've compiled a list of the lightest screen recorder for PC that can come in handy for any user, be your tech-savvy or not. Just keep reading.
Part 1: Which is The Best Light Screen Recorder for Low-end PC in 2023?
There are a number of screen recorders out there for Windows 10 that can be used to record your desktop in real-time.
1. Eassiy Screen Recorder Ultimate (Best Choice)
Dedicated to creating high-quality screen recording, Eassiy Screen Recorder Ultimate is a top-leading lightweight tool that boasts over ten built-in screen recording tools, including locked windows, a game recorder, a webcam recorder, a windows recorder, a phone recorder, and lots more. It features the ideal tools that newbies and professionals would surely need to operate smoothly for any screen recording task.
With Eassiy Screen Recorder Ultimate, you're not only limited to screen recording PC screen, you can also perform scheduled recording using a scheduled recorder, and there is an auto-stop feature that allows you to end screen recording automatically, thus allowing you to focus on other important things. Additionally, this tool offers special editing tools that allow you to take real-time screenshots and annotate screen recordings in real-time without hassle. All it takes is only a few clicks.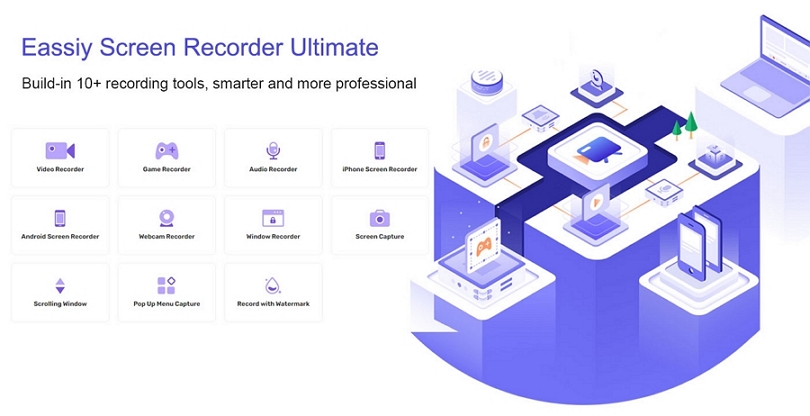 Key Features
Lightweight screen recorder that supports over ten recording tools to record game screen, iPhone screen, Android Screen, PC screen, Webcam, and lots more.
It also supports multiple recording formats including AVI, MP4, MOV, and FLV.
Record PC screens in different resolutions such as 4K, 1080p, 720p, and 480p.
Perform scheduled screen recorder using an advanced scheduled recorder.
Supports auto-stop to automatically en screen recording without necessarily sitting in front of your PC.
Real-time annotation facilitates annotation during the screen recording process.
Supports advanced tools that allow noise-cancellation recording, locking of windows while recording, etc.
Pros
Unlimited free trial.
Offers a lot of rich functions.
Supports sophisticated screen recording tools.
Performs different real-time operations during the screen recording process.
It can be used to screen record any device screen, be it PC or phone.
Share recorded video directly to social media platforms
Cons
The free version supports only 3 minutes of screen recording.
2. Screencast-O-Matic
With Screencast-O-Matic, you can record your screen for Windows 10 in 2022. It offers you recording options with six different codecs, smooth streaming, and a seamless screencasting experience. With its features like exporting to MP4, WMV, AVI, and more, you can record from multiple displays at once or create tutorial videos. Also, Screencast-O-Matic offers helpful editing tools that allow seamless editing of recorded videos, and just like Eassiy, it supports screen recording on various devices. Ultimately, this tool has many functionalities that users can benefit from, and its free version allows you to explore some of them before you purchase.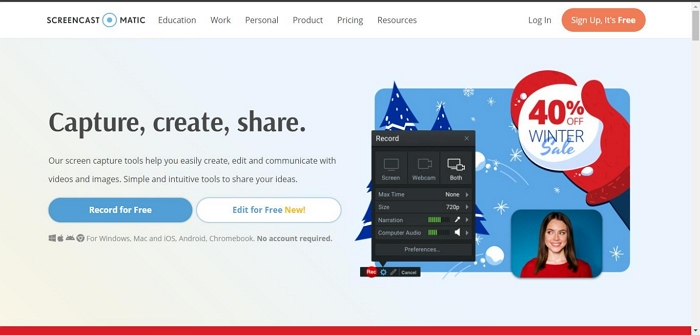 Key Features of Screencast-O-Matic
Screencast-O-Matic is a free screen recorder that lets you upload your videos directly to YouTube.
Record your entire screen, or just a window or any region of the screen.
Record audio from your microphone or system sounds like from a Skype call, a YouTube video you are watching, etc.
Supports real-time drawing to highlight any portion of the screen and clean drawing during screen recording.
Edit recorded videos using tools that allow you to trim, add overlays, and do lots more.
Pros
Desktop and mobile compatibility.
It's easy to operate.
Great real-time drawing tool.
Efficient editing features.
Cons
The free version has limitations.
The customer support is not reliable.
It does not support scrolling capture.
3. RecForth
RecForth is an open-source screen recorder for Windows 10 that does not require any special configuration to start recording. This lightweight and user-friendly software is perfect for creating tutorials, product demonstrations, and instructional videos, and it's free to use. Also, Recforth is known for its quick execution of screen recording operations, and it's very beginner friendly, making it an ideal tool for users with no technical knowledge.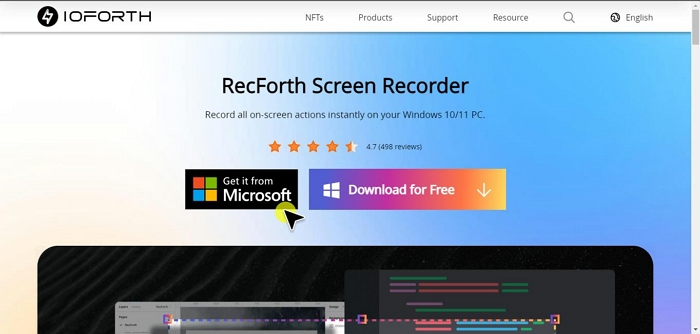 Key Features of RecForth
RecForth has the best light screen recorder for low-end PCs, and the paid version is still very affordable.
It records quickly and uses a low CPU, making it an excellent option for low-end PCs.
Simple user interface.
Supports webcam and game recording.
Pros
Efficient for recording high-quality videos on PC.
It's simple to use.
Swift installation process.
It's reliable for recording webcam, game, and high-quality videos.
Cons
It does not support real-time editing.
You need to upgrade to the paid version to explore all its features.
It's compatible with only Windows computers.
Unreliable customer support.
4. Windows Game Bar
Windows Game Bar is a built-in game recording tool on Windows 10, and it allows seamless recording of gaming activities. The tool is the best of its kind as it can capture screens at very good quality up to 4K, as saves them in MP4 files without slowing down your computer or eating up memory. Also, it's dead simple to use and can save all of your recordings automatically for future reference.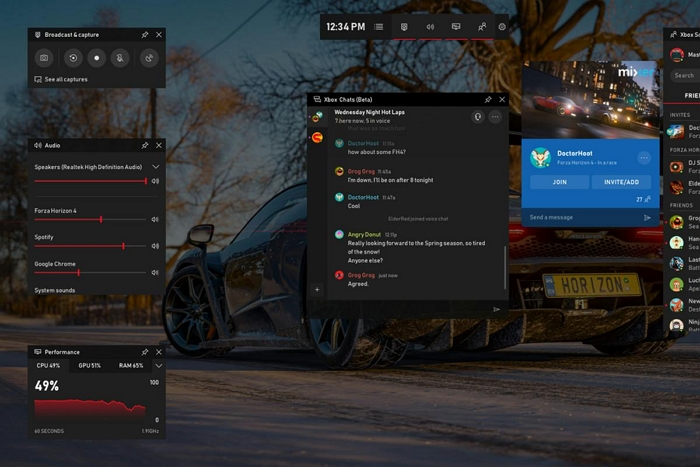 Key Features of Windows Game Bar
Capture the entire game window or just your selected region.
The Game Bar is really easy to access and you can start recording a game in just a few seconds.
The Windows Game Bar is a built-in gaming app that enables you to capture videos and take screenshots, among other things.
Pros
It's free to use
It's a built-in app.
It's easy to operate
Cons
The screen recording length is limited (5 minutes)
It can't handle advanced screen recording operations.
It's compatible with only Windows PC.
Unavailability of advanced screen recording features.
5. Democreator
The Wondershare Democreator amazing screen recording tool that has many features that can come in handy for users to record their PC screen with high quality.  The tool can record games, tutorial videos, YouTube videos, and lots more without lagging, and it's supported on both Mac and Windows computers. Also, Democreator offers a built-in video editor that facilitates quick and easy editing of screen-recorded videos, and recorded videos can be exported in various formats, including MP4, AV1, or MOV format. All it takes is only a few clicks.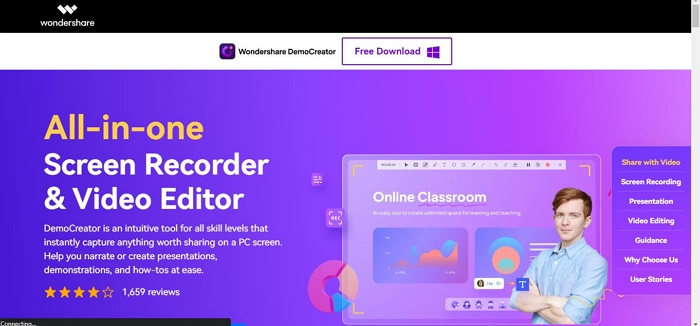 Key Features
Supports exportation of screen-recorded videos in various formats.
Record the full or custom screen of your PC without compromise.
Supports Audio Fade In and Fade Out.
Annotate recorded videos and add captions flawlessly.
Simultaneously record PC screen with audio efficiently.
Pros
Fast exportation process.
Simple user interface.
Excellent video editing features.
Easily record a specific part of the PC screen using a magnifier.
Cons
The Webcam recording feature is not really efficient.
You must pay to explore its features.
6. Quick Time
Another freeware screen recording program on the list is Apple QuickTime. This Mac built-in screen recording tool offers basic tools that users can employ to record their Mac computer screen without requiring third-party tools. With QuickTime, you can record your computer full screen with or without audio flawlessly, though it does not offer any editing tools, and can't record a specific part of a PC screen, which is a big drawback. This is a great option if you just need a low-end screen recorder PC. But if you're looking for something with more power then this won't be suitable.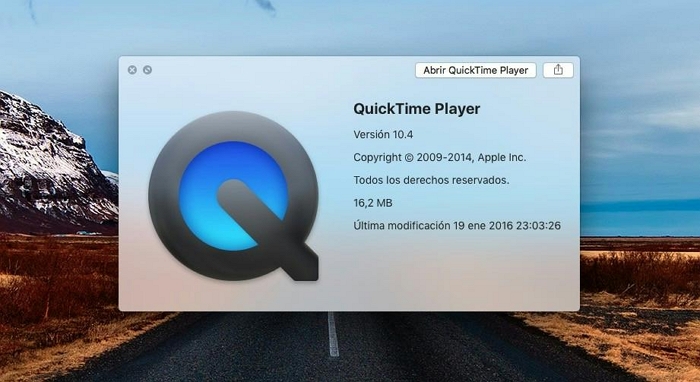 Key Features of Quick Time
Quick Time is a built-in screen recorder that will work with a Mac or a Windows computer.
Its simple interface lets you record video and audio simultaneously.
It records at up to 60 frames per second, but it lacks some of the customization options of other software. If you have a device like an iPhone, iPad, or Apple TV, this app may be perfect for your needs.
Pros and Cons of Using Quick Time
It has a simple user interface that makes it easy to use.
It's 100% free.
You don't need to install an app.
Cons
It's not reliable for a lengthy screen recording process.
No advanced features.
Unavailability of video editing tools.
Part 2: How Do I Screen Record on A Low-End PC with High Quality?
If you are on a low-end pc and want to record your screen with high quality, Easily Screen Recorder is the app you need. This app doesn't require much processing power to perform light or advanced screen recording operations. The following steps explain how to use Eassiy to record low-end PC screen flawlessly.
Step 1. Visit Eassiy website and download the latest version of Eassiy Screen Recorder on your Mac or Windows computer. After that, launch the program.
Step 2. Record the Screen.
There are several ways you can record PC screen using Eassiy screen recorder. You can select Video Recorder to record every activity you perform on your PC screen, Game recorder to record your game activities, Window recorder to lock and record a particular window while you focus on other things, etc. In this case, we used the video recorder.

Under the Video Recorder menu, choose Full to record full screen or Custom to select the dimension at which you want to record your PC screen. You can also record PC screen with system sound, microphone, or webcam by turning on the relevant toggles. Afterward, click REC button to start recording your computer screen.

Note: There are other options that can come in handy. You can click Auto Stop to set the time when you want the screen recording operation to automatically stop. Plus, the Record Watermark option is reliable for screen recording PC with watermarks. You can add a custom watermark.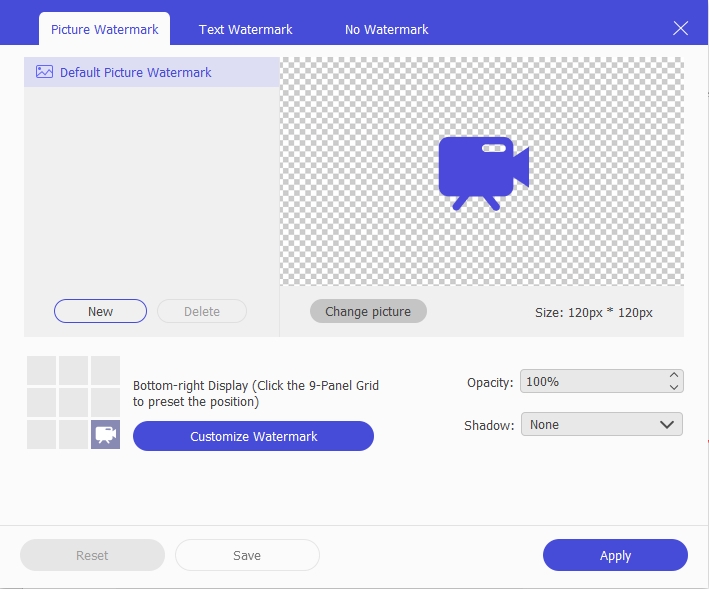 Step 3. You can perform real-time annotation during the screen recording process by clicking the briefcase icon at the bottom left corner. You can highlight elements in the screen recording, add texts, use arrows, lines, drawing tools, and lots more that regular screen recording tools do not offer. Additionally, the Camera icon can be used to take real-time screenshots.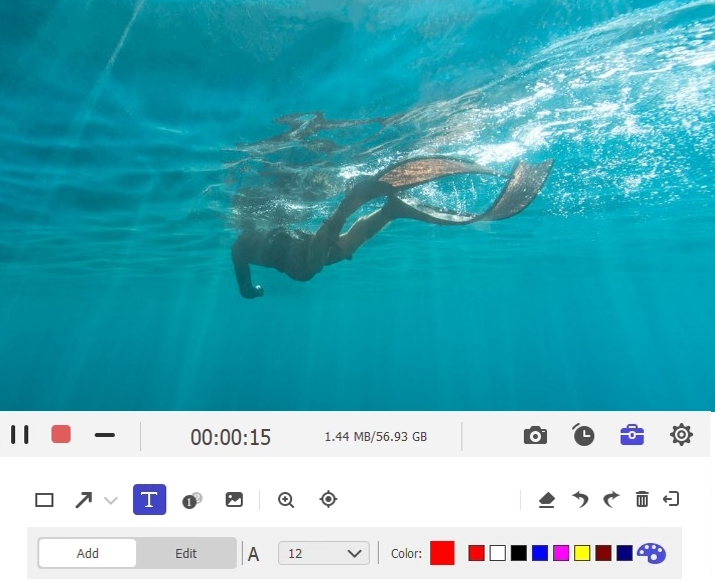 Step 4. Stop Screen Recording
Click the Stop button once you're done with the screen recording operation. By doing so, a new window displaying the recorded video will appear on your screen You can apply different editings such as trimming, cutting, etc from this window. Afterward, click Done.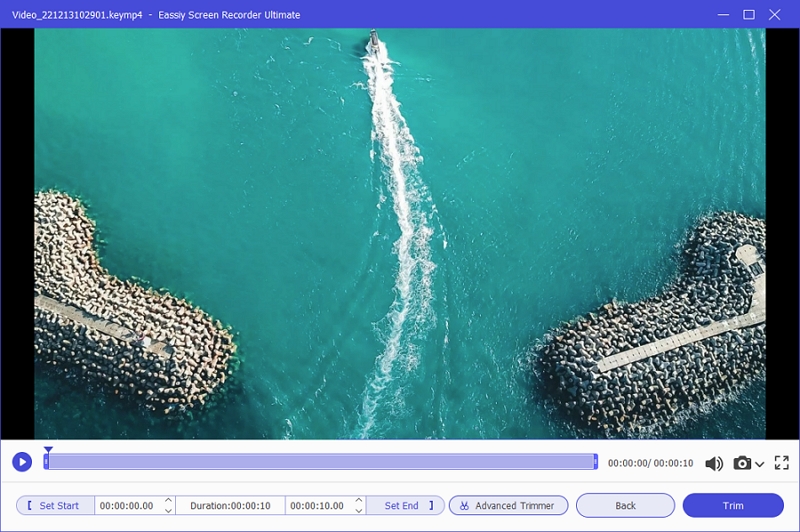 Step 5. Save & Share the recording
Save the recorded video file to your PC local storage from the new page. You can also share the recorded video via Recording History by clicking the share icon and selecting a preferred social media platform with which you wish to share the video.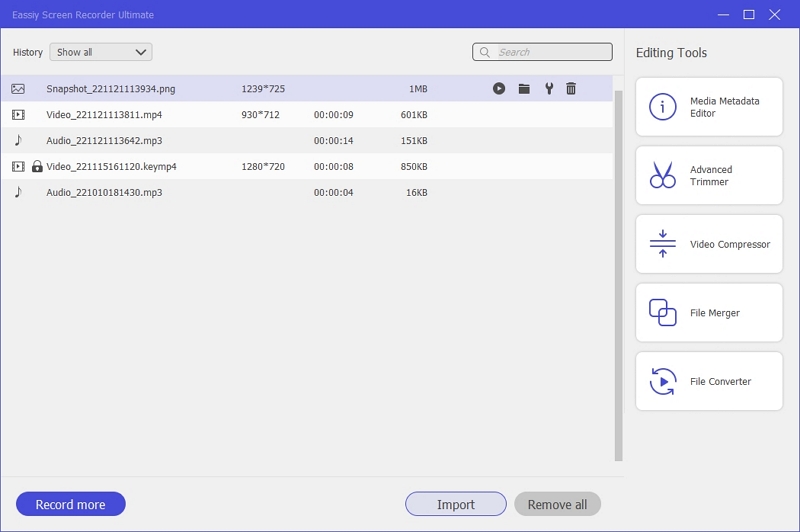 Part 3: FAQs
1. What is the lightest screen recorder for PC?
The lightest screen recorder for PC, includes Eassiy Screen Recorder, Democreator, Screencast-O-Matic, and other light screen recorders for PC mentioned above.
2. What is the best screen recorder for a PC Without a watermark?
Easily Screen Recorder is a fantastic option for anyone looking for a way to record videos without any watermarks. It can capture up to 1080p, and it has features like a built-in game recorder, audio recorder, windows recorder, phone screen recorder, and many more.
Conclusion
Screen recording software can be essential sometimes, especially if you're doing tech support, video editing, or even gaming. Of course, as with everything else, every screen recording software is created uniquely, making it quite challenging to choose the right one, especially if you don't have a high-end PC and want something free simultaneously. Whether you're just looking for a light screen recorder that's free or has to offer more robust features like one that can also create a video, the above options can come to your rescue anytime. Just make sure you choose based on your requirement.