EZ Screen Recorder (EZVID Screen Recorder) is a Windows program that allows users to take video recordings of their PC screen activities handily. It is one of the top-leading screen recording tools online that has lots of controversies around it. While some are saying the tool doesn't meet up to standards others are saying it does. But which one do we believe? Well, this EZ Screen Recorder for PC review will help us find out the truth.
In this post, we've covered all you need to know about the EZ Screen Recorder ranging from its features, pros & cons, compatibility, and lots more. Plus, you'll also find the best EX Screen Recorder alternative. Just stick with us so you don't miss out on the vital information about EZ Screen Recorder we're going to reveal to you.
Part 1: All You Need to Know Before you download EZVID Screen Recorder for Windows 10
EZVID is a verified screen recorder and video editor that is used for capturing any activities on a computer screen quickly and easily. This free tool which has been used to create millions of videos for YouTube, Facebook, etc, supports lots of sophisticated features for creating quality screen recordings. From tutorials to informative video guides and lots more, you can never be short of the right set of tools for your video recording needs.
Despite being free, EZVID Screen Recorder supports lots of cutting-edge effects and helpful features such as voice recording, webcam, speech control, drawing, and many other tools that are very effective for editing PC screen recording smoothly. Besides, you can record a PC screen for up to 45 minutes at once, and it supports the exportation of recorded videos to YouTube.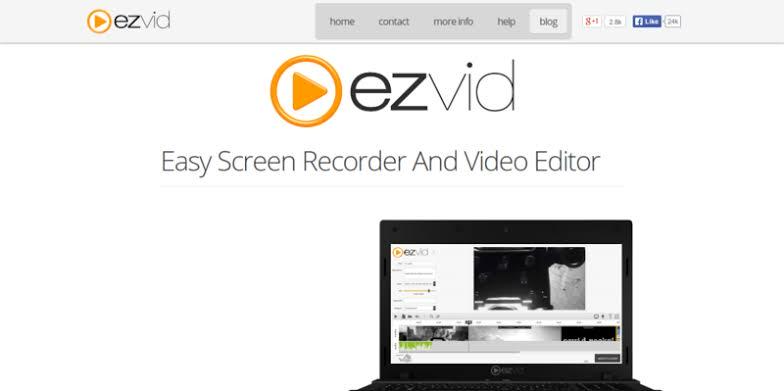 Key features
Upload recorded videos to a third-party platform like YouTube.
Record any area on your PC screen easily.
Effective for making tutorial videos and video guides for YouTube.
Crop, edit, add animation, and add texts to screen recordings.
Pros
100% free screen recording and screen capturing PC screen.
Clean and clear user interface.
Supports an excellent built-in editor for editing screen-recorded videos.
Record PC screen for up to 45minutes without watermark.
Cons
It doesn't support advanced editing tools like pan zooming on recorded videos, real-time annotation, scheduled recording, etc.
Recorded videos can be shared to only YouTube or uploaded to computer storage.
It can't record the PC screen for more than 45 minutes.
How to Record PC Screen using EZ Screen Recorder
Step 1: Firstly, download and install EZ Screen Recorder on your Windows computer.
Step 2: Start the installed program and click the 'Capture Screen' icon from the right side of the main interface.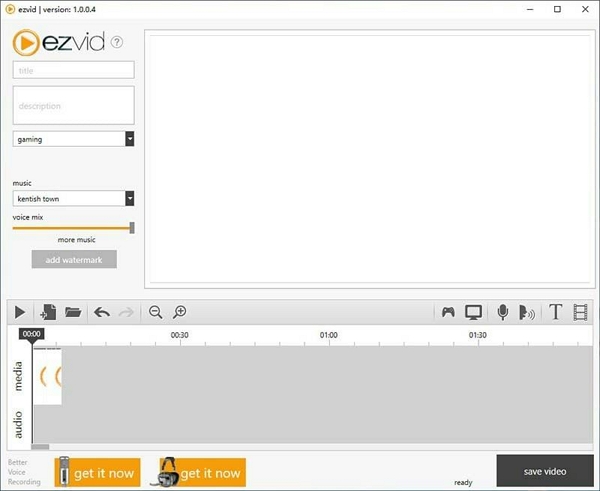 Step 3: EZVID will begin the screen recording process. Then, once you're done recording the required part of your PC screen, click the 'X' icon to stop the screen recording operation. Afterward, the recorded video will be automatically adjusted to the record duration length of the tool's timeline.
Step 4: You can record your voice by clicking the 'Microphone' icon or perform other editing operations using the editing features.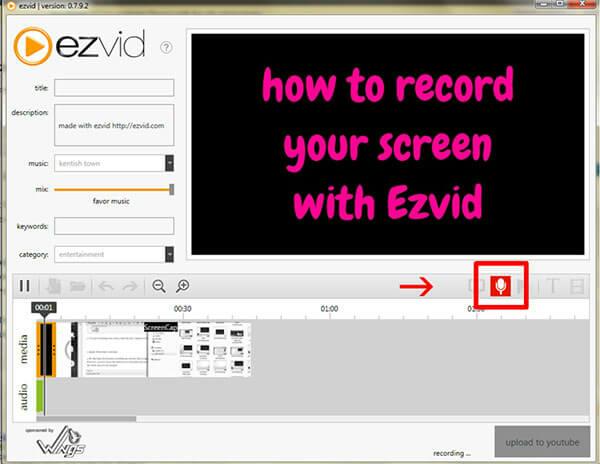 Step 5: Finally, hit the play button to preview the recorded video. Then click 'Upload to YouTube' to upload the recorded video to YouTube.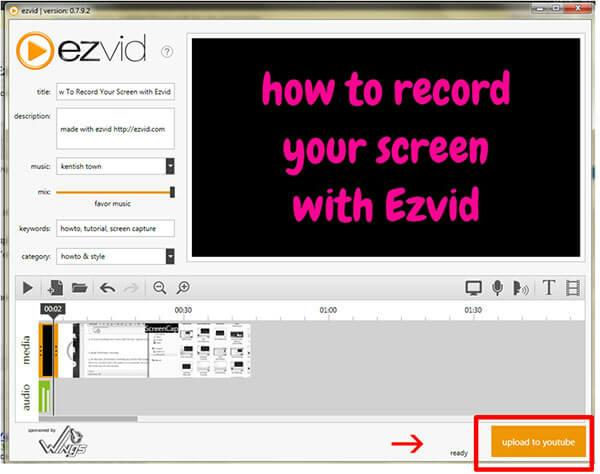 Part 2: Is there a better alternative to EZ Screen Recorder for PC?
EZ Screen Recorder for PC is a great screen recording software, but it has many limitations such as supporting Mac computers, saving recorded video to YouTube alone, recording PC screen for only 45 minutes, and it lacks advanced editing tools. For this reason, you might need a reliable alternative to the EZVID screen recorder.
Eassiy Screen Recorder Ultimate is a versatile screen recording software that supports lots of fine features that are efficient for not just recording PC screens but for also editing recorded videos.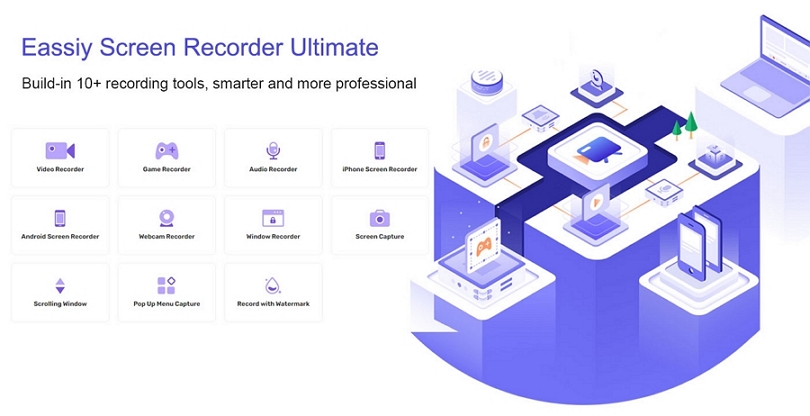 Unlike EZ Screen Recorder, Eassiy Screen Recorder Ultimate can record PC screens with or without facecam, record PC screen with audio simultaneously, customize recording area, screenshot PC screen during video recording, lock recording window, and do lots more simply.
It doesn't end there, Eassiy Screen Recorder Ultimate also boasts a plethora of editing features like real-time annotation, auto split, auto-stop, scheduled recording, scrolling screenshots, etc that can always come in handy to edit recorded videos with high quality.
Key Features
Perform scheduled screen recording for YouTube streaming, events, sports, etc.
Utilize advanced AI technology to facilitate heavy processor screen recording operations like gameplay recording.
Start PC screen recording without necessarily staying right in front of your screen using auto-stop.
Highlight important elements and add text in during video recording with real-time annotation. Plus, you can take screenshots at the same time.
Pros
Supports numerous video editing tools including cut, trim, audio-cleaning, and lots more.
Simultaneously record video and audio with gig quality.
Availability of special games recorded to record HD quality gameplay without lagging.
It's not only limited to recording PC screens but can also record Android and iPhone screen from computers.
Cons
It's not 100% free. But it has an unlimited free version that can record PC screens for up to 3 minutes.
It requires the installation of app.
How Do I Record My Computer Screen PC With Good Quality
Step 1; You must download the latest version of Eassiy Screen Recorder Ultimate from the official website and install it on your Mac or Windows PC.
Step 2; Up next, select 'Video Recorder'

Step 3: You can record your PC screen in different dimensions. The 'Full' mode allows users to record their PC full screen. while the 'Custom' mode allows recording of the PC screen in different dimensions.

Step 4: Click the 'Rec' button to begin the PC screen recording with good quality. During this time, you can use the 'Camera' icon at the bottom right corner to take screenshots, and you can add texts, draw, and highlight other important elements using the real-time annotation tools.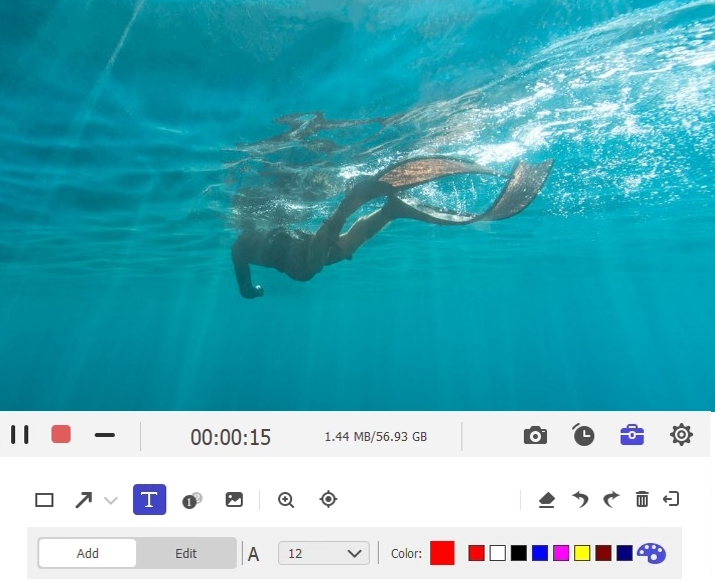 Step 5: After you've completed the screen recording, hit the 'Stop' button to end the operation. The recorded video will be displayed in preview mode for you to perform other editing operations like cutting, trimming, etc. Once you're satisfied, click the 'Save' button to save the recorded videos.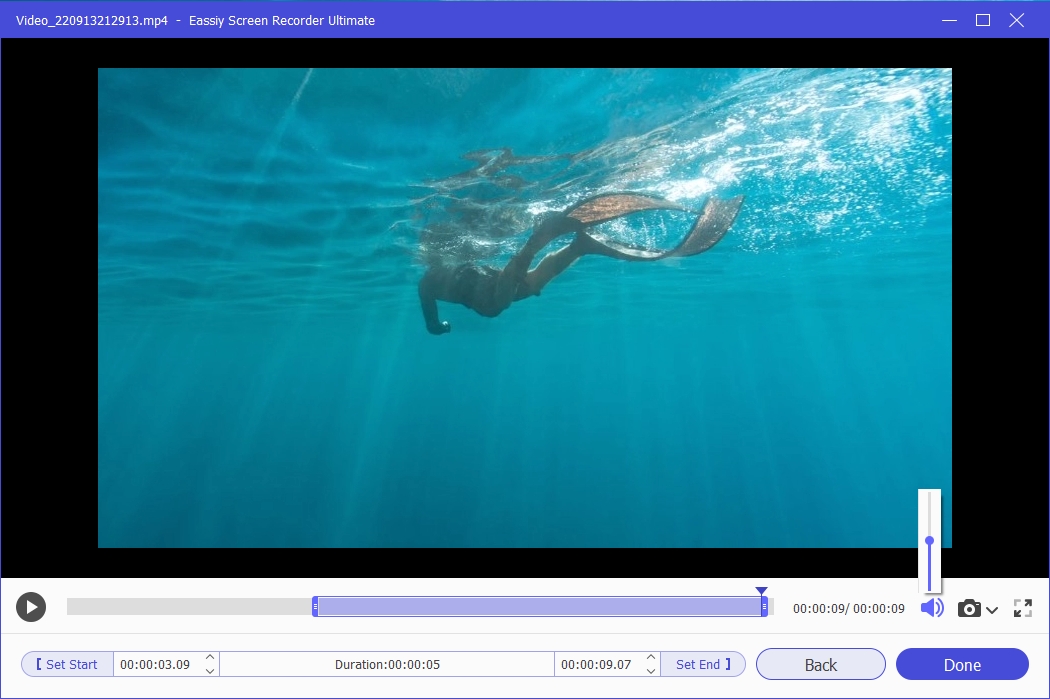 You can also share the video on other social media platforms like YouTube, Facebook, Twitter, etc.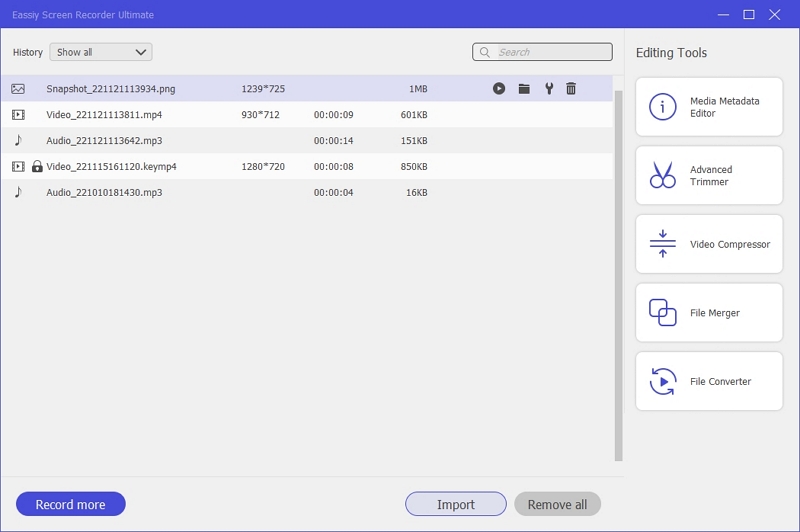 Part 3: EZVID vs. Eassiy Screen Recorder Ultimate
Let's take a look at more comparison between EZVID and Eassiy Screen Recorder Ultimate in the comparison table below;
| | | |
| --- | --- | --- |
| Features | Eassiy Screen Recorder Ultimate | EZVID Screen Recorder |
| Video Recorder | Yes | Yes |
| Game Recorder | Yes | No |
| Auto Stop Recording | Yes | No |
| Scheduled Recording | Yes | No |
| Record Internal Audio | Yes | No |
| Lock Recording Window | Yes | No |
| Set Hotkeys | Yes | No |
| Real-time Annotation | Yes | No |
| Record Phone Screen | Yes | No |
| Record Area Follow/Around Mouse | Yes | No |
| Screenshot While Recording | Yes | No |
| Scrolling Screenshot | Yes | No |
| Video Export Formats | MP3, MOV, WMV, F4V, TS, WebM | WMV |
| Capture GIF | Yes | No |
| Recording length | Unlimited | 45 minutes max |
| Pop-up Menu Capture | Yes | No |
Part 4: FAQs
1. Which is the Best Screen Recorder for PC?
Eassiy Screen Recorder Ultimate is undoubtedly the best screen recorder for PC and it's tested and trusted by lots of large organizations.
2. Which Screen Recorder Do YouTubers use for PC?
YouTubers use a variety of screen recording tools for their content. However, the most popular screen recording software amongst them is Eassiy Screen Recorder Ultimate.
3. Where can I download EZ screen recorder for PC?
You can download EZ Screen Recorder for PC from the official website.
Conclusion
Today, EZ Screen Recorder is one of the most popular software out there that many folks utilize for their screen recording task. As this EZ Screen Recorder review summarized all that the tool can offer. Although EZ Screen Recorder is great, it's still lacking in many different aspects as it doesn't support advanced features for screen recording.
However, Eassiy Screen Recorder Ultimate, on the other hand, is the best alternative to EZ Screen Recorder and it even supports more advanced screen recording and video editing features that facilitate PC screen recording operations.