If you search for the best screen capture software for Windows 10, chances are you will be overwhelmed with tons of results. In this age and time, there are many PC screen capture software that are exceptional and simplistic. However, not all the screen recording tools might be suitable for your role. Given some of you might be looking for screen capture and recording software to create online tutorials, some business presentations, and some might be looking to record gameplays, and so on. This guide will walk you through several Windows screen capture software to capture the Windows 10 PC screen so that you can make an informed decision on the suitable tool for you.
Part 1: What are the 7 Best PC Screen Capture and Recording Software?
1. Eassiy Screen Recorder Ultimate
Eassiy Screen Recorder Ultimate is one such rare PC screen capture software that includes functionalities to fill in for any job role — the reason it is our favorite. Eassiy is an all-round screen capture and recording software that includes tons of annotations and real-time drawing options to record online lectures and software demonstrations efficiently. Similarly, it includes options to use screen and webcam simultaneously, something that gamers will find useful. Additionally, there's a range of audio editing options like audio-clean to remove background noise from audio, sound and Microphone adjustment options that allows you manage audio levels, and lots more valuable assets that all users will find useful. In all, Eassiy Screen Recorder Ultimate has a plethora of features that make PC screen capture and recording simple and self-explanatory.
Key Features:
Real-time annotation allows you to highlight important points during recording.
Eliminate background noises; plus, simultaneously or separately record microphone and system sound.
Lock specific windows to record without distraction — like notification pop-ups.
Schedule recordings to start and end recording automatically.
Support special game recorder to record high-quality gameplay without distraction or lagging.
There are video editing tools that can come in handy to cut, trim, and auto-split videos seamlessly.
Move the recording area around/follow the mouse during live recording.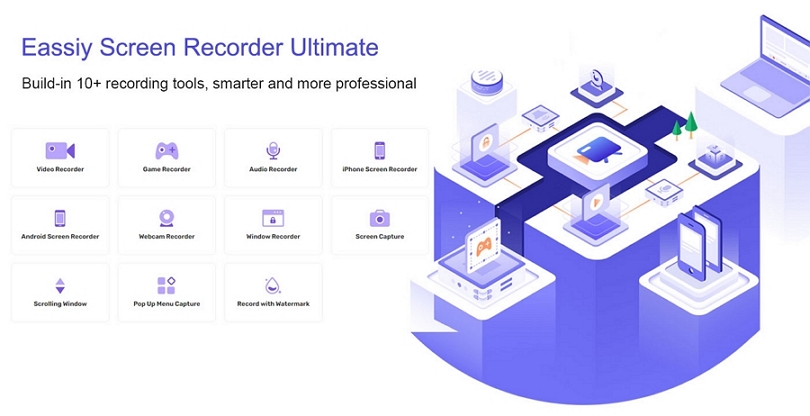 Pros:
Intelligently designed user interface that is aimed at beginners.
Cost-effective tool. For instance, Eassiy gives a lifetime license with free regular upgrades.
Automatically separate long videos into small segments.
Tons of editing tools like Fade in/fade out transition, trimmer, and more.
Cons:
The free version allows you to record without watermark but only for 3 minutes.
2. Filmora Screen
Filmora Screen is a side-product of the Filmora video editing tool. Available for free and premium plan, Wondershare's Filmora Screen allows you to record up to 1080p quality. Although the free deal may sound wonderful, there are no advanced functions within the recording. So, it is suitable for typical users looking to just record YouTube or other content from the web for personal use.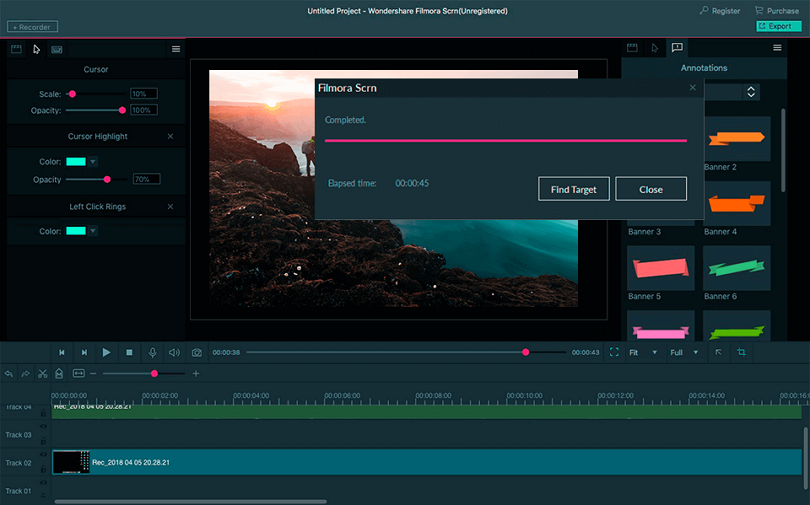 Key Features:
Screen + webcam recording
Customize recording area
Record system and microphone audio
Numerous advanced features like Green Screen, Annotation with the parent app.
Pros:
Simple to use interface.
Filmora is an exceptional video editing tool that includes all pro-level editing tools.
Completely free with no watermarks.
Cons:
You will have to purchase the Filmora video editor to use Filmora Screen.
It is definitely cost-effective if you are not looking for a video editor.
3. Bandicam
Bandicam is a lightweight screen capture software for Windows 10 designed to record anything on your screen in the desired way. You can capture the full screen, custom screen, or screen with a webcam in high quality and up to 480 fps. But there is a good reason why Bandicam is regarded as one of the best screen capture software for Windows 10, and that is it includes tons of advanced features.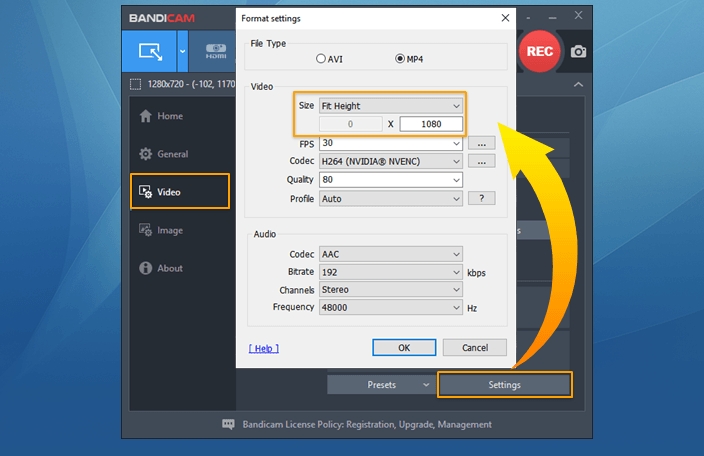 For instance, it allows you to draw on the screen recording in real-time. You can also use the Chroma Key in real time. And so on. Although the above-mentioned features come at a high cost, Bandicam Screen Recorder also has a free variant. But the free version leaves a watermark on the screenshots and video captures made.
Key Features:
Chroma key to use custom overlay during live screen recording.
Annotate using shapes, texts, long-stretch cursors, and more in real-time.
Use multiple screens, like webcam + screen with audio.
Schedule recording and record the live shows and events automatically.
Pros:
Simple to use interface.
Use custom watermarks on the videos.
Upgrading to Bandicam membership plans will let you remove watermarks from previous recordings made via the free version.
Audio mixer to control voiceover, microphone, and internal sound.
Cons:
The free version of Bandicam leaves a watermark on the videos.
Bandicam is a reliable PC screen capture software, but it is not cost-effective compared to Eassiy or Filmora.
4. EaseUs RecExperts
EaseUS RecExperts is another best screen video capture software for Windows 10. You can record the screen, screen, and webcam simultaneously and manage the audio comfortably. You can edit the recordings by removing the unwanted parts, adding annotations, and export in the format of your choice. However, EaseUS RecExperts does not have a free version. It does allow you to record the screen for free, but only for 1 minute. And you will have to upgrade the application to expect anything beyond that.

Key Features:
You can record part of the screen or a full screen, and record webcam and screen simultaneously.
Record both system sound and voiceover.
Schedule recording.
Take a screenshot while recording.
Pros:
Easy to use program.
Auto-stop and auto-split options.
Create a GIF.
10+ output format.
Cons:
1 minute limit with the free version of Ease RecExperts.
5. TinyTake
If you are wondering what is the best screen capture software for Windows 10 to create tutorials and instructional videos. TinyTake is the program for you. Laden with annotation features, TinyTake presents opportunities to annotate your video during live recording as well as during post-production. TinyTake is also simplistic to use, given it is more focused towards giving online instructors an easy medium to create and share content.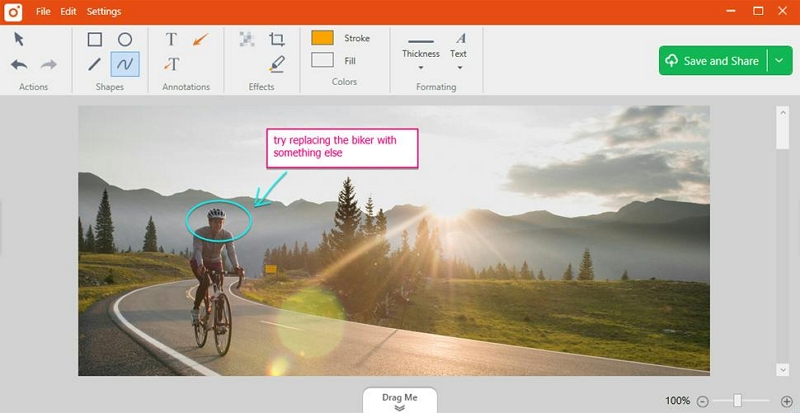 Key Features:
Capture the entire screen, part of the screen, or screen with a webcam.
Annotate your screenshot and videos with a text box, arrow, highlight, and more.
Get a sharable link to distribute the content easily.
You can copy the screenshots to the clipboard or save them locally.
Pros:
The drag-and-drop interface allows you to use personal files and edit them.
The annotating features are awesome, making them suitable for instructors.
You can save the recorded files to the cloud and save them in the local library. 
Cons:
Not for recording games and other content, given it lacks features.
You can record for up to 120 minutes at once.
6. Free Cam
FreeCam is known for being one of the best free screen capture software for Windows 10. And for a reason: FreeCam allows you to record without any time constraints and no watermark for entirely free. However, FreeCam has no option to record with a webcam and in high-quality (only up to 720p) with the free version. The paid version allows you to record in 1080p quality and export in multiple file formats. Plus, editing options like annotations, adding music, video, and pictures are available.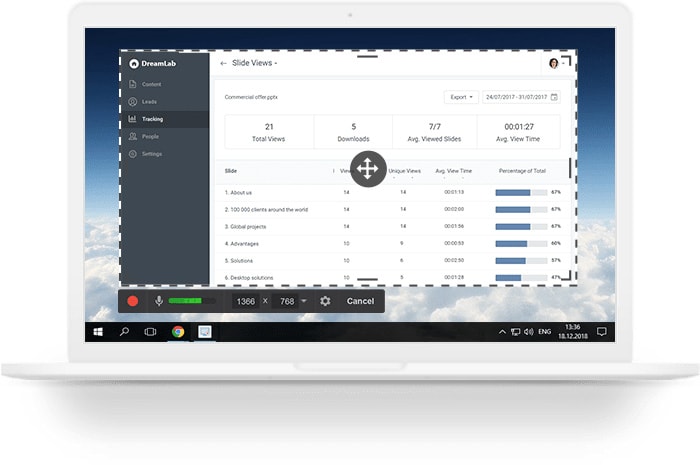 Key Features:
You can export in multiple formats, including MP4, MOV, FLV, MKV, and AVI.
Editing options like adding pictures, videos, music, and other shapes with the premium version.
Transition effects to make your videos look more professional.
Highlighter is available for real-time recordings.
Pros:
The free version of FreeCam allows you to record without a watermark.
Tons of professional features that are simple to use.
Multi-track timeline.
You can record a separate voice-over.
Cons:
FreeCam's free version allows you to record only in 720p quality.
US$ 227/year.
7. OBS Studio
OBS Studio is a free and open-source screen recording software for Windows, Mac, and Linux systems. Although a great screen recording software, OBS Studio is more suitable for streamers, as it focuses on recording and sharing options. And when it comes to editing, it lacks features to add annotations and other important editing options. Moreover, OBS Studio requires practice to use. The interface is complex to handle, and without understanding the features, you will not be able to use the advanced options within the program.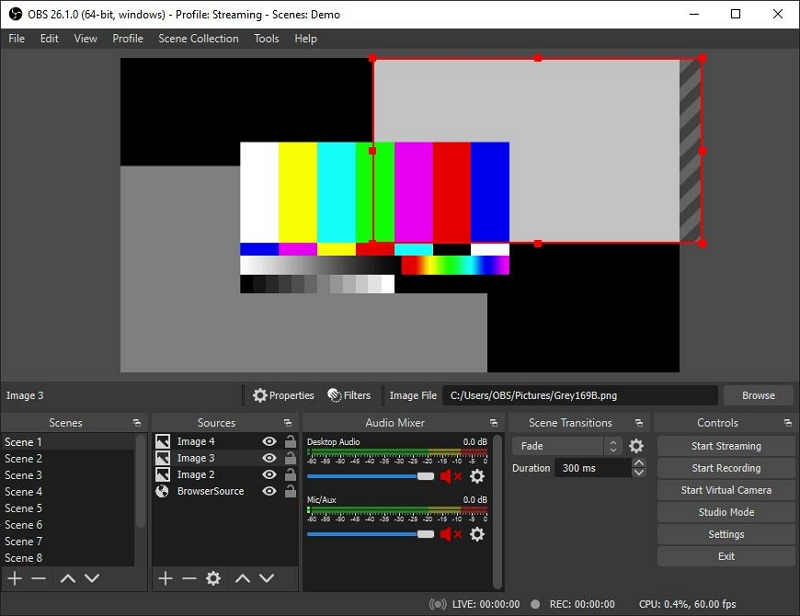 Key Features:
Real-time high-quality screen recorder and editor.
Set an unlimited number of screens and switch between them seamlessly.
Intuitive audio mixer.
Powerful configuration options to personalize everything.
Pros:
Free and open source.
Stream in real-time.
Studio mode to see what everything to the others will look like.
Cons:
Learning curve, as the interface is complex to handle.
Not suitable to create instructional videos.
Part 2: How Do I Record My Computer Screen Smoothly?
As mentioned earlier, our all-time favorite is Eassiy Screen Recorder Ultimate, given it allows the user to screen record videos for any purpose. That is why let's discuss how anyone can download and use the Eassiy Screen Recorder Ultimate easily.
Here's how to record your computer screen smoothly:
Step 1. Download and Install Eassiy Screen Recorder Ultimate on your Windows or Mac device. Open the Eassiy Program. And choose Video Recorder.

Step 2. Set up for the Screen Recording on Windows 10.
Choose the recording area. You can choose a custom screen recording or fill the screen.
Plus, choose the quality. And adjust the sound levels accordingly.

Step 3. Click on the Rec button to start the recording.
During the screen recording operation, you can utilize the 'Camera' icon at the bottom right corner to take a screenshot of your screen.
You can use the real-time annotation features to highlight points in the video you're recording.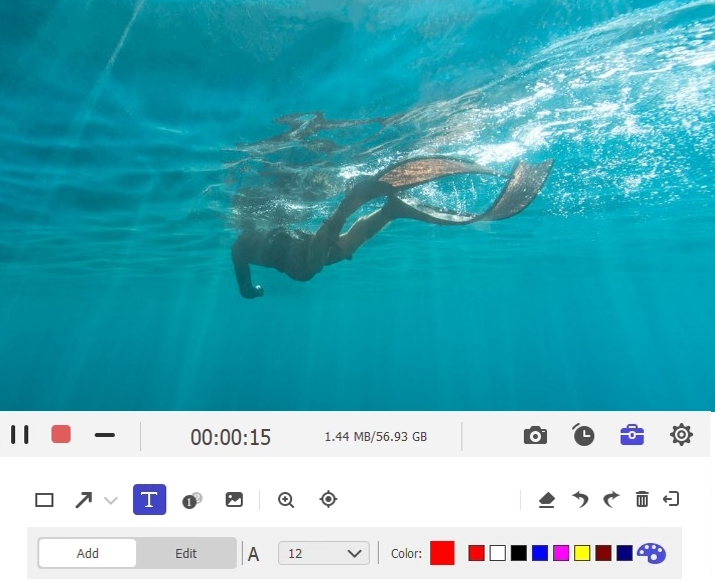 Step 4. Click on the Stop button to stop the recording. You can use editing tools like trim and more.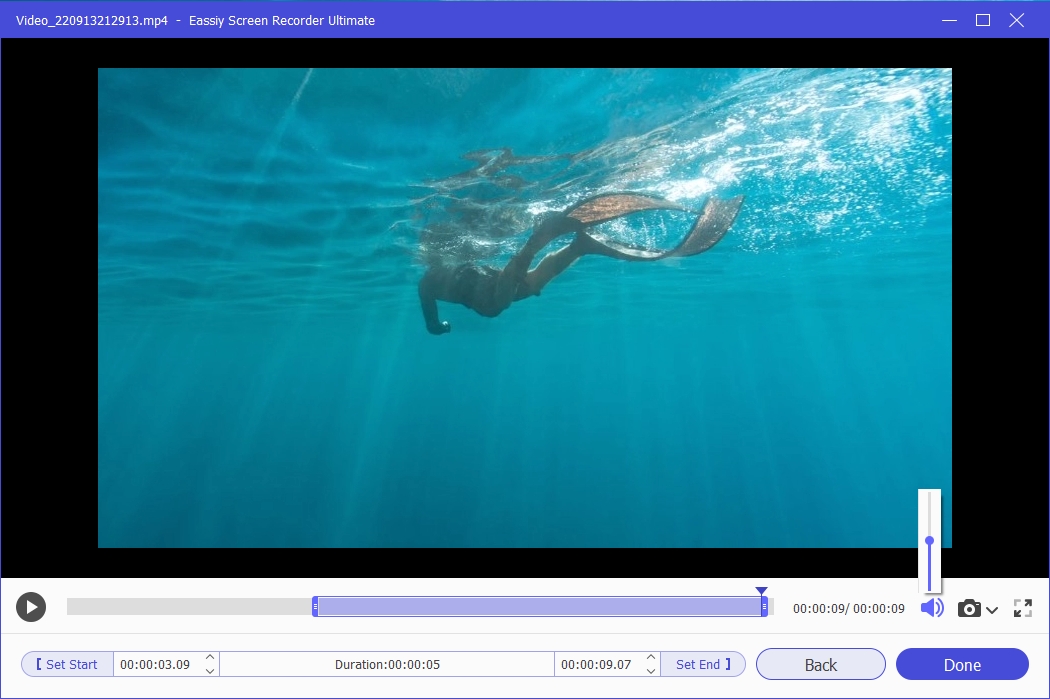 Conclusion
This guide is aimed at providing you with the best screen recording software for Windows 10. Regardless of what you need it for. Be it to create online tutorials, instruction videos, recording gameplays, or streaming live screens it includes a tool for all these purposes. For instance, if you are a live streamer, OBS Studio is the way to go, especially if you are looking for free screen recording software for Windows 10. In case you are looking for a tool that includes tons of real-time annotation options, TinyTake can be valuable. At the same time, if you want a multi-purpose tool, Eassiy Screen Recorder Ultimate is the way to go!