'I installed Camtasia on my Windows 10 to record full screen games. Please, how do I do that?'
This is a query from a new user who is finding it difficult to navigate his way around the Camtasia software. If you're in the same situation, worry less because the article on this page got you covered.
Camtasia is a video recording software that's very popular amongst video editors, and it's known for the great quality it offers. Yes, the tool comes with lots of helpful features that facilitate easy screen recording operation. In today's post, we will teach you the simple step-by-step process of how to record full-screen games with Camtasia Windows 10. Let's get cracking without wasting much of your time!
Part 1: Here is how to record full screen games with camtasia windows 10
Camtasia Windows 10 software has been around for quite some time now. Over the years, the tool has been helping users at all levels globally meet both screen recording needs without requiring any technical knowledge.

With Camtasia, you can screen record virtual meetings, videos, webinars, online training videos, and lots more on a computer screen for free. Besides screen recording, Camtasia also allows users to execute video editing tasks like adding transitions, annotations, captions, special effects, etc. You can for sure rely on Camtasia to record your PC screen on Windows 10 seamlessly.
That being said, take a look at some key features of Camtasia and their functions below;
Screen Recorder
Camtasia is known for its efficient screen recording capability. Yes, it doesn't matter if you're looking for record games, PowerPoint presentations, or more, this tool got you covered with the right set of features to execute the operation in just a few clicks.
Screen Capture
Are you looking to capture your PC full screen, a specific aspect of your screen, or a certain window? Camtasia's built-in screen recorder makes it easy for users to execute such operations just by clicking on the 'Record' button at the top-left corner of the screen. All screen captures are made accessible via the project's media and can be edited using the video editing tools of the app.
Record Screen With Audio
Yes, you read that right. Camtasia allows the recording of a PC screen with audio and you'll get access to helpful audio editing tools to remove noise, customize speeds, level volume, etc.
Add Annotation
You can also add annotations to recorded videos using the built-in annotation tool. This feature can always come in handy if you're looking to highlight important elements in your videos. You can find annotations like sketch motions, shape/blur, etc.
Share Screen Records/Edited videos
Another notable aspect of the Camtasia tool is that it allows users upload screen records or edited videos to other platforms like YouTube. Vimeo, and more in just one click.
Now you've gotten the heads up on what Camtasia can offer you to screen record computer screen, let's proceed to see the stepwise guide on how to record full-screen games with Camtasia Windows 10;
Step 1: Download and install Camtasia on your PC.
Step 2: Run the installed program and select Record from the top-left corner of the main interface.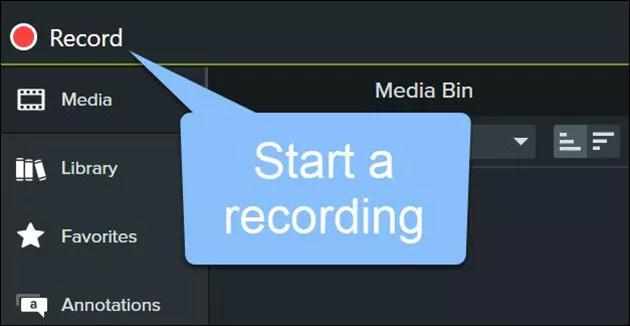 Step 3: Navigate to the minimize toolbar and click on "Full screen" on the left-hand side to select your PC's entire screen.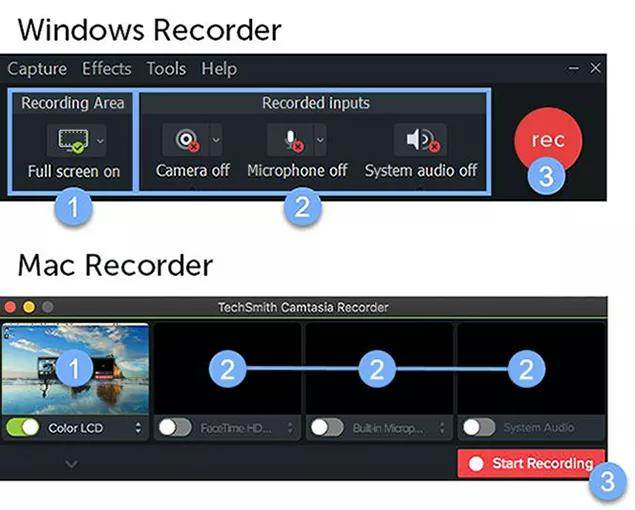 You can turn on or turn off camera and audio or even adjust audio volume to record audio aspects of video.
Step 4: Finally, click on "rec" at the right-hand side of your PC screen to start recording your PC full screen.
Step 5: After you've completed the screen record operation you can click the Stop button and access the recorded video.

Pros
Support 4k video recording.
Share recorded videos on different social media apps.
Availability of a variety of effects.
Reliable customer support team.
Supports mobile-friendly apps.
Cons
The interface of the tool could be better.
It's expensive.
The advanced editing features ate quite difficult to understand.
Part 2: Better Way to Record Full Screen Without using Camtasia Windows
Despite Camtasia being a great tool, the truth is it's still no match for some advanced screen recording operations. For this reason, we recommend using the Eassiy Screen Recorder Ultimate for a faster and more reliable Windows full-screen recording operation with HD quality.
Eassiy is a lightweight software that boasts high-quality screen recording up to 60fps. It doesn't matter if you're looking to record gameplay, video tutorials, presentations, or more, this tool will offer you rich features that tick boxes all around. Besides, Eassiy used state-of-the-art technology to provide robust editing tools that can be used to record computers' full screen with audio lightning fast.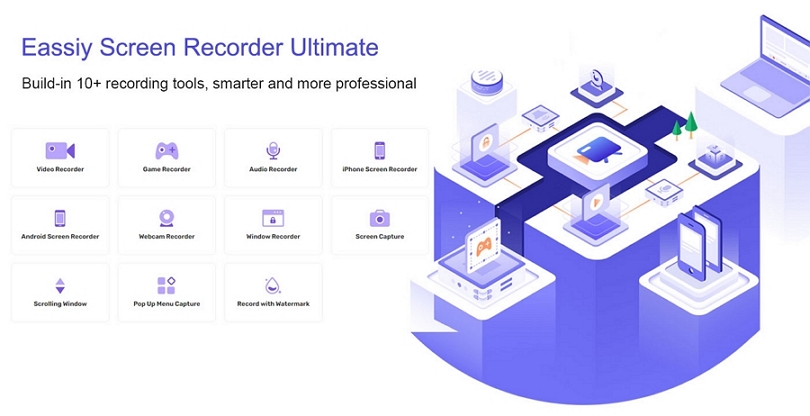 The clean interface of Eassiy is another thing that makes it stand out in the eyes of users as it makes navigation for users at all levels very straightforward so that they can take advantage of the vibrant features available in the app.
Key Features
Trim length, adjust volume, set hotkeys, and do lots more while screen recording gameplay without compromising the video quality.
Automatically lock and record gameplay screen high-quality up to 60fps without any distraction or lagging.
Export game recordings in a wide variety of formats including MOV, MP4, F4V, TS, GIF, etc.
Stop the recording automatically after you close the game window
Display or no display facecam while recording gameplay with just one click.
Customize camera position, style, opacity and more as you wish.
Record gameplay with your Android phone/iPhone on a computer.
Advanced functions: Schedule recording, auto-stop recording, auto-split, real-time annotation and more
Eassiy Screen Recorder Ultimate supports a plethora of features that any user can always utilize, visit the official website to find out more about Eassiy screen recorder features.
Stepwise Guide to Record a Fullscreen Game with Eassiy Screen Recorder Ultimate
Step 1: Download and install the Eassiy screen recorded on your Windows 10 computer and set it up by following the on-screen instructions.
Step 2: Launch the Eassiy program and select 'Game Recorder' from the home screen.

Step 3: Start the game, then go to the Eassiy Screen Recorder Ultimate menus and click on the drop-down icon next to Game Recorder select the Game Window that you want to record.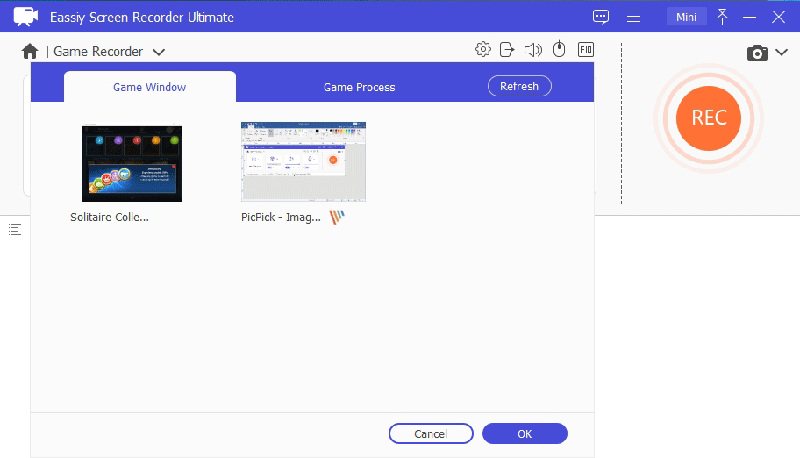 By doing so, Eassiy will automatically lock the window and locate the region of the game you're looking to record. You can adjust sound settings by turning on the toggle next to 'System Sound' and 'Microphone'. Then using the relevant button to adjust as per requirements. Also, you can turn on or turn off the webcam. Afterward, click Rec to start recording gameplay.

Step 4: Eassiy will start to record gameplay. You can take screenshots, annotate, and do lots more during this process.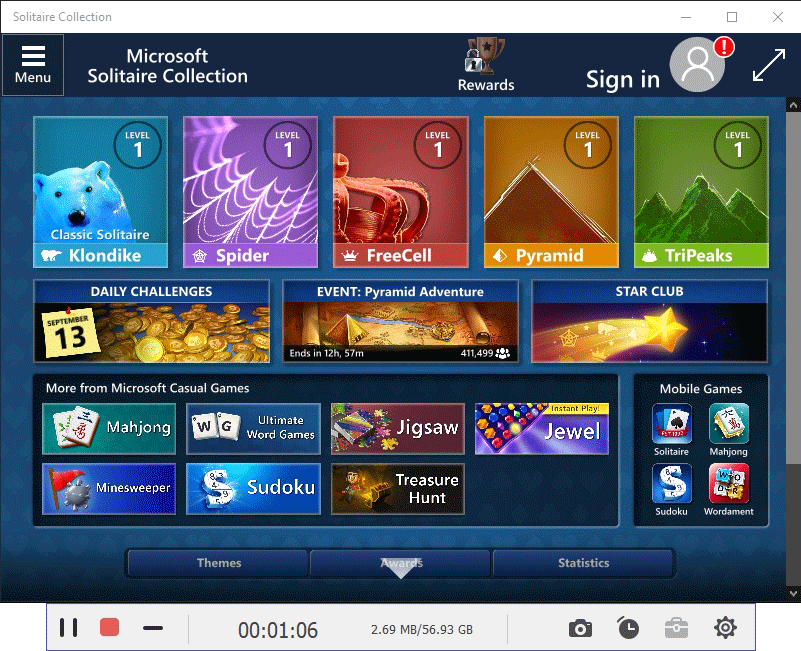 Step 5: Once you're done with recording gameplay, Eassiy screen recorder will automatically end the screen recording.
In the preview interface, you can trim and perform other video editing tasks on the recorded video. Once you're satisfied, click the 'Save' button to save the recorded gameplay to your PC.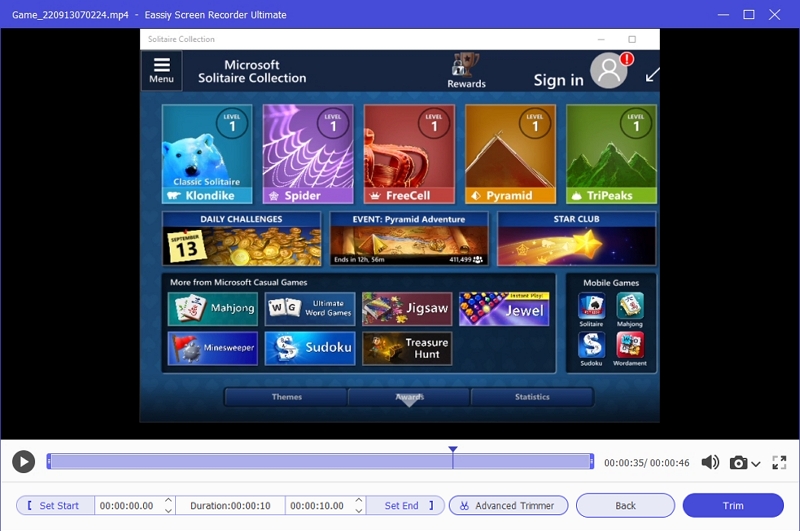 Bonus: You can also share recorded gameplay with HD quality to other social media apps or YouTube.
Pros
Record full-screen game with HD quality lightning fast.
Availability of advanced screen recording features that are easy to understand.
Very clean and easy UI.
Cons
It required download and installation of the app.
Conclusion
You don't need to be a tech guru to record gameplay with Camtasia on your Windows PC, and as you can see from the articles above, the process is pretty straightforward. However, if you're looking for a better way to screen record games on PC, we recommend using Eassiy as it does the job more efficiently.