Screen recorders make it easy to capture what's on your screen and share the video with the rest of the world. Be it recording game moments, creating tutorials, or demonstrating software, screen recorders make it very straightforward for businesses, developers, and individuals to capture their PC screens.
Read on to discover the high-quality screen recorder with voice for Windows 10, 11, 8, & 7. You will find the seven best screen recorders for Windows, their key features, what they are suitable for, and their plus points and drawbacks. Step-by-step instructions on how to screen record PC with sound are also included.
Part 1: What Is PC Screen Recorder Software?
Screen Recorder software, well, is a tool designed to record the entire or custom portions of your computer or mobile screen. By the same token, PC Screen Recorder tools are designed for Windows and Mac devices, allowing you to record your PC screen with sound. In other words, it will record everything on the desktop screen, from cursor movements to your entries, allowing you to share everything happening on the screen.
Recording the PC screen is the underlying feature of all screen recorders. However, no two PC screen recorders are alike. For context, sometimes the screen recorders do not include functions to record the PC screen with sound. Nevertheless, PC screen recorders with voice for Windows include options to capture the screen with sound and audio narration. But then again, not all the screens with voice for Windows allow you to capture the screen in HD or 4K.
Plus, some screen recorders do not include necessary options like audio control, recording via webcam, schedule recorder, customized hotkeys, custom screen recording, and more. As such, you should pay attention to the characteristics of the PC screen recorder tool before downloading.
Part 2: Top 7 Tools to Screen Record PC With Sound
After reviewing numerous screen recorders on the internet, we have come up with the seven best tools to screen record PC with sound. The tools are suitable to capture just about any type of video on the screen, like gaming and tutorials, given these includes necessary functions to create professional-looking videos with minimal effort.
1. Eassiy Screen Recorder Ultimate
Price: Free + US$ 19.99 per month
Best for: Recording your screen with numerous editing options to make the videos look professional.
Eassiy Screen Recorder Ultimate has the best screen recording in existence. You can screen record PC up to 4K quality, control audio, set up hotkeys for quick recording, schedule your recordings, and do more! Be it simple screen recording with sound or multiple recordings simultaneously, Eassiy makes it easier and quicker for users to capture, edit, and share videos with friends and colleagues.
The greatest thing about Eassiy Screen Recorder Ultimate is it suitable for everyone: gamers looking to stream, businesses looking for product demonstrations, and collaborate with their team using videos. And individuals looking to create tutorials and consumable videos for YouTube or Vimeo.
The clean and minimalist user interface is another plus, given there is no learning curve. And while most of the features in Eassiy are free, some features come only with the paid version.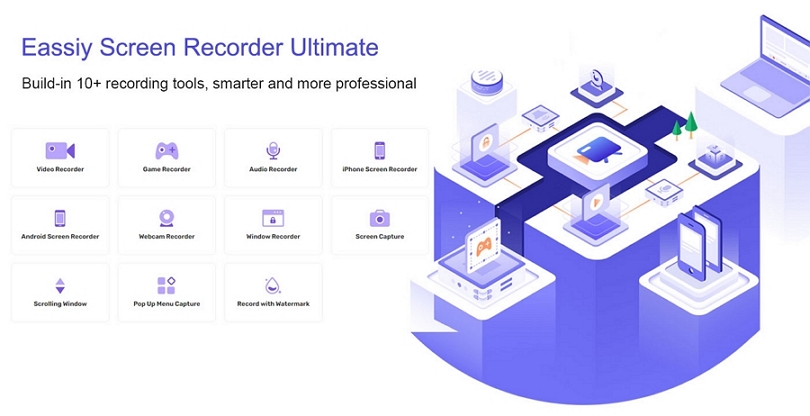 Key Features:
Customize the recording area, move the recording area during live recording, or capture the entire screen.
Adjust system audio, limit background noises while using a microphone, and enhance microphone noise.
Create schedule recordings to record live stream, TV series, and all kinds of events.
Record game video on computer or record gameplay on Android/iPhone no lag.
Screen record with camera computer to create tutorial videos easily.
Set up hotkeys and use them to record the screen efficiently. And schedule your recordings.
Record microphone and system sound simultaneously or separately without stress.
  Record any phone from your computer with audio.
Pros:
Multiple recording modes, including auto, magnifier, WinRT, and DXGI.
Save the recorded videos in any format and quality.
Numerous video and audio quality options.
There are multiple camera styles like a circle, rectangle, or elliptical.
Cons:
Some features are available only with the paid version.
2. Screencast-O-Matic
Price: Free + US$ 10 per month
Best for: Creating quick video tutorials with editing options
Screencast-O-Matic is a simple tool that allows you to communicate with video and images. Screencast-O-Matic includes features for screen recording with PC sound, recording the webcam, or both (using Picture-in-Picture) simultaneously. Upon that, Screencast-O-Matic includes editing features, allowing you to include text, shapes, and images in the videos.
Moreover, the simplistic and user-friendly interface of Screencast-O-Matic makes it very easy for user's of any expertise level to capture their screen and share it with friends, co-workers, and family members.
What's substantial about Screencast-O-Matic is you can download and use most of the features for entirely free. There is no need to even sign-up! Plus, it includes online and offline tools to screen record the PC with sound.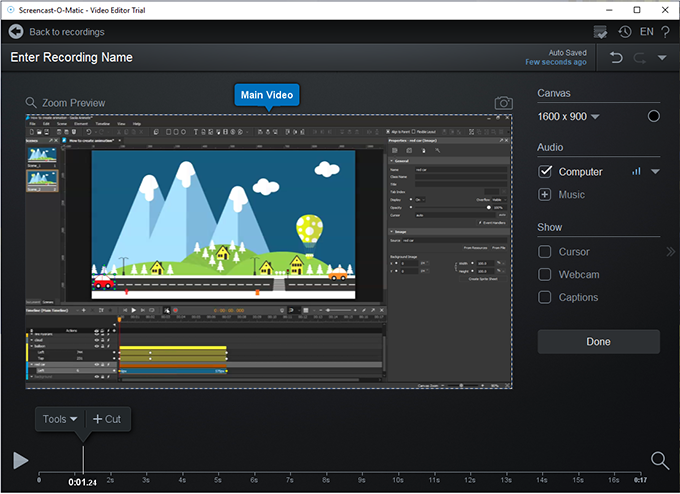 Key Features:
The Script tool guides you throughout the recording process, like where and what you can add to improve the video.
Capture the entire screen or part of the screen.
Record your screen and webcam simultaneously by using Picture-in-Picture.
Add text, images, captions, and other shapes to the video.
Pros:
You can record in 800×600, 640×480, and other standard definitions.
A clean and sleek user interface keeps things simple and allows anyone to record and share video tutorials.
Most of the features in Screencast-O-Matic are free to use.
Cons:
No support for recording in HD or UHD.
Advanced options like speed adjustments and editing options are available only with the paid version.
Not suitable for screen recording gaming content, given there are no audio control options.
3. ScreenFlow
Price: US$ 149
Best for: Making high-quality retina videos with powerful video-editing tools.
Telestream's ScreenFlow includes all the gears to create videos like professionals. Whether recording multiple screens at once or simply capturing the screen, ScreenFlow allows you to record the screen in the highest possible quality, with the option to record using a retina display.
ScreenFlow's intuitive UI is designed to allow even the least tech-literates to create professional-looking videos in minutes. Plus, powerful video editing tools like transitions, text animations, video animations, and freehand annotations make it easier to make something worth watching. And if that does not impresses you, ScreenFlow comes with over 500,000 royalty-free videos, audio, and images that you can use from within the app.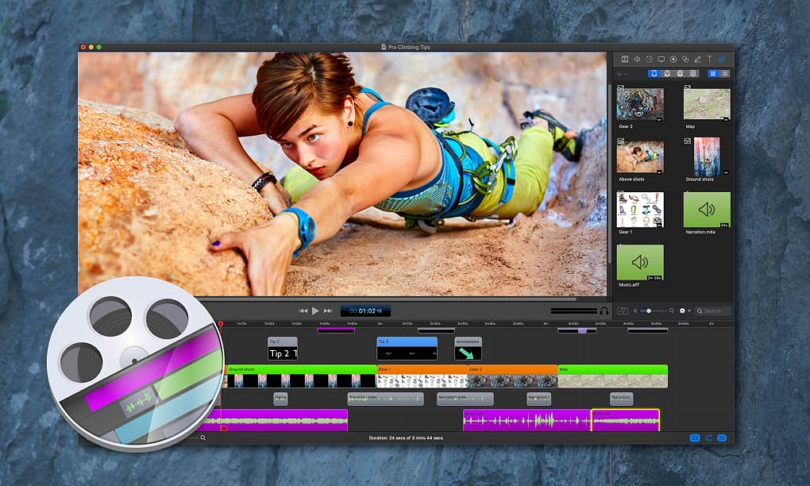 Key Features:
Over 500,000 unique images, audio & video clips to spice up your videos.
Closed Caption Support to add and edit captions. You can even burn in ADA-compliant soft subtitles to the videos.
Powerful video editing tools like transitions, text animations, video animations, and freehand annotations.
Animate titles, subtitles, and logos to level up your streaming game.
Pros:
Intuitive and modern UI makes the screen recording simple and straightforward.
Readymade styles and templates to make the editing process easier and quicker.
Create animated GIFs from the recorded clips.
Organize your videos within the application and share them directly on Wistia, Youtube, and Vimeo.
Cons:
A costly tool: US$ 149 for one license (free trial available).
There is a sweet learning curve!
Not available for Windows users.
4. Bandicam
Price: Free or US$ 39.99
Best for: Balancing the depth of your screen recordings.
Bandicam is a lightweight screen recorder that allows you to record high-quality videos up to 4K quality at 120 frames per second. You can record various 2D and 3D games from the screen while capturing the video from external video devices like IPTV and Webcam. The UI is outdated yet straightforward, and you will get used to it quickly. Focusing on the characteristics of Bandicam, the program includes some advanced options like real-time drawing, schedule recorder, mouse effects, and more.
Plus, you can record multiple audio channels like internal audio and one coming from the microphone simultaneously, making it perfect for gamers looking to stream. Moreover, there is also a Chroma Key for webcam overlay, allowing you to make your video look more professional even during live streaming.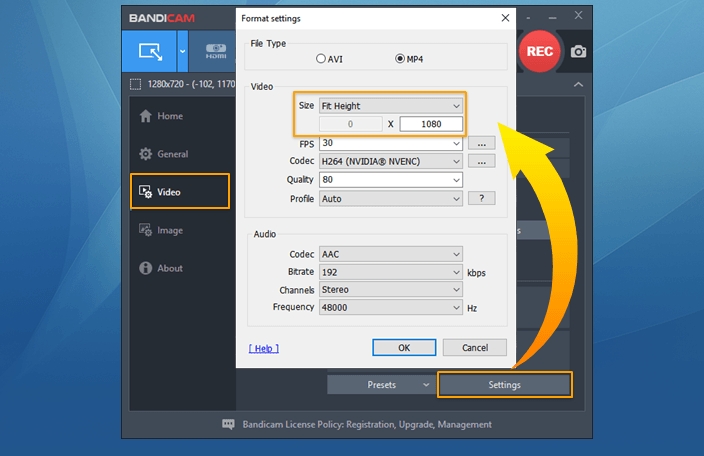 Key Features:
Record internal audio and microphone sound at the same time.
Record in high-definition at 120 frames per second or 480 frames per second.
Add animates mouse effects and let the user focus on individual ideas.
There is a Chrome Key (the Green Screen) for webcam overlay.
Pros:
A streamlined user interface makes it simple for users to understand the features.
You can add a webcam overlay while recording the PC screen.
Schedule recording allows you to start and end recordings automatically.
Save your videos into MP4 and AVI format.
Cons:
There is a watermark on the videos recorded with the free version of the tool.
You can only record up to 10 minutes with the free version.
5. Filmora SCRN
Price: Free or US$ 29.99
Best for: Screen + Webcam Recording, Customize recording area
Filmora SCRN comes from the famous Wondershare, and like any other tool from the vendor, its screen recorder is simple, includes all necessary function, and affordable. Like Eassiy Screen Recorder Ultimate, Filmora SCRN allows users to record users in high quality. You can choose to record one screen, screen + webcam simultaneously, or part of your screen.
Along with simultaneous recording options, Filmora SCRN also allows you to record audio coming from multiple sources (like internal audio and microphone sound). However, there are no sophisticated options like Eassiy Screen Recorder Ultimate to manage the sound levels. Needless to say, Filmora SCRN has a streamlined interface that is pretty much self-explanatory and makes it simple for anyone to understand the features.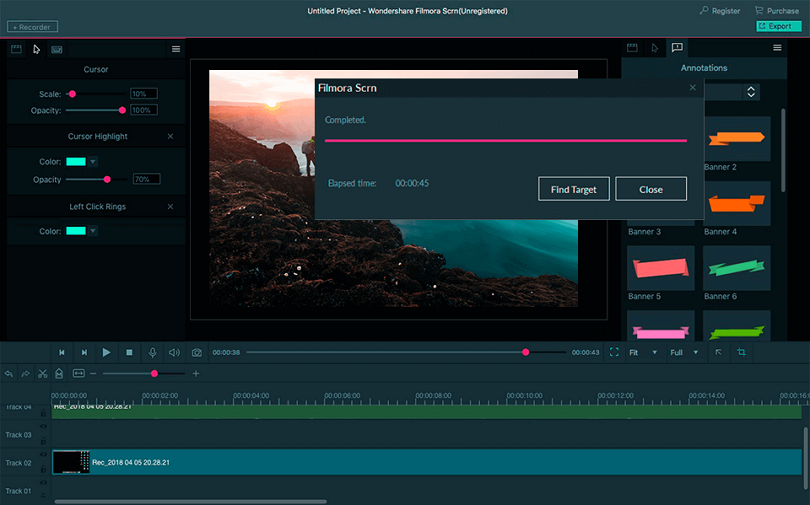 Key Features:
Record just about anything, from spreadsheets on the screen to gaming content.
Webcam overlay allows gamers to record their screen as well as the entire PC screen.
Motion tracking follows the cursor and moves the custom screen.
Chroma Key (Green Screen) for the webcam overlay.
Pros:
A self-explanatory interface makes it simple for a typical user to understand the function.
Advanced options like color correction and color match allow you to record videos like a professional.
Auto-synchronization.
Import in over 50 file formats.
Cons:
There are no limits on how long you can record with the free variant, but there is a watermark.
6. Share X
Price: Free
Best for: A lightweight and feature-rich screen recorder that is completely free to use!
ShareX is a free, lightweight, and feature-rich application that includes everything and anything that a user expects from a screen recorder. The only problem is the feature-rich interface makes it complicated to understand all the features and use them. That is to say - there is a sweet learning curve before you will be able to use the program comfortably. Coming to the features, ShareX allows you to record your screen in any way you want. Be it the entire screen, screen + webcam, multiple windows, you name it! There are also options to share the recorded videos on just about any platform out there, including YouTube, Vimeo, email, and more.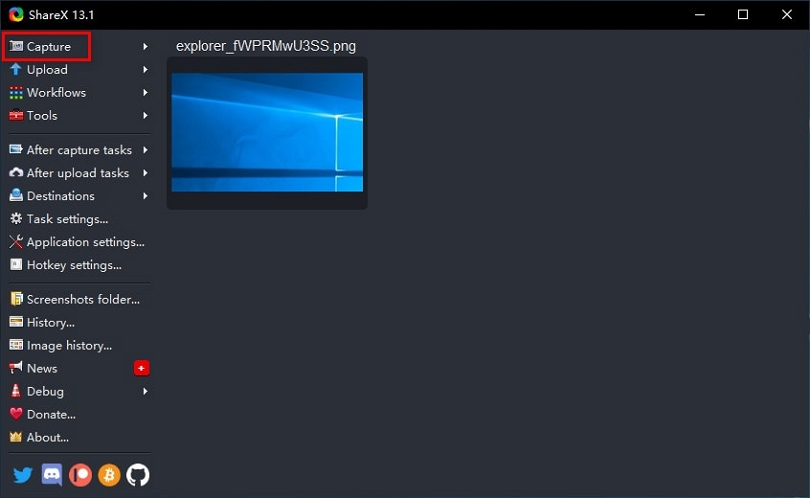 Key Features:
Upload images to Google Photos, Twitter, Image Stock, and more sites directly.
Upload videos directly to Facebook, YouTube, Cloud, and more.
Video converter, image converter, and other time-saving apps are available within the application.
Multiple screen types, including rectangle, elliptical, and circle.
Pros:
ShareX is entirely free to use.
It supports over 80 destinations including Facebook, Google Photos, Cloud, email, and more.
No advertisements and watermarks.
Open-source and lightweight application.
Cons:
A lot of unnecessary options make it suitable for advanced users.
7. Debut
Price: US$ 39.55
Best for: Recording videos from webcam, computer screen, network camera or external device with just a few clicks.
Debut is a fully-fledged screen recorder that comes laden with video editing tools. And its very selling point also makes it unsuitable for users not looking for unnecessary video editing features, given the application is pay-and-use only.
But for that high price, Debut video capture software includes all the necessary screen recording features that allow you to get control of your screen recording. For context, you can use the mouse highlighter to move the recording screen like with Eassiy's.
However, aside from some good video editing feature, Debut has nothing new and unique that makes a case for paying for the license. Nevertheless, there is a monthly subscription option that gives you the option to test the software for a month.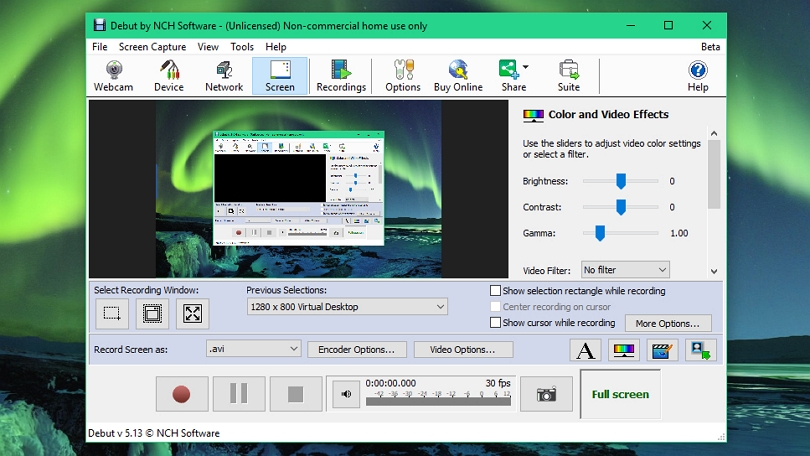 Key Features:
Export the video in avi, wmv, flv, mpg, mp4, mov, and more video formats.
Capture video from the computer screen, webcam, network IP camera, and video input device.
There is an option to show keystrokes in the video, making it valuable for users looking to create tutorials.
You can replace the background using Green Screen.
Pros:
You can upload the recorded videos on YouTube, Flickr, and Vimeo directly.
You can add captions to your video and animate them.
Color correction and color adjustment tools for post-production editing.
Flexible video export options allow you to download the output in any quality, format, and size.
Cons:
You will go through the tutorials to use advanced tools like color correction.
The pay-and-use model makes it hard for users to analyze whether it is the right tool for them or not.
Part 3: How Do I Screen Record PC With Sound In High Quality?
While we cannot show you the step-by-step instructions to record the screen on the PC with sound using all these applications, let's learn how to record sound on the PC using Eassiy Screen Recorder Ultimate.
How to screen record with sound on PC using Eassiy Screen Recorder Ultimate:
Step 1. Go to the official page of Eassiy Screen Recorder Ultimate and download the Eassiy recorder tool, then install it on your computer.
Step 2: Run the Eassiy program and navigate to the top left corner of the screen > click on 'Custom' or Full to choose the region of the computer where you want to record. You can record Full screen, a selected region/window, 1080p, etc.
You can turn on click on the toggle for 'System Sound' and 'Microphone' to enable the recording of audio from the computer or microphone. The slider should be used to adjust the volume.

The "Preferences" tab is also available to help you reduce microphone noise and enhance your microphone. You can record your voice clearer using these functions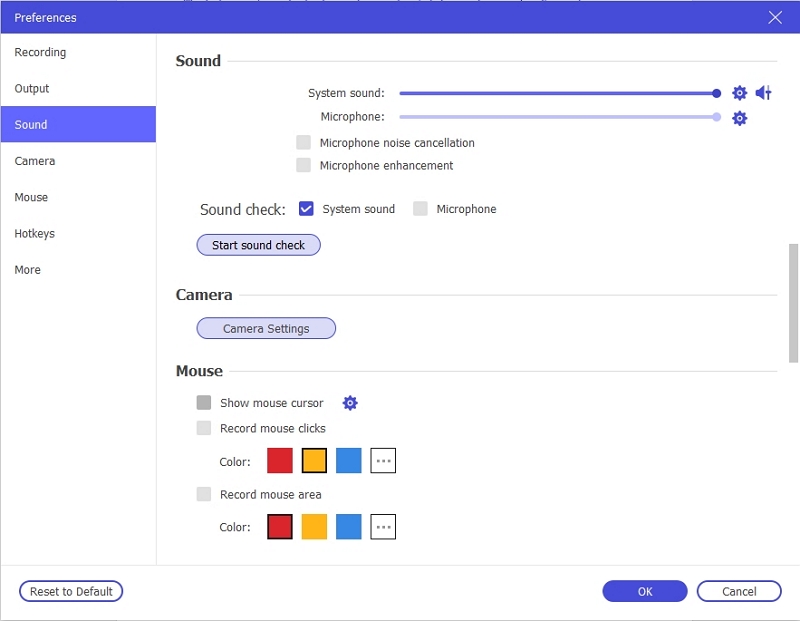 Step 3. Click the REC button to start recording the screen as per requirements. During this process, you can utilize the Camera icon at the bottom of the screen to make screenshots.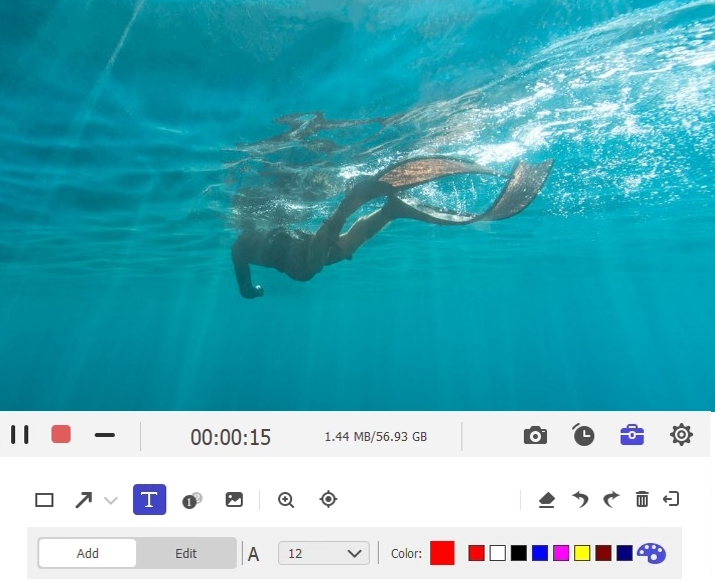 Step 4. After the screen recording is completed, click the red Square icon to stop the recording and have your recorded video. You can also share on other social media platforms.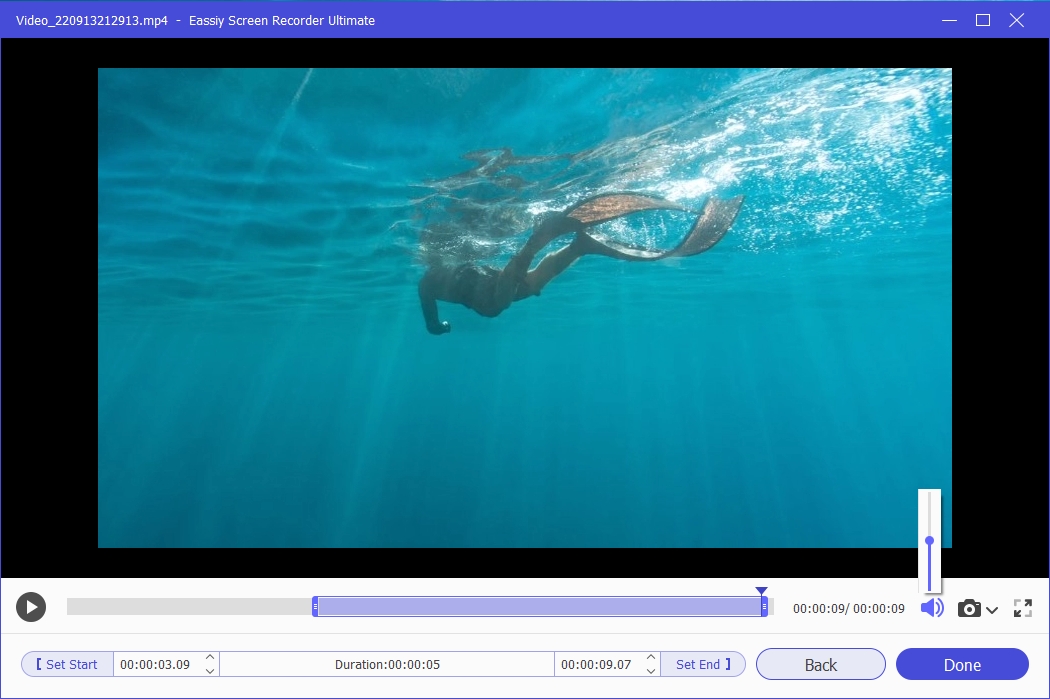 There are numerous other features and options in Eassiy to record professional-looking videos, and as you can see from the stepwise guide the process is straightforward to understand.
Conclusion
Screen recording software is a valuable tool on the computer. And that very reason, having it on the computer all the time makes a simple case that it should not be costly. Given you cannot spend a high amount on something that you are not going to use often.
Be that as it may, some tools are worth paying for when you have the use for them. For instance, ScreenFlow is one of the most high-priced screen recorders for Mac in the market and comes with tons of capturing and editing features.
But it is not suitable for the average joe, given they will not use it often plus utilize all the features it offers. The good thing is some tools sit right in the middle, are not too expensive, and are not too cheap to be useless. And the only such screen recording tool on the market is Eassiy Screen Recorder Ultimate.