Today, one of the biggest problems of YouTubers/content creators who make videos demonstrating their gameplay skills, teach online lessons, and create how-to videos is finding a reliable screen recorder with Facecam. Yes, this is because only a few screen recorder software support screen recording with Facecam, and choosing the best ones out of these few can be very challenging. If you're in a similar situation, then you've come to the right page to find your needs. This article is a summary of the best screen recorder with Facecam on PC, Chromebook, and online. Plus, you'll find the best ways to employ the recommended screen recorders with Facecam to record PC screens in just a few steps.
Part 1: Best Screen Recorder With Facecam for PC
The best screen recorder with Facecam for PC is none other than the powerful Eassiy Screen Recorder Ultimate - a fast and reliable screen recorder software that offers a plethora of features to facilitate quality screen recording tasks. Eassiy boasts a robust Facecam recorder that utilizes state-of-the-art technology to record videos and take photos using the built-in Facecam on a laptop or with a USB Facecam connected to the PC. The tool is supported on both Mac and Windows computers, and it not only allows users to record PCs with Facecam, but also facilitates how users execute screenshots, scheduled screen recording, YouTube streaming, and lots more in just a few clicks.
Besides, with Eassiy, you can simultaneously take screenshots and screen record PCs with Facecam while still annotating and doing lots more during the process with no error. Honestly, if you're looking for a comprehensive all-in-one screen recorder with Facecam for PC, Eassiy is the perfect go-to option for you!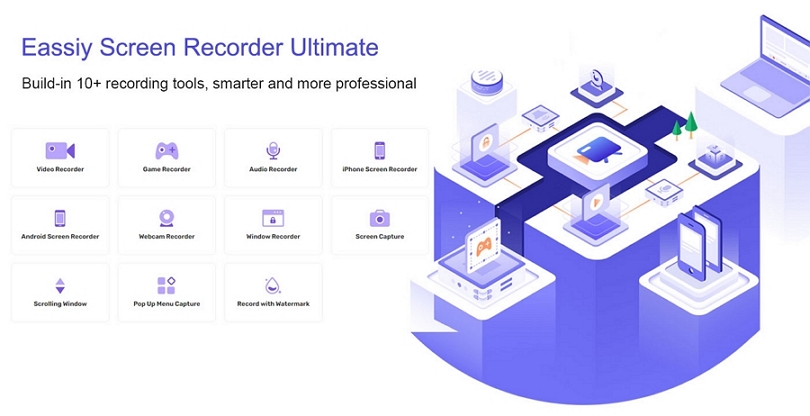 Key Features
Screen record PC with Facecam without lagging, even during gameplay.
Real-time annotation to highlight essential elements in on-screen recordings.
Perform scheduled recording for long or short time screen recordings with an automatic starting point and stop.
Support hotkeys that eng aces efficiency of screen recording operations.
How to record my PC screen with Facecam
Step 1: Run Eassiy Screen Recorder Ultimate and go to Video Recorder.

Step 2: Customize the recording area. Don't forget to turn on the system sound and microphone sound as well. You can check the audio quality with the Sound Check feature.

Step 3: In the webcam column, click the arrow to select a webcam. Toggle the button of the webcam. And then adjust the facecam frame size and drag the box to a corner on your computer screen. Besides, you can either choose to fix the webcam window in a specific area or set it as movable.

Step 4. Click REC before you start the game. When you want to finish the recording, click the Stop button to end the recording. Then, you can view and trim the video. After you perfect the video, you can save it or share it.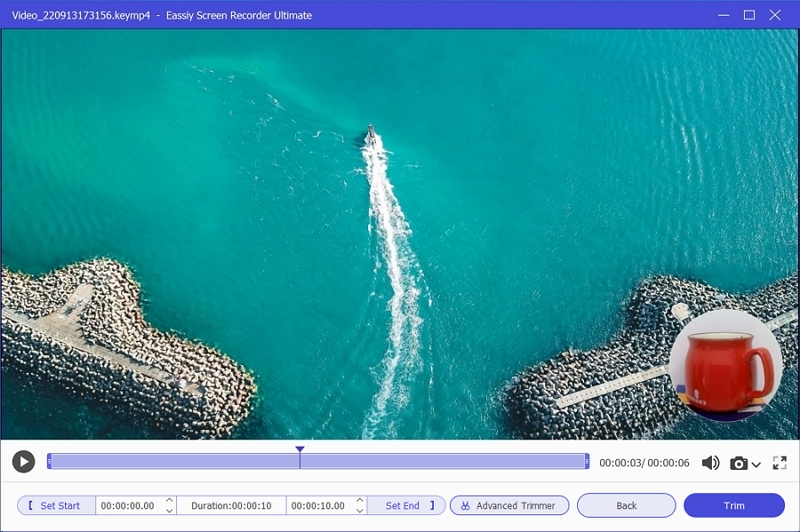 Besides just recording PC with Facecam directly, Eassiy also allows users to record Facecam and gameplay simultaneously. Read on to see the story on how to do that.
How to record Facecam and Gameplay at The Same Time
Step 1: Before you begin the game, open Eassiy Screen Recorder Ultimate. Then click Game Recorder

Step 2: Now start the game you want to record. Select the gameplay window, Eassiy Screen Recorded will automatically lock the Window. Then, you can turn on Webcam toggle and manage the Sound system and Microphone levels by using the relevant button. Afterward, click the Rec button to start recording.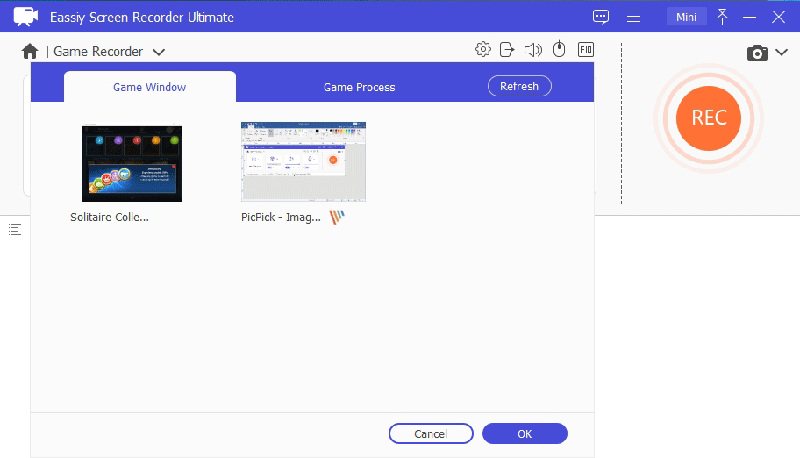 Eassiy Screen Recorder Ultimate will start to record facecam with gameplay. During the process, you can even take screenshots using custom hotkeys or by clicking the 'Camera' icon at the bottom.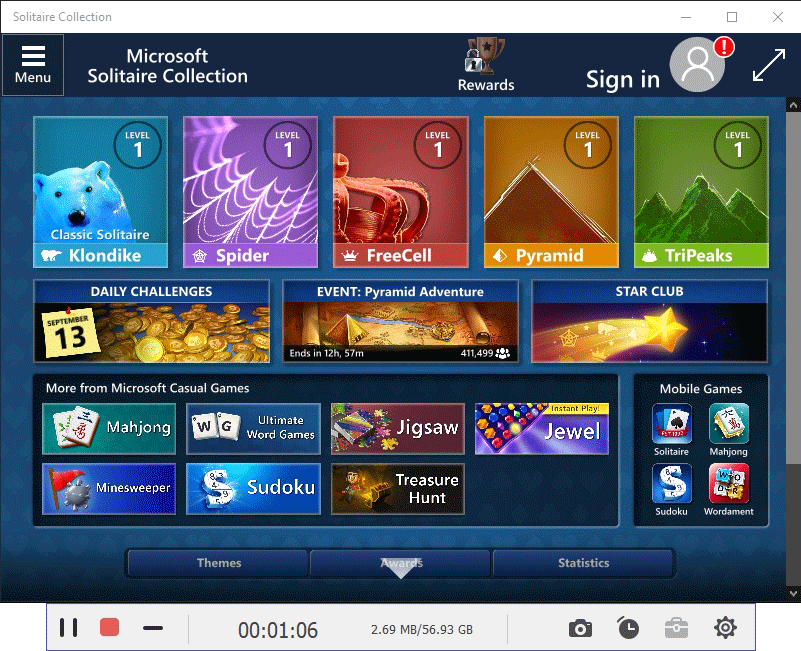 In addition to taking screenshots, you can also highlight important elements by using the real-time annotation.
Step 4. Save the Game Video
After ending the video, you can check and clip your video. All preparation is done, you can save the video to share it.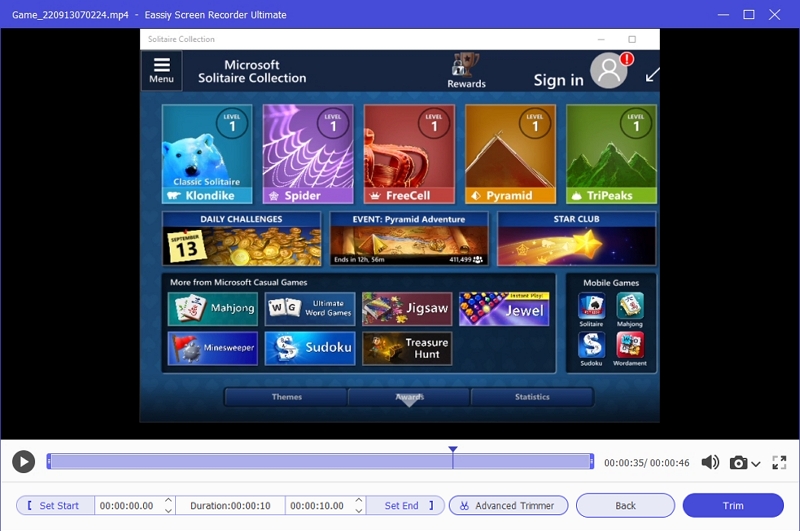 Part 2: Best Screen Recorder With Facecam Online Tool
If you don't intend to install any app on your PC, using an online screen recorder is a great way to record a PC screen with Facecam, though the quality of the video output might be poor. Veed.io is a reliable web-based application that can be utilized to record computer screens with Facecam online. The online tool supports a won't array of built-in editing tools that can be used to add different layouts, add captions, and do lots more for PC screen recordings. Veed.io is a decent option if you don't want to install advanced software, but still, create nice-looking presentation-style videos.
Key Features
It's 100% free and web-based.
Support numerous video and audio inputs.
Transcribe/translate videos easily.
Offers a lot of templates for users to utilize.
How to Record PC With Facecam Onlin
Step 1. Visit Veed.io online tool official website via https://www.veed.io/tools/screen-recorder and click on 'Launch Free Recorder'
Step 2. Select layout - this time, you're to select the option to record both your PC screen and webcam simultaneously.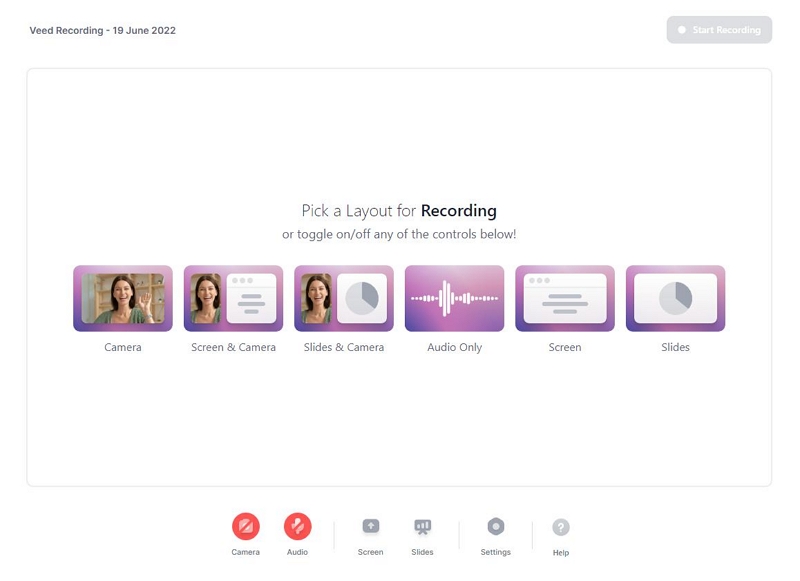 Step 3. Click the Red button at the top right corner of your PC screen to prompt a countdown timer and the Facecam. Veed.io will start recording your PC screen with Facecam online.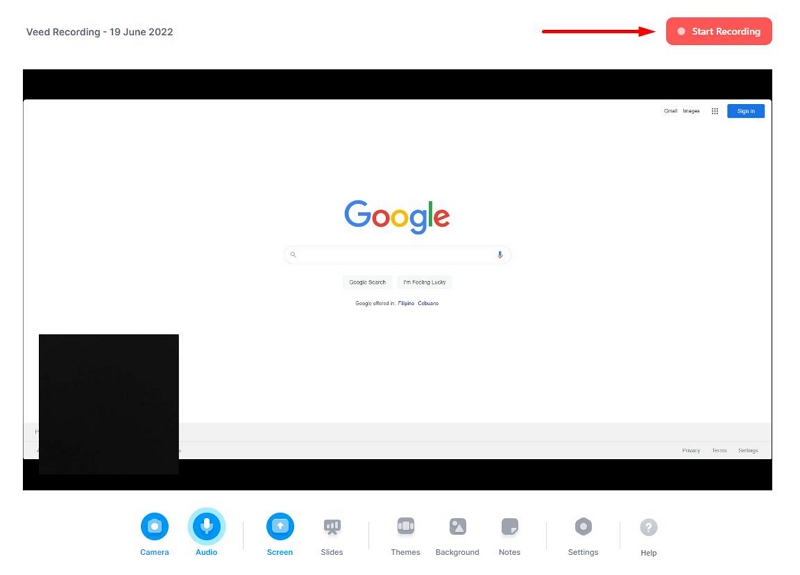 Step 4. Once the process is completed, click on the Stop button and edit the recorded video. Then save the output to a location on your PC storage or share the link to other platforms.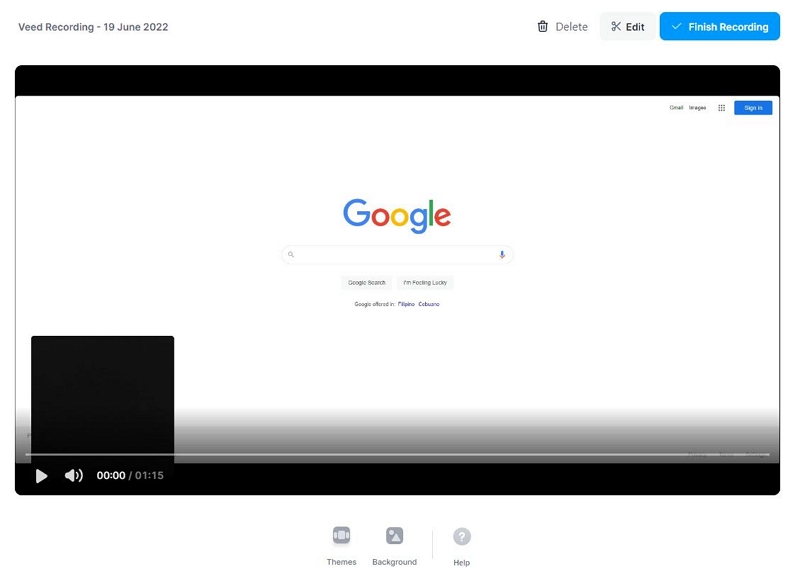 Part 3: Best Screen Recorder With Facecam for Chromebook
Most of the screen recorder software available online, are always Mac/Windows compatible. But what if you want to record screen with Facecam on Chromebook? Well, in such a case, the reliable Wondershare DemoAir can always come in handy to help you perform such tasks efficiently.
Wondershare DemoAir is an online screen recording extension for Chromebook that allows HD screen recording with robust tools. The tool allows users to not only record screens with Facecam, but also perform editing tasks on recorded videos seamlessly. Plus, it allows sharing of screen records to other web-based platforms concisely. See some of the key features of this tool below;
Key Features
Support vibrant editing tools that are very helpful when screen recording Chromebook.
Record screen of PC with audio without complications.
It's compatible with all versions of the Chrome browser.
Boast a wide range of features that can come in handy when creating online courses.
How to Use DemoAir to Screen Record Chromebook
Step 1. Firstly, add Wondershare DemoAir extension to your chrome browsers using the link: https://chrome.google.com/webstore/detail/wondershare-demoair-scree/olfdaaodhngodpnnoahamgfnndipjopi
Step 2. Now open DemoAir by clicking on its icon at the top right corner of your PC screen as shown in the screenshot below. Then click on the 'Desktop' icon from the drop-down list and turn on the toggle next to 'Microphone', Webcam, System Audio, and if preferable, 'Drawing'.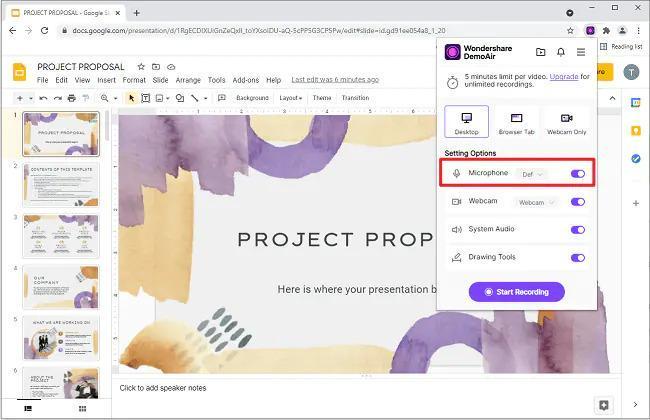 Step 3: Click Start Recording button to start recording Chromebook screen with Facecam.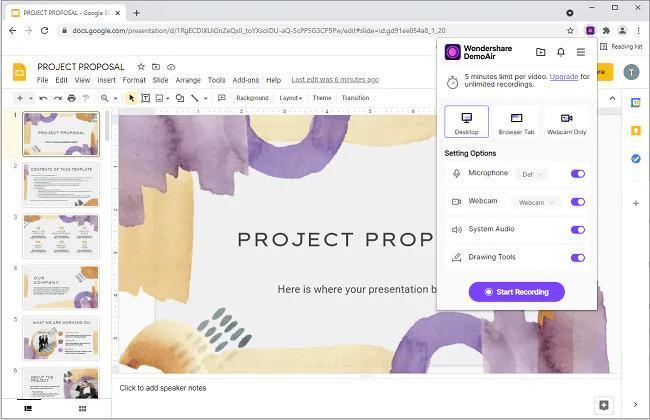 Step 4: DemoAir will begin screen recording with Facecam operation. After you're satisfied with the screen recording, click on the red square icon to end the operation.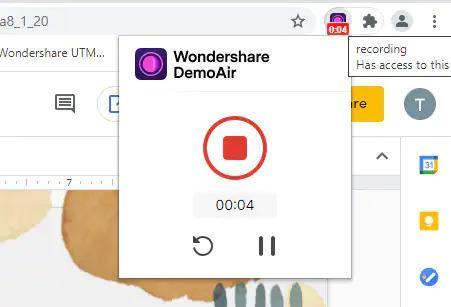 Step 5: Save the screen record of your PC or you Can just share it with other platforms.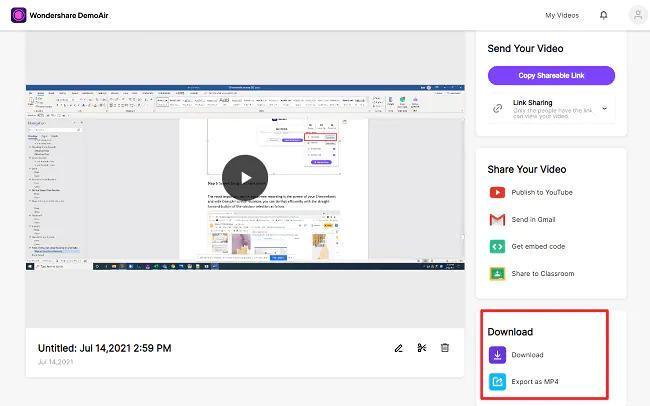 Conclusion
Screen recording with FaceCam on PC, online, or Chromebook is not a difficult task once you have the right screen recording tools at your fingertips. On this page, we've covered every necessary information that you need to know to screen record with Facecam on a PC, online, or Chromebook. Just make sure you choose a preferred method and follow the steps attached to it correctly.