1: How Can I Fix Screen Recording Issues That Don't Save or Record?
You could experience screen recording failed issues when screen recording on Windows and Mac. Eassiy Screen Recorder Ultimate not recording video or audio can happen for various reasons. The following fixes may help Eassiy Screen Recorder Ultimate operate correctly.
1. Close all other programs that are using the sound card.
If you see any of the following errors, "Failed to record because another application was using your sound card," it said. Please check it, unblock the sound card, or attempt a computer restart.
Following are some methods for resolving the not recording issue:
Locate all voice chat programs, audio tuning programs, and other associated recording programs, and disable them. Alternatively, you can stop any background-running applications other than Eassiy Screen Recorder Ultimate. Try recording audio and video of the screen again.
Unable to locate the specific program? Restart your computer now. It can repair all unexpected crashes. Screen Recorder frequently records computer audio and microphone voice in the same manner as usual.
2. Restart Screen Recorder Ultimate If Sound Card or Graphics Card Has Been Modified
Your computer's graphics card or sound card could change or shut down while Eassiy Screen Recorder Ultimate is running, preventing the sound card or graphic card from being detected and preventing a successful recording.
The following error messages will appear: "Recording failed, due to some modifications in your sound card or graphics driver." Please relaunch the application and attempt recording once more. You can resolve the failed recording problem by restarting Eassiy Screen Recorder Ultimate and your computer at this time.
3. Reinstall and update drivers if the sound or graphics card is outdated or incompatible.
You won't be able to record audio or video if your sound card or graphics card drivers are improperly installed or outdated.
There are two methods you can use to repair recording errors:
1. Remove any active sound or graphics card drivers. Later, locate and install the appropriate drivers from the maker of your sound or graphics card.
2. Installing a new sound driver.
Press the Windows key + X to start.
Select Device Manager.
Locate and expand Display Adapters.
Select Update driver by right-clicking your graphics card (or Uninstall device).
4. Enable Camera and Microphone Permissions if Camera and Microphone Access Is Disabled
Ensure the access to the webcam and microphone is enabled before using Screen Recorder Ultimate to begin an audio or webcam recording.
From the Start menu, select Settings.
Select App Access, then Privacy.
Select the box under "Allow apps to access your microphone."
To activate the microphone, click it. Please turn it on later.
By carrying out those actions one more, you can enable camera access.
5. Reconnect the speaker if improperly plugged in.
Only when the speaker is connected may certain sound cards be detected. To repair audio recording failed, unplug and then replug the audio jack into your computer.
6. If you want to disable compatibility mode, uncheck compatibility mode.
Ensure this program operates as an administrator, not in compatibility mode if you can still not record audio with the screen recording software.
Select Properties from the context menu by right-clicking the Eassiy Screen Recorder Ultimate icon.
Locate and select the compatibility tab.
Before using the program in compatibility mode: uncheck
Run this program in administrator mode if enabled.
To resume audio recording, restart Eassiy Screen Recorder Ultimate.
2: How to Resolve a Failed Task Schedule Recording?
After changing the settings, some users complain that the Task Schedule recording is not active. Right-click the Eassiy Screen Recorder Ultimate icon to fix the issue.
1. Select Run as administrator to launch the application.
2. You can access the Task Schedule settings afterward.
3. The task schedule will then start operating when you close the program.
3: How Do I Fix a Broken Phone Recorder?
You can occasionally not be able to detect your phone when using Eassiy Screen Recorder Ultimate to record the screen of your phone. The Windows Defender Firewall may be at blame.
1. R + Windows together. Type control into the Run dialog box to launch Control Panel.
2. First of all, click System and Security.
3. Select Allow an app or feature through Windows Defender Firewall under the Windows Defender Firewall section.
4. Navigate to Apps and Features. Put a checkbox next to mirror render before Private and Public to make it active.
5. To re-record your computer's iPhone or Android screen, restart Eassiy Screen Recorder Ultimate.
But what if the problem with the Phone Recorder is still present? Don't stress over that. The Windows Defender Firewall can be disabled.
1. Select System and Security under Control Panel.
2. Navigate Windows Defender Firewall on the right pane after selecting System and Security from the left sidebar.
3. Select the checkbox next to Turn off Windows Defender Firewall by clicking Turn Windows Defender Firewall on or off in the left sidebar (not recommended) between the Public and Private network settings sections.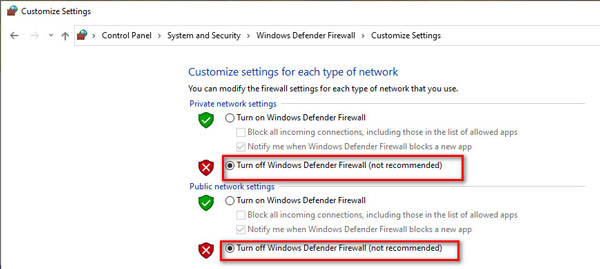 Additionally, make sure McAfee antivirus software is set up on your computer. Thus, disable or even remove McAfee to use Easy Screen Recorder Ultimate correctly. The Bonjour Service can be used to fix Phone Recorder issues as well. These are the specific steps:
Download the newest version of iTunes, then install it.
Open Task Manager by clicking the Taskbar.
Check to see if Bonjour Service is listed under Services.
Upon confirmation, select Restart from the right-click menu. (If not, choose Start instead from the right-click menu.)
Additionally, make sure Visitor Mode is off. Considering that your phone and PC might establish separate connections to the host and visitor networks. The phone recording consequently fails. It is visible in the router's background. You can immediately obtain the login username and password from the back of your router.
4: How to Use Screen Capture Mode?
Eassiy Screen Recorder Ultimate offers four different screen capture options. You can select one to record your customized screen. The automatic screen recording setting. Depending on your machine's performance, you can change the recording quality and other settings.
Mode 1 (common): Record screen audio and video with a fixed quality.
Mode 2 (Windows 10): Better recording quality is available for Windows 10 1903 and later users.
Mode 3 (Common): If the first three modes don't function properly, you can switch to Mode 3 to have a smoother recorder. The recording quality will decrease, though.
5: How Do I Fix a Connected Device That Isn't Being Recognized?
You should first check the USB connection if you're an iOS user. Replace the USB cord or reconnect your Apple device. Download the newest version of iTunes, then install it. Additionally, verify sure your iPhone or iPad's Apple Mobile Device Service and Apple drivers are functioning correctly.
You can switch the connection mode for Android users to MTP, PTP, or USB Mass Storage. Ensure that your Android phone's USB debug mode is active as well. Be sure to turn off AutoPlay on Windows, by the way. If not, choose Device from the Settings menu. Choose Autoplay. Before choosing Use AutoPlay for all media and devices, select the appropriate option.
6: How Do I Download and Install an Android USB Driver?
Different USB drivers are a must for various phone brands. Go to the website to download the official Android USB driver for your computer. Depending on your requirements, you can install the Google USB driver, OEM USB driver, ADB USB driver, and more.
7. How Do I Turn on USB Debug?
Launch the Settings app.
You can scroll down and tap the Build Number seven times if you have Android 4.2 or later. Return to Settings and select Developer Options to enable Android's USB debugging option.
Users of Android 3.0 to Android 4.1 can tap Developer Options and instantly enable USB Debugging Mode.
You can choose Application, followed by Development, for Android versions 2.3 and lower. Locate USB Debugging Mode and activate it.
8: How to Cast Audio from an Android Device to Your Computer?
Step 1: First, get an aux cable ready. Connect one end to your desktop computer's blue jack (Laptop users need to have an external sound card.). Next, connect the other end to your Android device.
Step 2: Navigate to the Sound icon in the lower right corner of your computer's screen and click it. Select Open Volume Mixer from the right-click menu.
Step 3: Click system sounds. Then, locate the section titled Recording. Arrive at Line In. Do a right-click on it. Select Enable later.
Step 4: From the Line In right-click menu, choose Properties. Check the box to the left of Listen to this device.
Step 5: To cast audio from your Android device to your PC, click OK.
9: How Can Windows Defender Firewall Cause Phone Recording To Fail?
To fix the issue, disable Windows Defender Firewall, and hold down the Windows key while pressing R on your keyboard. Windows' Control Panel can be accessed by typing control.
Toggle Windows Defender Firewall on or off by clicking System and Security, Windows Defender Firewall. Navigate to the Public network settings and Private network settings pages. Make sure Windows Defender Firewall is off. By the way, you may effectively record the phone screen on your computer by enabling the mirror render in Windows Defender Firewall.
10: How to Resolve the 4104 Error?
It results from your restricted license since you can use only one computer with a single license. The 4104 problem appears if you replace or completely reinstall your machine. Additionally, it occurs if you use a single license to activate Screen Recorder Ultimate on many computers. Contact our support staff to reset the code during this period. You must purchase a new license to use Screen Recorder Ultimate on multiple machines. We may provide you with a 30% discount at this time.