One of the most excellent sharing platforms for media files in our daily life is WhatsApp. To send media files to family and friends, people tend to be using WhatsApp. But we all know that WhatsApp has limitations over video file size which is 16MB. So how can you send large video files through WhatsApp? The answer is compressing the large video files to small sizes will help you to send them via WhatsApp. In this guide, we are describing how to compress video for WhatsApp easily. Read this guide briefly and choose the best solution for you.
Part 1: What is the best video size for WhatsApp?
WhatsApp still has some restrictions on media file sharing although it has many features. It will be better for you if you understand the WhatsApp restrictions and supported features. The maximum video size of the video is 16MB which you can share via WhatsApp and the maximum video length is about 90 seconds to 3 minutes. Including documents, the same criterion is applied to all media files. There is also a restriction on the format of the files with the limitation on WhatsApp's maximum video size. Including MP4, MKV, AVI, 3GP, and MOV, WhatsApp supports various video formats. Also, the video file support is affected by the video and audio codec support. To share a video via WhatsApp successfully, you have to keep the H264 video codec and AAC audio codec.
Part 2: Best Way to Compress Video for WhatsApp - Video Converter Ultimate
Eassiy Video Converter Ultimate is the best way to compress video for WhatsApp. This software is a complete multimedia toolbox that not only helps you to compress videos but also allows you to convert, edit, make MV, make college, and much more. It can convert your videos with a 60X faster conversion speed. You can compress your videos easily with this tool without quality loss and share them with other platforms. It helps you to compress your videos up to 90%. As it is available for free, you can use the free version of this program or you will be able to purchase the paid license for only $55.99.
Features:
Offers 20+ multimedia tools to convert, compress video, edit, and much more.
This program can convert videos with a 60X faster conversion speed.
Large video files can be compressed easily to small sizes without losing quality.
Batch conversion and 1000+ video/audio formats are supported to compress and convert.
AI technology is used to improve the converting speed by optimizing the multi-core processor.
Steps to compress video for WhatsApp.
Step 1: You need to install Eassiy Video Converter Ultimate on your computer. Once you are done installing the program, launch it and navigate to the Toolbox option at the top. Then you have to click the Video Compressor.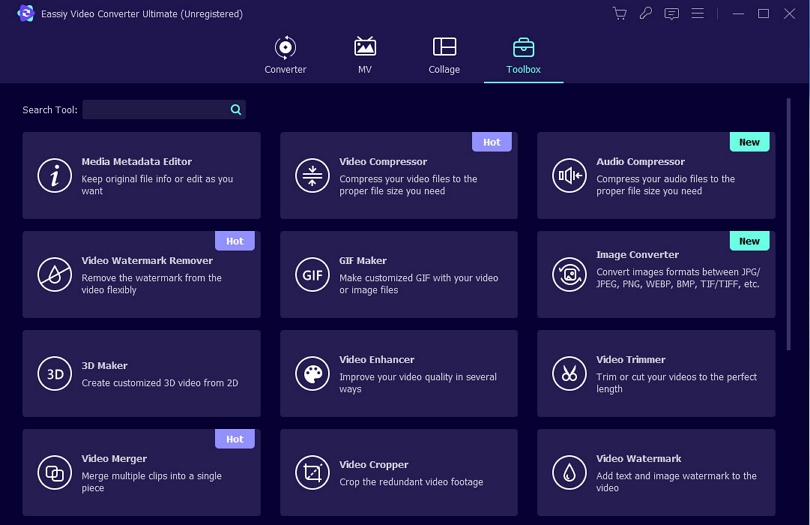 Step 2: You will see a pop-up window now. Either you have to drag and drop videos or click the "+" sign to add a video to the program.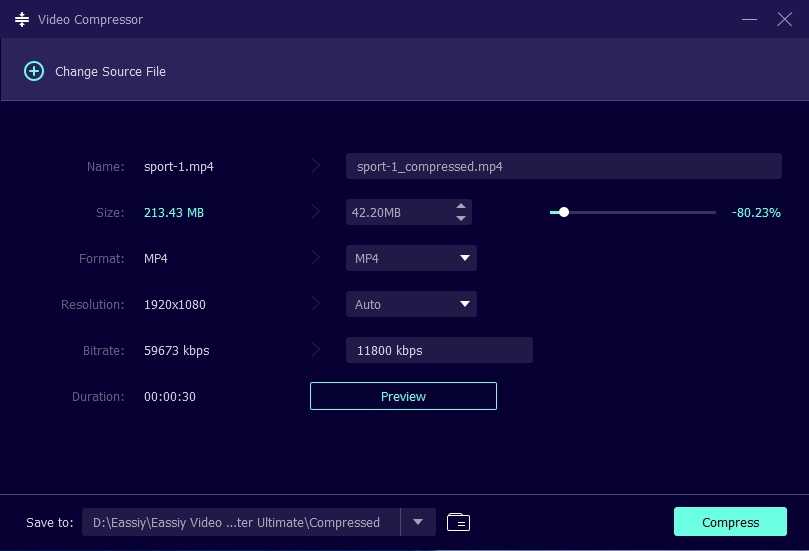 Step 3: Now, you have to modify the name, format, size, resolution, bitrate, and export location for the final result. Slide the dot to be able to resize the video. This program can compress your video file by up to 90%.
Step 4: Once you are done with the setting, you can check your video quality with the preview feature. Press the Compress button after previewing the video quality and your video file will be compressed.
Part 3: How to Compress Video Online for WhatsApp?
Here we are going to share other 5 easy online ways to compress videos for WhatsApp. But before trying this method, you need to know that these ways don't guarantee you great quality video, and compared to Eassiy Video Converter Ultimate, these methods have their limitations.
Way 1: Clipchamp
Clipchamp is an online website that helps you to compress videos for WhatsApp. This website is free to use but it offers you a limited amount of compressions. Again, it doesn't guarantee the quality of your video. If you still want to try this method, then here are the steps.
Step 1: Go to "clipchamp.com" and log in with your Google, Facebook, or email and password after opening your browser.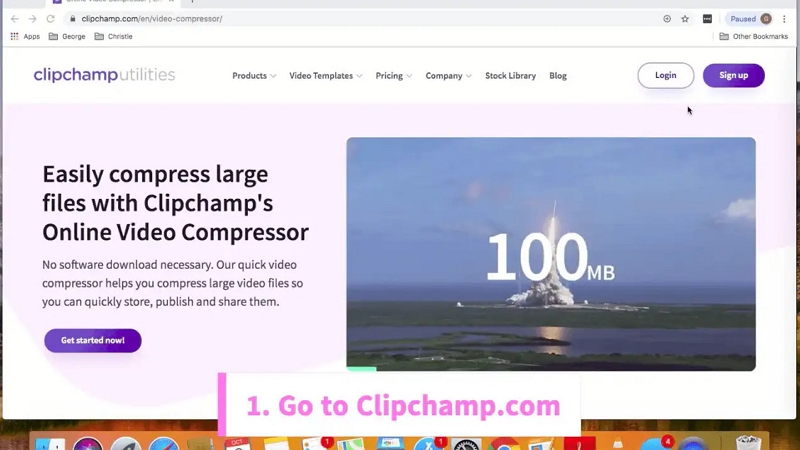 Step 2: Drag and drop the video file you want to compress into the box or simply click the box and choose to compress videos for WhatsApp.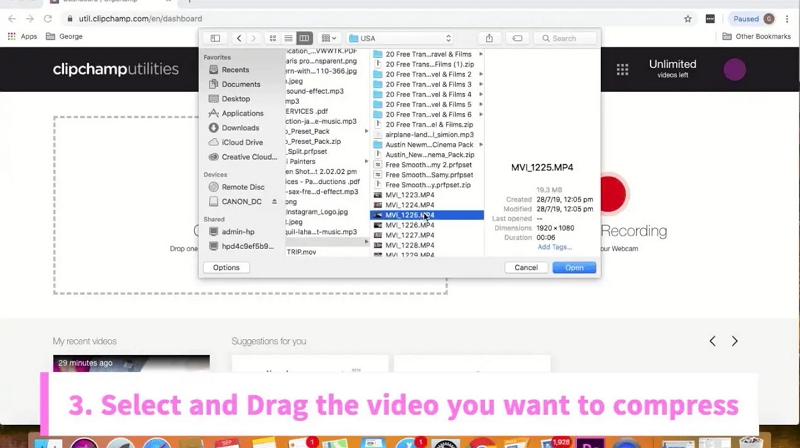 Step 3: We recommend making your video MP4 for the best playback on WhatsApp if it isn't already. For the fastest sending time, you can keep the resolution as it is, or change it to 720p or 360p. Either you can keep the quality as Medium or change it to Small.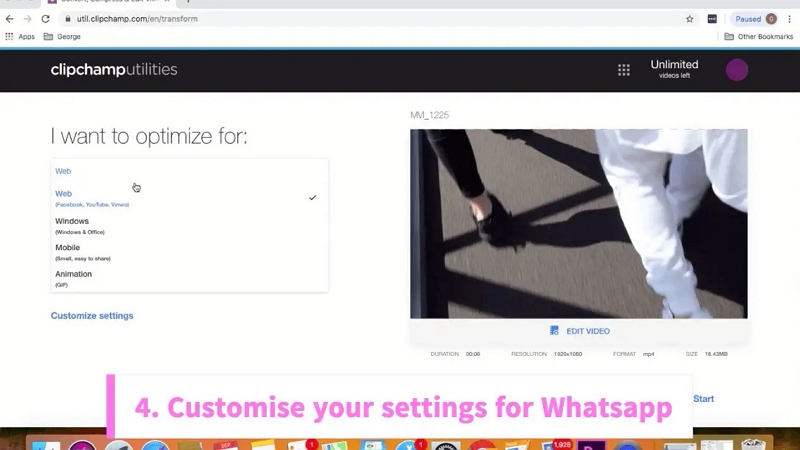 Step 4: When you are happy with your video, simply click "start". Consider uploading to Social Media or Google Drive by tapping the "Upload & Share" button while you wait. Your video will be ready to save to your computer by clicking "Save" after a few short minutes.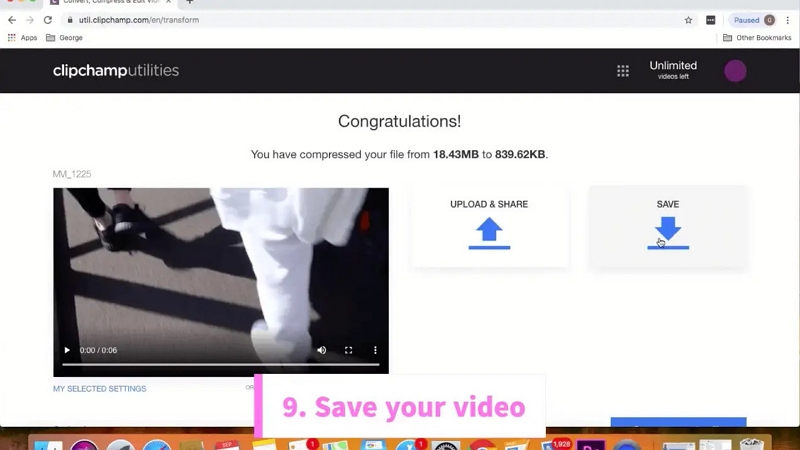 Way 2: XConvert
XConvert is another video compressor for WhatsApp. This video compressor can compress MP4, WebM, MOV, and MKV video files. You can control the compression percentage with this compressor. Follow the below-given steps to compress video for WhatsApp via XConvert.
Step 1: Click the "Video Compressor" tab after navigating to the XConvert website.
Step 2: To upload a video from your computer, click the "Add Files" button.
Step 3: Check the "File size percentage (best)" in the "REDUCE VIDEO FILE SIZE" on the right side. Check the compressed size on the left side when you drag the slider to the left until it's smaller than 16MB.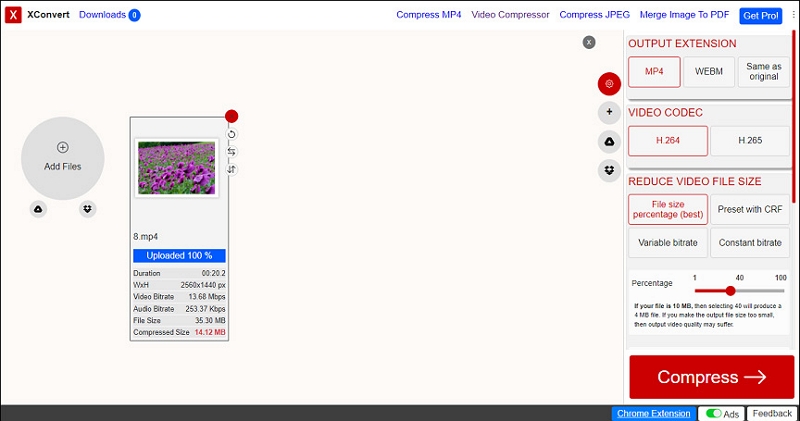 Step 4: To start compression, click the "Compress" button at the bottom right corner. Click "Download" to save the compressed video once done.
Way 3: Freeconvert
One of the most powerful online media processing applications for WhatsApp is Freeconvert. This video compressor can handle the compression and conversion of video, audio, images, and other types of media files. Without registering or costing a dime, it allows you to compress WhatsApp videos to under 1GB in easy clicks. Here are the steps to compress video for WhatsApp using Freeconvert.
Step 1: Click "Tools" and select "Video Compressor" after going to the Freeconvert website.
Step 2: To add a video, tap "Choose Files".
Step 3: Choose a WhatsApp video format after clicking the box next to Output.
Step 4: Tap the "Settings" icon. Choose "Target a file size (percentage)" after clicking the "Compression Method" drop-down menu. To select a target file as a percentage of the original, move the slider. Or enter desired video file size by selecting "Target a file size (MB)". Tap "Apply Settings".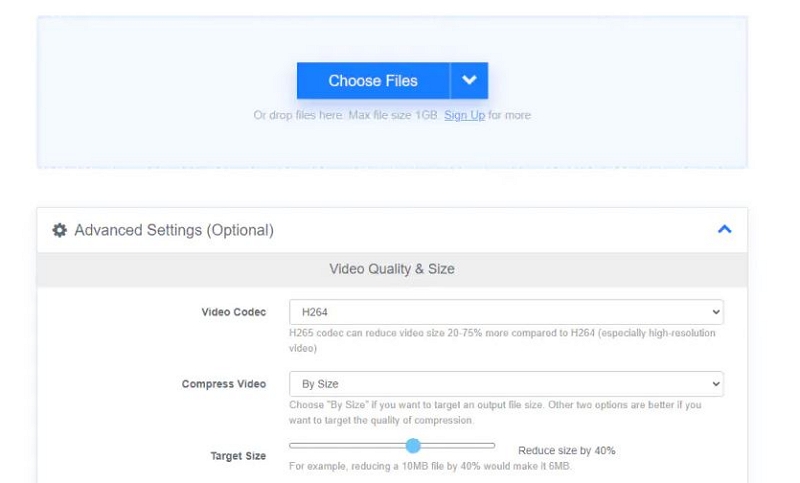 Step 5: To enable the conversion task, click "Compress Now".
Way 4: Zamzar
Zamzar is another online tool that allows you to compress not just WhatsApp videos, but audio, images, and documents as well. But you can only compress MOV, MP4, and AVI files with this online tool. Also, you cannot customize any settings. You won't be able to set the compression ratio, the target file size/bitrate/resolution, or anything else that would affect video quality and size. At Zamzar, 50MB is the maximum upload limit for video files which is smaller compared to the file size of a regular video recorded by an iPhone or other famous devices. Follow the below-given steps to compress WhatsApp videos using Zamzar.
Step 1: Go to the official page of the Zamzar video compressor.
Step 2: Choose the video you failed to send on WhatsApp due to the large file size after clicking "Choose Files".
Step 3: Zamzar will start to upload and compress your WhatsApp video.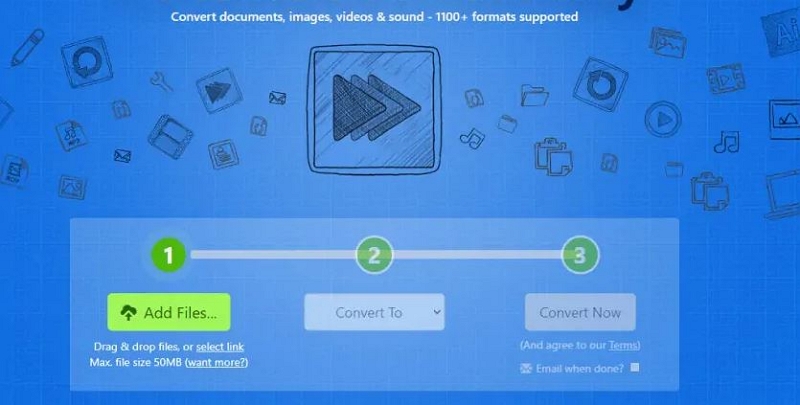 Way 5: FlexClip
To compress video for WhatsApp online for free, FlexClip is our final WhatsApp video compression method. FlexClip offers surplus editing options such as logo addition, video conversion, trim, music addition, video filter, video brightness, and more apart from compression. Here are the steps to compress WhatsApp videos via FlexClip.
Step 1: Click the "Browse Video" button to upload your video file or drag and drop the video to the server after going to FlexClip video compressor's website.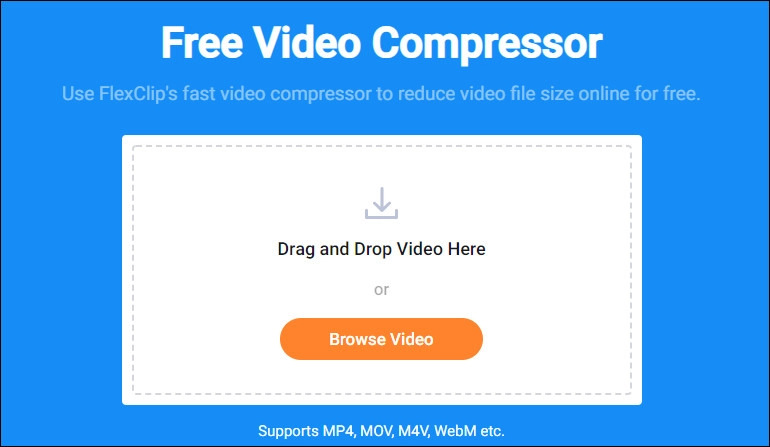 Step 2: Click on the "Compress Now" button after selecting video quality and resolution.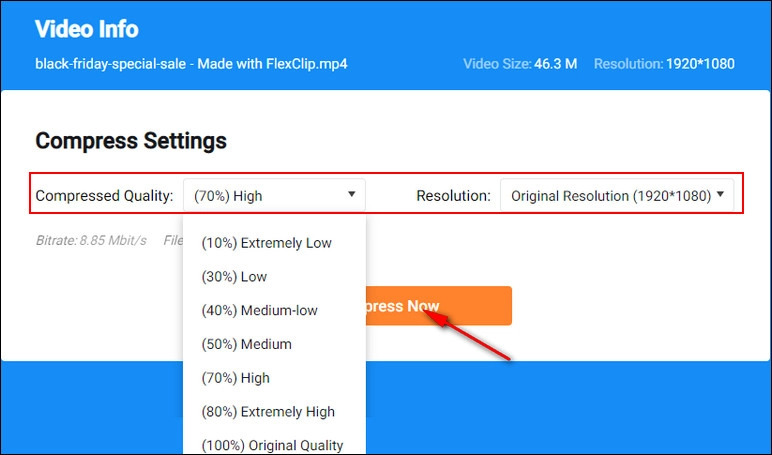 Step 3: The system will download the compressed video automatically in MP4 format after finishing the compressing.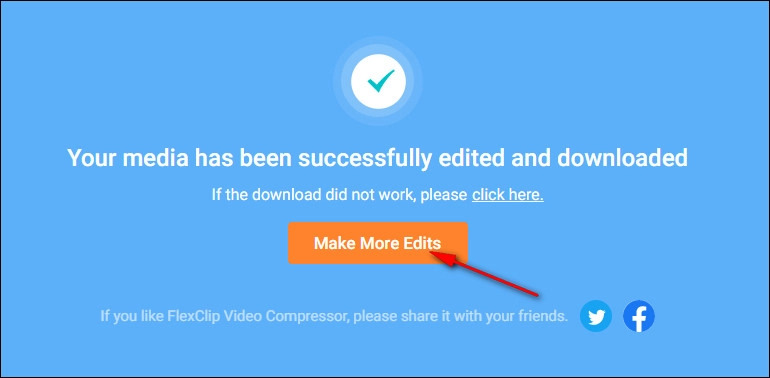 Part 4: FAQ to Compress Video for WhatsApp
1. What is the size limit for WhatsApp videos?
The maximum video file size for WhatsApp video is 16MB. Through chats, you can share less than 16MB or 16MB video files with your family and friends. You can also share the video link on WhatsApp after uploading your videos on YouTube or other video platforms.
2. What are the supported video formats of WhatsApp?
WhatsApp doesn't support all video formats. Video formats like MP4, MKV, AVI, 3GP, and MOV are supported by WhatsApp.
3. How can I send a location on WhatsApp?
You can click the Share Location option in a chat to send your location information with ease when you want to share a location on WhatsApp.
Conclusion:
You should compress videos for WhatsApp to less than 16MB according to the size limit if you want to send large videos to your friends and family through WhatsApp. In this guide, we have described how to compress video for WhatsApp easily. We would like to recommend you use Eassiy Video Converter Ultimate among the above-given methods. This software always makes sure that you won't have to face quality loss while converting your videos. Also, this program has no limitations for you compared to other 5 methods.