Disk Drill is one of the most versatile iOS file recovery tools proven to be highly efficient over the years. It's an industry-leading data recovery software famous for delivering all its promises. However, there have been debates about the quality of the tool. And that led us to create this review. In this article, we will discuss in detail what Disk Drill entails, including the pros and cons. Additionally, we will introduce the best alternative. So without further ado, let's dive into the review.
Part 1. What Is Disk Drill?
Disk Drill is a highly incredible iOS data recovery software with an interactive user interface that lets you retrieve lost or deleted data files on any iOS model. From iOS 12, 13 to the latest, this excellent data recovery. It hosts countless features you need to recover iOS data files like messages, voice mails, etc. The software scans your iPhone deeply for recoverable files without compromising the quality. It integrates perfectly with operating systems like Windows and Mac computers. Disk Drill offers its services in free and paid versions. The paid version is affordable compared to others in a similar industry.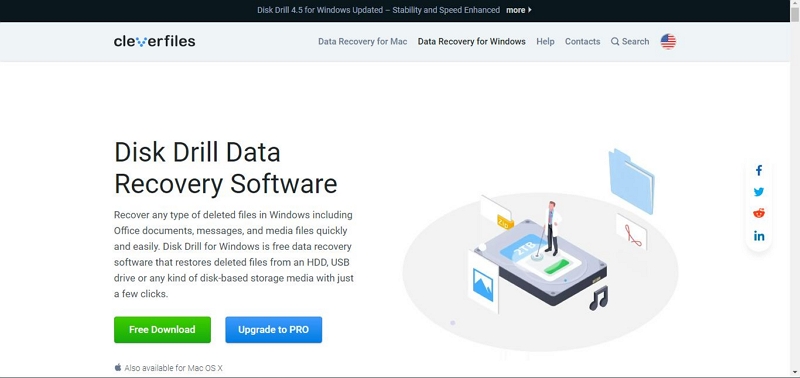 Features of Disk Drill
Disk Drill holds the following features:
User Interface
The Disk Drill's interface is well laid out so every person, whether novice or professional, can navigate around without stress. All features are arranged properly for easy access. You will find data recovery, drive backup, and data protection options on the left panel. Selecting data recovery allows you to retrieve lost/accidentally deleted data files. Drive Backup lets you store data files on Disk Drill. Data Protection, on the other hand, directs you to your recovery vault, where your data is stored.
Supported Files
With the Disk Drill iPhone Recovery tool, you can retrieve over 15 data file types effortlessly. It helps you scan your iOS device deeply to recover iPhone texts, voice mails, contacts, memos, emails, and many more.
Compatibility
Although it has Windows and Mac versions, the Disk Drill Windows version does not support iOS data recovery. The Mac version lets you retrieve lost or deleted data from an iOS device without quality loss. iOS data recovery is coming soon for Windows users, according to a recent report from the company.
Pricing
Disk Drill comes in free and premium subscription packages. The free package grants access to some of the software's features at a zero-cost fee. Should you subscribe to a premium package, you can enjoy the fantastic features the tool holds with complete ease. Find below the pricing plan for Disk Drill iPhone Data Recovery Software:
Pros of Disk Drill
Easy-to-manage interface.
Disk Drill is available on Windows and Mac.
It allows you to recover, store, and protect data.
Cons of Disk Drill
Disk Drill's installation process takes time to complete, which is quite frustrating.
Unless you use a Mac operating system, you cannot retrieve iOS data with Disk Drill iPhone Recovery Software.
The data recovery process is slow compared to other products in the same industry.
Recovered data can only be exported to your Mac hard drive.
The Reviews from Users
User 1: I regret investing in this software. What's the essence of boasting of services you cannot deliver? Imagine using an iOS data recovery software that won't let me read or view the retrieved data file. It's a waste of time using this software. I wouldn't recommend anyone to use it.
User 2: Poor iOS data recovery interface. I have to ask a friend in the tech space to help with navigating around the software. Another problem with Disk Drill is the incapability to retrieve all selected data files. It recovers just 25% of data and stops abruptly.
Part 2. How to Recover Using Disk Drill iPhone Data Recovery Software
Follow the stepwise guide below to recover data from your iPhone using Disk Drill:
Step 1: Navigate to the official webpage for Disk Drill, and click on the appropriate buttons to download the latest version of the tool on your computer. Follow the on-screen instructions to install the software/tool, then launch it for operation.
Step 2: Connect your iPhone to the computer via a USB charging cable when Disk Drill opens. The software will immediately display all media storage available on your PC, including your iPhone. Tap on the Recovery beside your iOS device to commence data recovery.
Disk Drill will run a quick scan on your device for possible recoverable iOS data. When the scanning is over, an interface showing all of your recoverable data files will come up.
Step 3: Upon completing the step above, look through the files and click on the appropriate buttons to export them to your Mac computer hard drive.
Part 3. Best Alternative to Disk Drill - Eassiy iPhone Data Recovery
Disk Drill is a good iOS data recovery solution; however, it has some limitations which render it incomplete. If you are looking for a full-featured iOS data recovery solution with a completely clean interface that works with no operating system limits, Eassiy iPhone Data Recovery is the perfect tool to use.
With Eassiy iPhone Data Recovery, you can retrieve data files of any type without quality loss. It supports data like memos, voice mail, WhatsApp attachment, Facebook Messenger Messages, Viber chat history, music, videos, and others. You can also use it to recover your lost or deleted photos. Easily retrieve data lost due to any reason. So whether you lost your data after jailbreak, due to a frozen screen, or a broken screen, just mention it- Easily will help you retrieve it.
The software offers three data recovery modes; the iOS device, iTunes, and iCloud backup facilities. Eassiy beats all iOS data recovery tools in the market today because of the incredible features it holds. The software helps you to recover data at a remarkably high speed. Like Disk Drill, Eassiy also offers free and premium subscription packages. The premium package is cheap and grants you access to all the features available on Eaasiy iOS data recovery solution.
Key Features
Allows you to scan over 1000 photo data simultaneously with high quality.
It offers a streamlined user interface that lets you retrieve data directly from your iOS device, iTunes, and iCloud backup services.
Eassiy retrieves more than 36+ data types [messages, contact, WhatsApp attachment & chat history, QQ, Viber, calendar, songs, videos, memos, etc.]
It integrates with multiple platforms, including Windows and Mac.
Offers the highest success data recovery rate for video and photo
Stepwise Guide to Recover Data from iOS Using Eassiy
Ensure you have a strong data connection, navigate to the official website for Eassiy iOS data recovery software, and click on the appropriate key to download a compatible version on your computer system. Install the software by following the on-screen prompt. When the installation is completed, launch the software for usage, and follow the stepwise guide below:
Step 1: When Eassiy opens, connect your iPhone and select a recovery option on the left sidebar of your display screen. Click on Recover from iOS Device, and the software will automatically display your iPhone model, as seen below:
Tap on Start Scan.
Step 2: Eassiy will quickly scrutinize your iPhone for recoverable data files.  After the scrutinization, an interface showing all your recoverable data will appear on your computer display screen: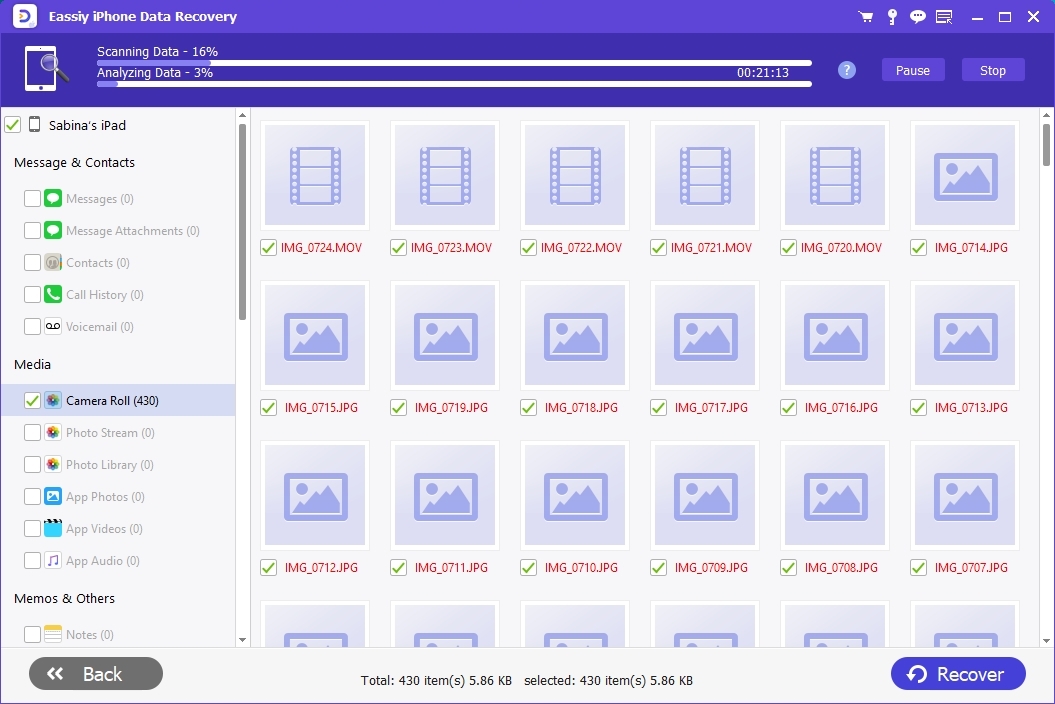 Preview the data, select the ones you wish to retrieve, and move to the next step.
Step 3: Next, click on Recover at the bottom right corner of your screen. Eassiy iOS data recovery software will commence data recovery upon receiving your command. Wait patiently for the recovery process to complete, then disconnect your iPhone from the computer. Your recovered data will be sent to your computer's local storage. Kindly check there if you need it.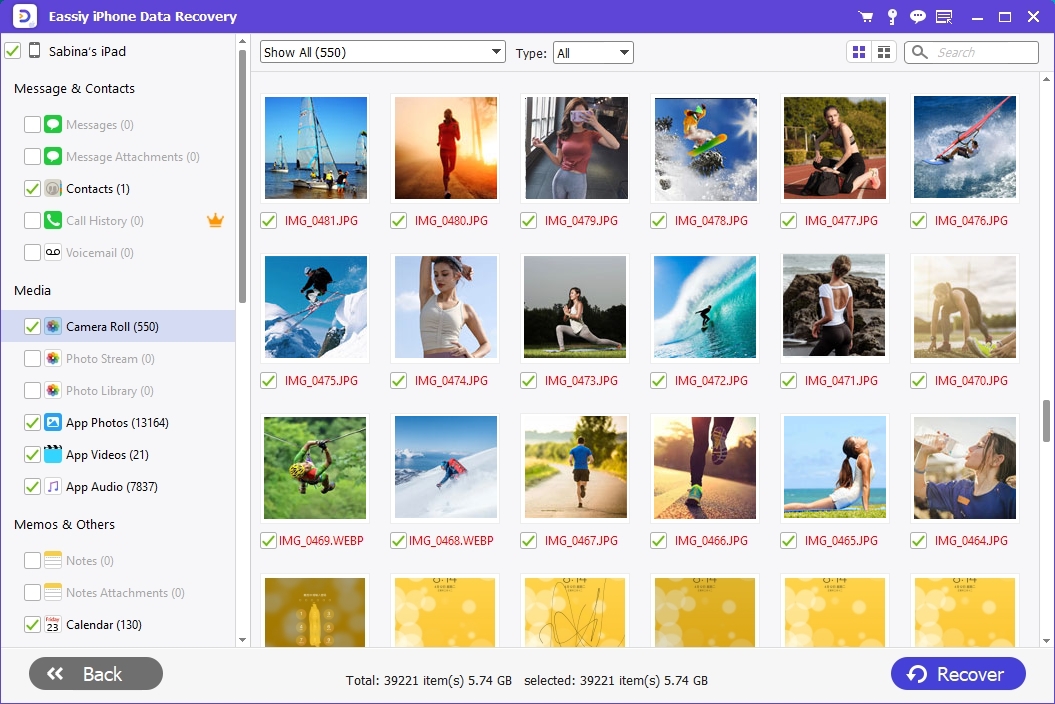 Aside from your iOS device, Eassiy also allows end-users to recover permanently deleted data files from backup facilities like iCloud and iTunes. It permits you to retrieve data without resetting or overwriting your current data. Additionally, you have the freedom to select the data files you wish to retrieve. Isn't that amazing? Eassiy iOS data recovery solution is the only tool that supports such.
Part 4. Comparison: Disk Drill Vs. Eassiy
Here is a comparison table showing why Eassiy is a better iOS data recovery solution than Disk Drill:
Features

Eassiy iOS Data Recovery

Disk Drill iPhone Data Recovery

Recovery Rate

Highest data recovery rates for photos and videos

Slow recovery rate

Scan Speed

Quick scans over 1000 image files in seconds.

Quick and Deep scan

Supported File  Types

Over 36 data file types

15 data file types

Recovery Modes

3 modes: From the iOS device, iTunes, and iCloud

Recovers only from the iOS device.

Compatibility

Windows
Mac

Windows
Mac

Pricing

$49.99/Year with 6 iOS devices and 1 PC

Pro: $95.68, 1 user, unlimited data recovery services with 3 simultaneous activations

Stability

High

Low

Selectively Restore

✅

❌

User-Friendly

✅

❌
Conclusion
There you go with our unbiased review about Disk Drill, and the best alternative. Disk Drill offers great iPhone data recovery services, but Eassiy is a better option. Eassiy provides excellent iOS data recovery services at a remarkably high speed without distorting or compromising your current data files. It works with all iOS models and generations. So whether you use iPhone 6, 7, 8, X, or the latest, Eassiy got your back.