Nothing can be as disheartening as having no sound on a video you spent so much time screen-recording on your iPhone. Yet, this is a common phenomenon when using your phone. It is attributable to poor phone settings, which you must adequately understand to avoid in the long run. Various aspects contribute to the no-sound error when screen-recording on your iPhone. Yet, the most prevalent cause is turning off your microphone audio settings. However, as long as you understand the reason for the error, it becomes easier to solve it. The following are insights into the most effective solutions you could consider fixing this iPhone screen recording no sound error.
Why Does My Screen Recording Have No Sound Recording iPhone?
While you might panic whenever your screen recording has no sound, it is a common issue. This problem often arises when you disable the microphone audio settings. Disabling this setting implies that the phone cannot pick up the sound as it records since there will be no device to facilitate the sound recording.
An outdated system could also pose this issue. Suppose your iPhone operates on a relatively old operating system. Then, there is a chance that the recording shall have no sound. For this reason, you might need to confirm whether or not the software is current.
Workable Solutions to Fix iPhone Screen Recording No Sound
You'll likely be disappointed that you wasted time recording a video with no sound. While there is almost nothing you can do with your previous recordings, various solutions suffice to cushion you against repeating the same in the future. The following is a breakdown of the most effective solutions to this problem.
Fix 1: Use An Efficient Screen Recording Software
Instead of using the native screen recorder on iPhone, you can use a third-party app to record the screen. But just not any tool, ensure to use an efficient screen recorder for iPhone, and Eassiy Screen Recorder Ultimate is your ultimate tool. Eassiy Screen Recorder is a computer application with features to record your iPhone screen remotely with internal and external sound. It utilizes advanced technology to facilitate recording of iPhone screen activities with or without sound from a computer without requiring rooting or jailbreak of the iPhone.
Unlike the previously mentioned tools, Eassiy Screen Recorder gives you access to features that help you limit background interferences and enhance microphone sound while recording iPhone, thus allowing you to record sound more clearly and effectively. Besides, it also supports video editing tools, like the trim tools, to remove any wanted parts from the iPhone screen recording. Ultimately, Eassiy Screen Recorder is great for both professionals and newbies, as provides you with everything to record the iPhone screen in high quality and gives you advanced audio controls to include crystal clear sound in the recording.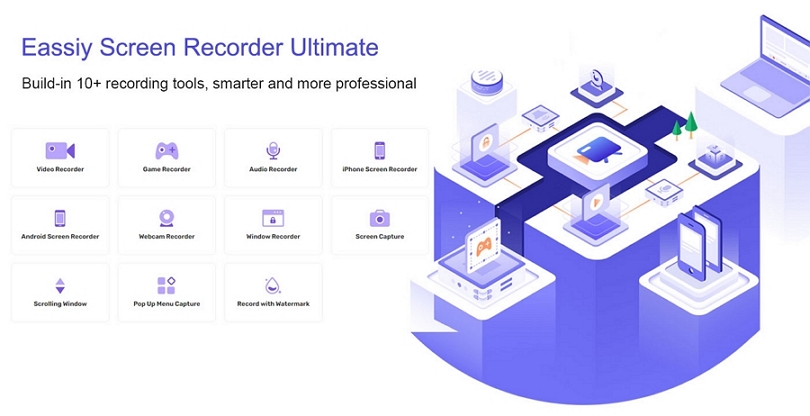 Key Features:
Record the iPhone screen from the computer in high definition; up to 4K quality is supported by Eassiy.
Include microphone sound from the computer or iPhone. That is to say, you can include internal sound and external sound from iPhone or computer.
Advanced audio management features like limiting background interferences and enhancing microphone sound.
Advanced video editings tools, like trim tool, auto-split, audio manager, and more to curate your iPhone screen recordings professionally.
Save the iPhone screen recording in video or audio format. Eassiy supports all major file formats.
You can trim a small section from iPhone screen recordings and convert it to GIF format.
Simple and self-explanatory user interface means even beginners can use the tool seamlessly.
Share the iPhone screen recordings on social media channels with a single click.
Here's How to Record iPhone Screen with Sound Using Eassiy Program:
Step 1. Download the Eassiy program on the computer and launch it. Then, select Phone from the main screen. On the next screen, choose iOS Recorder.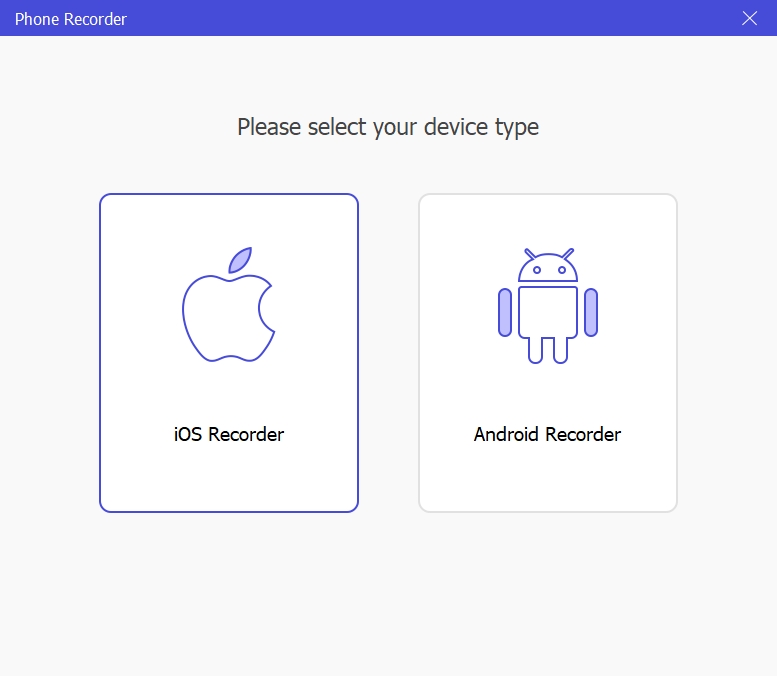 Step 2. Select USB as the preferred means to establish a connection between your iPhone and the computer. Then, follow the on-screen instructions to complete the setup.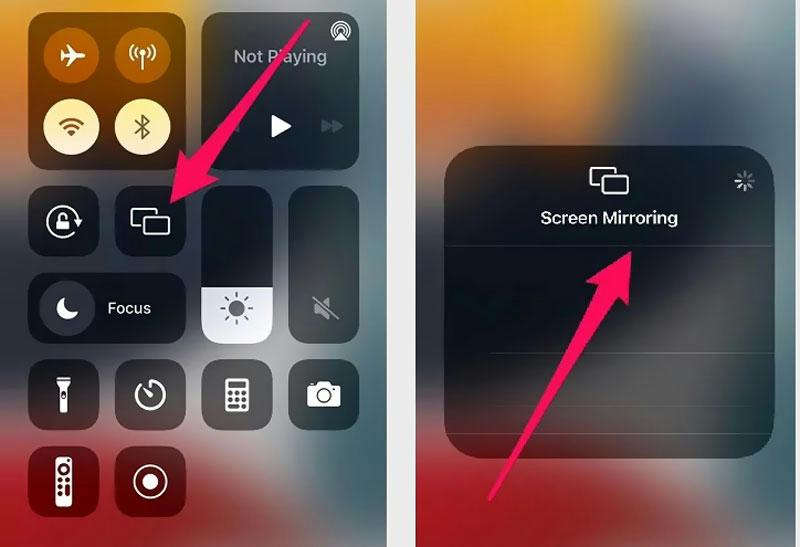 Step 3. Set the Recording Settings.
Choose the Recording Quality. You can choose the resolution and audio from the Recording Content.
Click on Start Recording to start the iPhone screen recording.
Click on Stop to end the iPhone screen recording.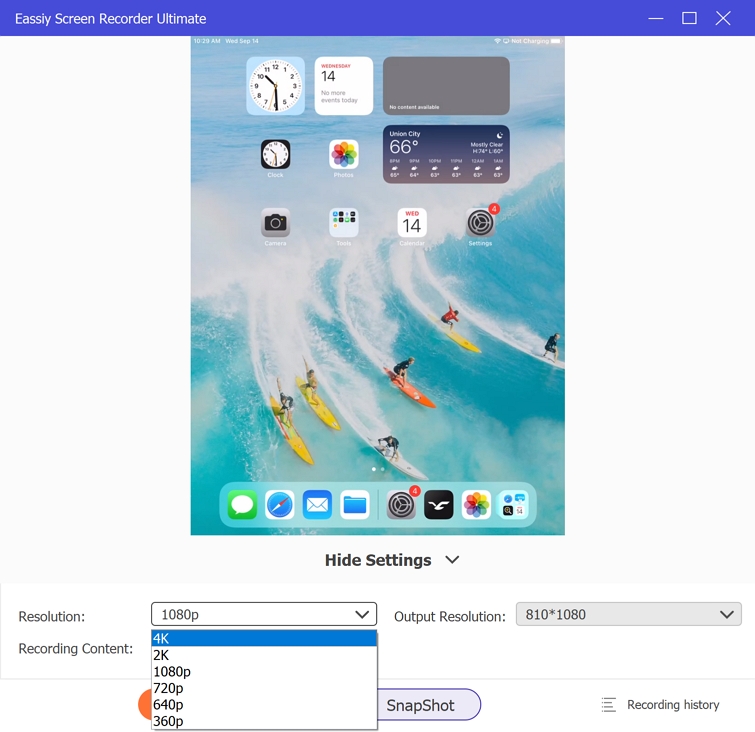 That's how to record the iPhone screen via the computer. You can edit, annotate, and share the iPhone screen recording by going to the Recording History menu.
Pros
No technical knowledge I required.
Straightforward screen recording procedure.
Facilitate high-quality screen recording.
It's compatible with all iOS devices, including the latest ones.
Cons
You need a PC to operate.
Fix 2: Enable iPhone External/Internal Audio Settings
Enabling your iPhone's internal/external audio settings could efficiently address this issue, ensuring your recordings have high-quality sound in the long run. Enabling this feature allows the phone's microphone to record the sound on the screen comfortably. Enabling this setting is pretty straightforward. You just need to do the following.
Step 1: Open the Control Center on your iPhone and hold down the Screen Recorder icon.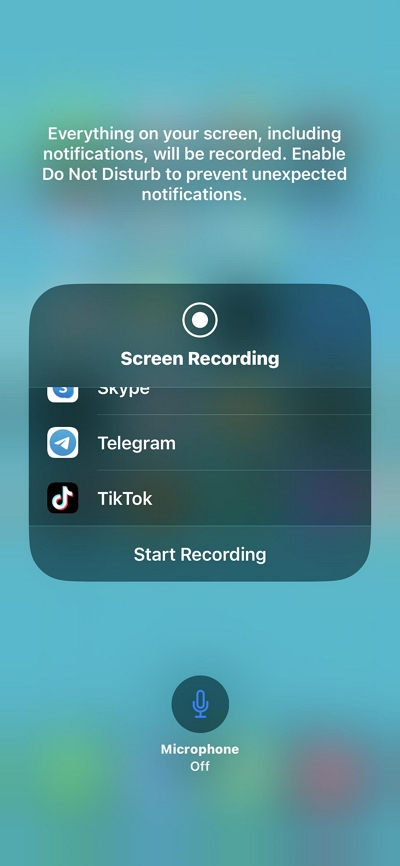 Step 2: Select the app whose internal audio you want to record to record iPhone screen with internal audio or tap the Microphone icon to record the iPhone screen with external sound.
Pros
You don't lose data on your phone
You don't expose your device to malware
Pretty straightforward
No additional costs
Cons:
It might not be as effective
Fix 3: Restart Your iPhone
Suppose you have an updated phone and the internal/external audio settings are correct. Then, restarting your iPhone could be an excellent solution. This approach helps eliminate potential bugs that could stop your phone from recording the sound. Different phones require different approaches when restarting, and we've explained the process below;
For iPhone 8 and earlier
Step 1: Hold down the Sleep/Wake button until the power-off slider opens.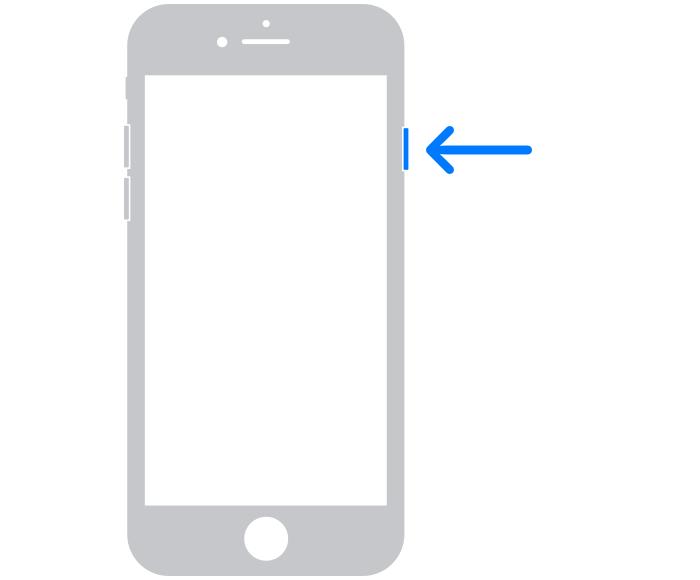 Step 2: Drag the slider and wait for your iPhone to be turned off. Afterward, use the Sleep/Wake button to turn the phone on again.
For iPhone X and later
Step 1: Hold down the Sleep/Wake button and the Volume up button until the power off slider shows up.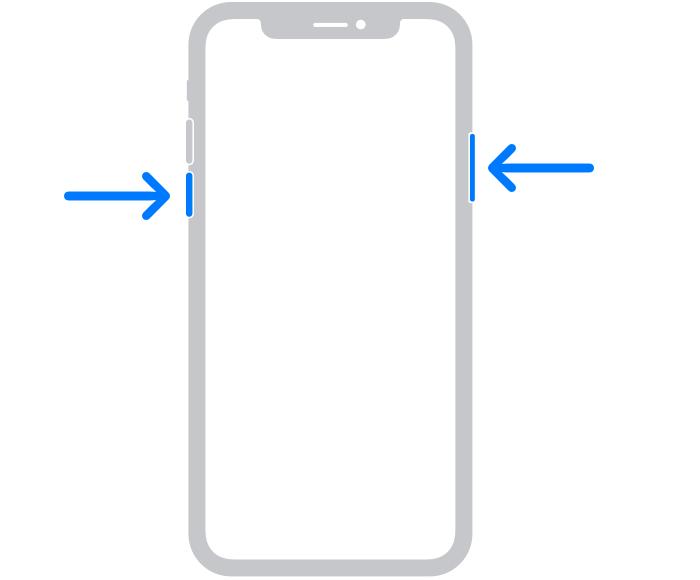 Step 2: Drag the power-off slider and wait for the phone to turn off.
Step 3: Turn on the iPhone.
Pros
You do not lose data on your phone
Requires no additional skill or software
It costs nothing
Straightforward
Cons
It might not work at all times
Fix 4: Reset All Settings
Resetting your iPhone is an excellent and effective strategy that helps address multiple issues at once, including a dysfunctional touch screen. This approach addresses the sound issue by eliminating any bugs or lags that the phone might have. It is pretty straightforward and takes no more than a few minutes. This approach requires you to follow these steps:
Step 1: Launch the Settings tab on your iPhone
Step 2: Scroll to General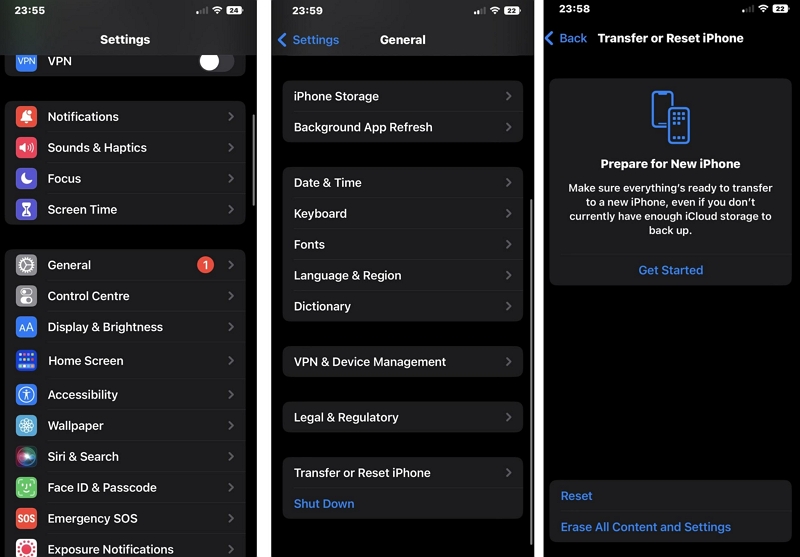 Step 3: Tap on Transfer or Reset iPhone.
Step 4: Tap Erase All Content and Settings.
Resetting all settings on your iPhone shall clear all the general settings, including touch ID, brightness, and notifications.
Pros:
Simple procedure
No additional costs
Minimal data loss
Cons:
Fix 5: Software Update
An outdated software could readily compromise your audio quality or eliminate it during a screen recording. For this reason, it would be best to check and update your phone when necessary. Updating your software could help address various bugs contributing to sound loss. See how to update iPhone software below:
Step 1: Open the Settings app on your iPhone.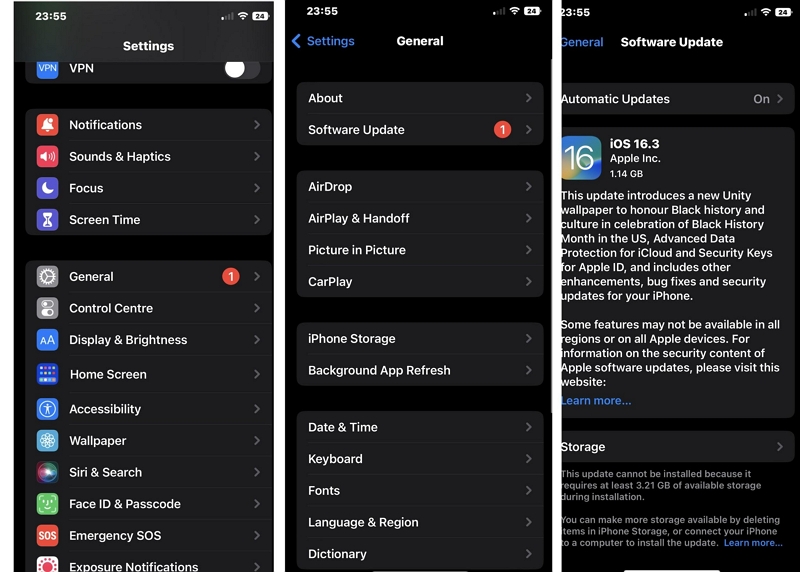 Step 2: Scroll down and tap General. Then, select Software Update.
Step 3: Download and install any update if available.
Pros:
Pretty straightforward
Addresses multiple issues
Minimal data loss
Cons:
It could result in new bugs
FAQs
1. How Do I Fix iPhone Screen Recording No Sound Facetime?
You can address this problem by enabling the internal or external audio setting. To enable this feature, go to Settings and tap on Control Center. Next, you will click Customize Controls to turn the microphone on or off. Lastly, launch the program. The solutions mentioned above are worth considering too.
2. How Do I Fix iPhone Screen Recording No Sound On Whatsapp?
Various approaches mentioned above can help address this issue. You can consider resetting all settings, restarting the phone, using a third-party app or software, or updating your software. Once you choose your preferred method, you can launch Whatsapp on your iPhone.
3. How Do I Fix iPhone Screen Recording No Sound On Zoom?
Zoom will often auto-record your meetings. However, if this does not happen, you will consider the approaches above. The choice will depend on personal preferences and goals. The available options include re-downloading Zoom, updating the phone's software, installing external software, and restarting the phone.
4. How Do I Fix iPhone Screen Recording No Sound On Messenger?
Use the methods above to fix sound when screen-recording on messenger. Take the time to identify the preferred approach, depending on preferences and objectives.
Conclusion
Every time you choose to screen-record on your iPhone, you want an immersive audio and visual experience. Yet, in some instances, getting high-quality audio remains a mirage. The information above illustrates the methods you could use to address this problem. While the list is not exhaustive, you are confident of a perfect headstart to handling the issue at hand. You could also try multiple options before settling on the most effective. In all, we highly recommend using Eassiy Screen Recorder as it makes the process straightforward.