Data loss can be a frustrating and stressful experience, especially when it comes to important files and documents on your Mac computer. Fortunately, there are many disk data recovery software options available for Mac users in 2023 that can help recover lost or deleted data from various storage devices, such as hard drives, SSDs, USB drives, and memory cards.
In this article, we have researched and tested some of the best disk data recovery software for Mac in 2023, based on factors such as user-friendliness, effectiveness, and affordability. Our list includes software like Disk Drill, Eassiy Data Recovery for Mac, Stellar Data Recovery for Mac, and more.
Part 1: Can You Recover Uninitialized Disk on Mac?
In general, it is not possible to recover data from an uninitialized disk on Mac because the disk has not yet been initialized or formatted with a file system that the operating system can recognize. Therefore, it cannot be mounted or accessed by the computer, and data recovery software will not be able to detect or recover any data from it.
However, if the disk was previously initialized or formatted and then became uninitialized due to a software or hardware issue, it may still be possible to recover the data using specialized data recovery software or services. In this case, it is important to immediately stop using the disk and seek professional assistance to prevent further damage or loss of data. It is always recommended to regularly back up your important data to prevent data loss due to disk failure or other issues. If you have a backup, you can easily restore your data to a new disk or storage device.
Part 2: Top 6 Freeware Tools for Disk Recovery Mac
Eassiy Data Recovery
Eassiy Data Recovery, which is strong and easy to use, can recover lost or deleted data from a range of storage devices, including memory cards, hard drives, SD cards, USB drives, and more. Using sophisticated scanning algorithms and deep scanning technology, the software finds and recovers data that has been lost due to a number of reasons, including accidental deletion, formatting, virus attacks, or system crashes. With a 98.6% Success Rate, Eassiy Data Recovery offers a Deep Scan option to recover unlimited amounts of data. A quick scan and thorough scan are the two scan modes offered by Eassiy. You won't have to worry about it because it can recover 1000+ file types in original quality.
Main Features:
Get real-time, high-quality recovery for more than 1000 different file types.
The two available scan modes are deep scan and fast scan.
Deep scan has a 98.6% success rate and can retrieve limitless data.
Recover information that was lost due to deletion, formatting, raw partitioning, system failure, malware attack, etc.
More Than 2000 Storage Devices Can Be Recovered for Data.
Pros:
A simple and user-friendly interface that allows for accessibility to users of various technological backgrounds.
High rate of data recovery for a variety of data formats, including pictures, videos, documents, and more.
Its thorough scan feature enables it to find and restore deleted files that other software might overlook.
Provides a free version with a few capabilities that may be useful for simple recovery requirements.
Cons:
Less effective recovery than paid solutions.
How to Do Disk Data Recovery on MacOS Sierra:
Step 1: Choose the Data Type and External Drive.
Open Eassiy Data Recovery and connect the external storage device from which you wish to recover erased data to your computer. Eassiy Data Recovery will automatically detect the external drive as soon as it is attached and add it to the list of devices that can be scanned using the Removable Drive option. By checking the box next to the Removable Drives item in the list, the external device can be selected.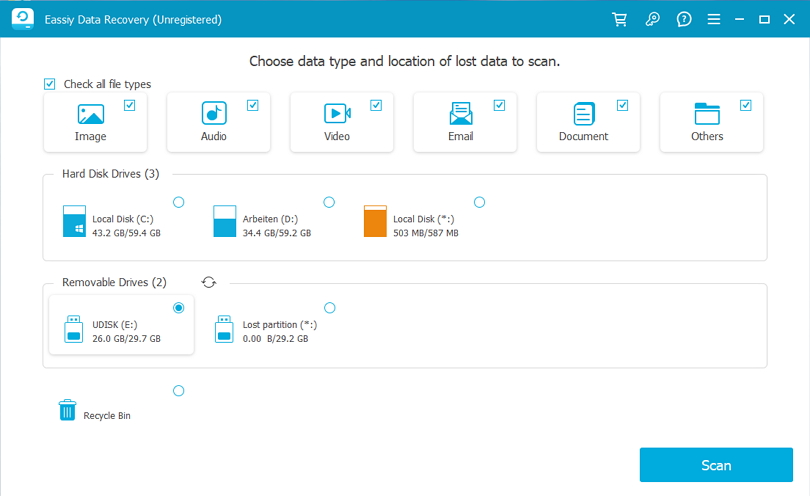 Step 2: Scan and check the outcomes.
Eassiy Data Recovery offers two scanning options: Quick Scan and Deep Scan. Quick Scan is quicker and more appropriate for recent data loss, while Deep Scan is more thorough and recommended for situations requiring complicated data loss. Check the type list and path list of the external drive's scan results to see if the data you want to recover is there.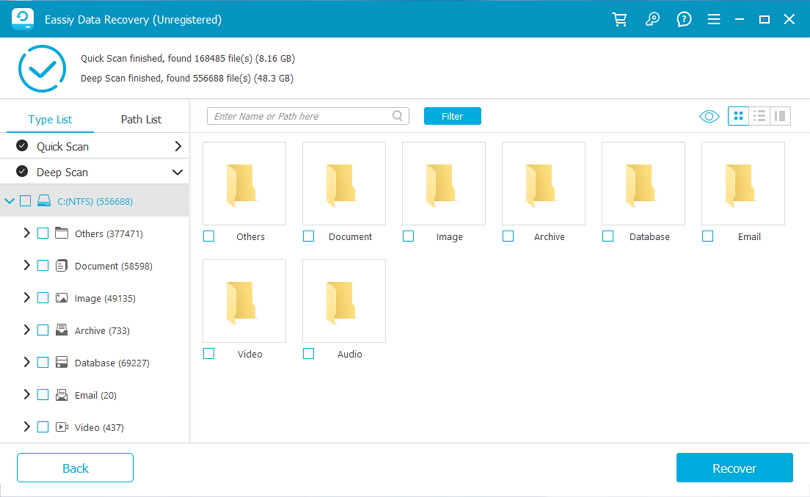 Step 3: Preview and Recover Data.
Following the completion of the scan, choose the files you wish to recover and click "Recover."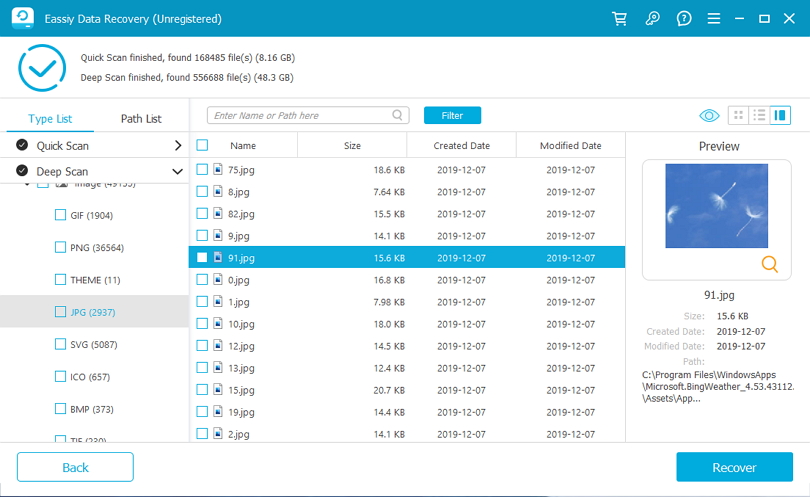 Finally, locate a secure location to store the recovered files, but away from the region where the data was lost. As you can see, Eassiy Data Recovery is a dependable and user-friendly tool that, through its Removable Drive option, can assist you in recovering lost data from external storage devices. Anyone who needs to fast and successfully recover erased data should use it due of its excellent scanning automation and simple interface.
2. Photorec
Photo Rec is able to retrieve photos from a variety of digital devices, including laptops, digital cameras, mobile phones, tablets, memory cards, and external hard drives. It supports a number of platforms and has strong file recovery skills. More than 480 different file extensions can be recovered by this open-source data recovery program. To recover deleted files from a system, it employs text-based data recovery algorithms. With a text-only user interface, it is intended for seasoned users. The fact that this program is entirely free is a wonderful thing. PhotoRec can compete with several commercial data recovery software programs.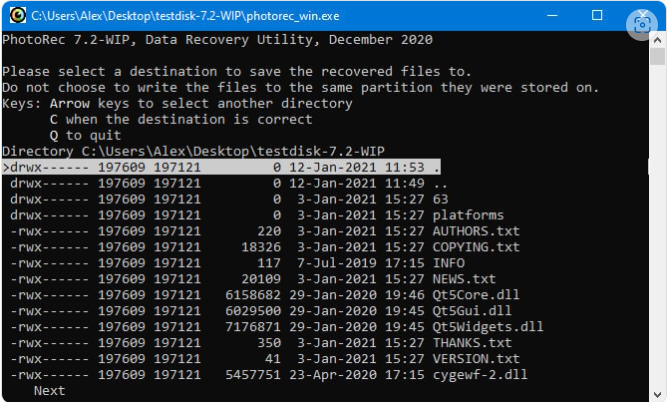 Pros:
It provides cross-platform data recovery for Linux, Mac OS X, and other operating systems.
With a text-only user interface, it is intended for seasoned users.
Strategies for recovering lost files from a system using text-based data.
Not simply images, but a variety of file formats are supported by this software.
Cons:
Not suitable for novices
During the scan, every file is automatically recovered.
File names and folder structures cannot be recovered.
3. TestDisk
Another free program used to restore missing partitions is called TestDisk. It can repair the partition table, restore the boot sector, and more. It can even recover deleted partitions from hard drives. Since TestDisk is open source software, if you know how to do it, you can examine, alter, and improve it.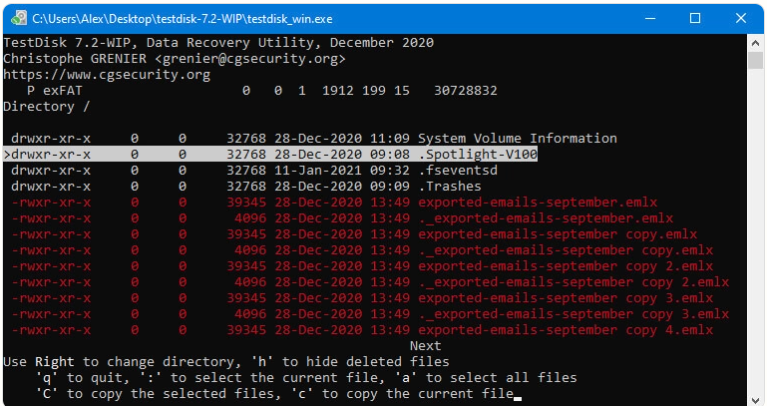 Pros:
Open-source applications.
Restoration of lost partitions.
Remedy for unbootable disks.
Numerous file formats can be recovered.
Cons:
Command-line only; lacks an intuitive graphical user interface
Fixes corrupt file systems and partitions but not files.
4. Ontrack Data Recovery
One of the best options for disk data recovery is Ontrack Data Recovery. It recovers data after deletion, format, corruption, and more from an HDD, SSD, memory card, USB, and optical media. Users of Ontrack Data Recovery can do sophisticated RAID recovery in addition to the fundamental data recovery features.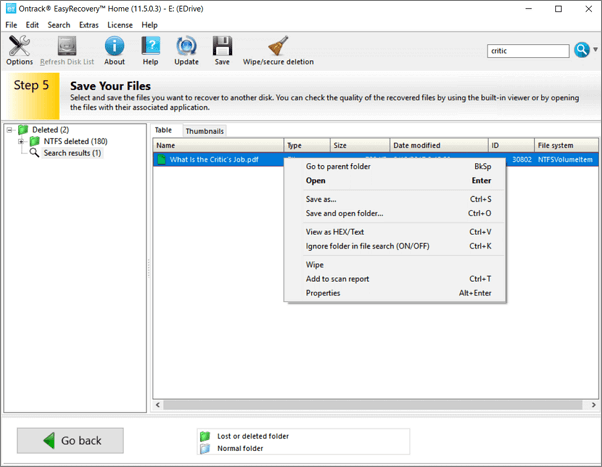 Pros:
Recovers documents, movies, images, and more
Various storage devices are supported
Allows for results previewing prior to recovery
Restores deleted, formatted, corrupted, and hard disk-damaged files
Cons:
Personal information is required to download the software.
5. Data Rescue
Another specialist software tool that can assist users in recovering from a range of data loss scenarios is Data Rescue 6 for Mac from Prosoft. The software is compatible with computers running macOS 10.12 or later. The tool's functionality may be constrained by the requirement for a continuous Internet connection when using it.The utility can assist in file recovery from unintentional formatting, malware infestation, or accidental deletion. Finding the files you wish to recover may be challenging due to limited file display options. System disks must be inspected in Recovery Mode as of macOS 10.13.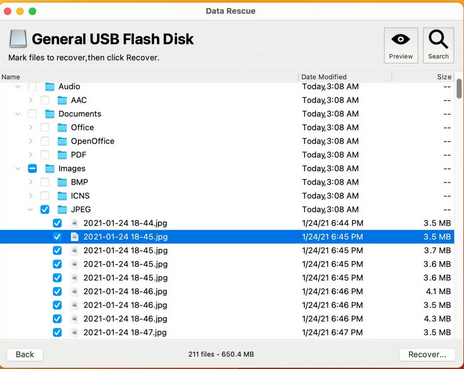 Pros:
Compatible with devices running macOS 10.12 or later
Online chat support is provided by the business.
Before buying the tool, files can be seen without charge.
Users can be informed about problematic sections via emails.
Cons:
The Pro edition of this tool costs more than competing products.
Recovery Mode must be utilized since macOS 10.13 High Sierra in order to scan system drives.
6. R- Studio
R-Studio is a piece of software for sale that was initially created for use by data recovery specialists. It has improved in usability over time and is now accessible to everyone. R-Studio is a genuine cross-platform solution with a wide range of recovery options. Regardless of the operating system that is hosting the utility, files can be retrieved from any supported operating system. This feature provides flexibility and removes the have to buy various software versions. Data can be recovered using R-Studio from computers with LAN or Internet connections, as well as local and external devices.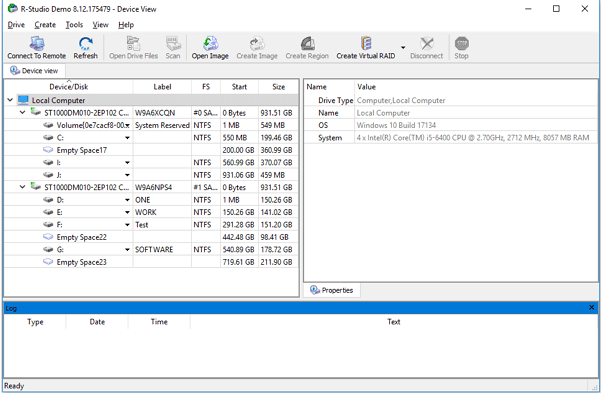 Pros:
Cross-platform compatibility with many operating systems
R-Undelete is a condensed variant of the tool.
Alternate types of recoverable files
Reconstruction of RAID arrays and data recovery via the network
Cons:
Expensive compared to other options.
Some users may find the design and many functions confusing.
Part 3: Comparison Table for Mac Disk Recovery
| | | | | | | | | |
| --- | --- | --- | --- | --- | --- | --- | --- | --- |
| Software | Price | Platforms | File Recovery | Partition Recovery | Photo Recovery | Scan Speed | Ease of Use | Additional Features |
| Eassiy | $39.99-$69.99 | Windows, Mac | ✔ | ✔ | ✔ | Fast | Easy | Disk cloning, RAID recovery, preview feature, technical support |
| PhotoRec | Free | Windows, Mac, Linux | ✔ | ❌ | ✔ | Slow | Moderate | Command line interface, file carving, multiple file formats |
| TestDisk | Free | Windows, Mac, Linux | ✔ | ✔ | ❌ | Slow | Moderate | Command line interface, partition repair, disk cloning |
| Ontrack | Not disclosed | Windows, Mac | ✔ | ✔ | ✔ | Fast | Moderate | Remote data recovery, on-site data recovery, emergency service |
| Data Rescue | $99.00 - $299.00 | Windows, Mac | ✔ | ✔ | ✔ | Moderate | Easy | Clone feature, preview feature, technical support |
| R-Studio | $49.99 - $899.99 | Windows, Mac, Linux | ✔ | ✔ | ✔ | Fast | Moderate | RAID recovery, virtual RAID reconstruction, preview feature |
In terms of features, Eassiy stands out as the most comprehensive software on this list, offering file recovery, partition recovery, and photo recovery, as well as additional features such as disk cloning and RAID recovery. It also has a fast scan speed and an easy-to-use interface, making it accessible for users of all levels.
Part 4: FAQ about Recovery Disk Mac
1. What is a recovery disk for Mac?
A recovery disk for Mac is a disk or USB drive that contains a backup of the operating system and allows you to recover your Mac in case of a problem, such as a system crash or hard drive failure.
2. How do I create a recovery disk for Mac?
To create a recovery disk for Mac, you can use the built-in Disk Utility app. Open Disk Utility, select the external drive you want to use as a recovery disk, and click the "Erase" button to format the drive. Then, select the "Recovery Disk" option from the list of options and click "Create".
Conclusion
In conclusion, there are several disk data recovery software options available for Mac users in 2023. These software vary in terms of features, ease of use, and price. After comparing eight of the best disk data recovery software options for Mac, it is clear that each software has its unique advantages and disadvantages. However, Eassiy stands out as the most comprehensive and user-friendly option, offering file recovery, partition recovery, photo recovery, disk cloning, and RAID recovery features, all at an affordable price.